The vegetarian lifestyle has been growing in popularity for many years. However, some parents struggle to find meatless foods with the amount of protein kids need to grow and be healthy. At BJ's Wholesale and BJs.com, we have several choices for a plant based burger your whole family will enjoy.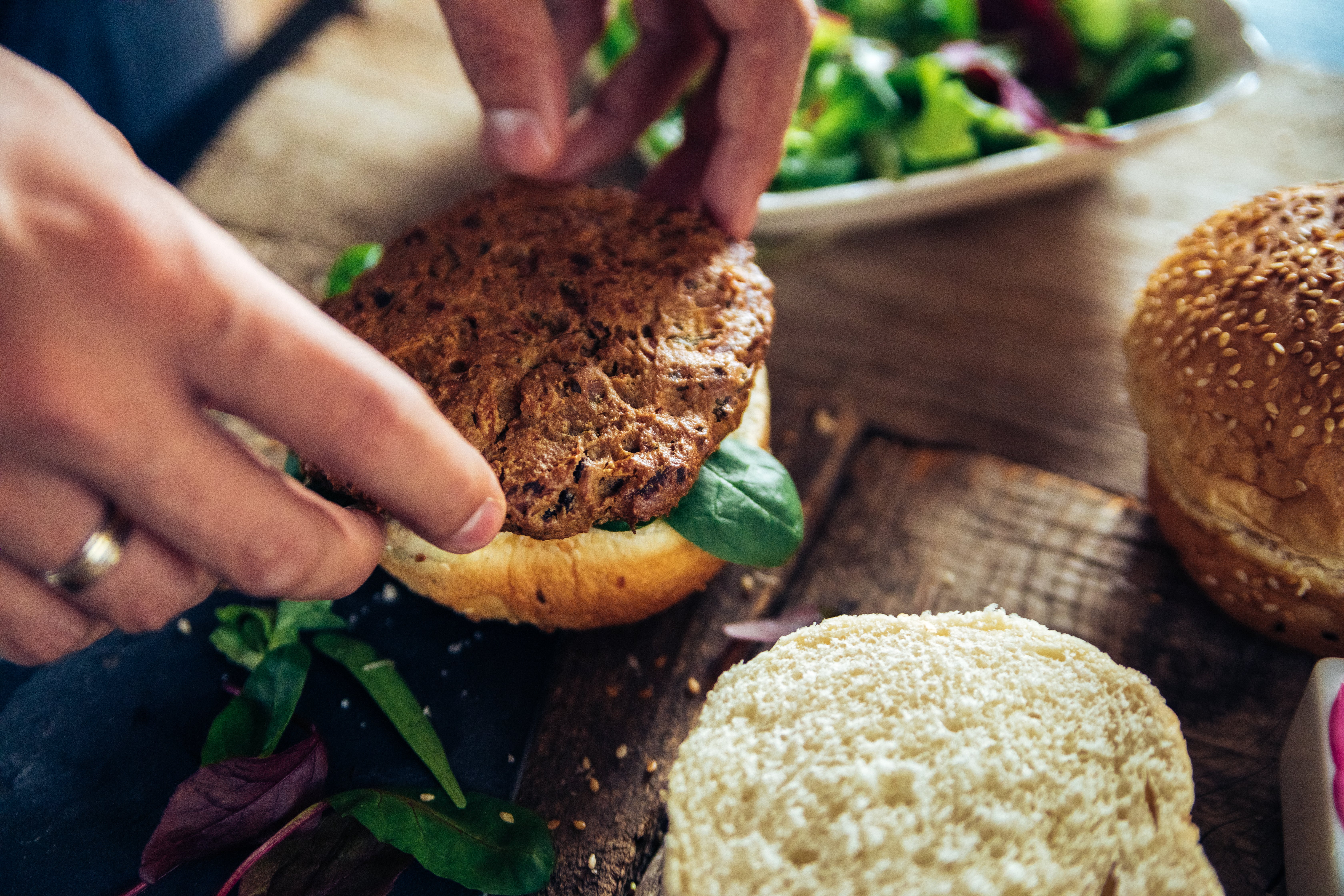 What is in a plant-based burger?
The recipe for every burger substitute varies. You may have heard about products like the Beyond Burger that imitate the taste and texture of a beef burger. With this type of burger, veggie-based products like coconut butter take the place of the animal fats that keep hamburgers juicy. The producer may also use beet juice to give the red appearance of ground beef.
Most meat alternative brands do not try so hard to create a beef-like product. Instead, they use a variety of vegetable ingredients to develop a food that is tasty and enjoyable on a bun. Most of these products also use ingredients that increase the level of protein in the burger. The typical garden burger will use black beans, rice or peas ground into a paste as the base ingredient. Then, they mix in spices and other vegetables to add flavor.
When you are looking for a meatless burger, it is important to understand the diet needs of your family members. Someone on a vegetarian diet wants meatless foods, but those foods can contain animal products like milk. A vegetarian burger may have ingredients like eggs or dairy products. These non-meat animal products are the easiest way to increase the protein in meat alternative brands.
A strict vegan tries to avoid any animal products in his or her food. Following this diet means that high protein vegan foods cannot contain any dairy products. Although this diet is low in cholesterol, getting the proper daily amount of protein can be a challenge. You may notice that some vegan products have significantly lower levels of protein per serving.
Another ingredient to look for in your burger substitute is soy. Soy is a vegetable product and can be present in vegan meat substitutes. However, some people are allergic to soy and need to avoid products that include it. Because soy is a common allergy, companies list it on their packaging as a help to those who are sensitive.
What is the healthiest meat alternative?
There are several reasons that people want to reduce the amount of meat in their diet. Many vegans and vegetarians simply do not like the idea of consuming animals. Other families are trying to reduce the amount of meat they consume as an environmental choice. You may be looking for options for your family's Meatless Monday tradition. Another common reason is a desire to avoid the cholesterol and fats found in many animal products. Diets that are high in fat are a contributing factor in heart disease and other physical ailments.[1]
If you are trying to reduce your meat consumption for health reasons, the "healthiest" plant-based burger is the one that your family will enjoy eating. It is no good to stock up on a product that just takes up space in the freezer because no one with touch it. At BJs.com, you can find several types of meat alternative brands that can help you achieve your healthy menu goals.
The Gardein Chipotle Black Bean Burger is similar to the Beyond Burger in that it imitates a beef hamburger. This patty is a vegan product with 8 grams of protein in every serving. A medley of veggies give this product a rich texture that you can cook on the grill like a regular burger. If swearing off burgers is too large a sacrifice, this type of vegan burger is a great option.
If you are seeking a delicious vegetarian burger option, look no further that the Quinoa Veggie Burgers from Wellsley Farms. As BJ's Wholesale Club's house brand, you can trust that Wellsley Farms products will include nutritious options at an affordable price. Our food preparation experts use quinoa, the ancient South American grain, as the base for our garden burger. For flavor, texture and nutritional value, we include healthy ingredients such as kale, bell pepper and chia seeds. Put it all together, and you have a mouth-watering meatless burger with 14 grams of protein.
The health of your vegan meat substitutes also depends on how you serve them. Our Wellsley Farm hamburger rolls have no saturated fat, artificial colors or artificial flavors. It is the perfect bread for your garden burger. For a little extra taste, serve your burger with Wellsley Farms organic ketchup. You will love the flavor upgrade.
Where can I buy meat alternatives?
You can find the high protein vegan foods you need on BJs.com. Keeping up with the needs of growing children on a vegetarian diet can be a challenge. With BJ's Wholesale Club, you can stock up on a variety of veggie burgers for every member of your family. By shopping through BJs.com, we make the whole experience simple. Search for the items you need, and we will do the shopping for you. Come to your nearest BJ's Wholesale Club location for free Curbside Pickup.
If you don't have time to run out to the club, we can come to you with our Same-Day Delivery service. Place your order and tell us when you want your items to arrive. Your items will be at your location right on time. When you shop on BJs.com, you never have to worry about running out of your favorite meatless burgers.
Resources:
[1]https://www.mayoclinic.org/diseases-conditions/high-blood-cholesterol/symptoms-causes/syc-20350800