You have ambitious plans to cook a roast for dinner, but you won't get off work in time to make it happen. The soup on the burner needs to stop boiling before it becomes sludge, but your hands are full. When life happens, your 20% off Membership discount on the latest Whirlpool electric and gas stove ranges from BJ's Appliances can cut the chaos and keep you in control with technology the whole family can use.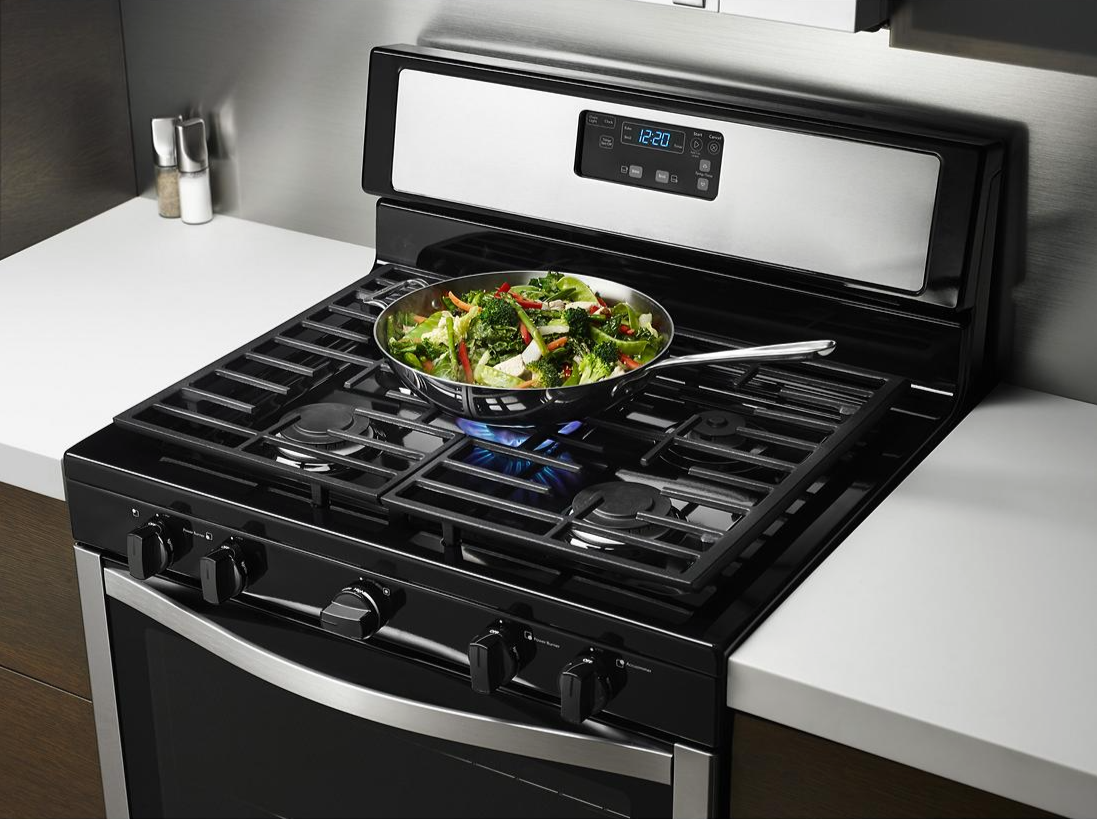 Which is the best stove range?
It's important to understand what people mean when they reference stovetops, ranges, and stoves. The terms are based on old fashioned stoves, which were used for both cooking and heating. A Whirlpool kitchen stove has an oven instead of what may have historically been an empty hole for burning logs or charcoal. The stovetop is the surface on top of the stove used for cooking. A range is a surface with individually-fueled heating areas or burners. Because electric burners tend to be flat, seamlessly blending into the rest of the stovetop, they're sometimes grouped together and called an electric stove top. Gas ranges can't be completely flat because they need room for the fire. Electric or gas stovetops also count as ranges, but gas ranges usually won't be called a stovetop.
Choosing an electric stove top or a gas range stove has more to do with your lifestyle than whether one product is superior to another. If you cook like a chef and want minute control over heat, then gas is your ally. If you prefer looks and easy cleaning, or your home isn't outfitted for gas, then an electric stove top is likely the better choice.
Whether you prefer gas or electric stoves, Whirlpool ranges make cooking and baking much easier and more accessible to the busy chef. Voice-enabled tools, like Alexa and Google Assistant, help you adjust the temperature, cooking modes, timers, and more from other parts of the house.
You don't have to leave your guests alone with the cheese board while you finish up the lasagna. Apps for smartphones give you the power to bake brownies while you're on the way home from work, and even religious observances are easier with tools like Sabbath mode. Never worry again with remote safety controls for your gas range stove.
Where do I buy a stove range?
BJ's Wholesale Club offers Members great deals on more than just groceries and small home goods. Shop Whirlpool Major Appliances from the comfort of your home. It's easy to see what colors and styles would fit best when you can see and measure where your new gas stove will fit right in front of you. Are you happy with the design of your current stove? Maybe it's time to try a slide-in or freestanding alternative.
The design of your kitchen will help you determine whether a slide-in or freestanding stovetop works best in your home. A freestanding range has finished sides and features controls on a raised backboard. It can fit between counters, next to a counter, or entirely on its own. A slide-in gas or electric stove top does not have finished sides, and the controls are in the front. Without a backboard, it blends into the line of the counter, but you may need to protect the wall from splashes with a tile finish.
A kitchen tile backsplash is a practical investment, and you can afford one with BJ's Wholesale Club prices on slide-in gas or electric stoves. Don't forget, you can take advantage of sales and clearances for even more savings.
How do I have my stove range installed?
Once you've chosen the perfect electric or gas range stove, you'll choose a delivery date. BJ's works hard behind the scenes to prepare your major appliance order to meet your preferred delivery date. You will receive an email from the Whirlpool Corporation 3-4 days prior to your selected delivery date with information on how to prepare for your installation. If you have any questions or concerns, please contact Whirlpool Corporation at 1-(888)-900-7860.
Whether you want to be a better host, get more done at home, or never burn a tray of cookies ever again, a Whirlpool gas or electric stove can make your gourmet dreams your everyday dinner. Everyone needs a hand in the kitchen. You may not have a robot maid, but when you shop gas and electric stoves with BJ's Wholesale Club, you might feel like you have a digital sous chef. Join today to enjoy all the perks of membership, learn how you can get fresh groceries with Same-Day Delivery and start cooking in your dream kitchen with Whirlpool stoves and ranges from BJ's Wholesale Club.
References:
[1] https://www.whirlpool.com/blog/kitchen/what-is-sabbath-mode.html
[2] https://www.whirlpool.com/blog/kitchen.html