Your eyes are delicate, so it's important to choose contact lenses from a trusted brand that are designed to be comfortable. BJ's Wholesale Club offers contacts online from known brands for your convenience.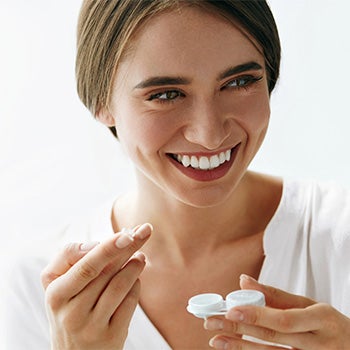 What Do I Need to Know When Shopping for Contact Lenses?
Always check how long they can be worn. Wearing contact lenses too long is harmful for your eyes. If you're worried that you or your family members will forget to take the contact lenses out, choose extended-wear contacts for extra reassurance. You can also take the contacts out first thing upon returning home for the day. We have a selection of extended-wear contacts online at great prices, such as Biofinity, so you can save money and have peace of mind.
Some contact lenses online are disposable. There is often initial confusion over what this means. Daily disposable contacts need to be thrown out after a day's use. Daily wear contacts need to be disposed after two weeks, a month or whatever amount of time specified by the manufacturer. You still need to clean these contacts after each day of use. Acuvue is a recommended brand for cheap disposable contacts.
If you or one of your family members has astigmatism, make sure to buy lenses specifically made for this eye condition. These contact lenses are referred to as toric lenses. We offer toric contacts online as well as other types like bifocals to keep your whole family covered.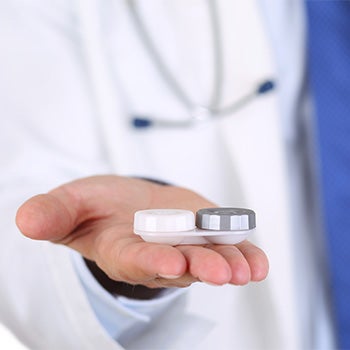 What Are the Best Contact Lenses?
The best contact lenses should be comfortable to wear and suitable for your lifestyle and personality. Disposables and long-term contacts are both great choices, and it comes down to what's more suitable for the individual. Do you need the convenience of daily disposable contacts, or are you happier to save money even if it means cleaning your lenses every day? Buy both to enjoy the best of both worlds. We provide cheap contacts online to make it easy for you to buy the best contact lenses.
Teenagers and young adults often prefer an assortment of colored contact lenses to have fun changing their eye colors based on what appearance they want to have for the day. Some are happy with a single color lens for consistency in their appearance. Air Optix Colors and Dailies Colors are two top brands of colored contact lenses. You can order Air Optix Colors in uncommon colors like amethyst, turquoise and purple hazel. We offer these fun contacts online.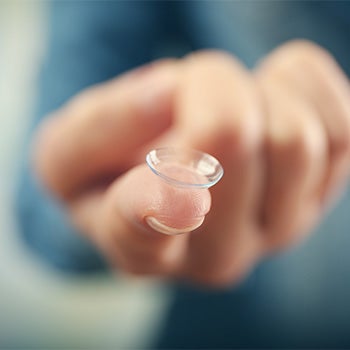 Where Can I Buy Contact Lenses Online?
You can buy contacts online at BJ's Wholesale Club. We've streamlined the process to make it easy. All you need is a valid prescription. You can manually enter your prescription info in the provided form, or you can upload an image of your prescription. Some of the supported file formats are .jpg, .jpeg and .png. We'll even accept .pdf. The maximum upload file size is 5 MB.
Aside from quality deals, you'll enjoy free delivery when you order contacts online at BJ's Wholesale Club. You'll have peace of mind when you choose high-quality contact lenses for you and your family. We have just about any contacts you need from clear to colored and toric to multifocal. You can choose from disposables that can last up to three months and extended-wear packs. Narrow your search based on brand, lens type and price as needed.
Order your favorite contact lenses online, and we'll ship it to you free of charge upon verifying your prescription.

References:
[1] https://www.webmd.com/eye-health/contact-lens-problems#1
[2] https://www.webmd.com/eye-health/contact-lenses-colored-soft-hard-toric-bifocal#3
[3] https://www.allaboutvision.com/contacts/disposable.htm