Picking the right vacuum cleaner lets you get rid of dust, pet dander, pollen, and other pollutants in your home. How do you select the product that will suck up dirt and let you relax in a sparkling clean house? This vacuum cleaners buying guide will show you how to pick out a cleaner that makes cleaning easy, fast, and convenient.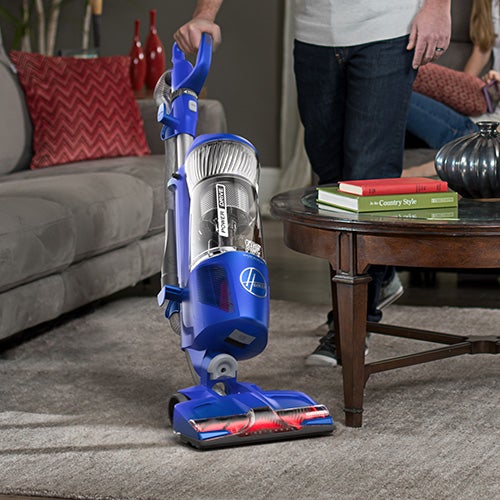 How do vacuum cleaners work?
Whether you pick basic cordless hand vacuums or state-of-the-art robot vacuums, you will find that all vacuums use the same basic process to help you remove dirt from your home:
1. An electric current turns on a motor. The motor starts to rotate fan blades that push air towards an exhaust port.
2. Air pressure drops behind the fan as air particles are pushed in front of the fan. This reduced air pressure inside the vacuum creates a partial vacuum that causes suction.
3. Air outside rushes in to fill the partial vacuum, bringing with it any dirt or debris kicked up by the motion of the vacuum's brushes.
4. The vacuum debris collector catches all dirt particles, and the extra air flows back outside.
5. You get clean floors, furniture, and other surfaces without having to scrub or sweep anything.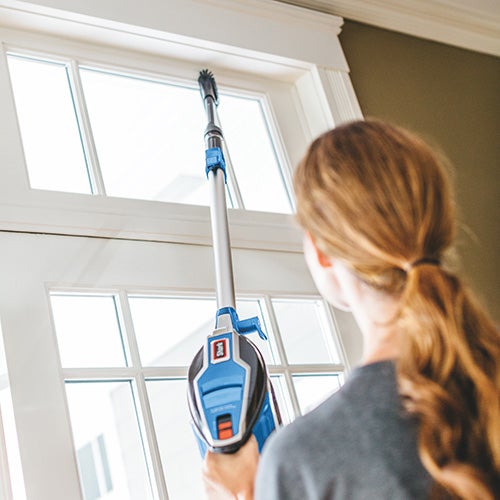 How do I buy the best vacuum?
The first thing you need to do on your journey to a clean home is choose the type of vacuum cleaner you want. The best type for you just depends on the jobs you want the vacuum to do.
A standard upright vacuum cleaner is a good choice for large, flat areas. However, a canister style vacuum is easy for maneuvering in tight spots, and lightweight stick or hand vacuums are helpful for cleaning up smaller spills. If you want to remove debris without doing any work yourself, a robot vacuum that handles everything for you is an excellent choice. For heavy-duty cleaning involving water, wet and dry vacuums that handle both types of cleaning can be very versatile.
Next, consider vacuum cleaner attachments and features. If you want to get rid of the dust on windowsills or behind furniture, you need a vacuum with a hose and brushes. If your main focus is removing allergens from your house, select bagged vacuum cleaners that keep you from coming into contact with dander or pollen.
Finally, consider motor speeds and sound levels. Cordless hand vacuums tend to be quieter, but they cannot suck up dirt with as much power because they are not constantly connected to an electrical power source. More vacuum speed options will let you handle bigger messes. It may be worth paying more for specialty, low-volume models if you don't want to wake up kids, scare pets, or bother neighbors when vacuuming.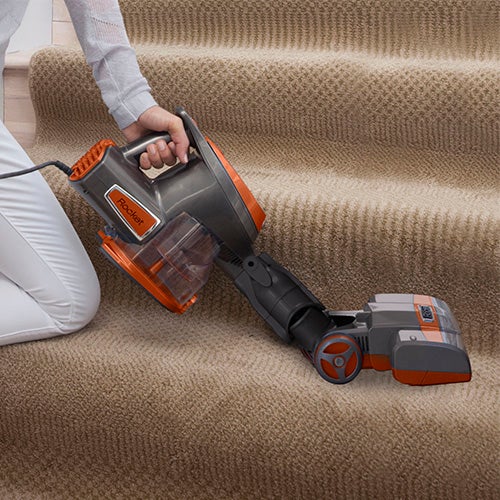 Where can I buy vacuum cleaners online?
When you want to clean your home without having to go to a store in person, BJ's is here to help. Our site provides quick vacuum shopping at competitive prices. You can filter products by brand, vacuum type, and features, so it's easy to pick out the product that is right for your house. Once you pick your favorite option, choose from a variety of delivery and shipping options. Free Pickup lets you go to your nearest BJ's location to get your product with In-Club Pickup. You can also pick Ship It and have the vacuum cleaner sent straight to your doorstep.
Now that you know more about picking out a vacuum cleaner, you can find an option that clears away spills, daily grime, and other debris. Pick out a vacuum cleaner online, use BJ's convenient Ship It or Free Pickup options to receive your purchase, and get the clean home you deserve!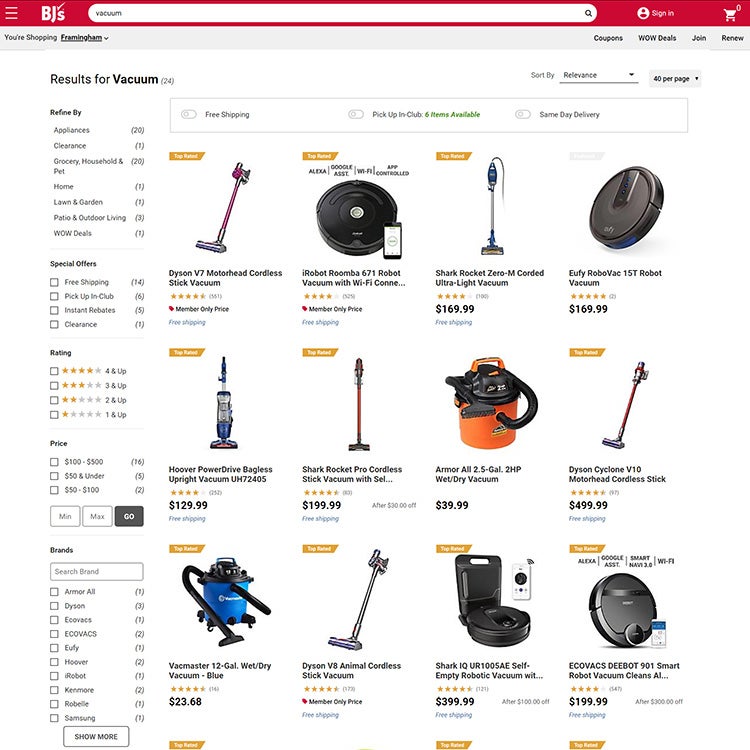 References:
[1] https://home.howstuffworks.com/vacuum-cleaner.htm
[2] https://www.consumerreports.org/cro/vacuum-cleaners/buying-guide/index.htm
[3] https://www.doityourself.com/stry/5-advantages-of-using-a-wetdry-vacuum-cleaner
[4]https://learn.allergyandair.com/bagged-vs-bagless-vacuum-cleaners/#:~:text=Compared%20to%20its%20bagged%20counterpart,with%20your%20dust%20and%20dirt.