Ready to mix up your cooking routine and experiment with new methods? The smoky flavor of a grill can be a great way to take your meals to the next level. With the right outdoor grill from BJ's Wholesale, it's easy to spend time in nature and grill up your family's favorites on a budget.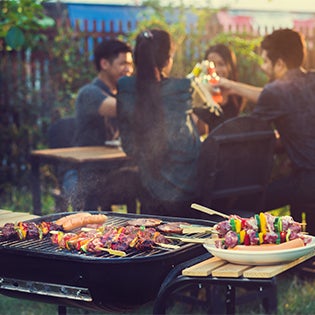 How long do outdoor grills last?
On average, most people only keep their grills for about three years before replacing them. However, grills actually last a lot longer than that. Most people replace them because they want to upgrade as their family grows or their social life changes. The reality is that outdoor grills can last anywhere from five to 15 years.
There are all sorts of things that affect a grill's life. They tend to do best when stored in dry areas, so be sure to check out patio grill ideas for covers or awnings. Regularly maintaining your grill is also important, so make time to clean it often. Finally, always follow manufacturer instructions to avoid putting excessive wear and tear on your grill.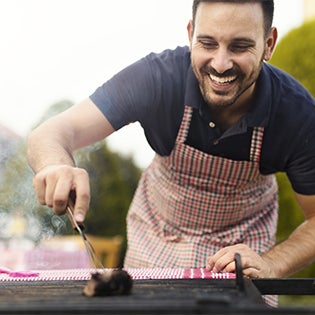 How to clean outdoor grills?
Cleaning a patio grill is a fast and easy job that shouldn't take up more than half an hour or so on a free weekend.
1. The starting step will depend on what sort of grill you have. For charcoal grills, dump out old briquettes and scrape away charcoal dust. For gas grills, you can just turn on the grill, close the hood, and wait 30 minutes.
2. After these preliminary steps, take off the cooled grates and panels and let them soak in warm, soapy water.
3. While your grates soak, scrape off any buildup and gunk inside your outdoor grill's firebox. If possible, use a vacuum to suck up loose debris.
4. Use a wire brush to scrub away any buildup inside burner tubes. In outdoor grills, this can include surprises like cobwebs or leaves.
5. Scrub the exterior of your grill with a sponge and soapy water. Skip steel wool or other abrasive materials that can scrape the finish.
6. Use a stiff brush to scrub your soaked grates with a blend of white vinegar and baking soda.
7. Rinse everything clean, and use a microfiber towel to dry your patio grill.
8. Enjoy cooking tasty meals on your new, clean grill!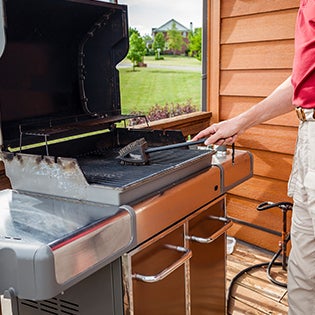 What are the best grills?
The main thing to consider when selecting the best patio grill is the type of grill. Getting a charcoal grill gives you an intense flavor while an electric outdoor grill is fast and easy to use. Gas is another popular type of grill because whether you have a portable propane grill or a massive built-in gas grill, you can get your preferred level of heat with the turn of a knob.

Next, you need to consider your preferred size of grill. On average, aim for about 72 square inches of grill space per person. For example, if you are planning on grilling up enough hot dogs and hamburgers to feed 20 people, you might want a grill with 1,200 square inches of space. Meanwhile, if you're just throwing a few Gardein Chipotle Black Bean Burgers on the grill for dinner, you may only need a small patio grill of about 360 square inches. There is no single best outdoor electric grill brand or specific propane Char-Broil grill model that works for everyone. Instead, you need to find the combination of type, size, and features that works for your needs.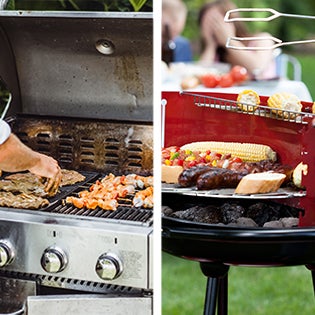 Does BJ's sell grills?
When you shop at BJ's for outdoor grills, the process is as easy as choosing your grill type, selecting your size, and deciding how you want to collect your brand-new grill! If you want to be cooking the same day you pick your grill, choose our Curbside Pickup option that lets you do a Free Pickup and get your grill from BJ's in two hours or less. To host your next block party barbecue without ever even having to leave your home, consider our Ship It option with hundreds of items eligible for free shipping. Shop for your new grill at BJ's today and be the toast of the neighborhood.
References:
[1] https://www.thebbqdepot.com/blog/barbecue-repair-vs-buying-a-new-grill/
[2] https://www.popularmechanics.com/home/food-drink/how-to/a26737/how-to-clean-bbq-grill/
[3] https://www.nytimes.com/2017/05/23/dining/grill-charcoal-or-gas.html
[4] https://www.huffpost.com/entry/how-to-buy-a-grill-print_b_3193962