Picking the right car tires can help improve your gas efficiency, make it easier to handle your car, and allow you to better enjoy your time on the road. By taking a little time to research all your tire offers, you can be confident that you found the best ones for your vehicle at BJ's Tire Center.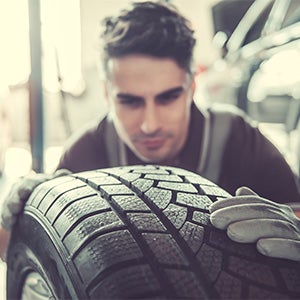 What type of tires are best for me?
The very first thing you need to do when browsing tires for sale is know the recommendations for your vehicle. Most cars will have a tire placard on their door jamb that tells you the width, height, diameter, and speed rating the manufacturer recommends for your car. If you like the way your car currently handles, you can always just get the original equipment tires that your car came with.
However, you may want to look at other tire brands and models to find something that suits your budget, weather, and driving preferences. The car tires you choose will have a huge effect on how your vehicle brakes, accelerates, and moves through curves. A higher speed rating will offer better wet grip. Meanwhile, a deeper tread can assist with off-road driving. If you have a truck, an SUV, or a van that will carry heavy loads, you may want lite truck tires that are reinforced to handle higher weights.
A final feature to consider is what season of tires you want. Winter tires have a more pliable rubber that helps them work well in cold weather, and summer tires give you a lot more grip as long as temperatures are high. If you want the convenience of keeping the same car tires all year-round, there are also all-season tires.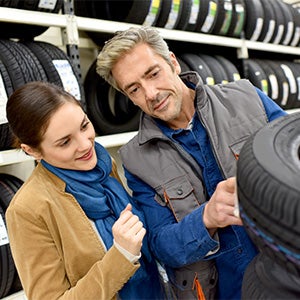 How can I get the best deal on tires?
Once you settle on a type of tire that will help you drive smoothly and safely, it is time to shop around. You may find that different stores sell the same car tires at vastly different prices. For example, you might have better luck finding inexpensive tires at a wholesale club instead of buying from a tire service center. Many stores have discounts if you buy in bulk, so always buy more than one tire if possible.
Something else to keep in mind when looking for the best tire offers is the time of year. Stores often provide discounted tires near holidays. They may also lower prices after they expand their tire inventory with newer models. Therefore, it is a good idea to check websites for online deals and flash sales. Look at individual tire offers to see if they have rebates, which can give you cash back after you purchase the tire. This can help you ride in style without breaking the bank.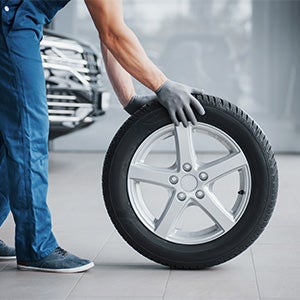 Where can I buy tires?
Ultimately, the place you buy your tires has a huge effect on how much money you spend and what sort of tires you can find. BJ's Wholesale Club provides the ideal blend of quality and affordability you need when looking at tires for sale. BJ's Tire Center even helps with installations, so we can handle every part of getting new tires on your car. All you have to do is select your tires, choose your installation time, and then go for a drive.
If you are not sure which tires will improve your driving performance the most, our trained staff can help you find good options. You can also use our helpful website to pull up all tires that are compatible with your vehicle's make and model. When you know exactly which tire you want, order online. Our Free Pickup service lets you collect your tires within just a couple of hours, or you can schedule an installation time online. With our many convenient locations, it is easy to find a tire shop near you.
Whether you are planning an exciting road trip or just want something reliable for your commute, BJ's can help you get the perfect tires for your vehicle. Use Find-a-Club to locate a BJ's Tire Center near you and discover tires that will last you for miles.