When you're searching for the perfect holiday gift, don't overlook the value of a gift basket. It's ideal for a family or office present because there is something inside for everyone. A premade gift basket is already arranged and wrapped, so you can pick one up on your way to holiday parties or gift exchanges. You can also to build your own gift basket, which might become a holiday tradition since it's so much fun. We have just what you're looking for at BJ's Wholesale Club, whether it's a ready-made package or an assortment of goodies to fill your own.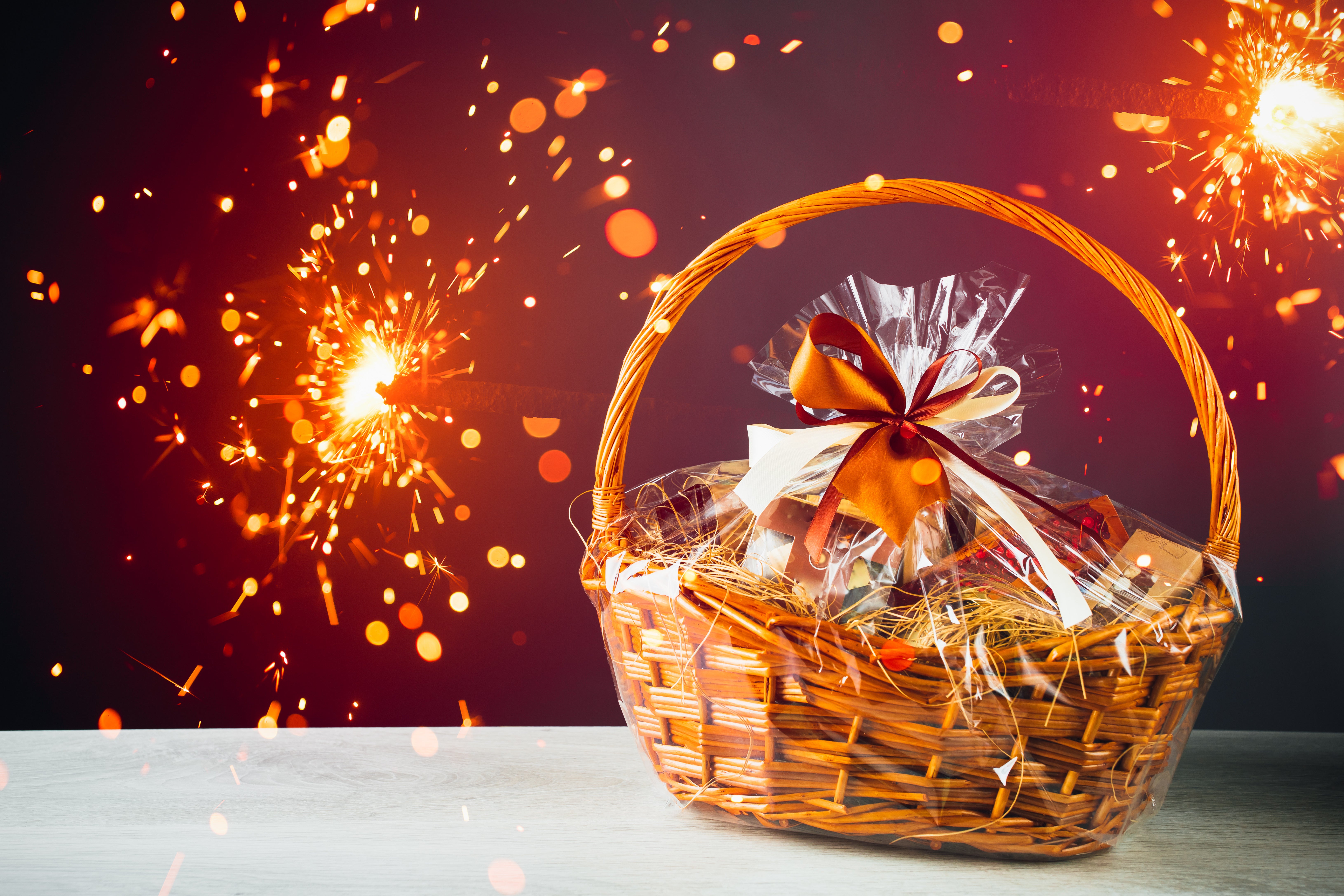 Why should you give a gift basket?
Of all the reasons to give a gift basket, perhaps the biggest is to make others happy. With a variety of holiday candy and snacks to choose from, each person will find some favorites.
This type of gift also makes a positive impression on others. When you walk in the door of your next holiday party, carry a lovely premade gift basket for the host. You're sure to make a splash, and others will take note of your thoughtfulness.
If you prefer to build your own gift basket, the container and treats you select really give it a personal touch. You can tailor what you tuck inside to meet any health requirements, allergies or preferences the people on your list may have. They will appreciate how much thought and effort you put into a present just for them.
Also, a gift basket is a savvy way to save because you can give one basket to a family or group. You save time that becomes tight during the busy holiday season because you don't have to wrap up each item individually. You save money by combining two or more recipients on your gift list, yet the basket itself is quite generous.
What are some creative gift basket ideas?
Building a gift basket is always a creative process. Even if you are using the ideas of others, no two gift baskets are ever identical. Your personal thumbprint just seems to be part and parcel of the finished package.
Choose a picnic basket, metal basket, or gift bag and begin your process of arranging your gift basket. When you have picked out your basket, box, or bag, you can pack it with whatever you want, edible or otherwise. Here are a few ideas to pique your imagination:
Holiday Bounty: Holiday candy, tea, chocolate-dipped biscotti and a gingerbread-scented candle packed in a miniature sleigh. Add a fleece lap blanket in a holiday print if you like.

Dad Gift Package: Smoked sausage, sweet hot mustard, an assortment of crackers, chocolate chip cookies and a glove-box sized toolkit bundled up in a toolbox and tied with a bow. Add a fancy cigar if appropriate.

Perfect Kids Pack: Flavored popcorn, candy bars, gummy bears, cocoa mixes, stocking-sized puzzles, kid's card games and chocolate kisses in a lunchbox or treasure chest.

Luxe Relaxation Pack: A bottle of bubbly (sparkling cider or champagne), bath salts, scented soap and candles, dark chocolate and luxurious lotions nestled in a spa-style basket. If there's room, include a natural sea sponge.

Athlete's Treat Pack: Fresh fruit, pasta and sauce, water bottle, high-protein snacks and a race T-shirt packed into a gym bag.

Romantic Basket for Two: Combine wine and chocolates, stemware, smoked salmon, crackers, gourmet cheese and a selection of fragrant oils in an elegant basket/container.

Office Party Pack: Find a large basket, bin or galvanized tub and fill it to the brim with a generous selection of cookies, crackers, cheese, smoked meats, fruit, candy, pretzels, popcorn, beverages and other treats. Sprinkle handfuls of individually wrapped hard candies throughout. Garnish with a small takeaway for each person, such as mini tins of mints or gift cards.
It helps to have a theme in mind when choosing a container and the products to put in it. It's a good way to personalize the gift around the recipient too. For example, if your someone is leaving for a beach vacation, create a tropical-themed basket. If you are gifting family friends, incorporate some snapshots of some fun times you've had together along with some of the foods you may have shared. The possibilities are limitless, given enough time and a bit of imagination.
DIY Gift Basket Step-by-Step
1. Start building your DIY gift basket with a sturdy base/container. It should be able to hold the combined weight of the items inside. Also, your recipient will probably carry it by the base, so it should be strong.
2. Partially fill the empty basket with packing peanuts, a tissue paper base, and some shredded crinkle paper on top. Always try to reduce, reuse and recycle.
3. When packing your basket, arrange the taller items toward the back, and work forward with shorter products. Paying attention to weight distribution here will keep your gift from fall over.
4. Use glue dots or invisible tape as needed to help secure your arrangement.
5. Fill in any bare spots with little hard candies or floral picks like holly for holiday time.
6. Shrink-wrap your masterpiece using a shrinkable basket bag and hairdryer to keep everything in place.
Pro tips: Combine products in an array of colors for the most attractive result. Try to arrange the contents so that every item is upright and easy to see.
Finish Your Holiday Gift Shopping at BJ's Wholesale Club
We have plenty of options for DIY gift basket supplies at BJs. If you need a gift on the go, simply choose from our variety of pre-made gift baskets. You can even do Free Pickup for an extra quick trip.
Our ready-made gift packages range in price from under $10 up to $100, with an average price in the $20-$30 range. At BJ's Wholesale Club and BJs.com, you can easily meet your holiday budget and fulfill your recipient list. Here are some of our most popular pre-made gift packages:
Godiva Embossed Metal Planter Gift Set - The Godiva Embossed Metal Planter Gift Set is a sure way to any chocolate lovers heart. The collection includes assorted milk chocolates, chocolate covered graham crackers, chocolate covered raisins, and chocolate covered pretzels.
Starbucks Holiday Gift Box – The perfect gift for the Starbucks lover. This gift box comes with a Starbucks mug and a Starbucks cold cup with lid and straw. Let your loved ones enjoy the variety that Starbucks offer with this gift pack.
We understand if you are busy with the holidays coming up and all you need to do now is make the list of names, we have the perfect gift basket for everyone on your list. You just have to go to our website and check our baskets and decide. You can however always make your own basket; we have everything you need to tailor the perfect basket this holiday. Head to BJs.com and start adding to your cart today and select BJ's Curbside Pickup or Same-Day Delivery.
Not yet a member? You can sign up here.