Your family, home, and the things that matter most to you can never be too safe. At BJ's Wholesale Club, home security isn't just for those who can afford a complex security system with all the bells and whistles. Thanks to advanced wireless home security system technology, you can protect your home for a lot less than you may expect.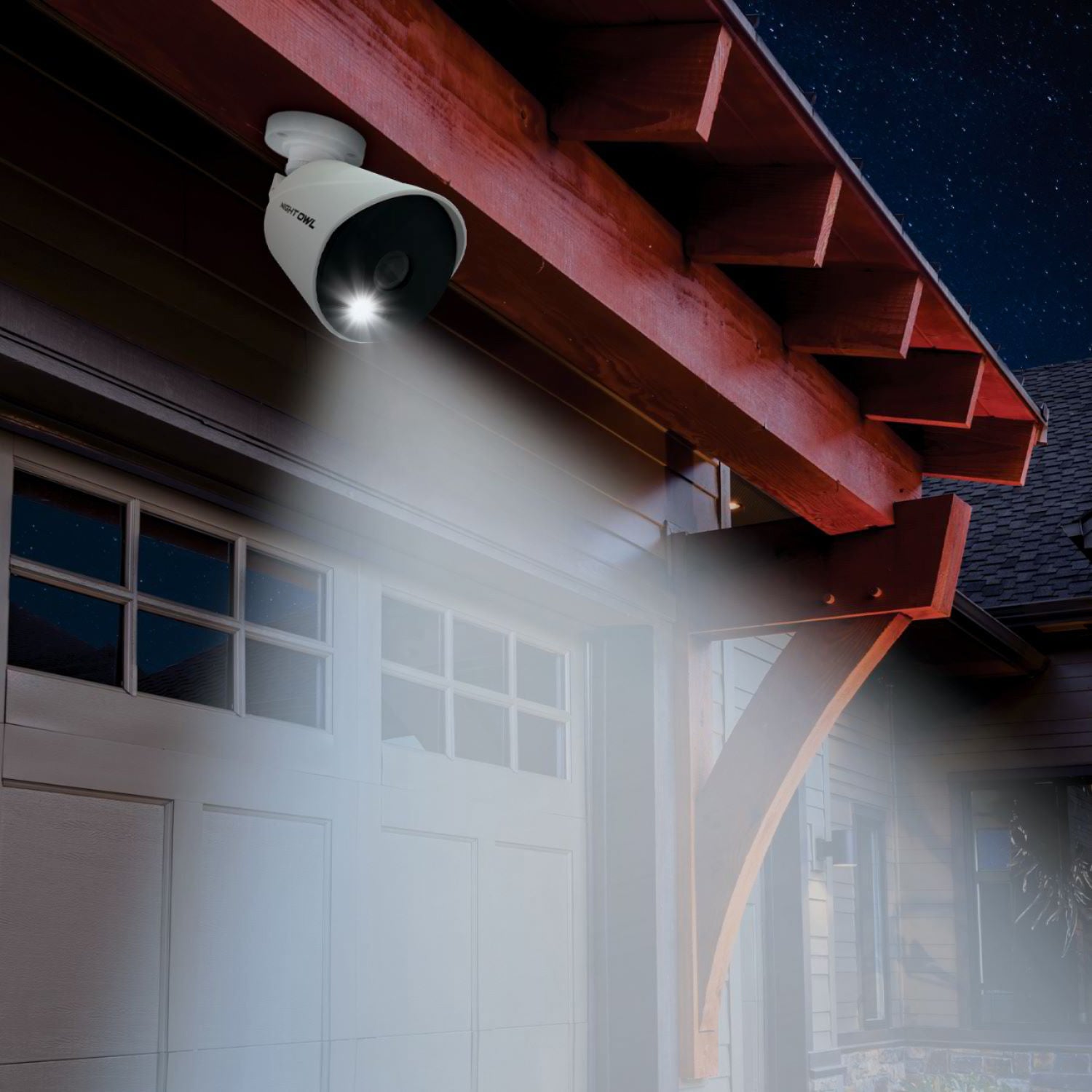 Why get a home security system?
Everyone should feel safe in their own house, but in the age of porch pirates, break-ins, and other security threats, peace of mind comes at a premium. Adding wireless and digital tools to your security plan can help you feel safe in your own space and enjoy time away without worry.
Parents always worry for their children's safety, whether they have an infant or a young scholar heading to college. Wireless home security systems let you see the most important parts of your residence and life on-demand. Whether you're looking into solutions for your dream house or your child's first apartment, you can find the perfect tools with BJ's Wholesale Club.
How to secure your residence
In the digital age, it's easier than ever to step up security and keep an eye on your property from anywhere in the world with wireless security cameras.
Cameras, alarms, and monitoring services all play a role in a comprehensive security plan. A smart doorbell or porch light camera provides convenient solutions for anyone looking to add a little more peace of mind to their day-to-day routine.
Simply having a camera clearly visible and out of reach of potential package thieves discourages theft in the first place, and many fraudsters and other problematic guests will think twice once they realize their face has been recorded. Adding a security camera, or several cameras, as part of your system also provides evidence in the worst-case scenario to help you recover your property.
What is the best home security system?
The ideal system should fit your budget, be scalable to your needs, and answer your biggest security concerns. Begin with your residence itself. Do you live in a single household building? Do you have an apartment with an exterior entrance? Maybe you have a condo or one floor of a multi-family complex. This will help you determine if you need a single security camera for the front door or if you need to consider broader security plans.
List all possible entrances, and consider if there's a level of security beyond your front door, like a locked apartment complex entrance or doorman. Do you need window alarms? Is a doorbell cam all you need for your third-floor apartment? Remember, even if you don't live on the ground floor, balconies and windows near fire escapes count as potential entry points.
Next, consider how much time you spend in your residence. Are you more worried about protecting yourself while you're there or guarding your property when you are away? Although most great systems include cameras, some focus more on remote tools and access than others. Systems like Night Owl include free DVR recording of footage taken from all cameras, and its free mobile apps make it easier to manage your residence's security when you're off the premises.
However, Night Owl focuses on security cameras, not sensors for potential entrances like windows or sliding patio doors. The Ring Alarm Security Kit offers a variety of tools to secure windows, monitor your property from your phone, and more. Both Night Owl and Ring provide excellent home security systems, but your needs determine which one offers better products for your space.
How to install a wireless camera security network
Apps matter, and they may take more time than setting up your physical equipment. Once you set up the individual home security cameras and sync them to the DVR (if they come with one), it's time to add the brand's apps to your phone and/or computer. This gives you control and the best view of your front door from wherever you take your phone, including work, your extended family's place, or a foreign country.
Some systems also come with professional monitoring for an additional, small fee. You do not have to sign up for a remote monitoring service in order to use all the equipment included in a security package from BJ's Wholesale Club.
Ring offers monitoring, and it's always reassuring to get a call from a real person after an alarm goes off, accidental or otherwise. However, you don't have to add the service, and Ring offers one of the very best home security systems with or without remote monitoring.
Where can I buy a home security system?
BJ's Wholesale Club makes it easy to secure your residence with wireless security cameras, alarm systems, and more. Shop top brands like Ring, Night Owl, and Lorex to find the best security solutions for your living arrangements, and enjoy the comfort of secure delivery. Browse smart locks, smart doorbells, and our porch light camera selection online. There's a bundle for every budget, and with BJ's Wholesale Club deals and discounts, security is more affordable than ever.
Night Owl offers several advantages in addition to price, though. You can buy an additional Night Owl security camera on its own if you realize you have a blind spot, and it's easy to expand your view without buying an entire secondary system.
Ring home security offers a single doorbell camera or a full home security package with window sensors, an alarm keypad, and more. Members enjoy special pricing on either option. This company helped pioneer the digital age of home security, and their optional live monitoring service can help families relax, even when they're far from their own living rooms. A Ring alarm system serves as a nightguard as well, so you and yours can rest easy.
How to install home security cameras
Digital security tools come with simple directions, and outdoor cameras are designed for easy mounting. It's a good plan to have a drill or screwdriver on hand, just in case, but read the directions in advance to ensure you have all the tools you need before you start
Double-check your new camera's specifications before mounting them outside. The best brands include theft-resistant technology that makes stolen property hard to grab and easy to trace. Not all cameras come with these features, though, and you don't want to give a potential thief a free bonus.
Unless you are attaching a doorbell, choose an area out of a visitor's direct line of sight that offers either a good view of guests' faces or a potential point of entry, like windows or side doors. While potential burglars have learned to look up for cameras, if they're safely mounted and out of reach, the watching eye can discourage porch pirates and fraudsters. You can also mount cameras low to keep them out of sight or use indoor cameras in sidelights to mind the front door.
Shop security solutions with BJ's Wholesale Club for the best value and greater peace of mind. Join now to become a member to enjoy fantastic value and savings on everything from cameras to groceries. Short on time? Order online and schedule a free Curbside Pickup.