A microwave oven is a real convenience in the kitchen. In just a couple of minutes, you can have a hot meal or snack ready for the hungry members of your family. If you are looking for the space-saving convenience of an over-the-range microwave, you will find a great selection of Whirlpool appliances on bjs.com.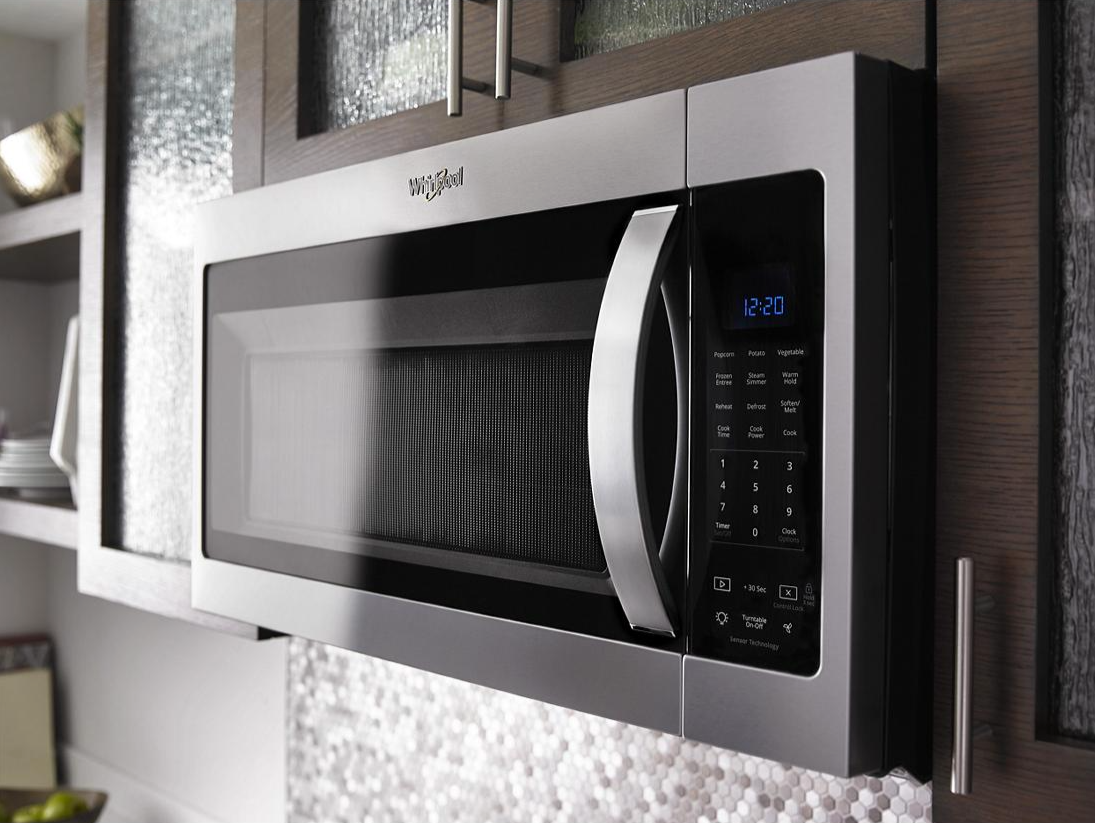 What is an over-the-range microwave?
In a busy kitchen, counter space is at a premium. Most families rely on their microwaves, but a decent-sized appliance can get in the way if it is on the counter. A built-in microwave oven solves this problem by attaching the microwave to the area above the stove. You will have the convenience that comes with the ability to microwave food with the added bonus of extra counter space.
These units have the same kinds of controls you have come to expect in a microwave oven. Simple, push-button controls let you choose the heating level, cooking time and type of cooking you need. Some units include hardware to turn your microwave into a convenient steamer for rice and vegetables.
One of the concerns you might have when considering an over-the-stove-microwave is ventilation. On many stoves, the space above the burners is reserved for a ventilation fan that pulls smoke and odors out of the kitchen and pushes them outside. The over-the-range microwave ovens on bjs.com are designed to handle this problem. When professionally installed, the fan system in the appliance will also work as your ventilation fan.
Where can I buy an over-the-range microwave?
Bjs.com has great values on built-in microwaves by Whirlpool. These appliances come in several sizes and styles. The type of microwave oven you need depends on how you use it. If you are a family that uses the device for quick snacks or microwave popcorn, you might only need a 1.1 cubic-foot model. Families that regularly prepare meals in the microwave may want a larger, 1.9 cubic-foot built-in microwave oven.
The design of your microwave is an important consideration. A standard built-in microwave will hang lower than a stove ventilation hood. However, some of the Whirlpool microwave hood models are designed to take up the same amount of space as a standard stove hood. If you want to minimize the appearance of your new microwave oven, this may be the right choice for you.
How do I have an over-the-range microwave installed?
Unlike a countertop microwave, a built-in microwave requires careful installation to maximize its performance. You want to be certain that the device has the proper power connections. Proper alignment also allows the unit to do its work as a ventilating fan.
Thankfully, BJ's has you covered with free over-the-range microwave installation. BJ's works hard behind the scenes to prepare your major appliance order to meet your preferred delivery date. You will receive an email from the Whirlpool Corporation 3-4 days prior to your selected delivery date with information on how to prepare for your installation. If you have any questions or concerns, please contact Whirlpool Corporation at 1-(888)-900-7860.
If you are looking for a cooking solution that minimizes cooking time while maximizing space, an over-the-range microwave oven is a wise choice. With great prices, free delivery and installation on every major appliance order, BJ's Wholesale Club is the place to look for your next built-in microwave oven.
References:
[1] https://www.whirlpool.com/blog/kitchen/how-to-choose-a-microwave.html