The holidays are here, and it's time to think about toys for children on your list. But where do you start? There are so many choices and almost too many options. Don't panic. BJ's Holiday Shop has you covered. This guide will help you surf the shop efficiently, pick appropriate gifts for children of every age, and even stay within your budget. If you're short on time this holiday season or prefer to shop contactlessly, order all your holiday needs online and select BJ's Curbside Pickup.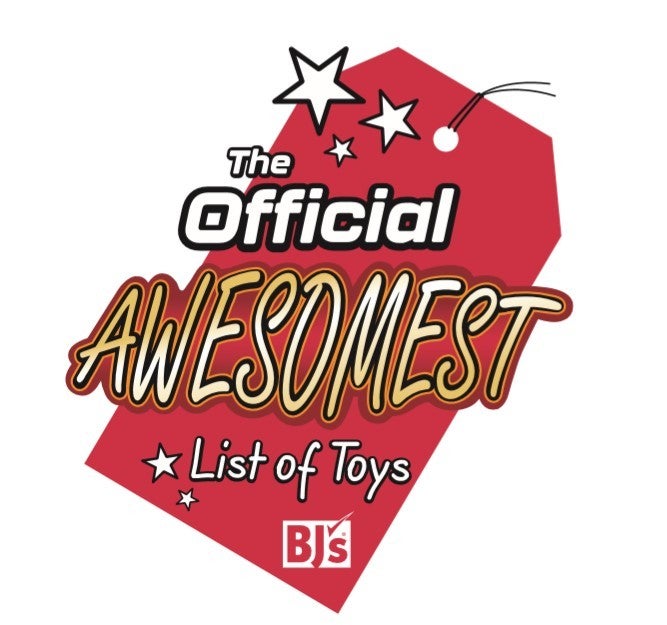 What gifts are best for each age range?
Not sure if a product is suitable as a gift for a specific age? BJ's Wholesale Club provides all the important information about each item for sale in the toy shop.
Are your kids ready to take flight? Remote-controlled kids toys, like the Swift Stream Remote Control Drone, are always popular, though they are best for kids at least 13-years-old.
Creative children 6 and up can enjoy specialized sets, like LEGO Friends Heartlake City Restaurant 41379 Building Kit. The LEGO Classic Creative Suitcase Set makes any building kit grow with a world of new pieces your child can turn into anything they imagine. LEGO Star Wars kits make some of the best holiday gifts for slightly older children, however, and they're best given to kids 8 and up.
If you want to ensure a specific item will be safe and fun for the child you have in mind, click on the item and scroll down. Just beneath the Product Summary is the Specifications tab. Click on it to open a detailed overview with everything from the UPC and expected shipping time to the manufacturer's suggested age range. The age range is usually about three rows down. For example, So Slime DIY Slime'licious Slime Making Kit is designed for ages 6 to 13.
What categories are best for each age range?
BJ's Wholesale Club makes shopping for holiday gifts and kids toys easy for children of any age. Although the suggested age range (explained further in the previous section) is the best guide to individual gifts, general categories can help you narrow down your search.
Shop the Preschool section for activities and goodies designed for learning made fun. Learning Toys, Pretend Play, and Riding Toys categories also have lots of great finds for younger children. You can always keep things classic with Arts and Crafts, Vehicles, and basic Building Sets. Stuffed animals, Dolls, and Dollhouses also have items appropriate for younger holiday gift recipients.
If you aren't sure what you're looking for, you can start with a trusted brand for small learners, like LeapFrog and Fisher-Price.
You can search for action figures, games, and even trading cards for older kids based on interest. Have a Pokémon fan in the family? Go straight to branded merchandise perfect for your junior Pokémon trainer.
Older kids can still enjoy Plushies, Dolls, and LEGOs, but they may also like Electronic Toys, RC Toys, and Trading Cards. Figures and Collectibles generally appeal to older elementary and junior high students as well, as they can appreciate things like limited editions, special poses, etc.
While most categories have some wiggle room, some items definitely suit older kids - and only older kids. At the top of that list is Remote Controlled Toys. Giving a child who hasn't mastered tying their shoes control of a flying, rolling, or sailing device is a recipe for heartbreak. One good crash and giggles turn to tears.
It's also important to mention that popular building kits like LEGO are great for most ages, but the small pieces are choking hazards. Small children will also struggle to construct delicate designs. With this in mind, it's best to check the suggested age range on individual building sets, even if they are from the same brand. While one may be designed for preschool hands, another may be a proper challenge for a junior high student.
Figures and collectibles are great in hands that appreciate them. Most are suggested for either age 6 or 8 and up. The benefit is that a lot of teens still like them, too!
Navigate BJ's Holiday Toy Shop Just Like the Catalog
The Holiday Shop is divided into convenient sections to make shopping for any child as easy as possible. If you want to dive in with both hands and see everything BJ's has to offer, click on either of the top banners. They have "Shop All" written in red on the bottom right.
Below the "Shop All" options are three shortcuts. The first, The Awesomest selection, is full of trending thrills and bestsellers. If you want to give the hottest gifts, that's the shortcut for you. Second is BJ's Exclusives. These packs, items, and collectibles are only available through BJ's Wholesale Club. Follow this shortcut to find something unique to give. Lastly, the third shortcut provides a Print Catalogue. This lets you print out the full Holiday Shop catalog on paper for the kids in your life to mark up with suggestions. It's a great way to see what they really want, get a variety of ideas, and still deliver a surprise.
A rolling banner with suggested purchases comes next. These are popular gadgets and games from a range of categories, but don't worry if you don't see something you like.
Next, you can Shop by Category. This collection of clickable images leads you straight to things designed for specific ages, interests, and more. They are:
• Arts and Crafts
• Building Sets
• Dolls and Dollhouses
• Electronic Toys
• Figures and Collectables
• Games and Trading Cards
• Learning Toys
• Preschool
• Pretend Play
• Riding Toys
• Plushies, Animals and Toys
• Vehicles and RC Toys
After Shop by Category, you can choose to Shop Toys by Brand. Scroll down here to get your Disney plushes, Pokémon figures, and LEGO sets. You'll also find Mom Trusted Brands like LeapFrog as well. If you know generally what shows or brands the child in your life prefers, this is a wonderful place to start looking.
What Are Some Trending Gifts?
Every year, the top picks change. This year, some of the bestsellers include the Disney Giant Mystery Egg. What's inside? No one knows until the recipient opens it. It's like a special gift from the Mouse himself.
LEGO is always popular. LEGO Creator or City set is a three-in-one gift to keep little builders happy.
A Fisher-Price Laugh and Learn Food Truck lets little learners get some practice in the kitchen while having a blast with mom-approved toys.
Pokemon is a multi-generational fascination, and you can help your small friends catch 'em all with the Mythical Collection.
How to Best Shop for Your Budget
First, make sure you know your budget. Choose a fixed dollar amount for each child on your list. It's a good idea to talk with the child and/or their parents to get an idea of things they already have and love, what they're really into this year, and what may not work for their home or lifestyle. Even if your niece or nephew wants a fleet of remote-controlled toys, their parents may fear for the light fixtures.
Next, based on what you've learned, decide if the child in question would prefer one or two big presents or if quantity is key. One large riding toy generally costs as much as many small plushies. Choose any big gifts first. Say it's a kitchen pretend playset. What would go well with that? Pretend food, fake baking supplies, etc. are great additional gifts that complement the big purchase without breaking your budget.
Shop online at BJs.com or visit a local club to browse the Holiday Toy Shop today and see for yourself why a BJ's Membership is The Membership that pays you back™.