You can catch a cold or the flu any time of the year even if you live in a warm climate.[1][2] Keeping your medical supplies stocked with cough, cold and flu treatments is necessary so that you have what you need immediately available when symptoms first appear. Do what you can to avoid becoming sick, such as washing your hands with soap and water after coming inside the home.[3] Also know what to do if you or a family member gets sick, and have the medicine available to minimize your stress and discomfort.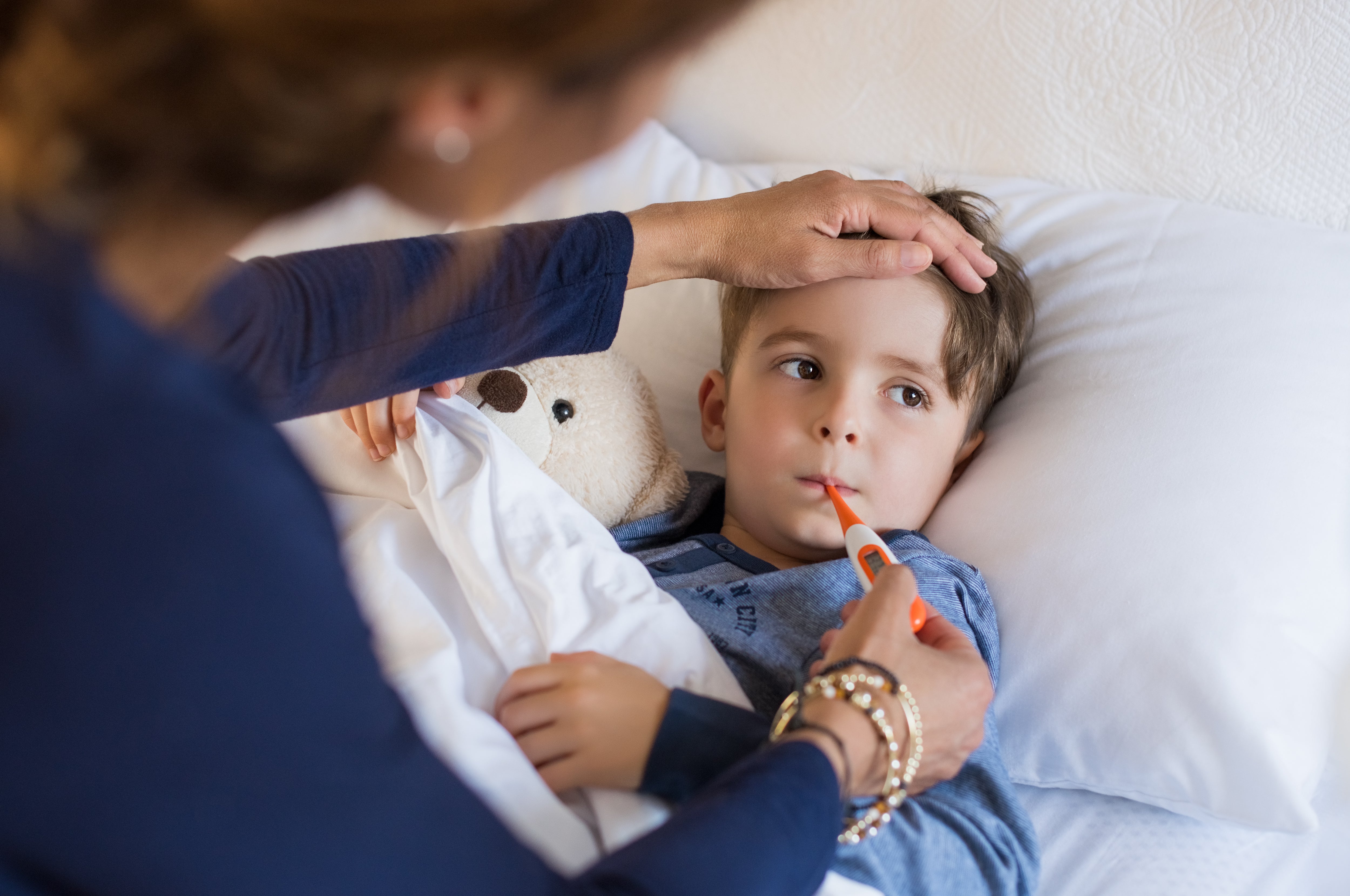 How Do You Get Rid of a Cough, Cold or Flu?
When you feel yourself coming down with a cold or the flu, it's important to stay warm and rest your body.[4] You might not be able to stop it from running its course, but you can speed up your recovery by knowing how to get over a cold or flu more easily.
Doctors recommend taking a flu medicine in the early stages of the flu to reduce the severity of your symptoms and to recover faster.[5] With a cold, however, you may want to allow your body to cough a bit to get out the mucus.[4] Once the coughing starts to bother you, take cough medicine to feel better and prevent your throat from becoming painfully sore.
Theraflu is a commonly chosen flu and cold medicine. We recommend keeping the Theraflu Multi Symptom Severe Cold and Cough Pack, 24 ct. on hand in case you come down with severe flu symptoms. It can also be used to treat severe colds. The pack comes with a mixture of daytime and nighttime medicines. Symptoms it can relieve include fever, body aches, sore throat pain, headaches, nasal congestion and coughing.
Cough suppressant medicine is an effective way of giving yourself relief from your cough. Halls and Ricola are two leading brands in cough suppressants. The medicine comes in a candy-like form and tastes good. Most people refer to them as cough drops.
Halls cough suppressant drops come with additional benefits, including soothing sore throats and cooling nasal passages. Even if your cough isn't from the cold or flu, cough drops can relieve your cough.
Ricola cough drops are made with natural ingredients, such as peppermint, elder and lemon balm. The Ricola Original Herb Cough Drops have 10 different herbs that work together to suppress your cough and soothe a dry or hoarse throat. These cough drops are also non-GMO, gluten-free and vegetarian.
Other cough, cold and flu remedies we have in stock are nasal decongestant sprays, nasal strips, liquid medicine, tablets, caplets and tissues. Always check with your doctor that it's safe to use more than one medicine as your treatment. You don't want the ingredients to have a bad reaction.
Natural cough remedies that you could include in their treatment are eating honey, drinking hot tea and gargling with saltwater.[6] If your cough becomes too much or you're unable to sleep because of the coughing, then you may need medicine for relief. Combining cough remedies like resting, drinking hot tea and taking an over-the-counter cough medicine tends to provide the best results.
Check the humidity in your room using a hygrometer. If the air is dry or at the lower end of the recommended indoor humidity levels, then you should use a humidifier to ease your symptoms. Cold and flu viruses thrive in dry air. Increasing the humidity makes it harder for them to survive and keeps your nasal passages moist for fighting them off.[7]
How Do You Treat Your Child Who Has a Cough, Cold or Flu?
Children who are at least 4 years old can take cough drops.[7] Check the package instructions to know how many are safe for them to eat in a day.
A good cough suppressant for kids that we sell is Mucinex Children's FreeFrom Liquid Day Night, 3 ct. It has two daytime bottles and one nighttime bottle. Both formulas lower a fever, relieve pain, reduce nasal congestion and reduce coughing. If you want a cough medicine for kids that doesn't have alcohol or artificial flavors in it, this is a good choice. Mucinex Children's FreeFrom Liquid Day Night, 3 ct is also free from dyes, colors and sugar. We have it available in cherry and elderberry natural flavors.
Dimetapp Children's Cold and Cough Day and Night and Congestion Night, 3 pk is another effective cold medicine we have available for children. It's a pharmacist-recommended brand. The medicine relieves your child's stuffy nose, runny nose, itchy eyes, watery eyes, congestion, coughing and sneezing.
If your child is having trouble falling asleep because of their nasal drip, you can elevate the head of their bed to make lying down more comfortable for them.[7] Don't elevate their pillows because that's a suffocation risk for young children. For babies still in a crib, you can place books under the mattress to give them an incline.[7]
Liquid cough medicine for kids is usually only safe for children 6 years old or older. Age restrictions are found in the product description and also on the package. Never give cold and flu medicine to children younger than the specified age requirement because it won't be safe for them.
We have found a cough suppressant for kids that's safe to use on children as young as 12 months. The daytime formula in Zarbee's Naturals Cough Syrup Variety Pack, 3 pk./4 fl. oz. is safe and effective for ages 12 months and above. For the night time formula, your child must be at least 2 years old. Both formulas help clear mucus to reduce your baby's discomfort. It's made without drugs, alcohol or artificial sweeteners. Natural ingredients in the formula include dark honey and ivy leaf extract.
Where Can You Stock Up on Cough, Cold or Flu Medicine?
You can stock up on cough, cold and flu medicine at BJ's Wholesale Club. We offer Same-Day Delivery and Free In-Club and Curbside Pickup. With Same-Day Delivery, we can deliver your order within two hours. You have the flexibility to schedule your order as long as the time slot isn't already filled up by other customers.
We have FSA/HSA eligible items if you want to use your tax-advantaged account to stock up on medicine for you and your family. BJ's Wholesale Club frequently offers coupons and keeps prices low as well. Members enjoy money savings when they choose us for buying their medicine.
References:
[1] https://www.cdc.gov/flu/about/season/flu-season.htm
[2] https://www.verywellhealth.com/when-is-common-cold-season-770443
[3] http://globalhandwashing.org/wp-content/uploads/2017/02/Clean-Hands-Prevent-Cold-Flu-slide-deck.pdf
[4] https://www.webmd.com/cold-and-flu/12-tips-prevent-colds-flu-1#1
[5] https://www.cdc.gov/flu/treatment/whatyoushould.htm
[6] https://symptoms.webmd.com/cold-flu-map/treating-your-cough
[7] https://www.nursingcenter.com/journalarticle?Article_ID=840619&Journal_ID=54016&Issue_ID=840565