Traditional toothbrushes do a decent job, but they cannot clean your mouth as efficiently and thoroughly as an electric-powered toothbrush can. The extra-fast motion of electric toothbrushes can blast away plaque and leave you with a bright and healthy smile.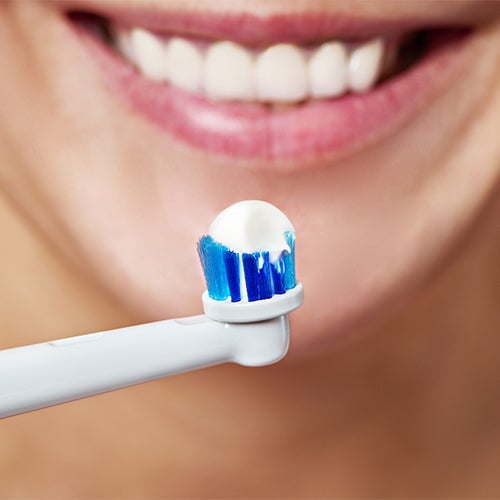 Why buy an electric toothbrush?
Frequently brushing your teeth can prevent cavities, gum disease, and other painful dental conditions. Tooth brushing is an essential part of dental hygiene because it removes plaque, a sticky bacterial film that can give you mouth infections, stinky breath, and tooth discoloration.
Electric toothbrushes vibrate rapidly, so they get rid of more plaque than an ordinary toothbrush can manage to do. This ensures the surface of your teeth is as clean as possible. Combined with a fluoride toothpaste, using an electric toothbrush twice a day may keep you from having to spend a bunch of time and money at the dentist later on.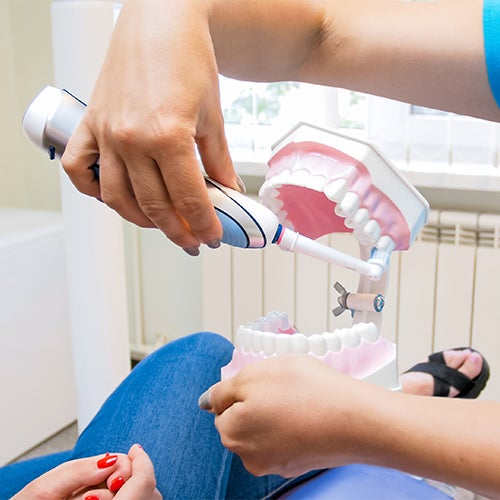 Which electric toothbrushes are the best?
The best types of electric toothbrushes really just depend on your personal needs. Follow these steps to get the ideal toothbrush for you:
1. Choose between sonic and rotating brushes: Research has found that toothbrushes that rotate may reduce plaque more than sonic toothbrushes. However, a sonic toothbrush is smaller and more lightweight, so it can help you clean hard-to-reach teeth in the back of your mouth. For both toothbrush styles, an option with a more powerful motor and higher number of strokes per minute is usually more efficient.
2. Consider optional toothbrush features that make the job even easier: Most people will benefit from toothbrushes with multiple speeds, so you can pick the perfect power level for your teeth. If you have trouble brushing your teeth for a long enough time, it can be helpful to get a toothbrush with a timer. You may also want to look at electric toothbrushes with pressure sensors. These ensure you are not pushing down too much or too little as you brush.
3. Select your favorite model: Once you have narrowed down the type of features you want, it's time to look at popular models of electric toothbrushes. This stage is entirely a matter of personal preference. Some people might want to pick the cheapest option or the best-reviewed option. You can also decide based on perks such as the toothbrush that comes in your favorite color or the one that has a neat storage kit.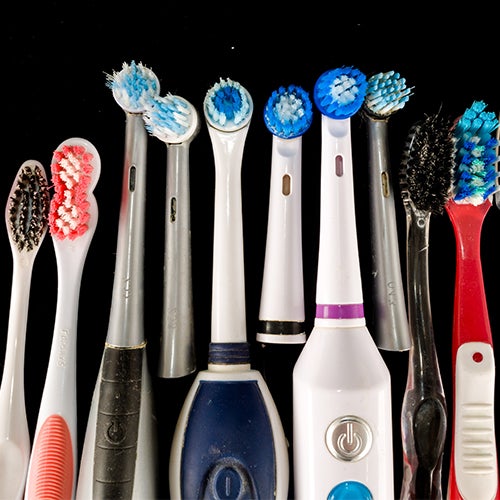 Where can I buy electric toothbrushes?
When looking for an electric toothbrush, check out your local BJ's club, or visit our website. Some of our customers love shopping online since you can filter toothbrushes based on brand, price, type, and color. Others like visiting the store where they can look at the product in person before deciding. Whatever shopping method you prefer, we have plenty of electric toothbrushes available, so you can find the perfect style for your needs.
Even after you pick out an electric toothbrush, BJ's can still help. Dental experts recommend you replace your toothbrush head every three months, so we also offer electric toothbrush heads compatible with many popular toothbrush brands. Stock up on toothbrush heads to give your toothbrush fresh bristles with maximum scrubbing power.
BJ's makes it easy to get the sparkling smile you have always dreamed of. With our Free Pickup, you can buy your toothbrush online and then pick it up at your nearest BJ's. We also offer shipping options if you want to improve your dental care without even having to go to a store. Look for the products with Same-Day Delivery to get toothbrushes and other dental hygiene items delivered to your door in as little as two hours.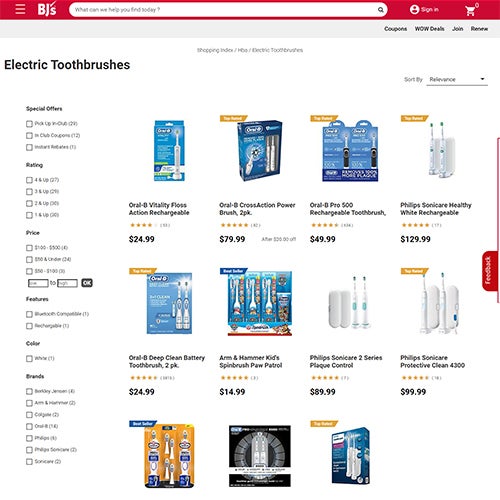 Reference Section
[1] https://www.mayoclinic.org/healthy-lifestyle/adult-health/expert-answers/electric-toothbrush/faq-20058325
[2] https://www.dentalhealth.org/caring-for-my-teeth
[3] https://www.businessinsider.com/how-often-to-replace-your-toothbrush-according-to-dentists-2018-1
[4] https://www.today.com/health/which-toothpaste-best-dentists-recommend-fluoride-toothpaste-t135264
[5] https://pubmed.ncbi.nlm.nih.gov/24282870/