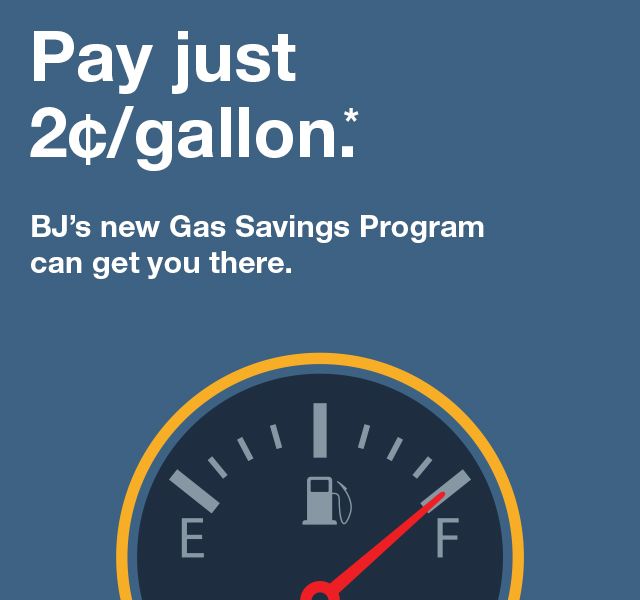 Save 10¢/gallon for each High-Octane Item you buy.
Stack your savings and fill up for way less.
Look for the High-Octane Icon while you shop. It's on over 150 of your favorite items. For each one you buy, that's another 10¢ off/gallon at BJ's Gas.®
PRO TIP: To get your price per gallon really low, stack gas savings earned over multiple shopping trips – then cash them in all at once before they expire at the end of the month.
Look how fast the savings stack up.
| | | |
| --- | --- | --- |
| | 1 item | = 10¢ off per gallon |
| | 2 items | = 20¢ off per gallon |
| | 5 items | = 50¢ off per gallon |
| | 10 items | = $1.00 off per gallon |
| | 23 items | = $2.30 off per gallon |
Finding High-Octane Items is easy – just look for this icon.
Gas savings expire at the end of each month. Remember to cash them in.
For each one of these High-Octane Items you buy, you'll save 10¢/gallon at BJ's Gas.

Valid dates 8/8/19 - 9/4/19
---
all Liquid Laundry Detergent
Multiple Items
Annie's Homegrown Organic Macaroni & Cheese Variety Pack, 12 ct./6 oz.
Item 51929
Annie's Organic Fruit Snacks Variety Pack, 42 ct.
Item 66022
Annie's Shells & White Cheddar Sauce, 12 pk./6 oz.
Item 12526
Aquaphor Healing Ointment, 3 pk.
Item 190829
Blue Buffalo Health Bars Natural Crunchy Dog Treats, 5 lbs.
Item 223143
Blue Buffalo Life Protection Formula Adult Dry Dog Food, 38 lbs.
Item 223142
Bona Hardwood Floor Cleaner, 22 oz. with 96 oz. refill
Item 146286
Capelli Kid Shoes, Assorted
Item 208615, 206472, 185033, 2064767
Chef Boyardee Meals, 12 pk.
Item 139660, 84774, 226615
Clorox 2 Stain Remover & Color Booster, 112.75 oz.
Item 670123, 670124
Clorox Disinfecting Wipes Value Pack, 5 pk./78 ct.
Item 31972
DampRid Item
Item 648227, 719191
Depend OR Poise Item
Multiple Items
Diet Pepsi Cans, 24 pk./12 oz. OR 36 ct./12 oz.
Item 16851, 205634
Downy In-Wash Scent Booster Beads
Multiple Items
Entenmann's Little Bites Items, 20 pk./1.65 oz.
Multiple Items
Eucerin Intensive Repair Lotion, 2 pk./21 oz.
Item 22541
Ferrero Nutella & Go with Breadsticks, 16 ct./1.8 oz.
Item 128113
Finish Jet-Dry Advanced, 27.5 oz.
Item 71286
Finish Jet-Dry Rinse Aid, 32 oz.
Item 217402
Finish Powerball Max-in-1 Automatic Dishwasher Tablets, 105 ct. OR 117 ct.
Item 94585, 173043
Flipz Milk Chocolate-Covered Pretzels, 24 pk.
Item 74572
Frito-Lay Big Grab Variety Pack, 30 pk./1.75 oz.
Item 5273
Garnier Fructis Sleek & Shine Shampoo OR Conditioner, 40 oz.
Item 32407, 32408
Garnier Whole Blends Honey Treasures Shampoo OR Conditioner, 40 oz.
Item 188145, 188009
Gillette Mach 3 Sensitive Men's OR Women's Disposable Razors, 11 ct.
Item 667331, 152900
Glad Trash Items
Multiple Items
Ground Up Cauliflower Straws
Item 227672
Gushers Fruit Snacks, 42 ct.
Item 199179, 152613
Hellmann's Items
Item 26534, 18706, 18894, 283721
Kellogg's Nutri-Grain Bars, 48 ct.
Item 12332
Kellogg's Rice Krispies Treats, 60 ct./0.78 oz.
Item 113638, 144877
Lipton Pure Leaf Tea, 18 pk./18.5 oz. OR 18 pk./16.9 oz.
Item 93654, 32257, 223131, 223130
Mott's 100% Apple Juice OR Organic Apple Juice, 2 pk./128 oz.
Item 13053, 185695
Mott's Medleys Fruit Flavored Snacks, 90 ct.
Item 66002
Mountain Dew Cans, 24 pk./12 oz. OR 36 ct./12 oz.
Item 16798, 140830
NIVEA Essentially Enriched Lotion OR Firming Body Lotion, 2 pk./21 oz.
Item 30994, 22351
Oral-B Vitality Toothbrush OR Oral-B Refill Brush Heads
Item 674359, 218237, 21836
Pepsi Cans, 24 pk./12 oz. OR 36 ct./12 oz.
Item 16852, 4478
Post Honey Bunches of Oats Honey Roasted, 48 oz.
Item 24555
Powerade Zero Calorie OR Powerade Variety Pack, 24 ct./20 oz.
Item 28526, 28528
Prego Traditional Italian Sauce, 2 ct./67 oz. OR Alfredo Sauce, 3 ct./14.5 oz.
Item 12738, 215856
Rubbermaid 56-Pc. Food Container Set
Item 72094
Scott 1,100-Sheet 1-Ply Bath Tissue, 36 pk.
Item 693713
Scott Comfort Plus 1-Ply 400-Sheet Bath Tissue, 36 pk.
Item 147448
Scott Paper Towels Large Pack, 16 ct.
Item 155494
SkinnyPop Popcorn, 24 pk. OR 36 pk.
Item 221172, 52635
Snack Pack Pudding, 36 ct./3.25 oz.
Item 192327, 206374, 33174
Snuggle Fabric Softener
Multiple Items
Starbucks Vanilla OR Chocolate Frappuccino, 15 ct.
Item 66248, 66234
Tide Pods Liquid Detergent Packs
Multiple Items
Tide Studio Laundry Detergent, 150 oz.
Item 218927
Wellsley Farms Cider Donut Holes, 16 oz.
Item 71328
Wellsley Farms Cider Donuts, 6 pk.
Item 71329
Wet Ones Antibacterial Hand Wipes, 9 pk./20 ct.
Item 93409
Wet Ones Antibacterial Wipes, 5 pk./48 ct.
Item 679521
Whirlpool 3.2-Cu.-Ft. Mini Fridge
Item 221542
Ziploc Storage Bag Variety Pack, 347 pk.
Item 35771
Zyrtec Prescription Strength Allergy Medicine, 2 pk./50 ct.
Item 686202
*For each eligible High-Octane Item purchased in-Club, save 10¢/gal. at BJ's Gas® on your next fill-up, during the same calendar month as your purchase. If you have multiple checkout transactions containing High-Octane Items within the calendar month, your gas discount will reflect all High-Octane Items purchased in all transactions for that calendar month prior to your next fill-up. Redemption of the discount is capped at the fuel cost per gallon at the time of redemption. Maximum fuel quantity is 30 gallons per redemption. Your earned fuel discount will be reset to zero after each use at the pump. Promotional savings may not appear at pump for fifteen minutes from checkout. Offer is valid on purchases of High-Octane Items ordered on BJs.com, but picked up in-Club, as well as purchases made using BJ's ExpressPay. Offer is not valid on other BJs.com (including Instacart®) purchases. Offer may be combined with select BJ's Gas fuel discount offers and, where applicable, 10¢/gal. My BJ's Perks® Mastercard® discount; however, total discounts may not reduce the price per gal. below 2¢/gal. Any remaining discount balance after use at pump cannot be applied to the required minimum payment of 2¢ per gallon. Unused discounts at the end of a calendar month will be forfeited, and do not roll over and are not transferable. Discount can be redeemed on any type of fuel - regular, premium and diesel (where available). Approved fuel containers only. BJ's Gas locations may occasionally close for site maintenance, during which the promotional discounts will not be available. Valid 8/8/19 - 9/4/19.