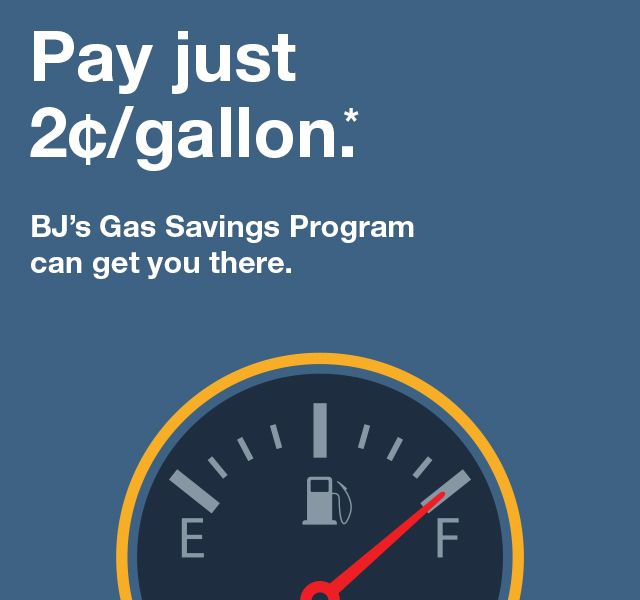 Save 10¢/gallon for each High-Octane Item you buy.
Stack your savings and fill up for way less.
Look for the High-Octane Icon while you shop. It's on over 100 of your favorite items. For each one you buy, that's another 10¢ off/gallon at BJ's Gas.®
PRO TIP: To get your price per gallon really low, stack gas savings earned over multiple shopping trips – then cash them in all at once before they expire at the end of the month.
Look how fast the savings stack up.
| | | |
| --- | --- | --- |
| | 1 item | = 10¢ off per gallon |
| | 2 items | = 20¢ off per gallon |
| | 5 items | = 50¢ off per gallon |
| | 10 items | = $1.00 off per gallon |
| | 23 items | = $2.30 off per gallon |
Finding High-Octane Items is easy – just look for this icon.
---
Gas savings expire at the end of each month. Remember to cash them in.
For each one of these High-Octane Items you buy, you'll save 10¢/gallon at BJ's Gas.

Valid dates 12/4/19 – 1/8/20
8 O'Clock Coffee, Whole Bean OR Ground
Item 19373, 167741
all Liquid Laundry Detergent, Free & Clear, Single Dose OR Mighty Pacs
Multiple Items
Arm & Hammer Complete Liquid Laundry Detergent, Single Dose Detergent OR Powder Detergent
Item 704466, 34972, 31905, 97644
Barilla All-Natural Marinara Sauce OR Traditional Basil Pesto
Item 54195, 77817
Barilla Pasta, 4 pk., 6 pk. OR 8 pk.
Multiple Items
Batiste Dry Shampoo, Original OR Coconut and Exotic Tropical
Item 94276, 172871
Beneful Dry Dog Food
Item 227001, 32835, 32836, 221536
Bounty Select-A-Size, White OR Print, 12 ct. OR 15 ct.
Multiple Items
Cascade Platinum ActionPacs Dishwasher Detergent, 92 ct.
Item 172661
Charmin Ultra Soft OR Strong Bath Tissue, 32 ct. OR 40 ct.
Item 187063, 187062, 186596, 187064
Clorox Scentiva Wipes, 4 pk./25 oz.
Item 97250
Crest 3D White Whitestrips Professional Effect, 20 ct., with BONUS Crest 3D Whitestrips 1 Hour Express, 4 ct.
Item 94329
Downy Fresh Protect with Febreze April Fresh In-Wash Odor Defense Beads, 30.3 oz.
Item 150832
Fancy Feast Wet Cat Food, 36 ct. OR 48 ct.
Multiple Items
Frank's RedHot Original Wing Sauce, Buffalo Sauce OR Seasoning Blend
Multiple Items
Kellogg's Raisin Bran, Frosted Mini Wheats OR Rice Krispies
Item 7081, 21117, 226482
Kraft Original Flavor Macaroni & Chesse Dinner, 18 pk./7.25 oz.
Item 35076
Monster Energy Drink, 24 pk./16 oz.
Multiple Items
Nabisco Triscuits, Wheat Thins OR Oreo Winter Treats
Item 109846, 12465, 222983
Nature Made Digestive Health Probiotic, 50 ct. OR 90 ct.
Item 13347, 167705
Nature Made Vitamins, Gummy Vitamins OR Supplements
Multiple Items
Newman's Own Organics Newman's Special Blend Medium Roast Coffee Keurig K-Cup Pods, 100 ct.
Item 43898
Ocean Spray 100% Juice OR Juice Blend
Multiple Items
Pampers Baby Dry Diapers, Sizes 1 thru 6
Multiple Items
Pampers Cruisers Diapers, Sizes 3 thru 7
Multiple Items
Pampers Swaddlers Diapers, Size N thru 6
Multiple Items
Pantene Pro-V Blends Shampoo AND Conditioner Bundle
Item 223889
Pantene Pro-V Classic Clean 2-in-1 Shampoo and Conditioner, 38.2 fl. oz.
Item 88574
Pantene Pro-V Daily Moisture Renewal Hydrating Shampoo OR Conditioner, 38.2 fl. oz.
Item 88841, 88529
Pantene Pro-V Gold Series Hydrating Butter Cream, 6.8 oz.
Item 208477
Pantene Pro-V Gold Series Leave-On Detangling Milk Treatment, 7.6 fl. oz.
Item 208478
Pantene Pro-V Repair and Protect Shampoo OR Conditioner, 38.2 fl. oz.
Item 88594, 88850
Pantene Pro-V Sheer Volume Shampoo, 38.2 oz.
Item 88861
Pantene Pro-V Smooth and Sleek Shampoo OR Conditioner, 38.2 fl. oz.
Item 89334, 89282
Planters Unsalted Premium Blend Mixed Nuts, 34.5 oz.
Item 121326
Purina Dog Chow Complete Dry Dog Food, 50 lbs. OR 52 lbs.
Item 126135, 223997
Purina ONE Dry Dog Food
Item 43299, 29407, 11049
Purina Tidy Cats Lightweight Litter
Item 216627
S.Pellegrino Sparkling Mineral Water, 15 ct. OR 24 ct., OR Essenza Flavored Mineral Water, 24 pk.
Item 54212, 30747, 218021
Scrubbing Bubbles Bathroom Cleaner, 4 pk./25 oz.
Item 31971
Scrubbing Bubbles Mega Shower Cleaner, 3 pk./20 oz.
Item 705321
Snuggle Liquid Fabric Softener, Scent Shakes OR Fabric Softener Sheets
Multiple Items
Soft Scrub with Bleach Cleanser, 3 ct./36 oz.
Item 15925
Swanson Organic Chicken Stock, Organic Vegetable Broth OR Bone Broth
Item 83061, 236044, 236060
Swiffer Wet OR Dry, Starter Kits OR Refills
Multiple Items
Tide Pods Liquid Laundry Detergent Pacs with Downy, 88 ct.
Item 223633
*For each eligible High-Octane Item purchased in-Club, save 10¢/gal. at BJ's Gas® on your next fill-up, during the same calendar month as your purchase. If you have multiple checkout transactions containing High-Octane Items within the calendar month, your fuel discount will reflect all High-Octane Items purchased in all transactions for that calendar month prior to your next fill-up. Fuel purchases are subject to a required minimum price of 2¢/gal., and you cannot apply your fuel discount to such minimum price.
Redemption of the discount is capped at the fuel cost per gallon less 2¢/gal. at the time of redemption (e.g., if fuel cost is $2.00/gal. and you have earned a $2.10/gal. discount, your redemption is capped at $1.98/gal.). Maximum fuel quantity is 30 gallons per redemption. Your earned fuel discount will be reset to zero, and any remaining discount balance will be forfeited, after each use at the pump. Membership Card and payment card must be scanned or swiped in order for discounted price per gallon to be reflected on pump dispenser and applied to your fill-up. Promotional savings may not appear at pump for fifteen minutes from checkout. Offer is valid on purchases of High-Octane Items ordered on BJs.com, but picked up in-Club, as well as purchases made using ExpressPay.SM Offer is not valid on other BJs.com purchases, including purchases at delivery.BJs.com. Offer may be combined with select BJ's Gas fuel discount offers and, where applicable, 10¢/gal. My BJ's Perks® Mastercard® discount; however, total discounts may not reduce the price per gal. below 2¢/gal.
Unused discounts at the end of a calendar month will be forfeited, and do not roll over and are not transferable. Discount can be used on any type of fuel – regular, premium and diesel (where available). Approved fuel containers only. BJ's Gas locations may occasionally close for site maintenance, during which the promotional discounts will not be available. Valid 12/4/19 — 1/8/20.
If you redeem your fuel discount, BJ's has the right to reject the return of the purchased High-Octane Items that contributed to the redeemed fuel discount. In addition, in the event BJ's suspects abuse of the High-Octane Program (e.g., returns of purchased High-Octane Items following redemption of the corresponding fuel discount), BJ's reserves the right to suspend or terminate your participation in the High-Octane Program and to terminate your Membership without refund.