Your Closest Fuel Station
,
Regular Unleaded, Premium and
Diesel Fuel
Regular Unleaded Premium and
Diesel Fuel
Just shop like usual
and save more on gas
Shop items with the Fuel Saver icon and save an additional 10 cents a gallon at BJ's Gas with the purchase of each eligible product, in club or online, applied to your next fill-up within 30 days.*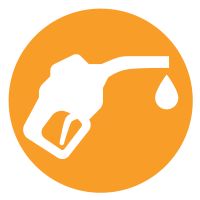 Stack your savings over multiple trips.
Buy 1 = 10¢ off/gallon,
Buy 2 = 20¢ off/gallon,
Buy 3= 30¢ off/gallon,
and so on...

BJ's Fuel Saver items can be purchased online & in-club. Excludes delivery.bjs.com.
For each eligible fuel saver item purchased at BJ's, save 10¢/gal. on your next BJ's Gas® fuel purchase ($99.00 or 30 gal. maximum, whichever comes first) made within 30 days. Fuel saver discounts may not appear at pump for 15 minutes from checkout. Membership and payment card must be scanned/swiped at pump for fuel saver discount to be applied. Earned fuel saver discounts reset to zero, and any unused discounts are forfeited, after each fuel purchase or, if earlier, after 30 days. Fuel saver discounts are non-transferable, have no cash value, and are not earned on BJ's purchases made through third parties (e.g., DoorDash, Instacart). No rain checks on fuel saver items.
All fuel purchases are subject to a minimum price of 2¢/gal., regardless of available fuel saver or other discounts, and all unused discounts are forfeited. For example, if fuel is $2.00/gal. and your available discounts total $2.10/gal., your discounts will be capped at $1.98/gal., and you will forfeit the remaining $0.12 in discounts. Fuel saver discounts can be used on regular, premium, and diesel (where available) fuel at BJ's Gas. Approved fuel containers only. BJ's Gas locations may occasionally close for site maintenance, during which time the promotional discounts will not be available.
BJ's reserves the right to reject the return of fuel saver items that contributed to a redeemed fuel discount. If BJ's suspects fuel saver program abuse, BJ's reserves the right to suspend or terminate your participation in the program and to terminate your membership without refund.
In the case of any discrepancy, the physical BJ's Gas station pricing will prevail.