What is Handy?
Handy is a company that connects individuals looking for household services with top-quality, pre-screened independent service professionals. From home cleaning to light fixture replacement to furniture assembly, Handy instantly matches thousands of customers every week with top-rated professionals in cities all around the world.
What is BJ's "installation powered by Handy"?
BJ's and Handy have teamed up to bring you an easy way to get your purchase installed. When you purchase an eligible item through BJ's and add installation powered by Handy at checkout, we'll create a booking for you. Handy will follow up via an email to confirm your booking details. You can reschedule your appointment for free up to 24 hours before the booking from the bookings page of your account.
How do I make a booking?
When you place your BJ's order online and add both the item AND the installation to your cart, we receive your request for service and will send you an email confirmation. Your account will be associated with the email address on your BJ's order. Since you already have an account, you can manage your booking online at Handy.com or through the Handy mobile app.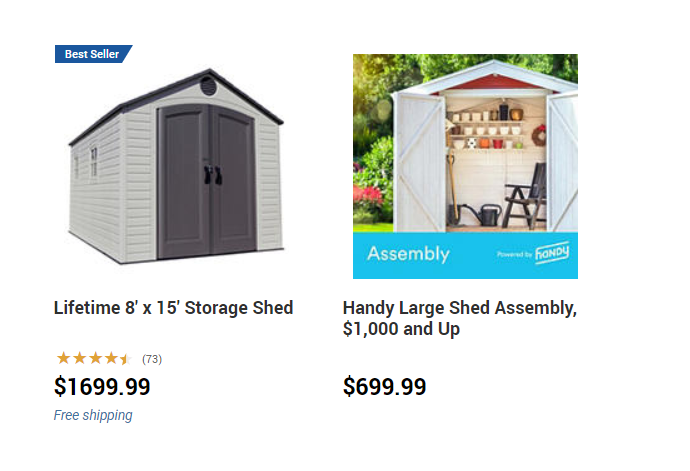 Can I reschedule my booking?
Absolutely! You can reschedule and manage all of your assembly booking details through the Handy app. You can also manage your account online at Handy.com.
To reschedule on the web:

● Visit handy.com.

● Go to the bookings page on your account. ● Click the edit booking drop down.

● Select 'Reschedule Booking'

● Choose the date and time you'd like to move the booking to.

● Click the 'Reschedule' button.

To reschedule in the Handy app:

● Download the Handy mobile app.

● Tap the bookings icon on the bottom left of your screen.

● Tap into the booking you want to cancel. ● Scroll down to the reschedule booking button and tap.

● Select the date and time you'd like to move the booking to.

● Tap the 'Confirm Reschedule' button.
Once you reschedule, you'll receive an email confirming the new date and time.
If it's your first time logging in, all you'll need to do is follow the password creation link and use the email address you used at check-out through BJ's.
Who is my professional?
We'll let you know who your professional is as soon as we've made a match. This could happen anywhere from a few days beforehand, to just a few hours, depending on your city.
If you want to check, you can either:
Click the link in your confirmation email to view your booking online
Visit the bookings page in the Handy app and select the booking in question
Next, check if there's a name next to the "Professional" eld. If not, don't fret; we'll make sure one of our background-checked and highly-rated pros arrives on time.
I can't contact my professional.
Here are some things to consider:
You can call or chat with your pro from the Bookings page of your Handy account. ● If calling, make sure you're using the phone number listed on your account
Pros may take a little while to respond while they are in transit or experiencing poor reception
Where can I download the app?
Download the Handy app here: handy.com/app
Why was my booking resheduled?
We strive for unlimited availability, occasionally there aren't enough professionals available to fulfill your booking at the requested time. If this happens, we'll reschedule for another time when a professional will be available.
If the rescheduled time doesn't work for you, feel free to reschedule your booking free of charge. Just visit the bookings page in the Handy app. Don't have the app yet? Download it now!