The TV is the centerpiece of your home entertainment. Choosing one can come with the tall task of figuring out what technical details to look for when buying a TV. From the latest entertainment technology, varying screen sizes, screen types, and other features, buying a new TVs can raise a lot of questions. We're here to help you by answering the biggest questions when it comes to how to choose the best TV to fit your needs.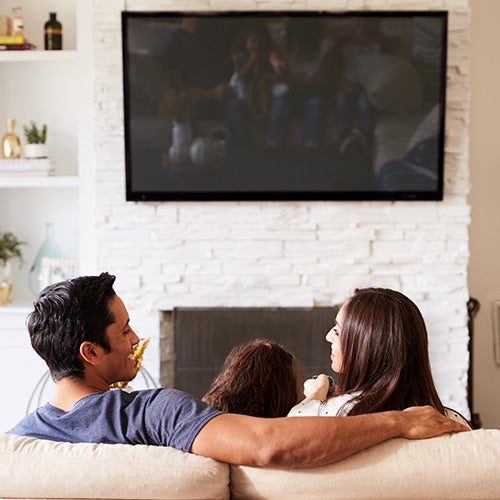 What size TV should I buy?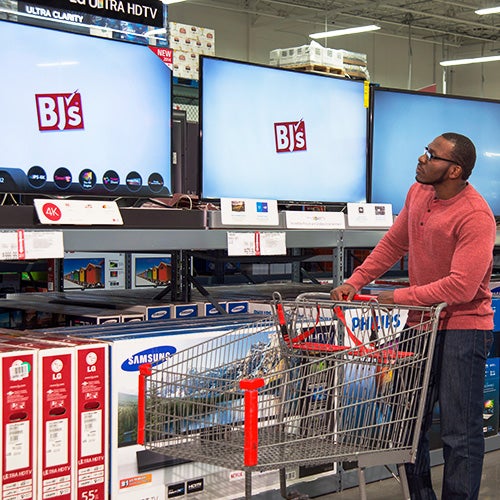 BJ's offers a wide variety of TV sizes perfect to fit in your living room, kitchen, bedroom, playroom or den. Some basic rules around choosing the best size TV for your home include understanding your space and desired viewing experience. Most screen sizes vary from 42, 50, 55, 65 and 75 inches, or even go up to 85 inches. At BJ's you will find TVs measuring from 24" to as large as 86".
You may want to go bigger for your living room so you can sit further away from the TV, while a more compact TV maybe fit better in a child's playroom or bedroom so that it may easily blend into décor. The best watching experience is when 40 degrees of your view is taken up by the screen. Multiply your tv screen inch size by 1.2 to get the recommended viewing distance between your seat and the screen. For example, for your 75 in. TV, you'll want to put 90 inches between the TV and your couch.
SHOP TVS UNDER 29" SHOP TVS SIZE 30"-39" SHOP TVS SIZE 40"-49" SHOP TVS SIZE 50"-59" SHOP TVS SIZE 60"-69" SHOP TVS SIZE 70"-79" SHOP TVS SIZE 80"+
How do you measure a TV screen?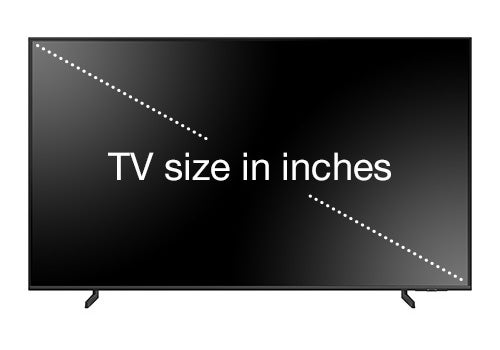 A TV screen's length is not measured by its width or height, but diagonally from the top to the adjacent bottom corner. Simply measure the screen's upper left-hand corner to the bottom right-hand corner, do not include the outer frame or bezel. A larger screen in a smaller room can be a great choice due to the incredible picture quality of 4K UHD TVs. BJ's and most top TV brands or retailers measure in inches, often using the double apostrophe symbol for inches (") or the abbreviation (in.).
What does TV resolution mean?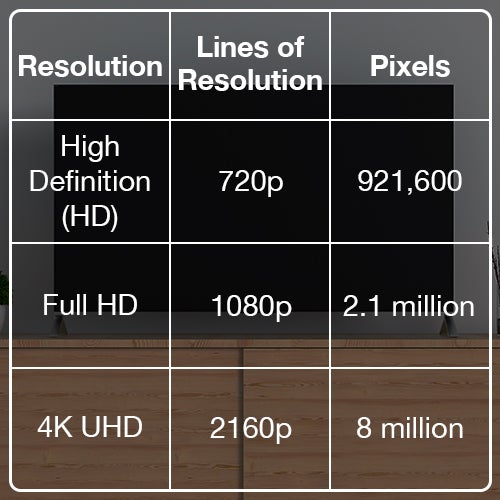 Today's TV screens come in a selection of resolutions with their experiences varying in picture quality.
4K Ultra High Definition TVs:
Currently, 4K UHD TVs have the highest resolution at 3840 x 2160 pixels. These are ideal for larger TV screen viewing experiences thanks to their high-quality pixelation.
Full HD 1080p TVs:
A Full HD TV has a resolution of 1920 x 1080 pixels, sometimes known as 1080p, and is best for watching TV when viewed from a closer distance.
High Definition 720p TVs:
Finally, standard HD TV measures in at 720 x 480 pixels, or 720p, and get the job done with vivid clarity.
What are the different TV screen types?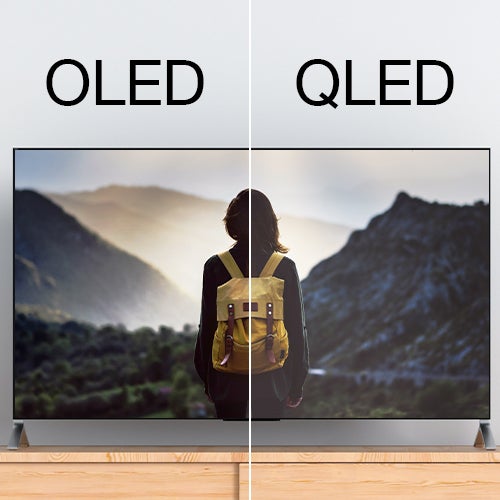 Most TV screens today are made with some form of LED technology to illuminate the screen. Not all LED TVs are made equally, however, with the four types of LED screens varying in terms of backlighting and its effect on picture quality.
LED TVs
A Light Emitting Diode (LED) TV features an LCD panel for the backlighting of its LCD screen. The LCD panel contains the pixels used to create the TV images you seen on your screen, which are then backlit to be made visible on your screen. LED TVs may come with different backlighting configurations as well, with most of these TVs using LEDs on the edge of the screen.
In more advanced models, full-array LED TVs see the backlighting set up in a grid-like pattern that allows each area to be lit or darkened individually. This allows the backlighting to present a more detailed picture quality than those positioned on the edge of the screen.
OLED TVs
With Organic Light Emitting Diode (OLEDs,) every pixel on your screen is made with an individually contained light source, doing away with the need for any backlighting altogether. The advantage of this is that every pixel can emit its own light and be turned off to create what is called "absolute black." This provides the best in contrast and black levels, thus sharpening the images and brightening the colors on your screen with the finest detail.
QLED
QLED TVs are quantum dot LCD TVs featuring LED backlighting. As opposed to OLED TVs where the light source is emissive, QLED TVs use a transmissive light source that resides as a middle ground between standard LED TVs and QLED TVs in terms of picture quality and price.
Mini-LED
Mini-LEDs allow for finer control over highlights and shadows by using more, smaller LEDs to illuminate your TV screen. TVs that use Mini-LED can be more affordable while providing great contrast and image quality for HDR shows, movies or games. The technology offers more local dimming zones for deeper blacks and improved contrast for your best watching experience.
What is a Smart TV?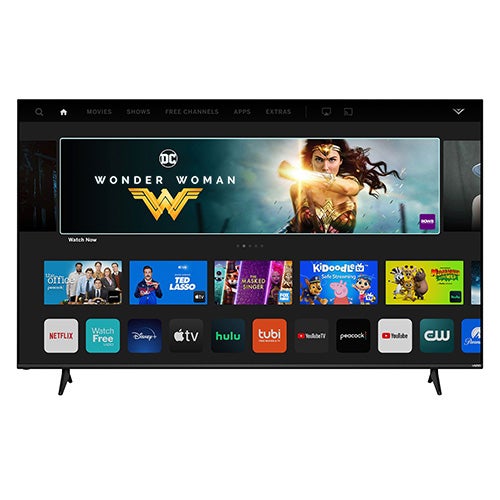 A Smart TV is enhanced with features that allow your TV to connect to the Internet. The biggest benefit to this is that it allows viewers to easily stream TV and other media from their favorite apps, such as Netflix, Hulu, YouTube, and Disney+. Today's Smart TVs use a variety of Smart TV operating systems such as Roku, Google, Android, or their own universally compatible platforms, such as those featured on Samsung Smart TVs. Each offers its' own unique offerings of apps and capabilities, so it's best to look up which option is best for your content needs.
In all cases, a dependable Internet connection and setting your TV up as close to your Wi-Fi router as possible will ensure your Smart TV's connection does not encounter any disruptions.
What other features should I consider when buying a TV?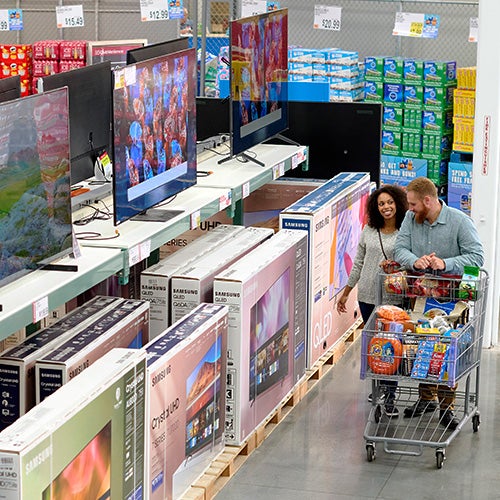 Refresh Rates:
The refresh rate is the number of times per second that an image on your TV screen is refreshed and is the industry standard for measuring motion. The higher the refresh rate, the clearer the image quality. High refresh rates are ideal for gamers, sports fans or action movie fans where the fast refresh rate will make any epic scene appear more realistic. Measured in hertz (hz), a premium TV features a refresh rate of 120 hertz where the image is refreshed 120 times per second, also known as TruMotion 120. Manufactures can apply other motion technology to create a smoother picture even if you new TV's refresh rate is 60 Hz.
High Dynamic Range:
A High Dynamic Range (HDR) is a feature that allows a TV to enhance brightness, color, and contrast levels beyond just what standard HD and 4K Ultra HD TV sets can provide. The most common HDR format is HDR10, but HDR10+ and Dolby Vision HDR allow users to adjust brightness and black levels on a more granular level.
HDMI Inputs:
Think beyond simple TV watching and consider the number of HDMI inputs your TV set has. The more HDMI inputs, the more freedom you have in connecting other devices such as a home theater system, your favorite gaming console, or a Roku, Chromecast or Amazon Fire stick to your TV set.
How do I protect my TV?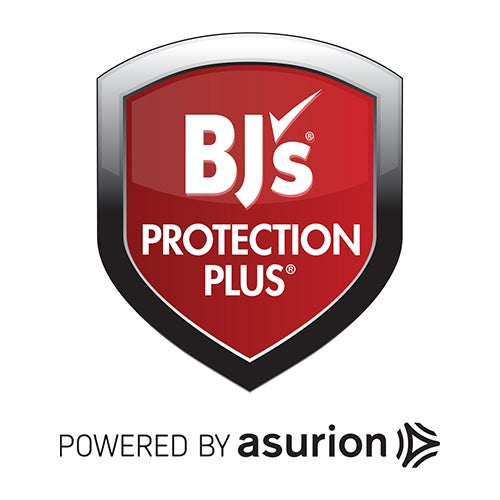 Extend the life of your new TV and get the most out of your investment with a few easy tricks. Plug your large TV and its accessories into a high-quality surge protector to avoid blowing a fuse when your refrigerator or washing machine turns on. Cleaning your screens with an anti-static cloth and keeping your TV in a temperature or humidity-controlled room can also make a big difference in significantly extending your TV's lifespan.
If you experience a TV break, and we aren't talking commercials, BJ's offers all members an extra year of coverage with BJ's Limited Warranty. Easily add BJ's Protection Plus to get up to 3 years of protection on top of your new TV's manufacturer warranty and the extra year of coverage included with your TV purchase. Coverage starts once the manufacturer warranty expires. No deductible. No additional fees. No worries.
How do I install my new TV?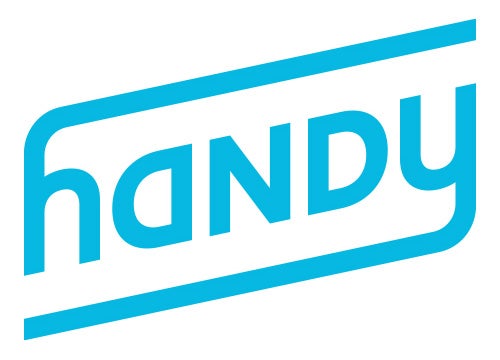 When it comes to setup first time setup, BJ's has you covered. We have partnered with America's longest and most reliable home services platform to deliver seamless TV mounting services for TVs of any size. Handy takes the stress out of mounting your TV by connecting you with pre-screen independent and highly rated professionals with scheduling availability between 7am and 11pm. Choose the time that works for you and pay a fixed installation price with no hidden fees. Need to talk to someone on the phone about your TV once you've satisfied with your TV install? BJ's Tech Advisors provides free, live, expert help for questions regarding general and advanced troubleshooting, network support, missing components, understanding features and more.
How do I buy a TV at BJ's?
Shop the TV's section of your nearest BJ's Wholesale Club or browse online to find the perfect TV for you. Order online and select for your new TV to be shipped to your home or choose Curbside Pickup to pick up your new TV in less than 2 hours.