Recipes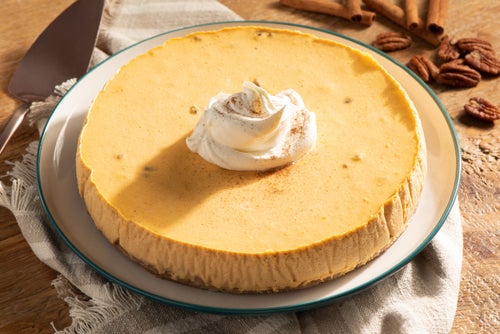 Philadelphia 3-Step Double Layer Pumpkin Cheesecake
Mix, pour, bake—that's all you have to do for this 3-step pumpkin cheesecake! Serve this dessert as a Thanksgiving dessert or during any fall-themed get-together.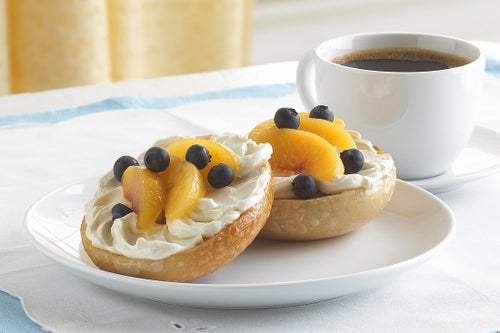 Philly Fruity Bagel
Peaches and cream are yummy, but not a good bagel topper. A better idea: This breakfast with fresh sliced peaches, blueberries and Neufchatel.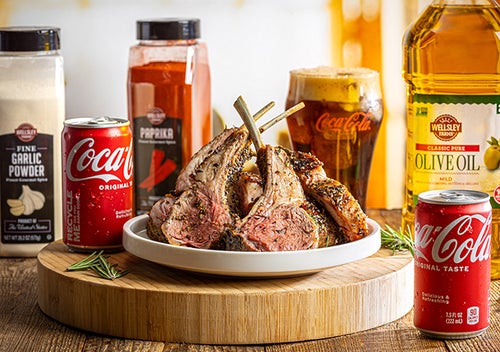 Air Fryer Rosemary-Pepper Rack of Lamb
Looking for an easier way to cook lamb? Fire up your air fryer, and you can savor tender, succulent lamb infused with the bold essence of zesty pepper and aromatic rosemary.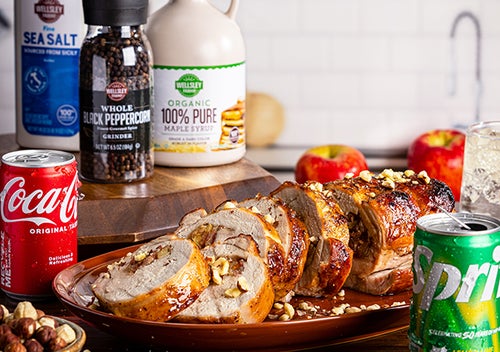 Caramel Apple-Stuffed Pork Roast
Sink your teeth into this combination of dinner and dessert! Stuffed with a delectable medley of caramelized apples, crispy bacon and savory onions and roasted to perfection.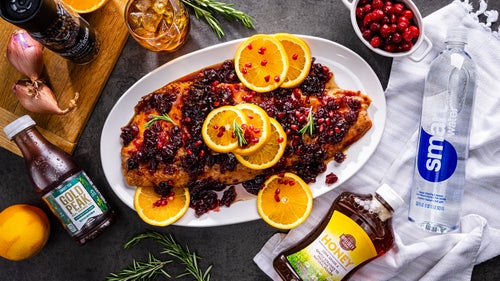 Cranberry-Pomegranate Glazed Salmon
Looking to sweeten your salmon? Try this recipe that combines succulent salmon with a luscious glaze made from tart cranberries and sweet pomegranate juice.
Pressure Cooker Short Rib Chipotle Chili
Craving a chili recipe that will leave you speechless? This easy recipe combines tender short ribs and the smoky allure of chipotle for an explosion of flavors.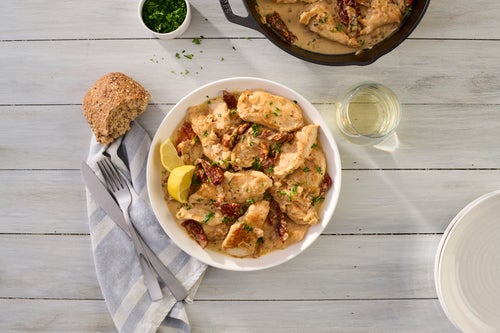 Chicken and Sun-Dried Tomato Cream Sauce
A flavorful recipe that is equally versatile. A tasteful combination of chicken and sundried tomato cream sauce. This can be served over pasta or with a side of vegetables.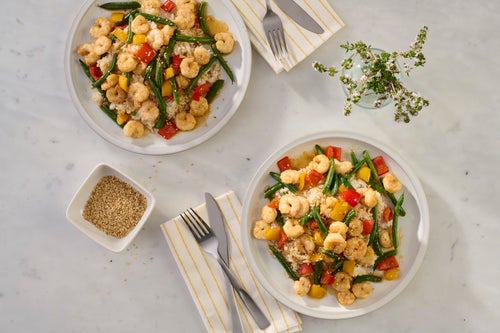 Soy Ginger Shrimp with Green Beans and Peppers
This quick and simple recipe can create a delicious meal made from one skillet. Large shrimp cooked with green beans and peppers, then can be served as is or over rice.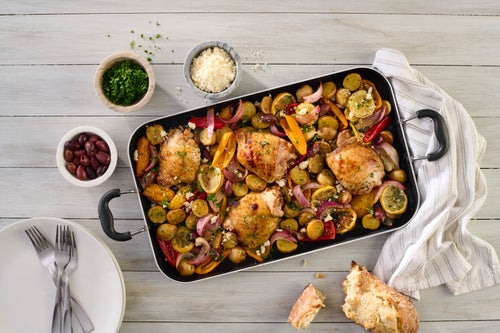 Mediterranean Chicken Sheet Pan
A vibrant meal that you can bake in just one pan. Deliciously seasoned, baked chicken, onions, bell peppers, and potatoes.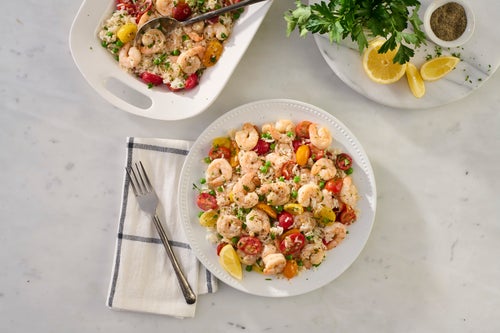 Shrimp and Cherry Tomatoes with Rice
The simplicity of this meal will put this recipe in the dinner rotation. A tasty combination of shrimp, tomatoes, peas, lemon, and rice.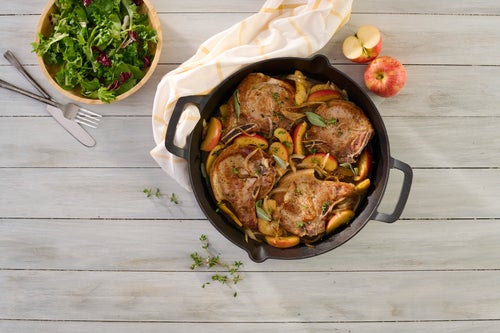 Pork Cutlets with Apples and Onions
A flavorful and seasonal recipe that sautees pork chops with apples and onions.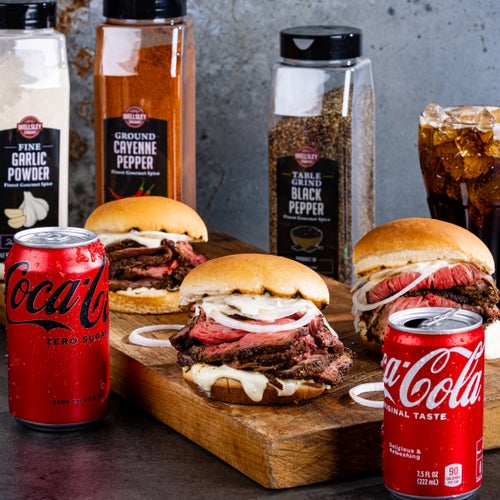 Baltimore-Style Pit Beef Sammies
Sink your teeth into tender, juicy beef infused with robust seasonings and a tangy kick. This recipe is a game-changer for any occasion.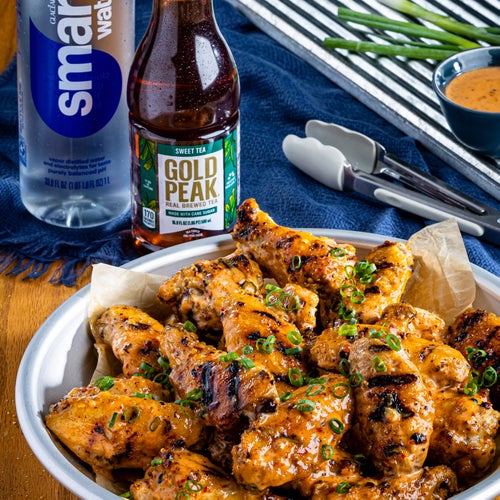 Bang Bang Grilled Chicken Wings
Whether hosting a BBQ or treating yourself to a flavorful feast, these wings are guaranteed to win over any crowd.
Grilled Lamb Mini Open-Faced Naanwiches
Succulent grilled lamb, nestled on a bed of fluffy naan bread, topped with a symphony of vibrant spices and fresh toppings.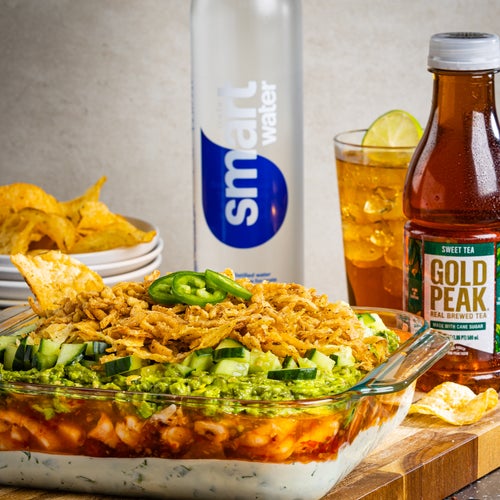 Thai Shrimp Seven Layer Dip
Combines the succulent goodness of shrimp with an irresistible blend of Thai-inspired ingredients that transport your taste buds to a world of global flavors.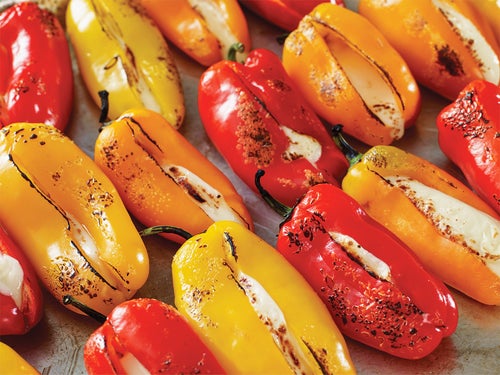 Mini Stuffed Peppers
These Stuffed Mini Peppers are a delightful appetizer bursting with flavor. Halved mini sweet peppers are filled with creamy cream cheese and sprinkled with a savory blend of Wellsley Farms Everything Bagel Seasoning, creating a perfect bite-sized treat in just 10 minutes of prep time.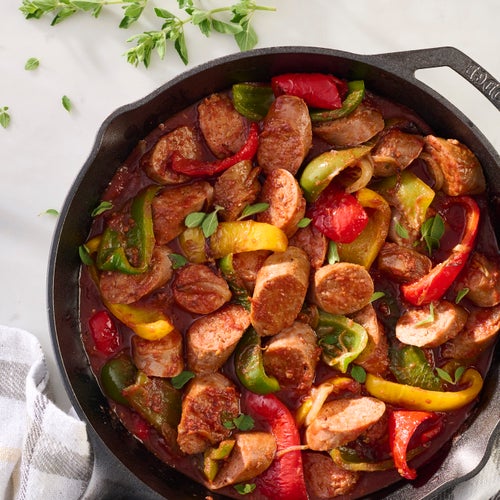 Sausage, Peppers, and Onions
A recipe that's as versatile as it is satisfying. Italian sausage cooked with bell peppers, then served over pasta, polenta, or on a hoagie roll.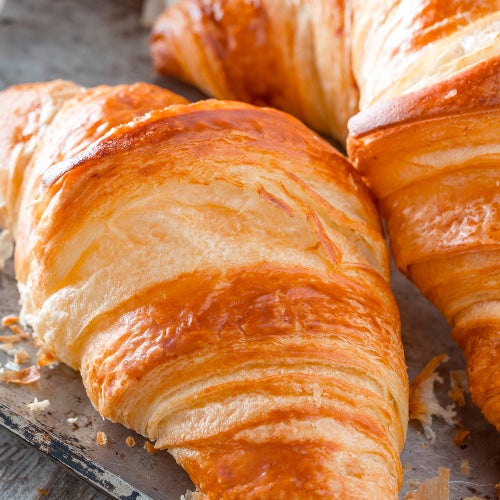 Caramelized Croissants with Mandarins
These sweet and citrus coated croissants will have everyone waking up early for breakfast.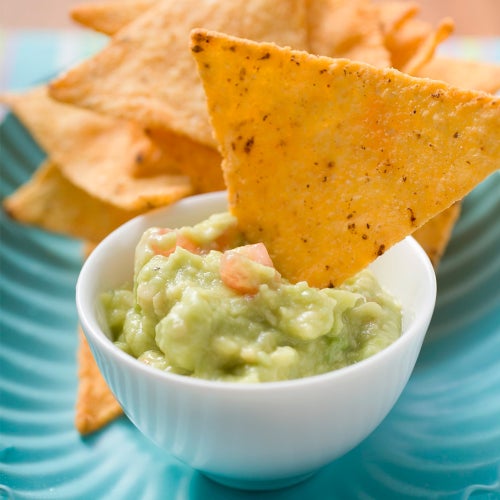 Guacamole
This classic guacamole recipe is quick and easy to make as an appetizer or snack.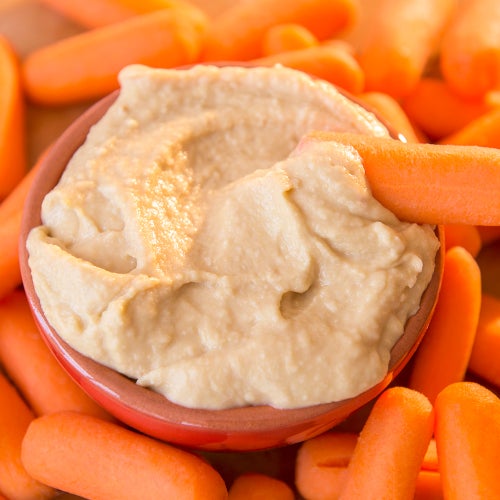 Protein Packed Hummus
The perfect protein packed snack is also quick and easy to make. Makes a great appetizer or snack.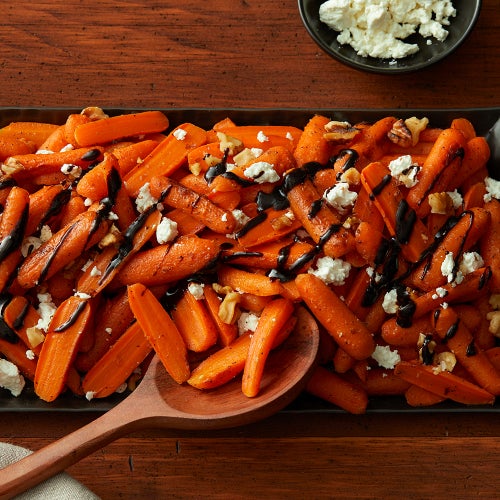 Roasted Baby Carrots with Hot Maple Lemon Glaze
These sweet & tangy carrots will ensure you'll never have another issue getting your little ones to eat their veggies.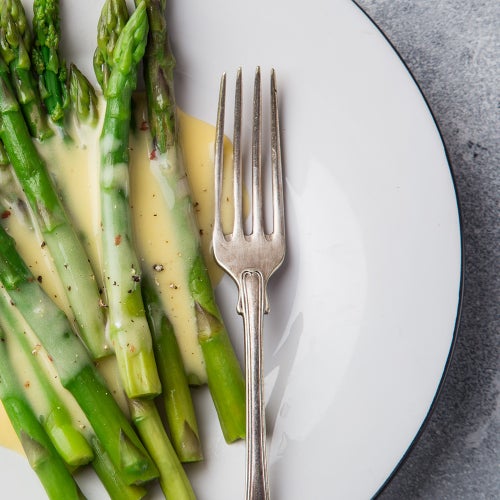 Roasted Spring Asparagus with Cheese Cream
Create this creamy, cheese veggie masterpiece for you family and watch them devour.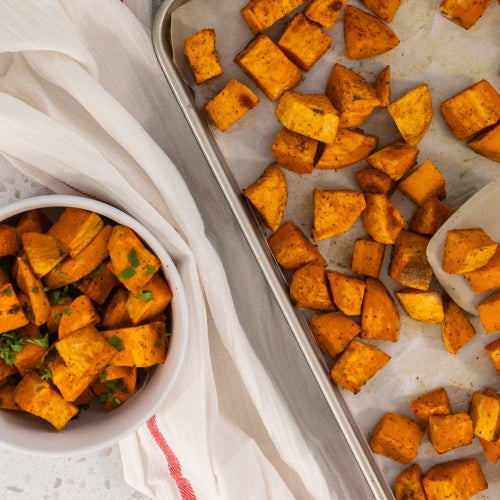 Roasted Sweet Potato and Pepper Salad
Bright, colorful sweet potatoes are paired with savory peppers and onions in this nutritious side dish that's perfect for any BBQ or potluck.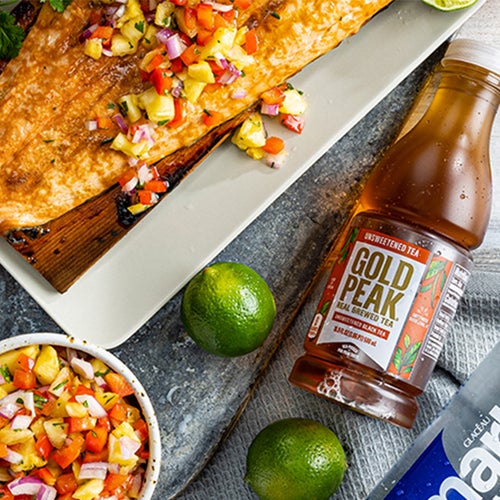 Cedar Plank Salmon with Pineapple Salsa
A quick and healthy meal that's perfect for grilling outdoors. The flavorful salmon fillet is topped with a zesty pineapple salsa, making it a delicious and satisfying dish that serves six.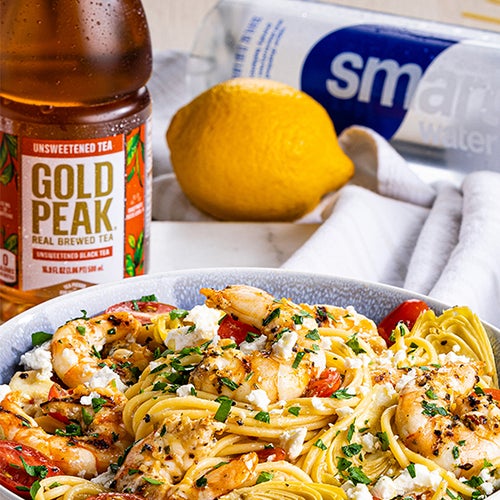 Grilled Mediterranean Shrimp Pasta
Marinated in italian seasoning, each shrimp is grilled and mixed with spaghetti, artichoke hearts, grape tomatoes, and feta cheese. Enjoy with a Smartwater or Gold Peak Tea.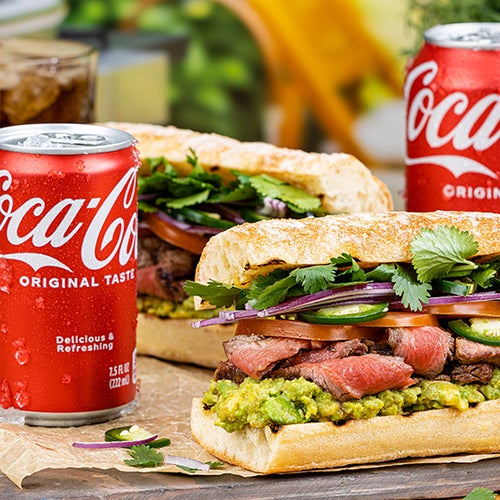 Grilled Steak Torta
Marinated in fajita seasoning and served on toasted baguette halves with fresh avocado, Roma tomatoes, and jalapeño peppers. Pair with a Coca-Cola for the ultimate meal.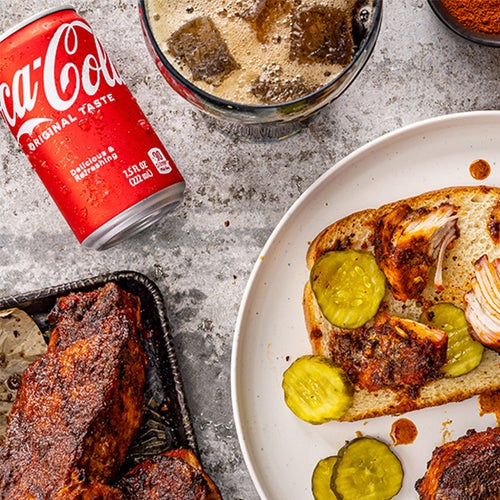 Grilled Kansas City BBQ Country Ribs
Seasoned with hot seasoning and grilled to perfection. These tender ribs pair perfectly with refreshing Coca-Cola drinks and are best served with bread and pickle chips.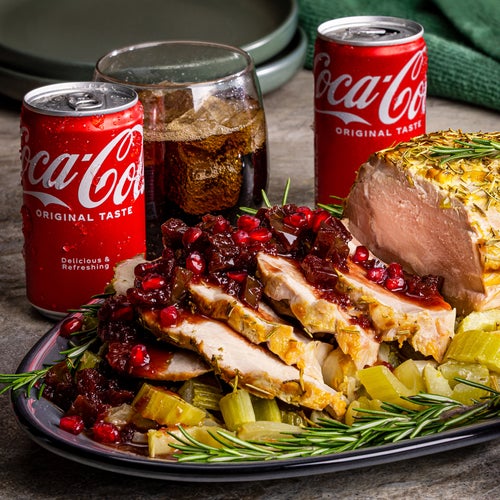 Pork Roast with Pomegranate-Apple Glaze
Whether for a weeknight dinner or special occasion, pork roast is always a tasty addition to the table.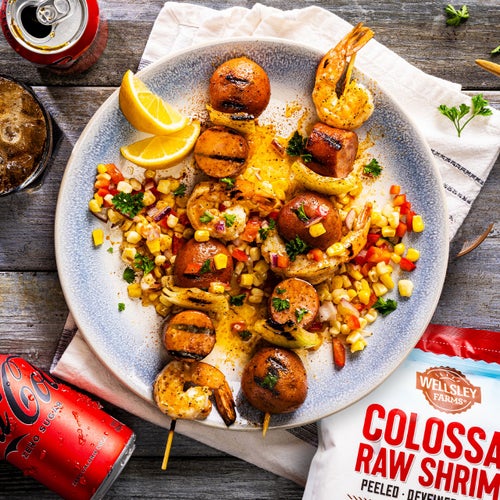 Grilled Shrimp Boil Skewers with Corn Salsa
A delicious and fun shrimp skewer dish with a twist! Easy to make in advance.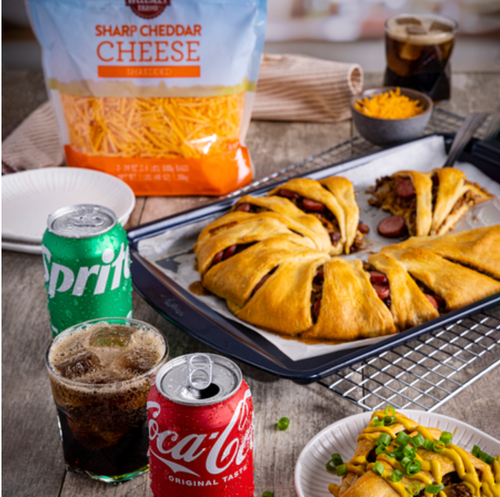 Chili Dog Ring
Chili Dog Ring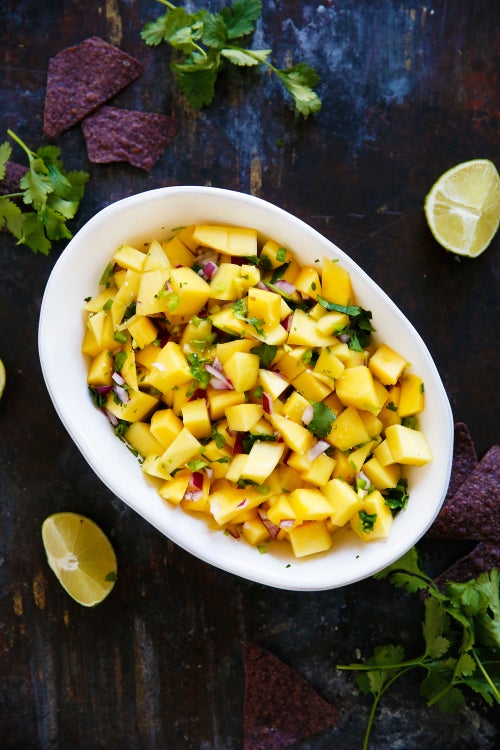 Mango Salsa
Fresh mango salsa recipe using ripe, summer ingredients!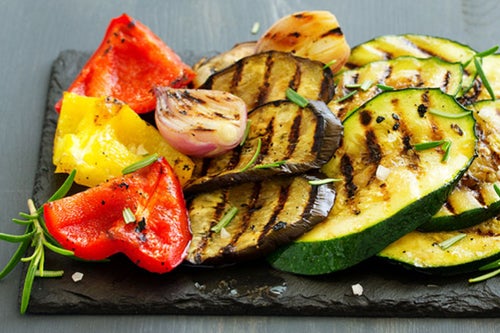 Grilled Veggie Platter
A crowd-pleasing and flavorful dish that is nutritious with the goodness of fresh veggies.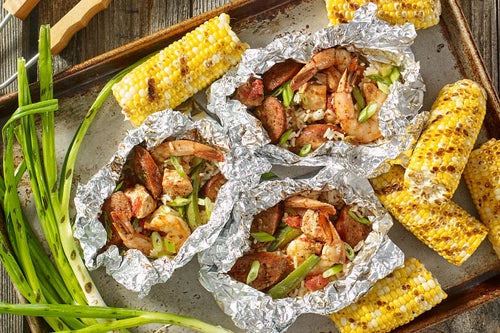 Grill-Top Jambalaya
Louisiana-style dish with grilled shrimp, rice and accompanied by Italian sausage and chicken breast. Sprinkle with green onion to enjoy the savory dinner!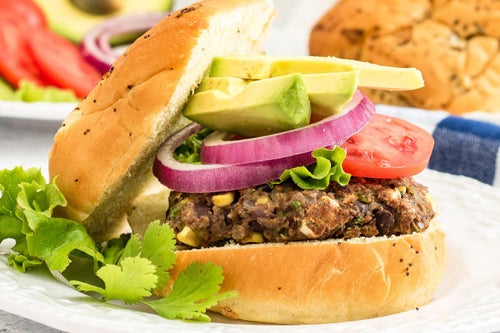 Black Bean Burgers
A no-hassle guilt-free vegetable burger; a great snacking companion or a delectable side dish.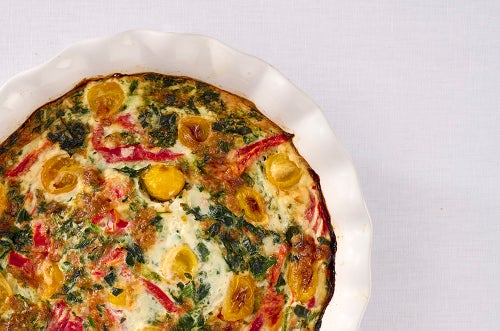 Crustless Quiche
This easy and healthy frittata-style quiche makes a delicious, high protein breakfast or dinner.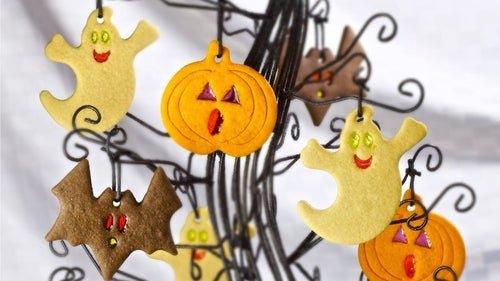 Jolly Rancher Stained Glass Window Cookies
Jolly Rancher Hard Candy becomes sweet colored "glass" pieces thanks to this recipe.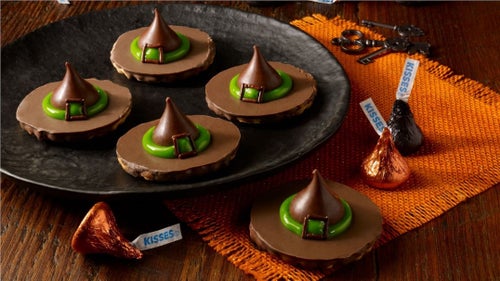 Kisses Witch's Hat Cookies
Cover cookies in melted Hershey's Chocolate Chips & top them with Hershey's Kisses Milk Chocolates to make decorative witch hats.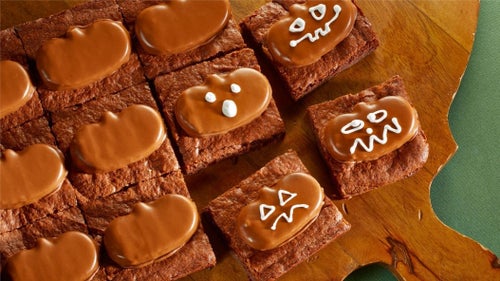 Reese's Pumpkin Brownies
Use vanilla icing to add eyes, a mouth and other twisted features. Chocolate and peanut butter pumpkins bring this Halloween brownie decorating idea to life.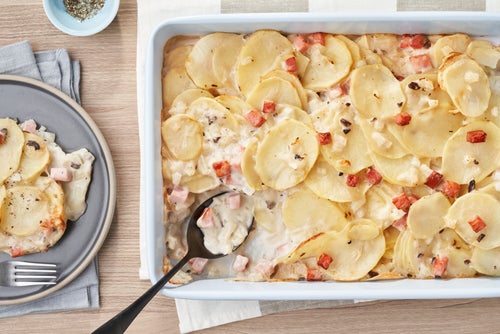 Campbell's Easy Scalloped Potatoes and Ham
This easy scalloped potatoes and ham recipe combines just 5 ingredients to make a simple dish that's not only delicious, but is on the table in just 1 hour. Sometimes keeping it simple is the way to go.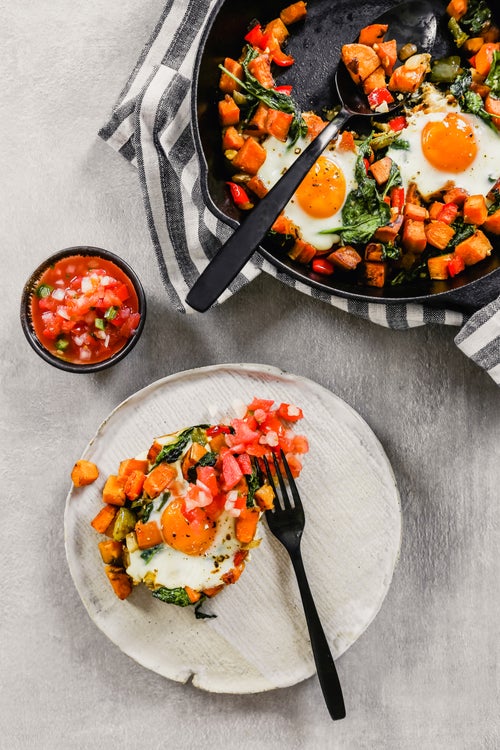 Sweet Potato Breakfast Hash
Looking to try something new for breakfast? Look no further than this quick and healthy, one pan Sweet Potato Breakfast Hash! Made with Pompeian Gourmet Selection Extra Virgin Olive Oil, expertly crafted by our family of farmers, Pompeian Gourmet Selection Extra Virgin Olive Oil is perfect for sauteing and adds rich flavor to your first meal of the day!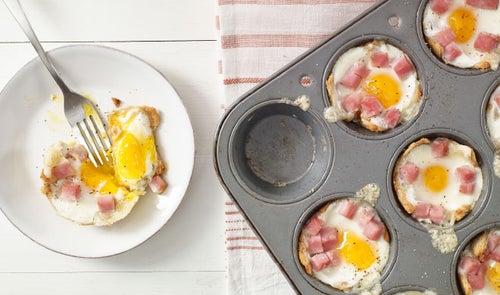 Mini Toad in a Hole
The classic English dish with a little bit of makeover to suit your snack hour, bonfire gathering or a side dish to your lunch and dinner.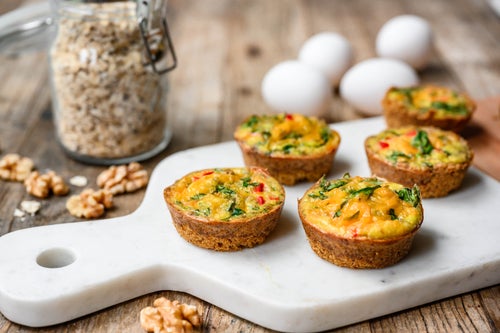 Walnut & Oat Crusted Veggie Egg Cups
The perfect grab and go breakfast, these Walnut and Oat Crusted Veggie Egg Cups are great to meal prep for the week.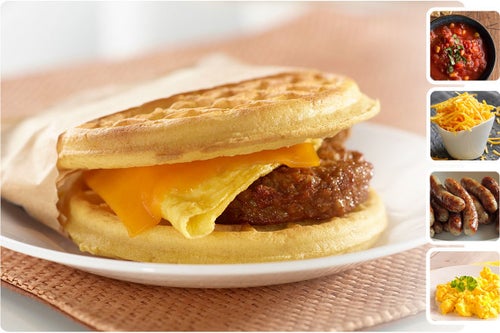 Breakfast Waffle Bar
Waffles topped with sausage links and cheese for a delicious start of the day.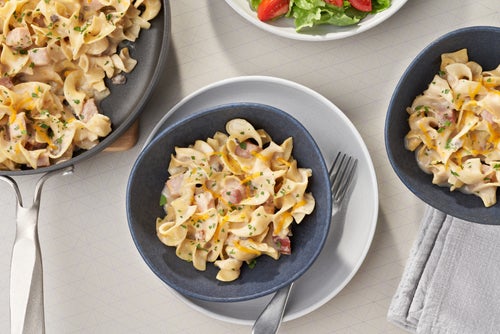 Campbell's Pennsylvania Dutch Ham & Noodle Casserole
Salty bites of ham are the perfect contrast to sharp cheddar cheese in this easy, crowd-pleasing skillet casserole.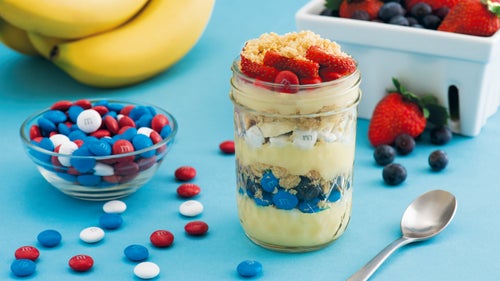 M&M's Red, White and Blue Trifle
Made with vanilla pudding and shortbread cookies, this no-bake trifle with layers of M&M's Red, White and Blue Milk Chocolate candies makes a festive dessert for summer barbecues.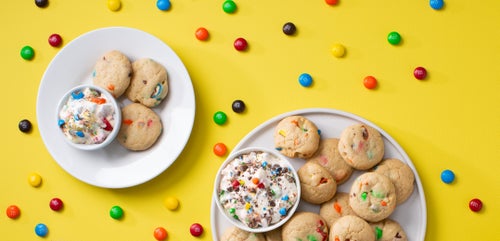 M&M's Cookies & Dip
This M&M's® cookies and dip combo snack pack makes a fun treat that everyone will love.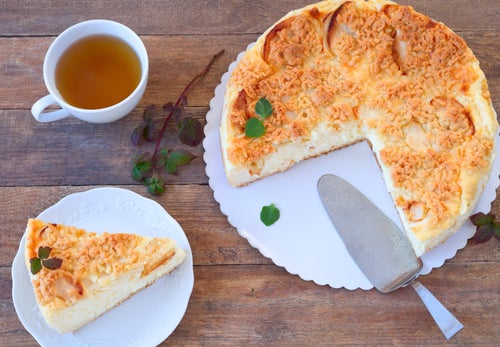 Finlandia Apple Lemon Cheesecake
Perfect for brunch or dinner, this Apple Lemon Cheese Cake is easy to make and easy to enjoy! This recipe is also a great dessert year round.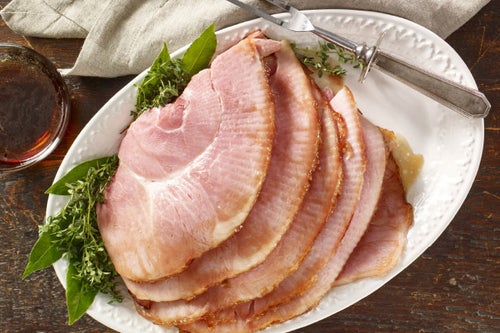 Cola-Glazed Ham
Spiral cut ham coated in brown sugar and Cola and then baked to result in this dish which is perfect for any occasion.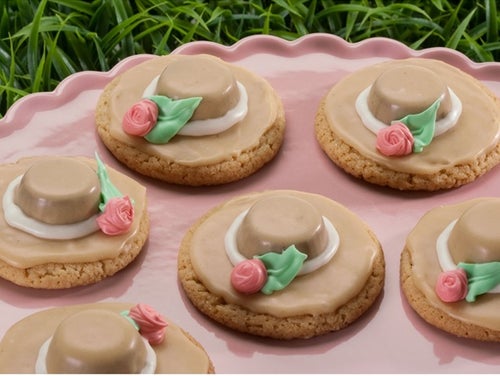 Peanut Butter Easter Bonnets
Dress your Easter cookies to impress with this creative recipe. These peanut butter cookies look even cuter with bonnets made from REEESE'S Peanut Butter Cup Miniatures.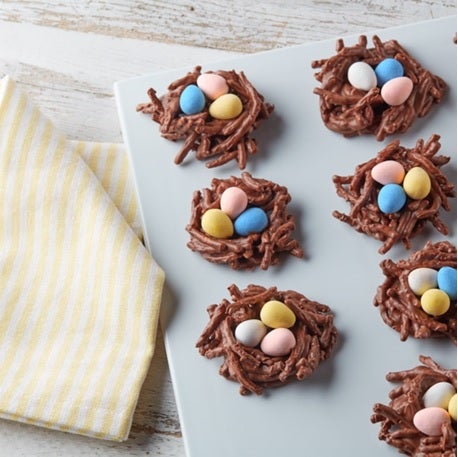 No-Bake Cadbury Birds Nests Cookies
This easy recipe brings together 24 little treats in as few as 15 minutes. A great way to get all the peeps in your nest singing a happy song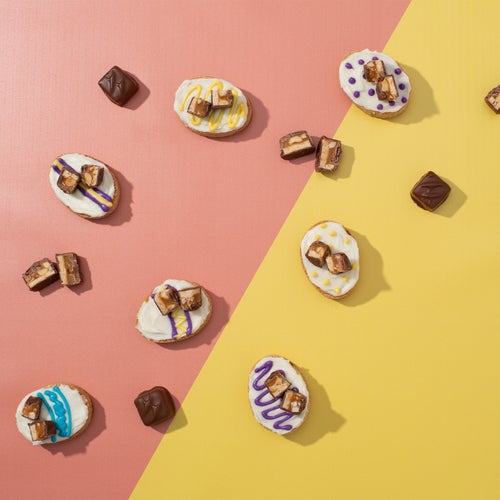 Snickers Easter Egg Blondies
Studded with Snickers, these rich blondies are cut into classic Easter egg shapes and decorated with candy melts for a fun and festive treat.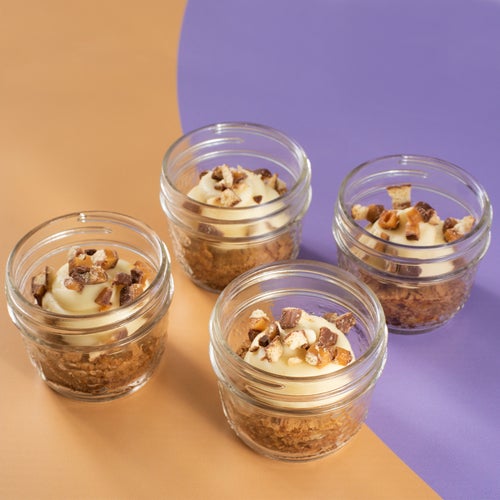 Twix Carrot Cake Cups
This Twix twist on a classic carrot dessert is fun for sharing with family and friends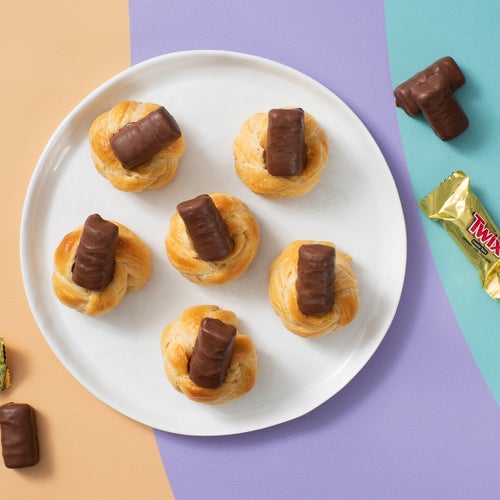 Twix Mini Easter Twists
Made with prepared crescent dough, this festive Easter twist with Twix topping is as fun to make as it is to eat!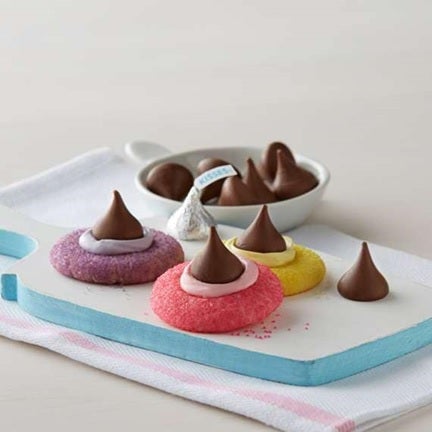 Hershey's Kisses Thumbprint Cookies
Springtime brings lots of new color, and these Hershey's Kisses thumbprint cookies are no exception.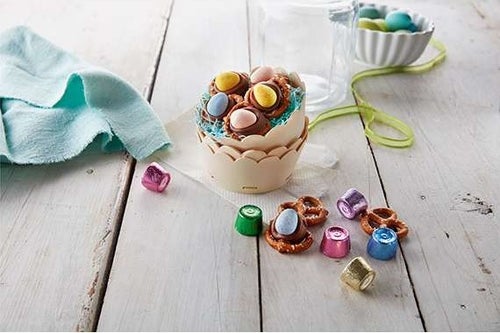 Easter Time Rolo Pretzel Delights
Get your Easter celebration hopping with this Rolo Candies pretzel Easter dessert recipe. Your peeps will love it!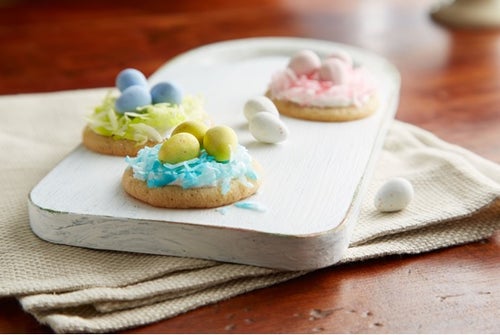 Easter Cadbury Egg Cookies
This Cadbury Egg Cookies recipe makes the perfect Easter treat.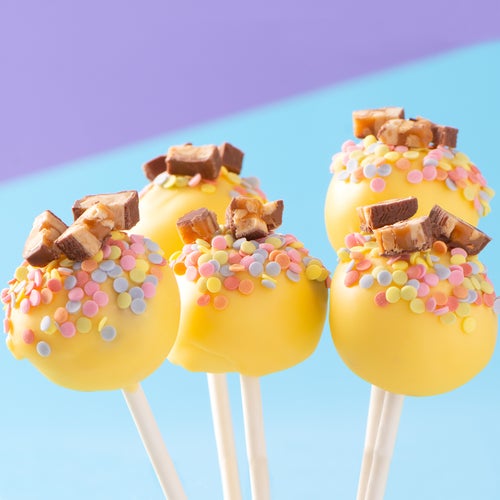 Snickers Easter Cheesecake Pops
These no-bake Easter treats are festive and fun to prepare – and fun to eat!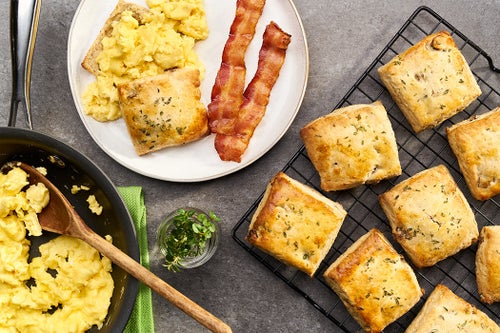 Campbell's Sausage Mushroom & Thyme Biscuits
Fresh thyme adds another layer of flavor. Delicious alone or served with eggs for breakfast.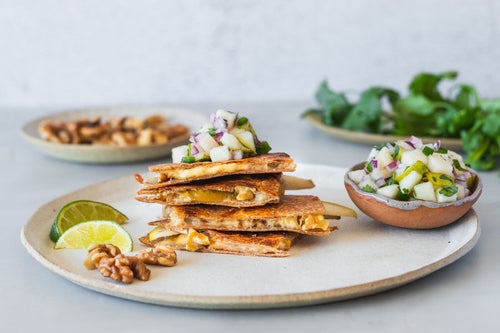 Walnut Pear Quesadilla with Spicy Pear Salsa
A savory snack size quesadilla with hint of sweet pear, and a spicy pear salsa. Recipe by California Walnuts.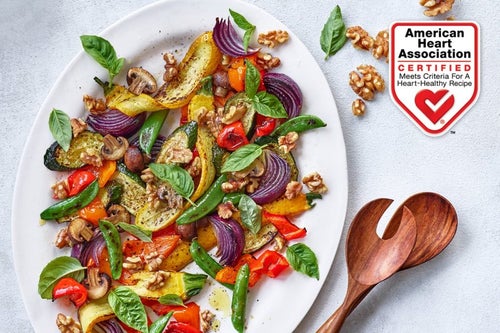 Roasted Vegetables with Walnuts, Basil, & Balsamic Vinaigrette
Brighten up the dinner table with this colorful dish that's accented with fresh basil. Kitchen hack: Use a hammer to "chop" walnuts.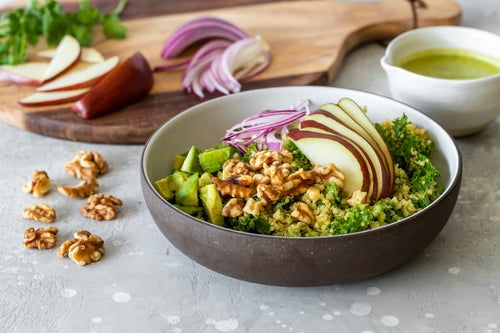 Walnut Pear & Avocado Bowl
This heart healthy quinoa bowl has a tangy pear and avocado dressing and is topped with sweet pears, creamy avocado and crunchy walnuts. Recipe by Patty Mastracco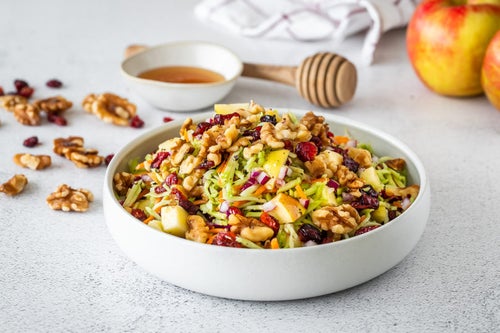 Walnut Broccoli Apple Slaw
Sweet apples, crunchy toasted walnuts and broccoli slaw make up this simple salad. A honey lemon vinaigrette is the perfect finish. Recipe by Patty Mastracco.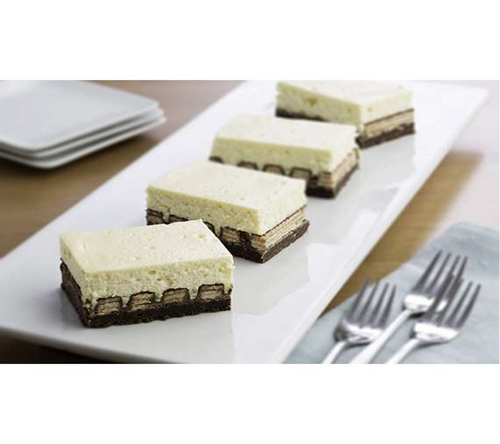 Hershey's Brownie Bottom and Kit Kat Cheesecake Bars
These cheesecake bars are rich and chocolatey with the surprise crunch from KIT KAT Wafer Bars layered between the brownie bottom and cheesecake topping. Recipe by Hershey's Kitchens.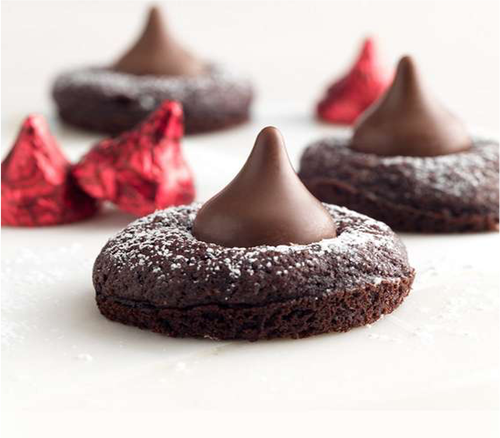 Hershey's Kisses Brownie Bites
Savor a sweet moment with your loved ones while enjoying these decadent delicious cookies. These are sure to make your heart melt.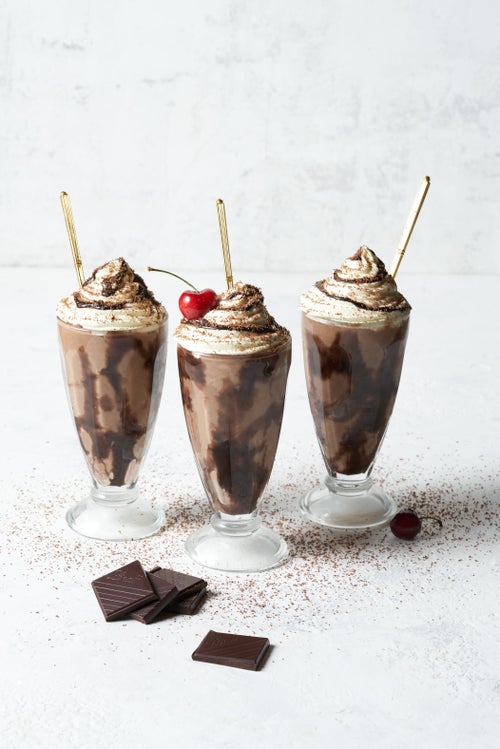 Lindt Indulgent Chocolate Milkshakes
This chocolate milkshake recipe will be your go-to for any occasion that calls for something extra sweet.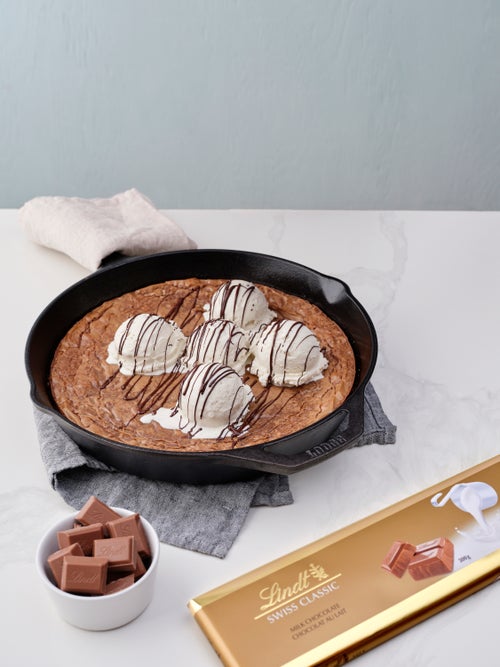 Lindt Swiss Classic Milk Chocolate Skillet Brownies
These skillet brownies opt for milk chocolate instead of dark or semi-sweet chocolate.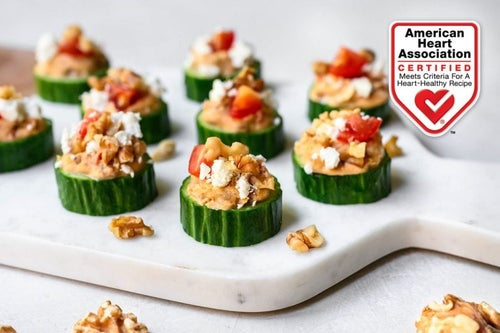 Greek Cucumber Walnut Bites
Great as an afternoon snack or appetizer, these crisp cucumber cups are filled with roasted red pepper hummus and topped with tomatoes and more. Recipe by Beth Stark, RDN, LDN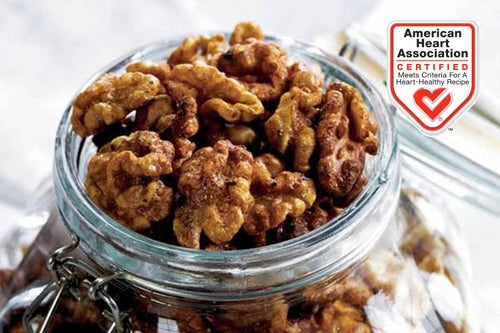 Sweet & Spicy Walnuts
Don't make your taste buds have to choose between sweet or spicy! With this Sweet and Spicy Walnuts recipe, you can have the best of both worlds for a delicious treat. Recipe by Rob Stevens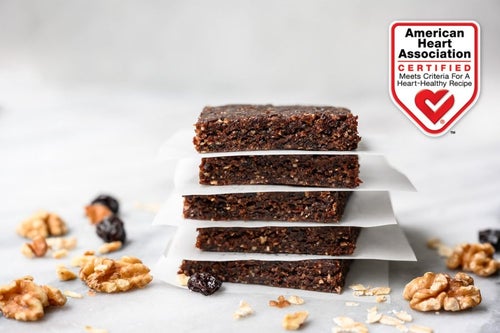 No-Bake Walnut, Cocoa, & Cherry Bars
Make a batch of these No-Bake Walnut, Cocoa, Cherry Bars early in the week and you'll have a delicious, satisfying snack for whenever you need a quick pick me up. Recipe by Beth Stark, RDN, LDN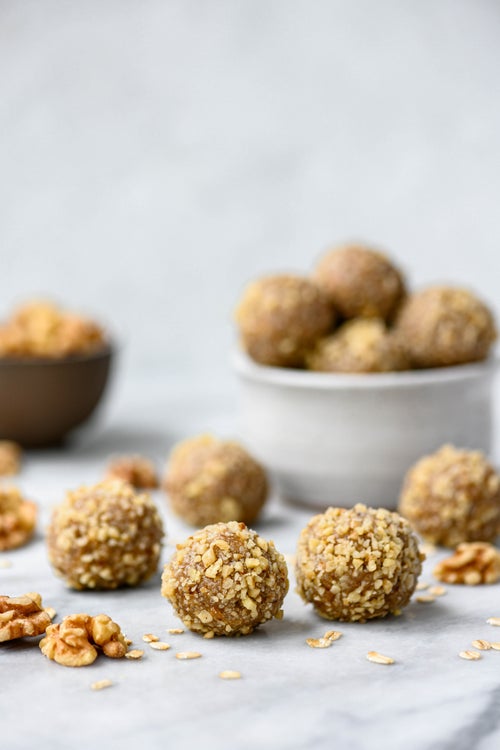 Maple Walnut Energy Balls
Need a mid-day energy boost? These easy, no-bake Maple Walnut Energy Balls combine walnuts, oats, dates, maple syrup and are rolled in diced walnuts. Recipe by Crowded Kitchen.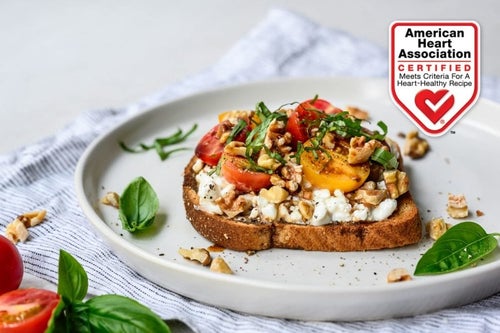 Cottage Cheese-Walnut Caprese Toast
The classic Caprese salad was the inspiration for this perfect mid-day snack or go-to weekday meal when you're short on time. Recipe by Beth Stark, RDN, LDN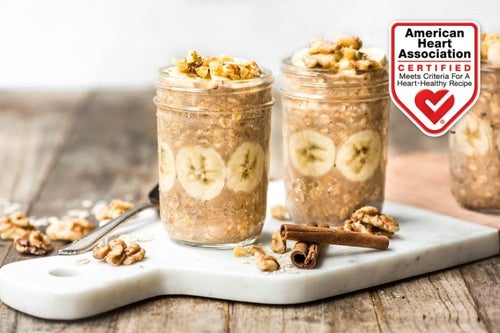 Banana Bread Overnight Oats
This make-ahead breakfast combines bananas, oats, walnuts, cinnamon and vanilla to create a tasty and satisfying way to start the day. Recipe by Crowded Kitchen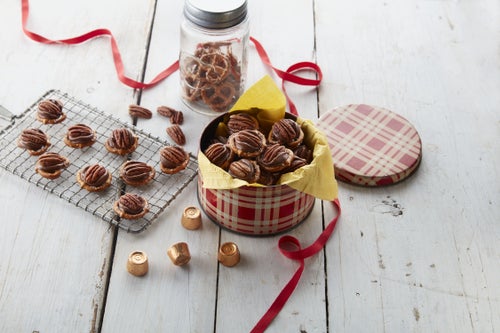 ROLO Pretzel Delights
Make homemade candy in under five minutes with ROLO. Creamy Caramel in Chocolate Candy, pretzels and pecans.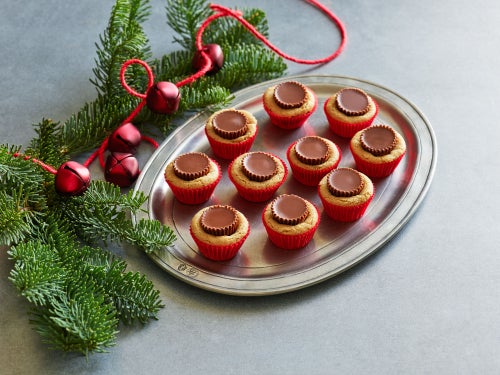 REESE'S Peanut Butter Temptations
Get out your muffin tin and bake the best peanut butter cup cookie recipe you've ever tasted.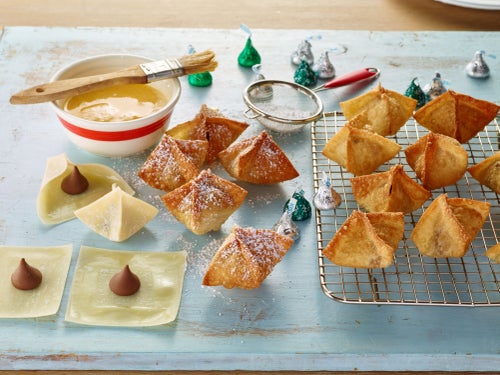 Hershey's Chocolate Kisses Four Pointed Stars
Fold a HERSHEY'S KISSES Chocolate inside a wonton wrapper for a crispy pocket of goodness.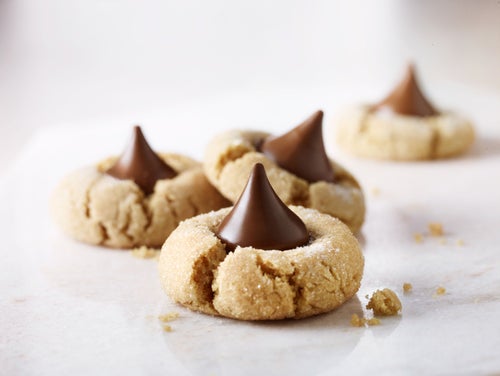 Hershey's Kisses Peanut Butter Blossoms
Everyone recognizes these classic peanut butter blossom cookies with HERSHEY'S KISSES.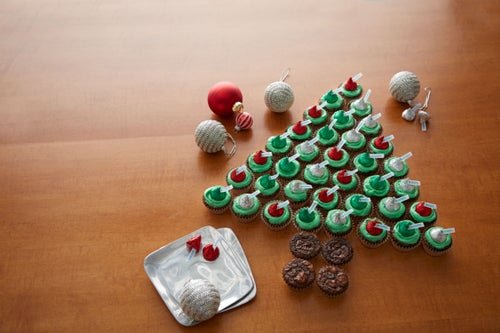 Brownie Christmas Tree with HERSHEY'S KISSES Chocolates
The best Christmas tree is topped with HERSHEY'S KISSES Milk Chocolates and made out of chewy brownie pieces.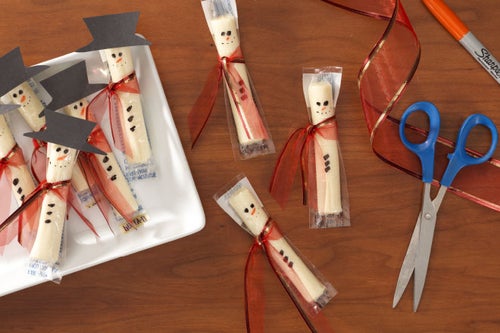 Mozzarella Stick Snowmen
Bring the festive mood at home today with these Mozzarella stick snowmen. It's totally easy to prepare and your kids will love it!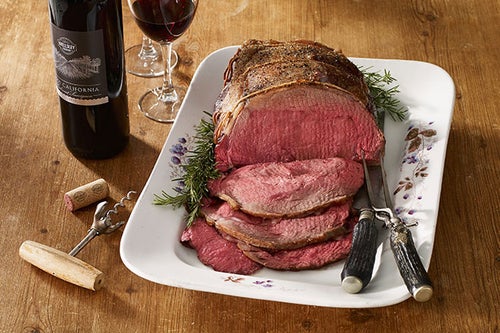 Herbed Boneless Beef Rib Eye Roast
Roasted in garlic and herbs, this rib eye roast is a savory dinner which you can relish while relaxing on a weekend or cook for a holiday gathering and wow your guests.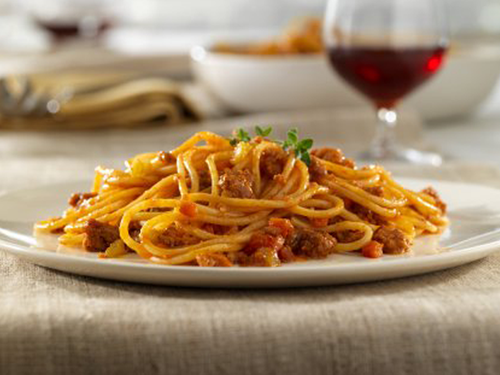 Barilla® Spaghetti Bolognese
Keep your family full with this classic meat-based spaghetti sauce recipe that will keep them satisfied till bedtime.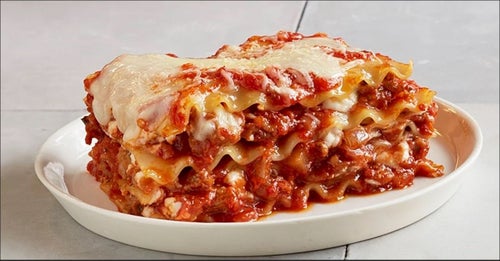 Barilla Classic Italian Sausage Lasagna
Please your palate and your dinner guests with this classic lasagna recipe that you'll keep in your recipe box for years to come.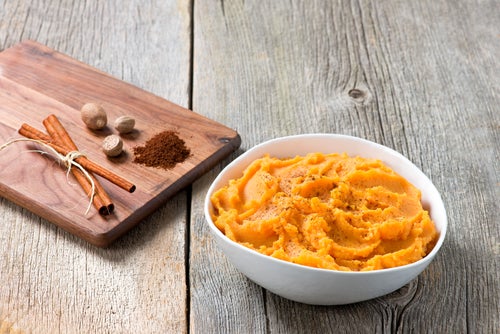 Savory Sweet Potato Bake
If you want a side dish recipe that takes center stage make our Savory Sweet Potato Bake.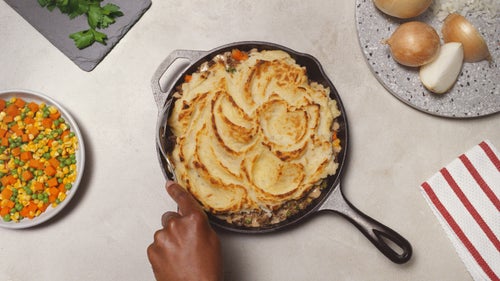 Shepherd's Pie
Cream of mushroom soup adds flavor and creaminess to the filling, and instant mashed potatoes make it quick and easy!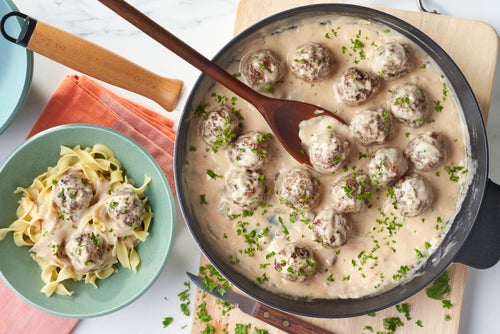 Swedish Meatballs
Cream of mushroom soup combined with beef broth delivers rich flavor and a velvety sauce.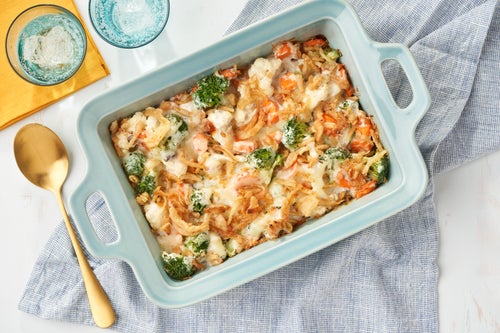 Campbell's Swiss Vegetable Casserole
Pack your favorite vegetables—carrots, cauliflower, and broccoli—into a creamy base, then tops it with a crunchy topping of French fried onions and Swiss cheese.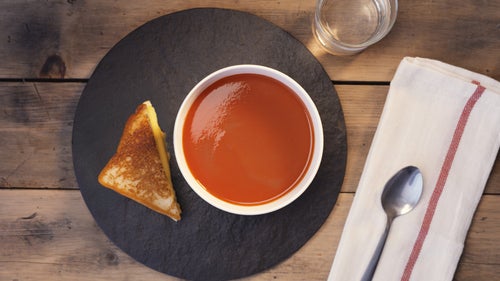 Campbell's® Tomato Soup & Grilled Cheese Sandwich
A piping hot bowl of your favorite tomato soup served with a grilled cheese sandwich, golden brown and oozing with cheese - now that's a dinner combination that just can't be beat!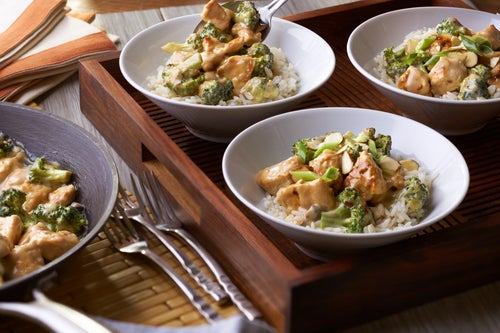 Honey Garlic Chicken
Looking for a new chicken dinner idea? This family-pleasing recipe can be on the table in just 30 minutes using ingredients that you probably have in your pantry.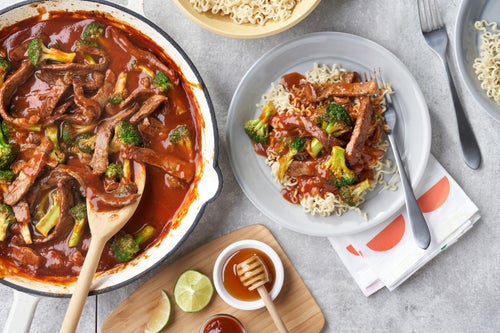 Honey-Sriracha Beef & Broccoli
It's the sauce that makes this flavorful dish really special...it simply combines tomato soup, honey, lime juice and sriracha to make a restaurant-style dish in minutes.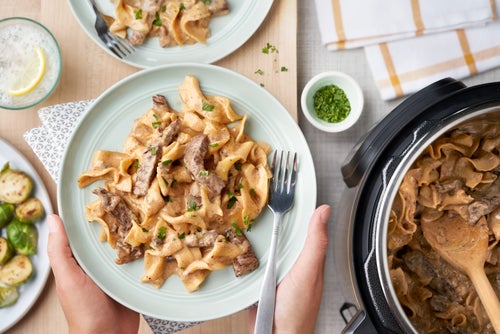 Instant Pot Easy Beef Stroganoff
When you make our Instant Pot® Easy Beef Stroganoff recipe, everything, including the noodles, cooks right in the Instant Pot® which makes cleanup a breeze.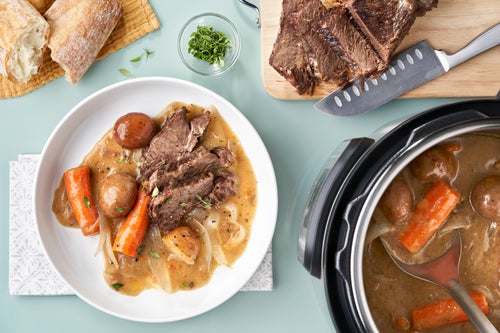 Instant Pot​ Classic Pot Roast
When you make our recipe for Instant Pot® Pot Roast, you get a traditional pot roast dinner with an incredibly flavorful gravy made from our cream of mushroom soup.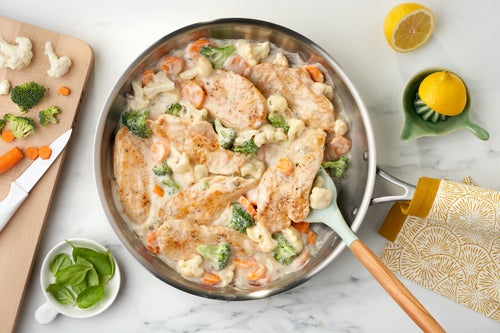 Campbell's Lemon Herb Chicken Primavera
Chicken, veggies and a creamy mushroom sauce...this fabulous skillet dish is ready to serve in just 25 minutes.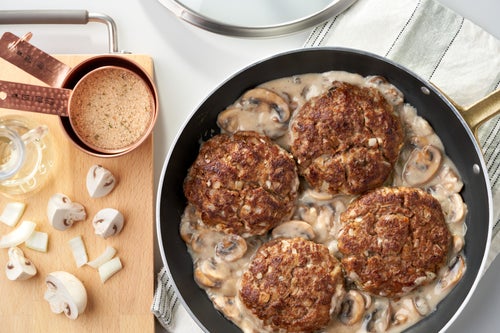 Mushroom Smothered Beef Burgers
A perfect meal that can be prepped ahead to make weeknight meal planning easier.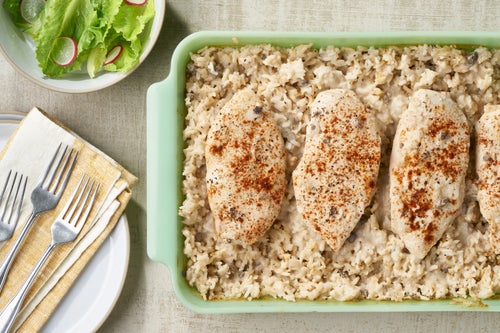 One Dish Chicken & Rice Bake
Chicken, rice and our delicious Cream of Mushroom soup come together in a basic recipe that's easy to customize.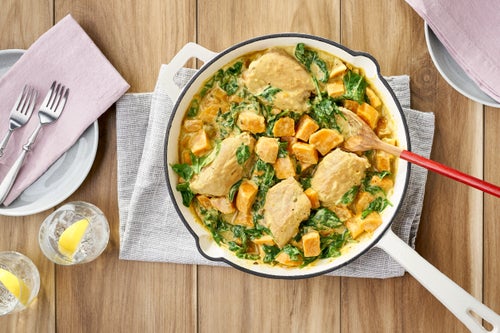 One Pot Chicken Curry
Making a curry was never easier thanks to the wonderful consistency of cream of mushroom soup! This foolproof version is on the table in less than an hour!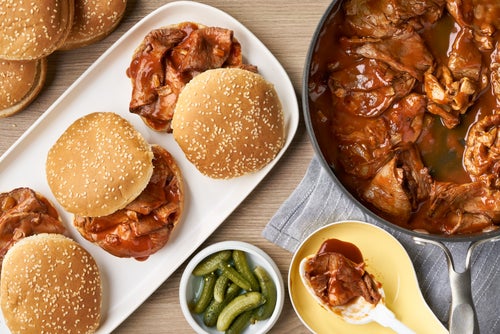 Quick Barbecued Beef Sandwiches
Deli roast beef simmers in a tangy tomato sauce and is served on toasted hamburger buns to make tasty, family-pleasing sandwiches.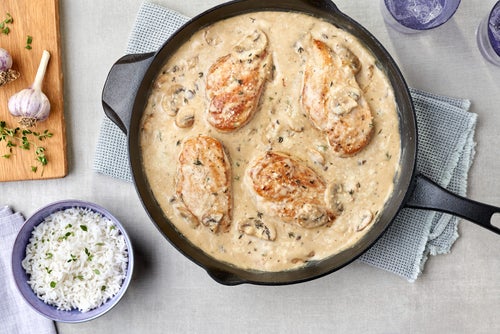 Quick Mushroom Chicken Bake
Tender white-meat chicken pieces start out simmering in a creamy sauce with the earthy flavors of mushrooms, garlic, and fresh thyme in this recipe.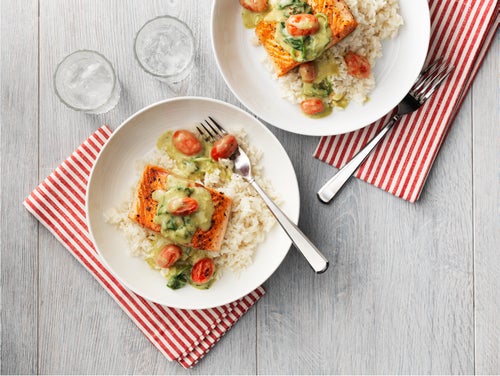 Campbell's Salmon with Creamy Pesto Sauce
This foolproof recipe, rich in healthy omega-3 fats, is quick and easy to prepare.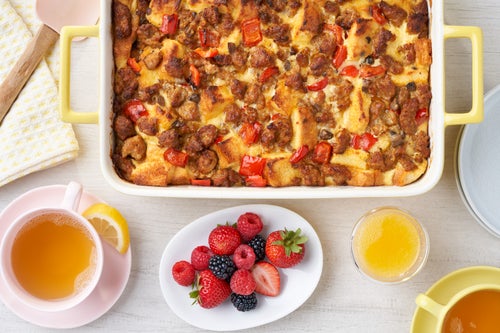 Campbell's Sausage Breakfast Casserole
Next time you're expecting weekend guests, serve this hearty, make-ahead breakfast casserole. It's simply delicious, and a great way to get the day started.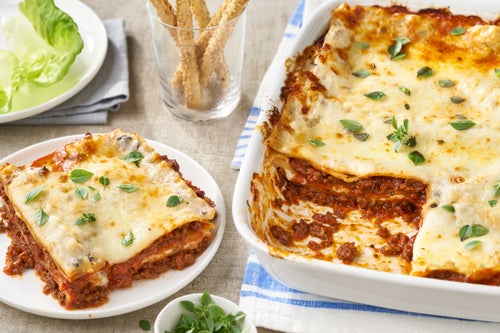 Beef & Mushroom Lasagna
We've got the easiest lasagna you'll ever make with only 6 ingredients! Prego® Sauce and Mushroom Soup come together to make a rich and creamy tomato sauce infused with earthy mushroom flavor. Even better is our make ahead freezer tip so you can enjoy this any night of the week.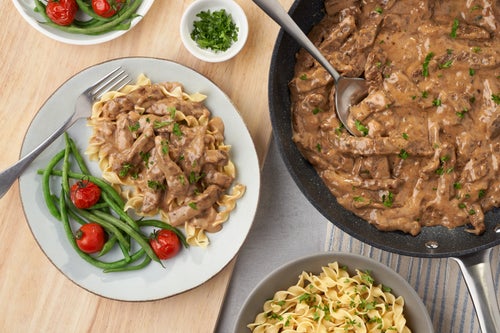 Beef Stroganoff
Beef and mushrooms are always a great match, and this recipe for classic Beef Stroganoff shows off exactly why. Bite-size strips of tender steak and bits of mushrooms simmer in a thick sour cream sauce that coats every bite. Served over a bed of buttery egg noodles, it's a fast, filling, and no-fuss family meal. Just add your favorite vegetable side.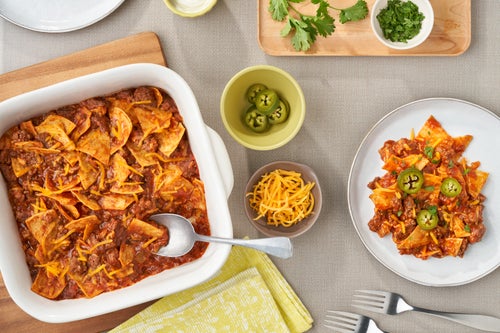 Beef Taco Bake
This twist on taco night takes the hassle out of individual shells and serves up the same south-of-the-border flavors in one cheesy, beefy baked dish everyone will love just as much (if not more). It's easy to adapt this recipe by using your choice of hard or soft taco shells, mild to intense spice, and a wide variety of toppings, from corn and black beans to pickled jalapeños, which means the variations on this Beef Taco Bake are endlessly satisfying, no matter your family's tastes.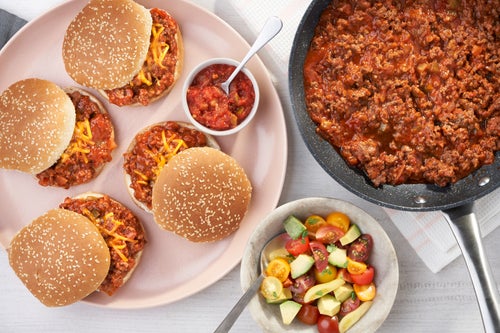 Beef Taco Joes
Busy night? Don't worry...this kicked-up version of Sloppy Joes is a family favorite that's easy to make and on the table in just 20 minutes.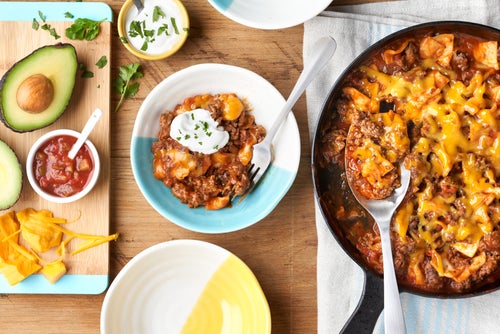 Beef Taco Skillet
The flavors of the Southwest come alive in this easy skillet supper featuring ground beef, picante sauce, tortillas and Cheddar cheese - it's a family favorite that's on the table in just 25 minutes. To make getting dinner on the table even faster, you can make this recipe ahead and freeze it. Why not make a second batch next time you make it, and pop it in the freezer to really speed up dinner the next time you're in a rush!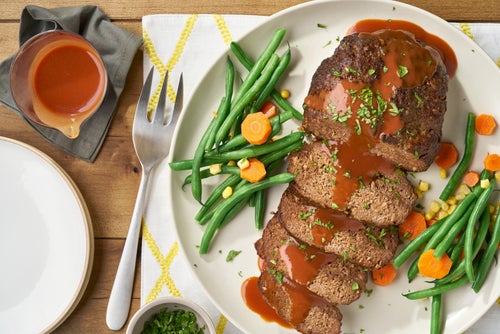 Best Ever Meatloaf
Our best meatloaf recipe gets exceptional flavor and moistness from a can of tomato soup and onion soup mix. With only 10 minutes of prep and 6 ingredients, this family favorite is easy to get into the oven then you can do other things as it bakes. Looking for more meatloaf ideas?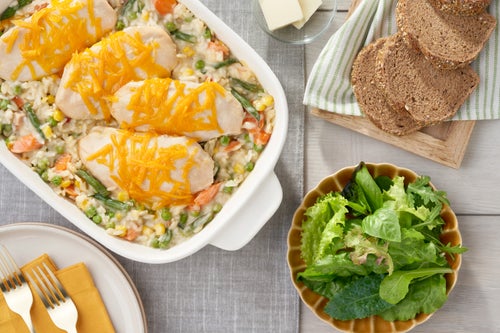 Cheesy Chicken Casserole
This full recipe cooks in a skillet on the stovetop in just a half hour, so you don't need to worry about preheating a thing, but it's still as cheesy, bubbly, and tasty as any oven-baked chicken casserole. Garlic and mushrooms are sauteed in the same pan the chicken is browned in, then mixed into a creamy sauce with rice, peas, and cheddar cheese for a satisfying one-pan meal.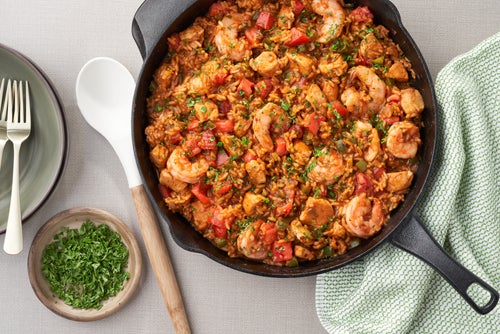 Chicken & Shrimp Jambalaya
You won't believe how easy it is to make this Cajun-style favorite! So get out your skillet and get ready for a boldly flavored dish that's sure to please the whole family.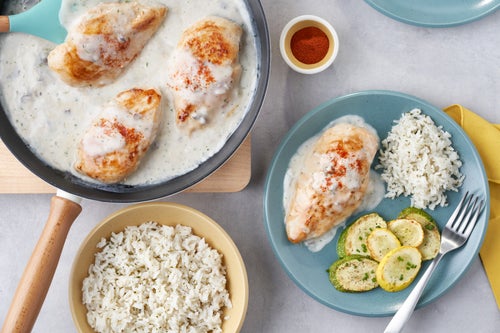 Creamy Ranch Chicken & Rice
Ranch salad dressing mix adds great flavor to sautéed chicken and rice...and the whole dish will be ready in 30 minutes!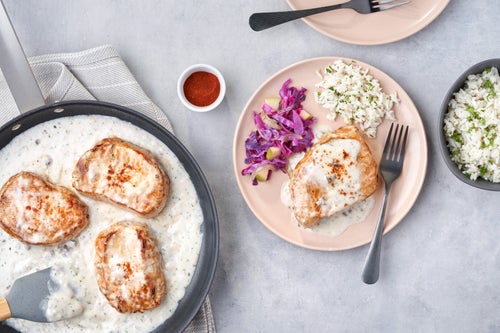 Creamy Ranch Pork Chops & Rice
Campbell's® Condensed Cream of Mushroom Soup and ranch salad dressing combine to make a perfectly seasoned sauce to serve over golden, juicy pork chops and rice.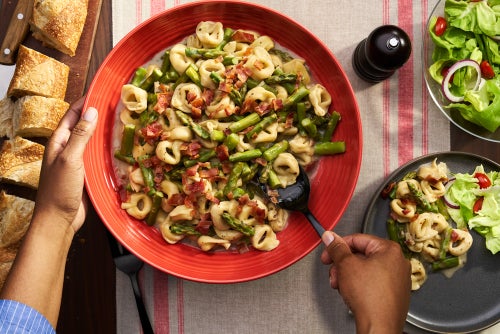 Creamy Tortellini with Asparagus in Mushroom Bacon Sauce
You'll love everything about this Creamy Tortellini recipe starting with the fact that it uses only 5 ingredients and it's on the table in just 30 minutes. The creamy sauce perfectly highlights the tortellini and asparagus and a finish of crumbled bacon makes it extra delicious. Cleanup is a breeze because you cook everything right in the same skillet.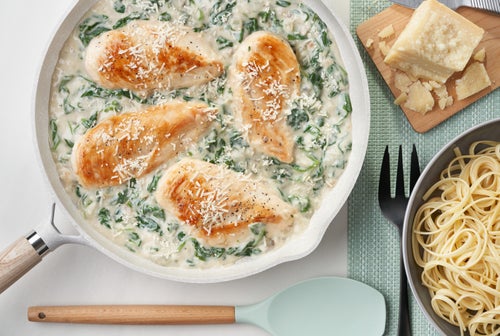 Easy Chicken Florentine
Our quick cooking version of an Italian favorite uses cream of mushroom soup to ensure moist and flavorful chicken that's accented with fresh baby spinach and Parmesan cheese. It's a 30-minute meal that's perfect for busy weeknights.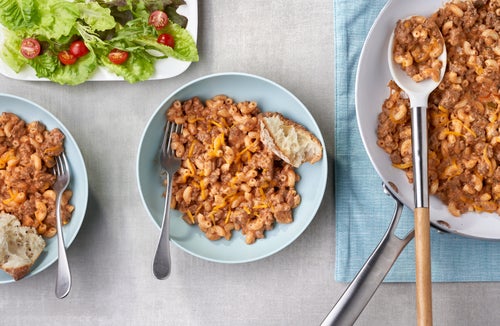 Easy Goulash Skillet Beef & Macaroni
This take on Hungarian goulash, a hearty beef and noodle recipe, uses picante sauce for the tomato base, adding an extra layer of flavor to a fast, filling meal. Seasoned ground beef and tender macaroni noodles simmer in a creamy, savory tomato sauce, then get a sprinkle of cheddar cheese just before serving so it all melts together in one skillet. With all the flavors kids love, it's sure to be a family favorite.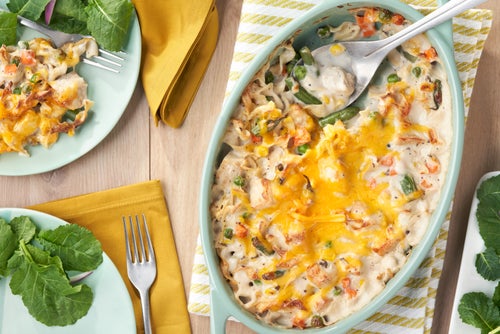 Hearty Chicken & Noodle Casserole
Comfort food at its finest, this chicken and noodle casserole recipe uses our delicious Mushroom Soup to add creaminess and flavor to chicken, noodles and veggies. If you're looking to save time during the week, this dish freezes well and can be made ahead.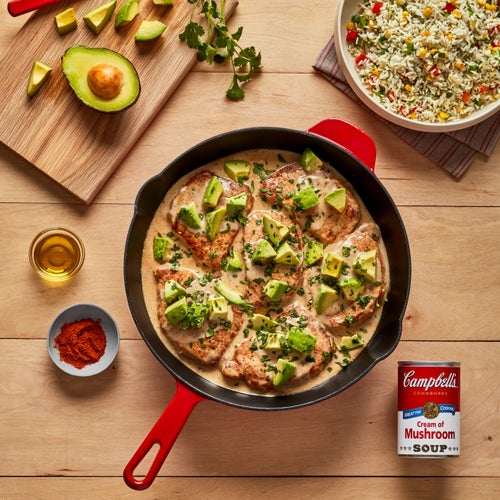 Campbell's® Avocado Ranch Pork Chops and Rice
Boneless pork chops are quick-cooking and versatile, making them a great choice for busy weeknights. This easy recipe for Avocado Ranch Pork Chops delivers on everything you love about the classic flavor combination of avocado and ranch! It's creamy and cool, zesty and fresh.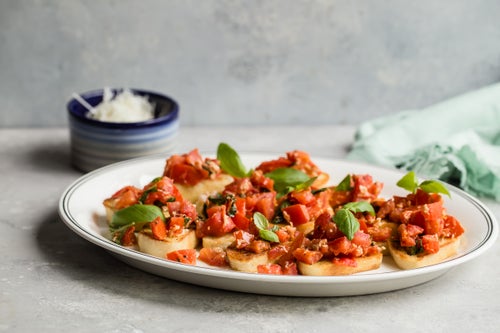 Rustic Bruschetta
Looking for the perfect appetizer any time of year? Look no further than this Rustic Bruschetta made with Pompeian Gourmet Selection Extra Virgin Olive Oil. This simple, healthy snack is made flavorful by the addition of first cold-pressed extra virgin olive oil, expertly crafted by Pompeian's family of farmers.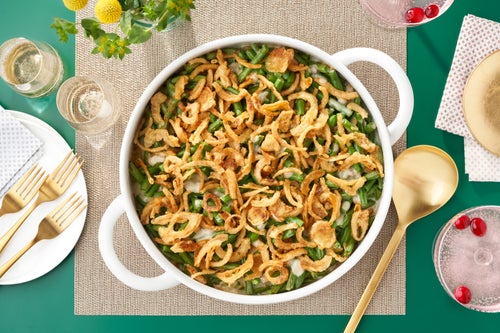 Green Bean Casserole
A classic, easy, and delicious side dish for the holiday season.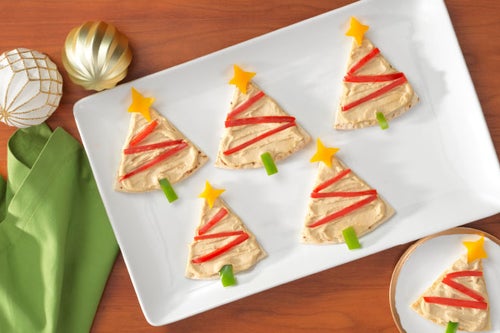 Hummus Holiday Trees
Sliced Pita bread with green, red, and yellow pepper results into a forest-like dish that instantly brings out the holiday vibe. Loved by kids and adults alike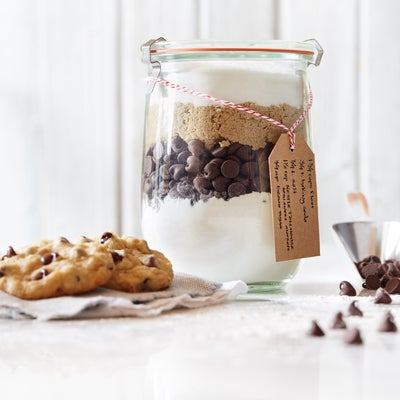 Chocolate Chip Cookie Mix In A Jar
A gift of love from your own kitchen. Great for the holidays or as a thank-you gift for any season.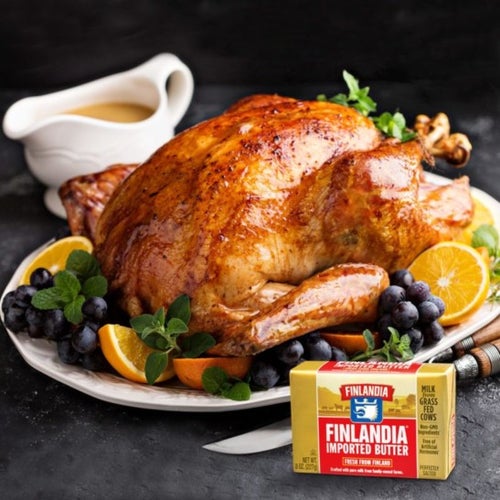 Finlandia Butter-Roasted Turkey
Delicious Butter-Roasted Turkey recipe using Finlandia Salted Butter. Finlandia Salted Butter is crafted with pure milk from family-owned farms in the pristine nature of Finland.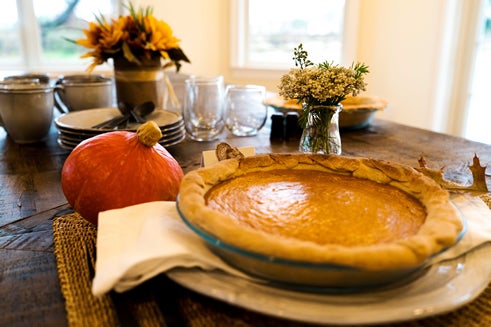 Finlandia Flaky Butter Pie Crust Pumpkin Pie
Bake a delicious Thanksgiving or holiday pumpkin pie with a flaky, buttery pie crust using Finlandia Salted Butter. Finlandia Salted Butter is crafted with pure milk from family-owned farms in the pristine nature of Finland. The rich, creamy flavor and smooth texture, make Finlandia Imported Butter the ultimate butter for baking, cooking and especially, eating.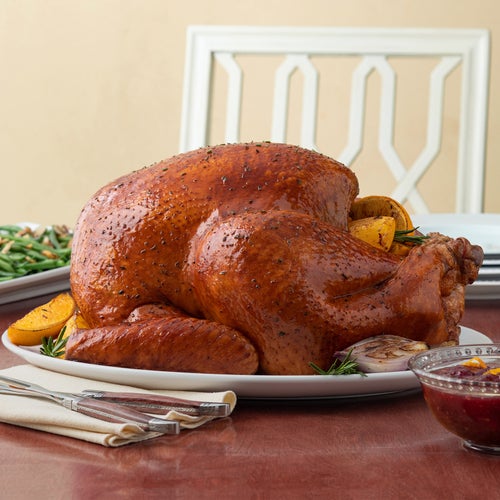 Herb and Citrus Butter Roasted Whole Turkey
This delicious roasted whole Butterball turkey recipe will be sure to make your Thanksgiving Day a tasty one. It's easy and full of flavor! Serving size depends on the size of your turkey.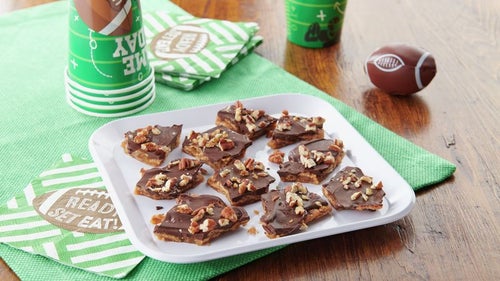 Cinnamon Toast Toffee Touchdown Crunch
Fill a decorative tin with toffee crunch, separating layers with colored plastic wrap, colored tissue paper or waxed paper and bring to your game day event.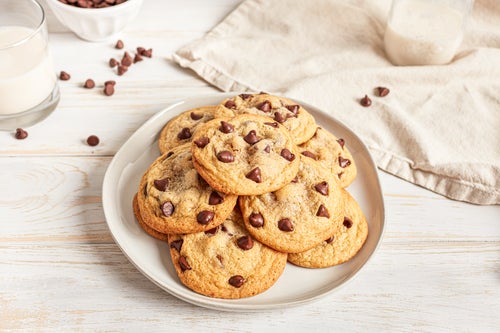 Original NESTLÉ® TOLL HOUSE® Chocolate Chip Cookies
The chocolate chip cookie that started it all! NESTLÉ® TOLL HOUSE® original chocolate chip cookies are a true classic and the go-to cookie for all occasions!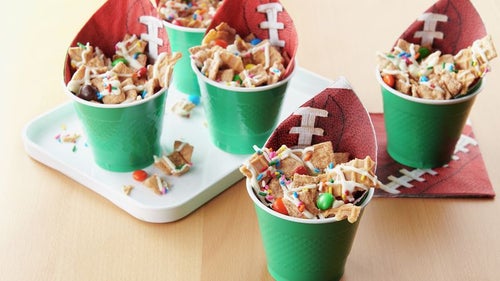 Cinnamon Toast Crunch™ Team Up Snack Mix
A fun and colorful snack mix that sweetens any game day—Cinnamon Toast Crunch™ cereal is tossed with pieces of waffle cone, chocolate candies and topped with melted white vanilla baking chips and rainbow sprinkles.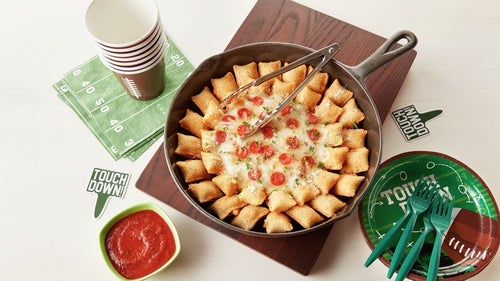 Game Day Pizza Roll Skillet Dip
Nothing says game day like pizza, and this recipe has got you covered! With pizza snacks, melty cheese and pepperoni, this dip will get everyone ready for the big game!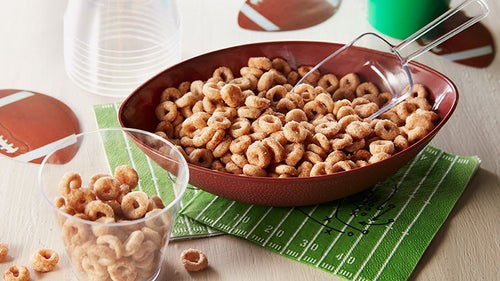 Mini Doughnut Hot Buttered Cheerios™ Game Mix
These five-ingredient buttery cereal bites are made for game day! Toss your favorite Cheerios™ with butter, vanilla and cinnamon-sugar and serve at your tailgate (or homegate!) for an easy win.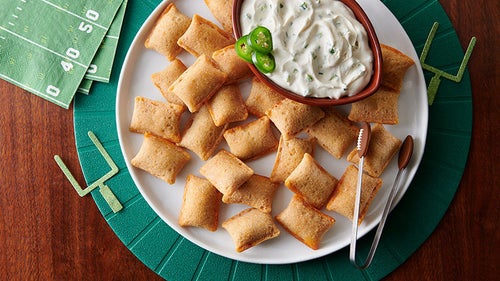 Jalapeno Popper Party Dip & Pizza Rolls
You only need four ingredients to make this jalapeño popper-inspired dip to serve with Totino's® Pizza Rolls™! Cream cheese, fresh jalapeño chiles and a dash of cumin bring this irresistibly creamy, zesty dip to life as the go-to appetizer for your next tailgate.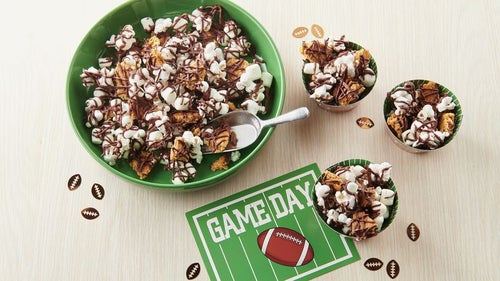 Perfect Game Day S'mores Popcorn Snack Mix
This easy s'mores-flavored snack is perfect for any game day event sure to please the whole family, no matter who they cheer for.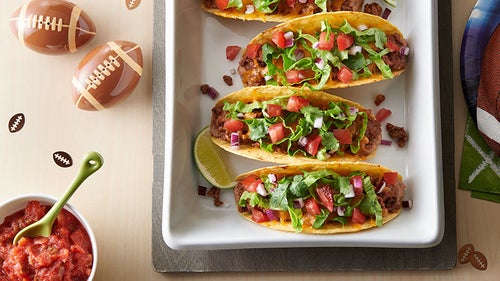 Oven-Baked Beef Touchdown Tacos
These oven-baked tacos don't mess around. Seasoned ground beef, refried beans, melty cheese and fresh toppings are packed inside crunchy taco shells to make what we consider the ultimate choice in game day snackage.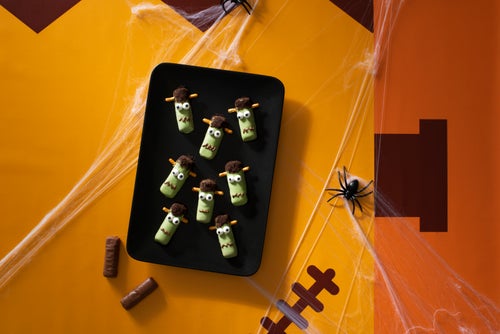 Frankenstein TWIX® Treats
Simple to assemble, these no-bake treats are fun to make and fun to eat. Pumpkin Spice Shortbread Bites
Classic shortbread cookies are packed with chopped TWIX® Minis and accented with pumpkin pie spice for a tasty autumn-inspired treat.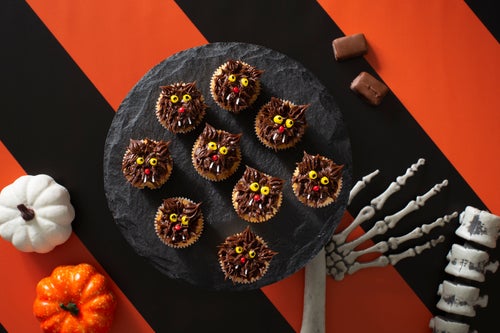 SNICKERS® Mini "Werewolf" Cupcakes
These adorable mini Halloween "werewolf" Snicker's cupcakes will make you howl with delight. TWIX® Chocolate Pumpkin Pie Pops
These quick and easy pastry pops are filled with chopped TWIX® Minis, pumpkin pie filling and chopped pecans.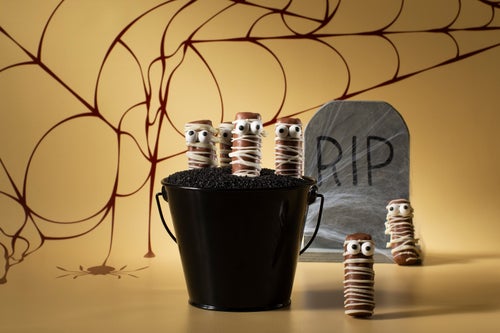 Twix Mummies
Quick and easy, these Halloween Fun Size Twix mummies will add a little fun to any Halloween party.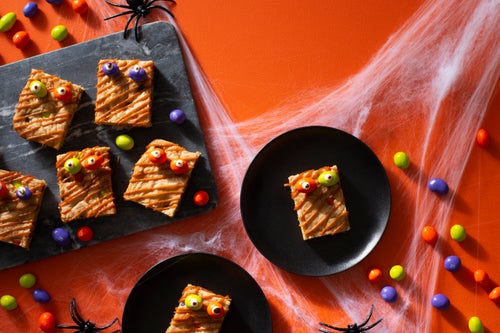 Caramel Blondie Eyeball Bars
Homemade blondies are topped with Peanut Ghoul's Mix M&M'S for a satisfying Halloween sweet treat.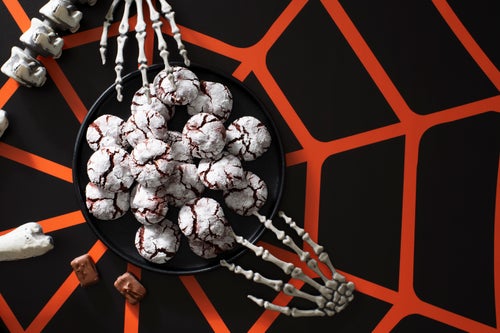 Blood Red Crinkle Cookies
These festive Halloween cookies are bursting with lots of SNICKERS® flavor.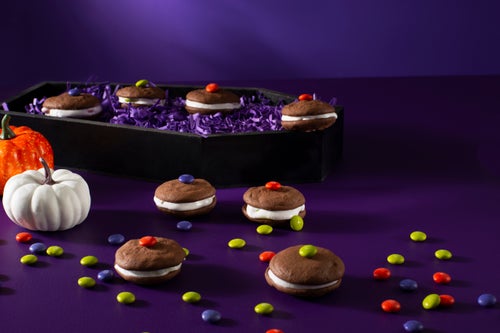 M&M'S® Monster Mash Whoopie Pies
These Halloween M&M'S® whoopie pies with marshmallow filling are sure to bring glee and delight to any little ghoul or goblin.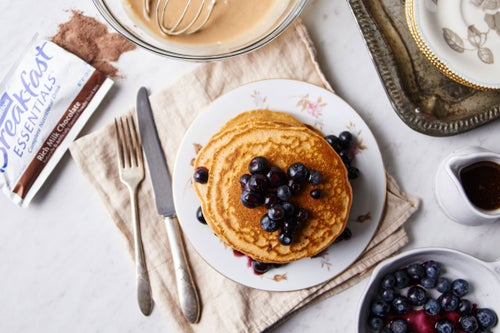 Carnation Breakfast Essentials Milk Chocolate Pancake-Waffle Batter
This chocolaty, yet nutritious take on a breakfast favorite will have your family waking up early to dig in.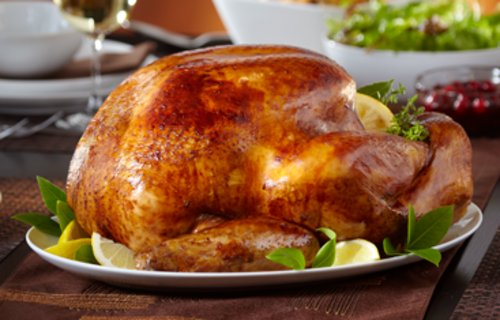 Brined Brown Sugar Deep Fried Turkey
Nothing beats the sweet and tangy flavor of a crispy deep-fried turkey. The only thing better is how easy it is to prepare and cook.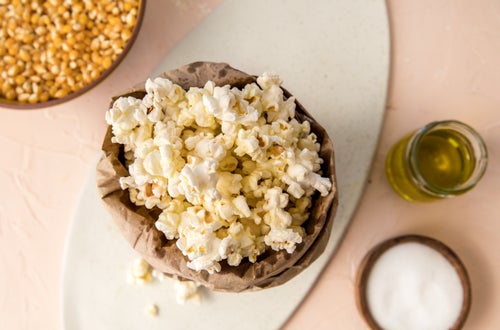 Easy EVOO Popcorn
Popcorn is a snack everyone enjoys! Now enjoy a healthy and flavorful new version with Pompeian Gourmet Selection Extra Virgin Olive Oil. High in monounsaturated fats and expertly crafted by our family of farmers, Pompeian Gourmet Selection Extra Virgin Olive Oil is first cold-pressed with a fresh and fruity taste, the perfect addition to your snack.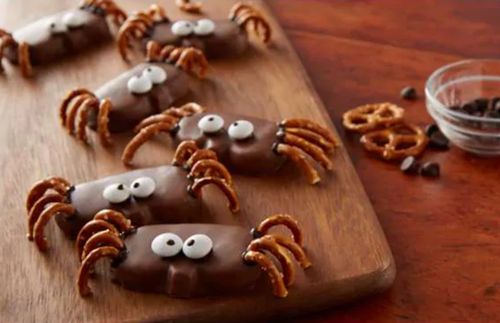 REESE'S Peanut Butter Pumpkin Spider
A quick Halloween recipe, adding fun to the Halloween season! Add pretzel legs to REESE'S Peanut Butter Pumpkins and garnish with candy eyes.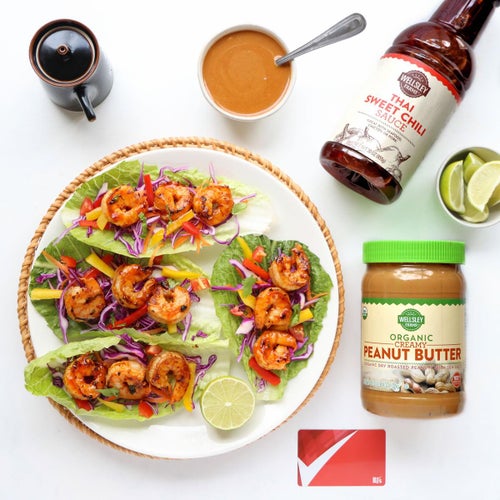 Spicy Thai Chili Shrimp Lettuce Wraps
Skip on the carbs, but not on the flavor with this tangy Thai-inspired lettuce wrap. Recipe by Heather LaCorte
3 Ingredient Spinach Dip Ravioli Lasagna
Super simple lasagna made with Wellsley Farm Cheese Ravioli instead of your traditional pasta. Recipe by Jason Goldstein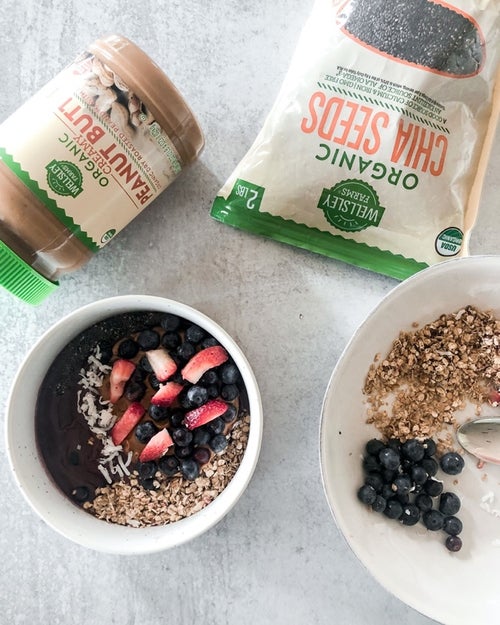 Acai Bowl
Make it your own with crunchy toppings or fresh fruit. Everyone will love this smoothie you can eat with a spoon. Recipe by Jess Baumgardner.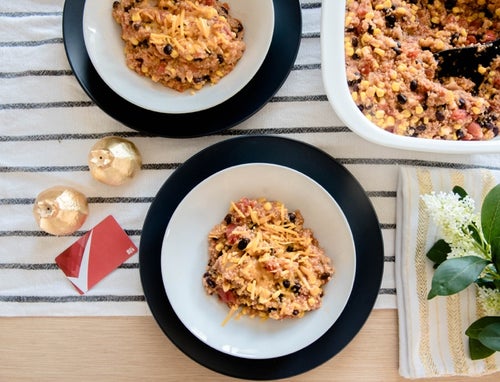 Quinoa Enchilada
Skip the tortilla and go straight for the good stuff with this nutritious enchilada-inspired dish. Recipe by Kelly Towart.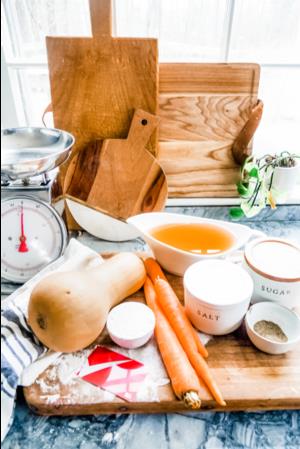 Vegan Butternut Squash Soup
Take an already vegetarian soup and go the extra mile. Taste just like the classic, only better. Recipe by Korilyn Martin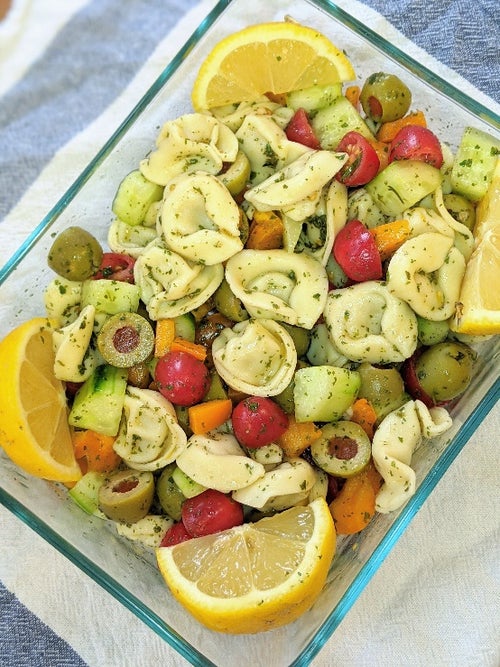 Tortellini Salad
Fresh and tasty, this stuffed tortellini pasta salad is the perfect picnic basket treat. Recipe by Liana Kolodenker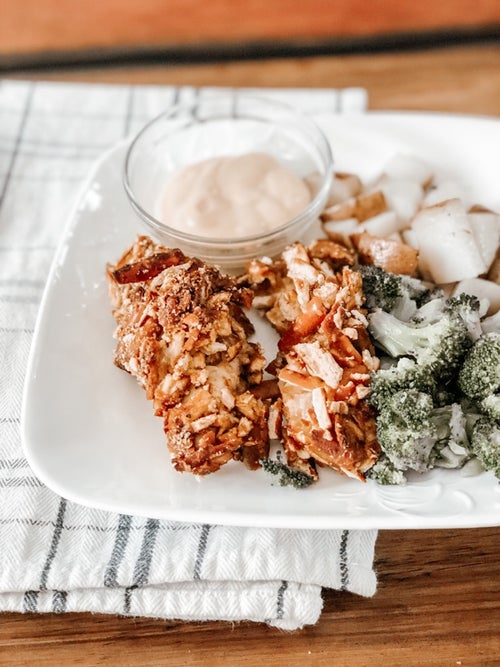 Sheet Pan Honey Mustard Pretzel Chicken with Roasted Broccoli and Potatoes
Get creative with your pantry supplies with a fun and tangy new dinner recipe your family will love. Recipe by Nicolle Mallinson.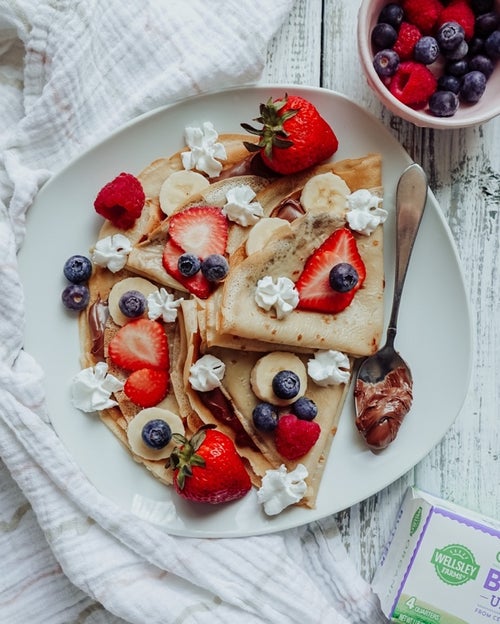 Crepes - Russian style
Your family will love waking up to these fresh and fruity, top-with-whatever-you-want, alternatives to heavy pancakes. Recipe by Olya Timoshevich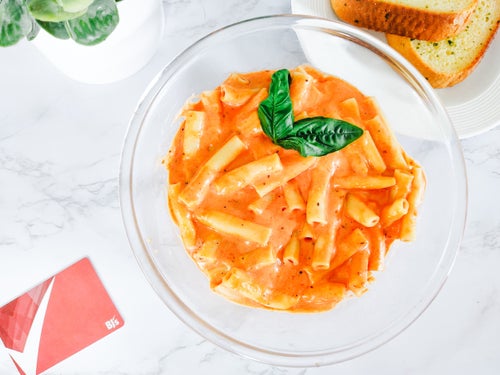 Instant Pot Dump and Go Creamy Ziti
On those nights you're not up to doing after-dinner dishes, this delicious recipe is your comfort-food hero. Recipe by Rachel Loza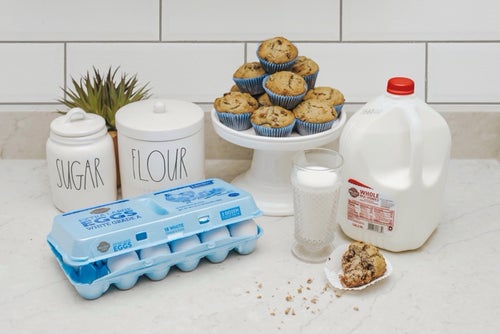 Chocolate Chip-Banana Muffins
Late-risers love waking up early in the morning to the smell of these sweet banana bread muffins. Recipe by Rebecca Hauser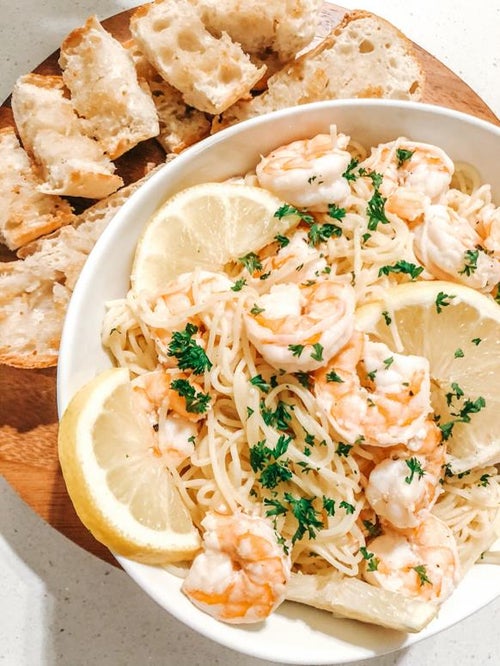 Shrimp Lemon Garlic with Pasta
Kick your fresh summer seafood cravings with the perfect midweek meal that can be on the table in no-time. Recipe by Samantha Vanderpool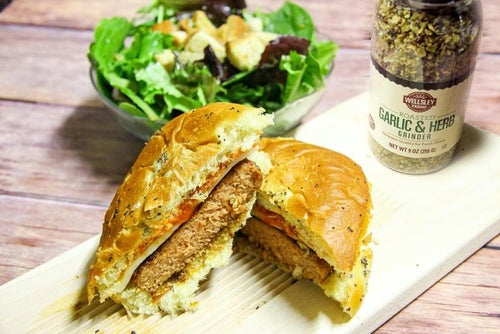 Meatless Meat Burger with Salad
Try meatless! Meat alternatives can be a healthy and delicious option your whole family will appreciate. Recipe by Shazia Atif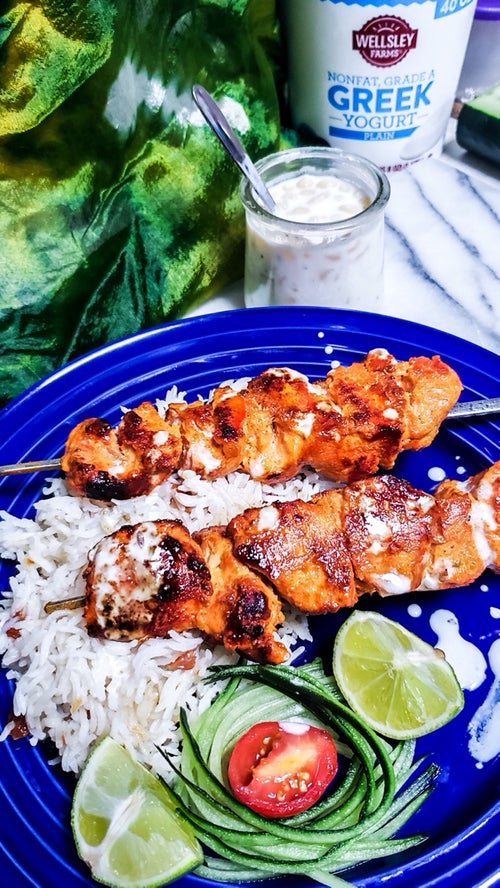 Tandoori Chicken Skewers
Bursting with flavor, this tasty Indian dish is great for making on the grill. Introduce your family to something new, delicious and fun! Recipe by Shoma Arora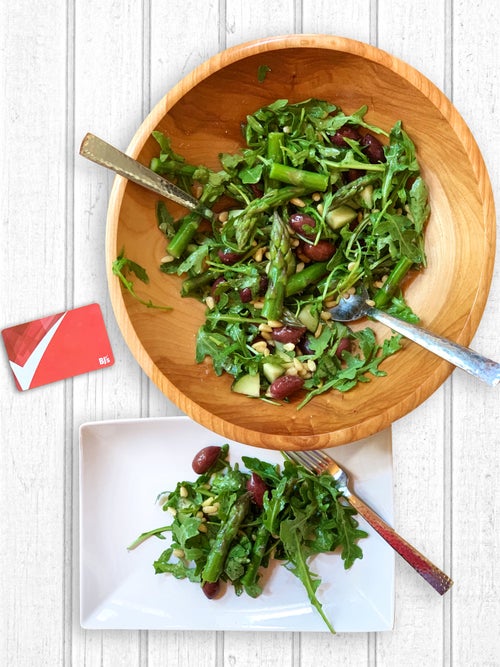 Spring Salad with Asparagus and Arugula
This lightly flavored, fresh asparagus and arugula salad is a must try side dish and a tasty way to add some vegetables to your day. By Tamara Bowman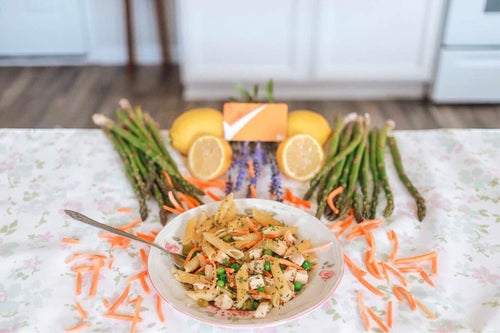 Spring Chicken Pasta
This simple pasta dish is packed with fresh vegetables and flavored with savory garlic to appease the pasta-lovers in your life. Recipe by Telisha McNeill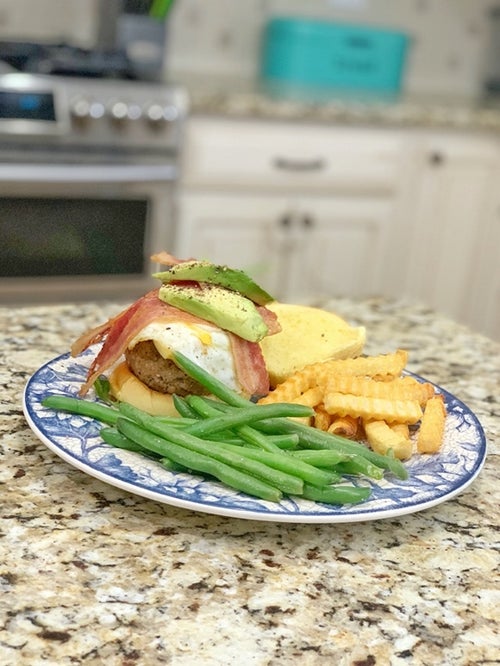 Italian Meatball Super Spring Burger
A fusion of fresh and Italian flavors takes this classic cheeseburger to the next level. Recipe by William Sweeney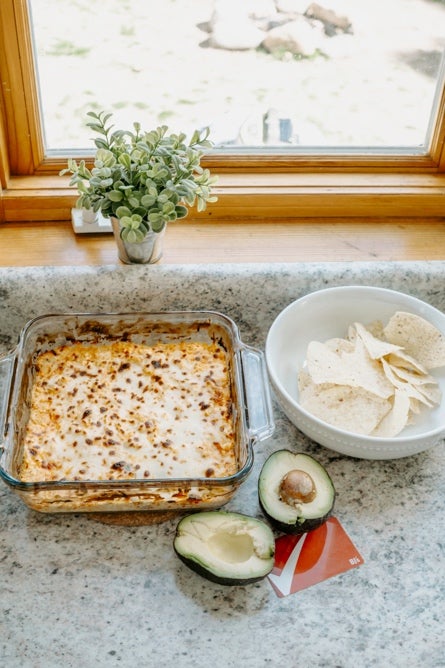 Buffalo Chicken Dip
Fill your chip with spicy, tang buffalo sauce flavor when you try this belly-filling snack recipe.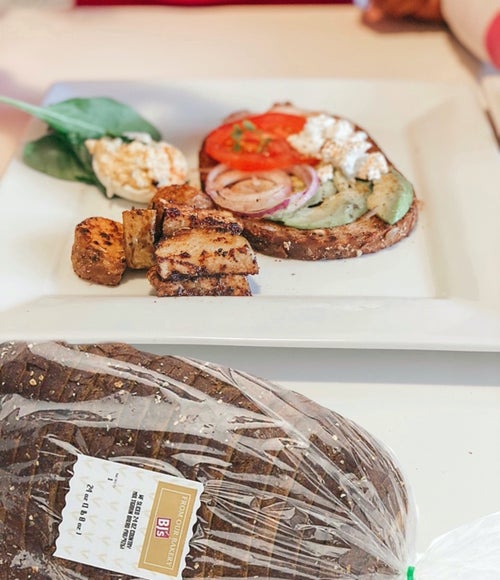 Avocado Toast with Turkey & Deviled Eggs
Assemble these tasty little snacks for your next pot luck or charcuterie picnic. Recipe by Amber Hurley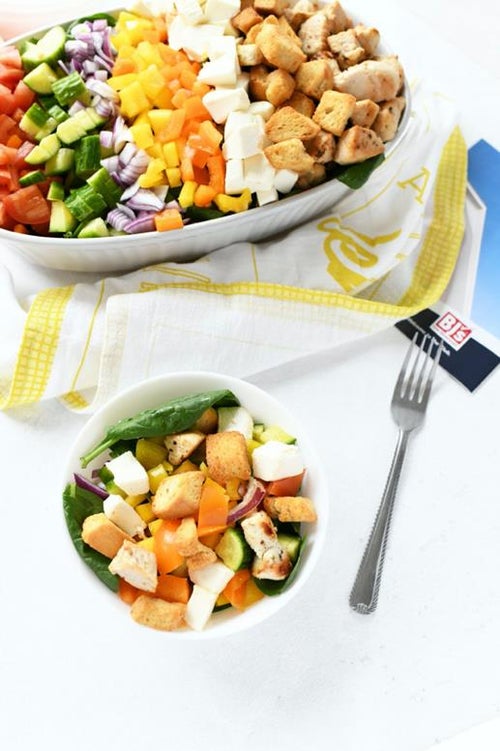 Rainbow Veggie Chicken Salad
Get your daily dose of color and nutrition with this chicken salad recipe that is as good to look at as it is to eat. Recipe by Amy Derosiers.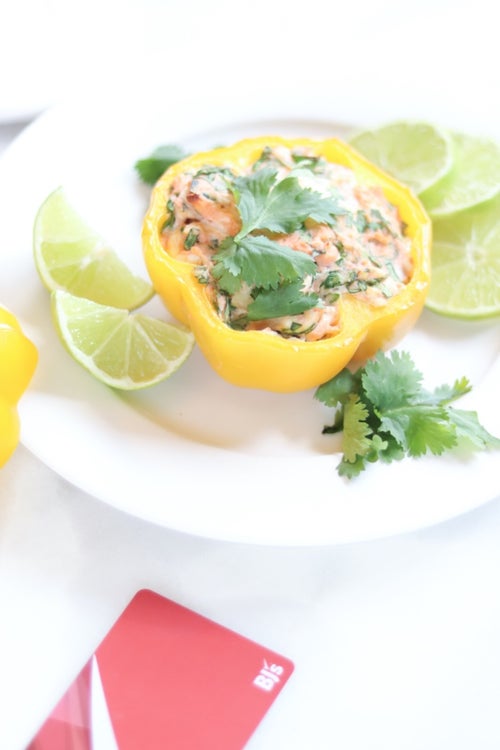 Salmon Stuffed Peppers
The perfect all-in-one twist on a classic stuffed pepper that will impress your pescatarian guests. Recipe by Christy Cusato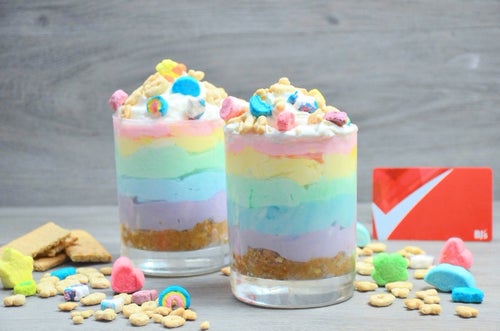 No-Bake Rainbow Cheesecake Parfait
This colorful recipe is a sweet way to impress your friends and bring some rainbow into your world. Recipe by DeVonna Payne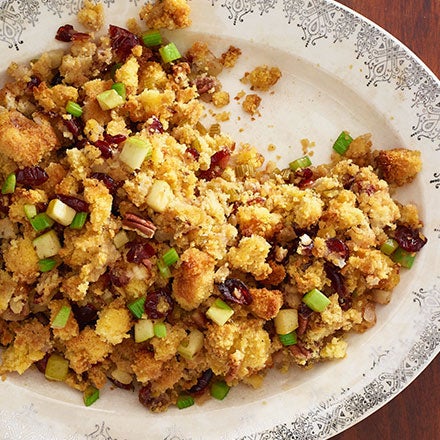 Herbed Apple and Cranberry Cornbread Stuffing
Delicious herbed apple with cranberry cornbread stuffing-sounds like fun, family and holiday treat!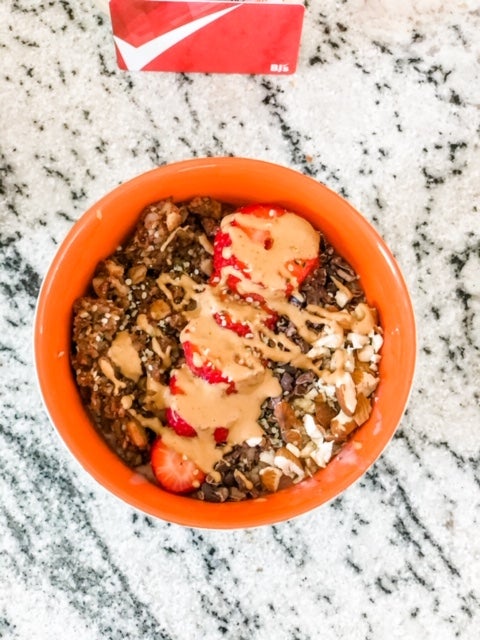 Berry Protein Smoothie Bowl
This delicious and high protein smoothie packs some crunch and can be eaten with a spoon. Recipe by Brittany Colasuonno.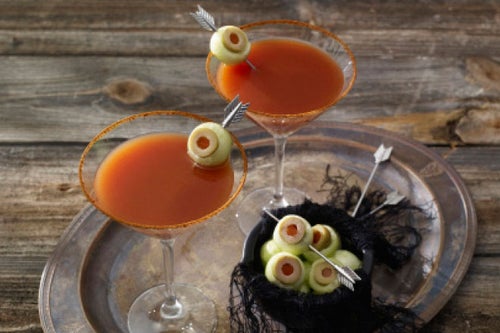 Bloody Eyeball Martini
Halloween-themed red cocktail made with vodka and served with eyeball shaped cucumber.

Touchdown Chili
Touchdown Chili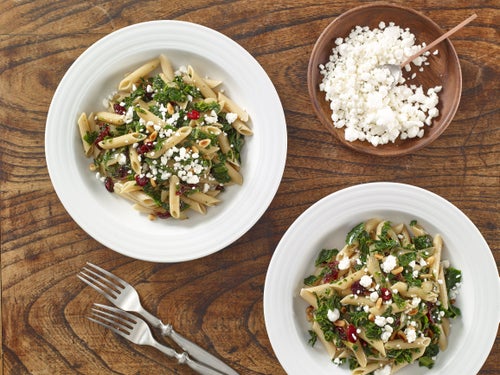 Whole Grain Penne with Greens and Cranberries
Whole Grain Penne with Greens and Cranberries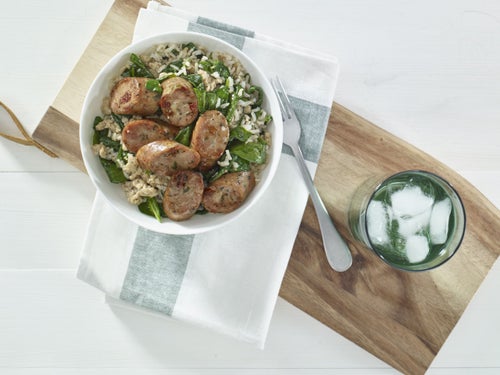 Spinach and Sausage Rice Bowl
Spinach and Sausage Rice Bowl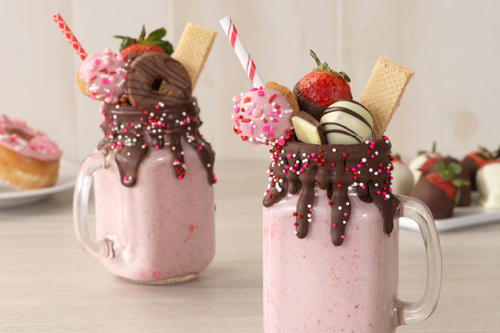 Strawberry Banana Milk Shakes
Strawberry Banana Milk Shakes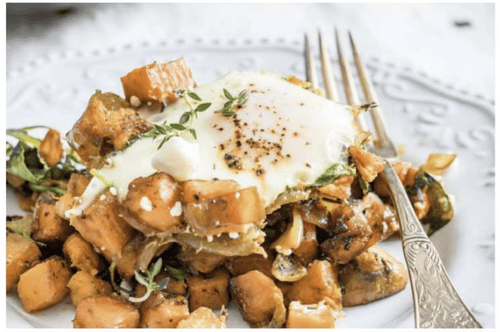 Sweet Potato Hash with Eggs & Spinach
Sweet Potato Hash with Eggs & Spinach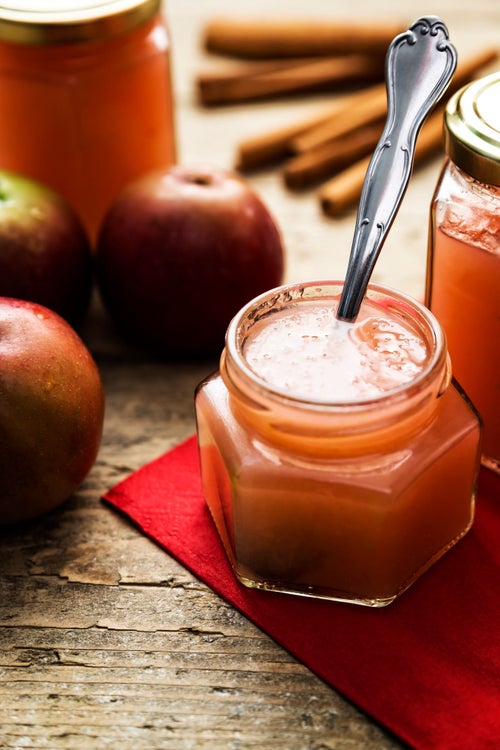 Naturally Pink Apple Sauce
Naturally Pink Apple Sauce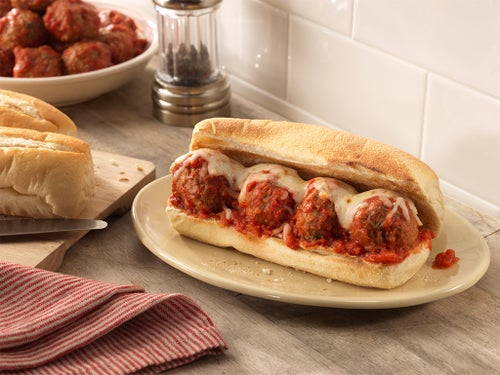 Wellsley Farms Italian Meatball Subs
Made with quality meats and spices for an authentic Italian flavor, our meatballs are sure to be a hit at your party. Perfect in subs or just for nibbling.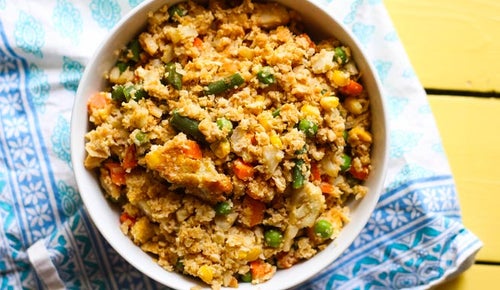 Fried Cauliflower Rice
Fried Cauliflower Rice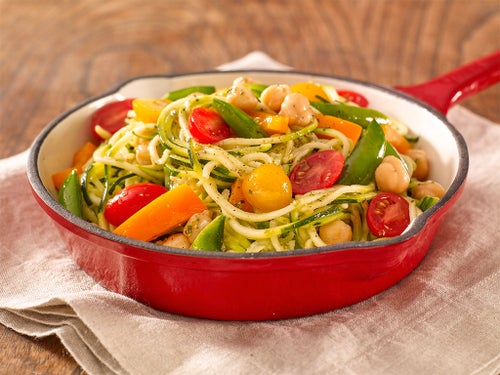 Zoodles Primavera
This light and refreshing dish is made with zucchini noodles instead of pasta for a low-carb meal you can feel good about serving to your friends or family.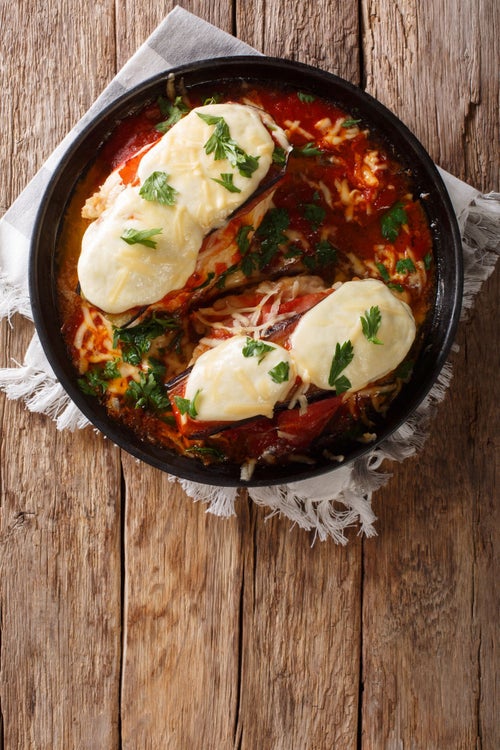 Chicken Parmesan Casserole
Chicken Parmesan Casserole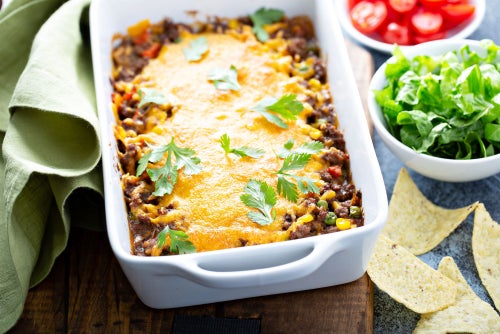 Southwest Turkey Skillet Casserole
Southwest Turkey Skillet Casserole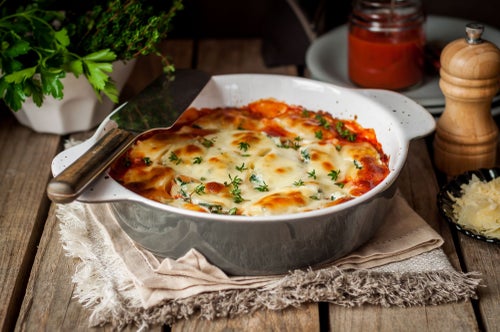 Easy Veggie Pasta Casserole
Easy Veggie Pasta Casserole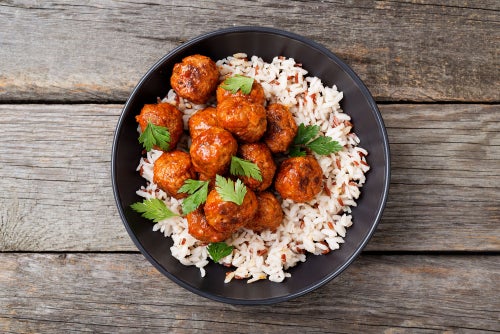 One-Skillet Meatballs and Rice
One-Skillet Meatballs and Rice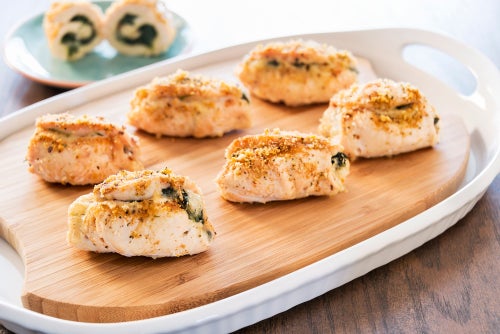 Stuffed Chicken Breast with Grapes, Goat Cheese & Walnuts
Stuffed Chicken Breast with Grapes, Goat Cheese and Walnuts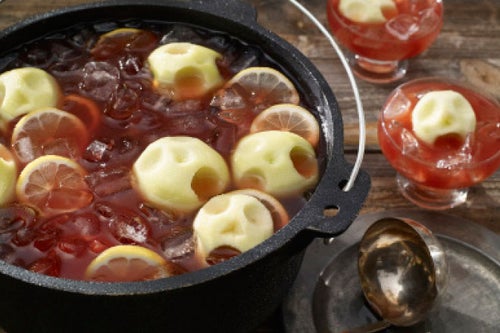 Ghoulish Punch
This Halloween special cocktail is extremely easy to make and it will leave the little monsters with a happy face!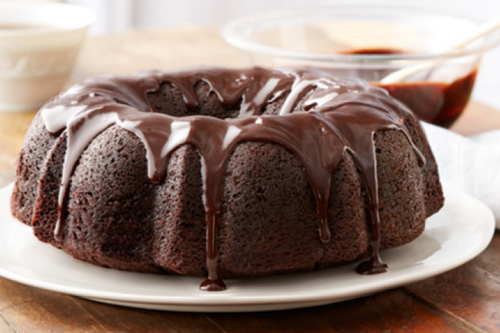 Black Magic Cake
Per Serving: 310 cal. • 11g fat • 5g protein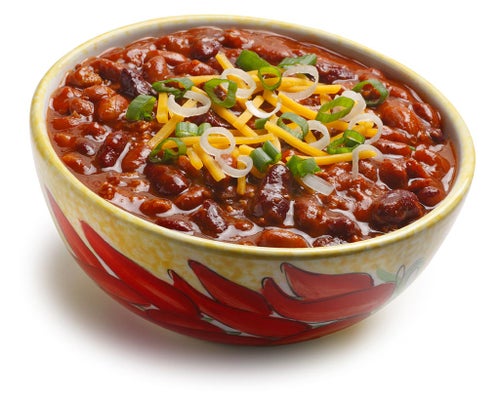 Meatless Taco Chili
Cook this chili filled with pinto beans, black beans, bell peppers and corn in your slow cookers for a savory meatless meal everyone will love.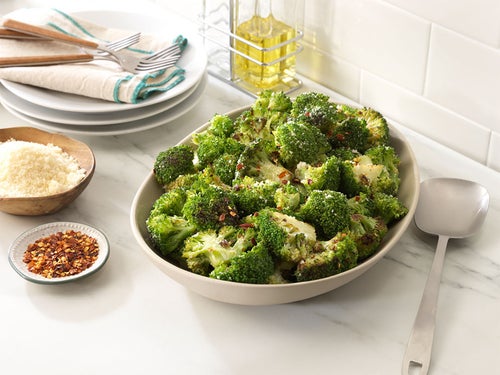 Sauteed Broccoli with Garlic
Per Serving: 120 cal. • 10g fat • 4g protein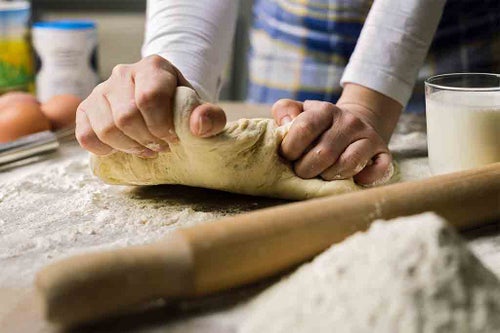 Whole Wheat Pizza Dough
Whole Wheat Pizza Dough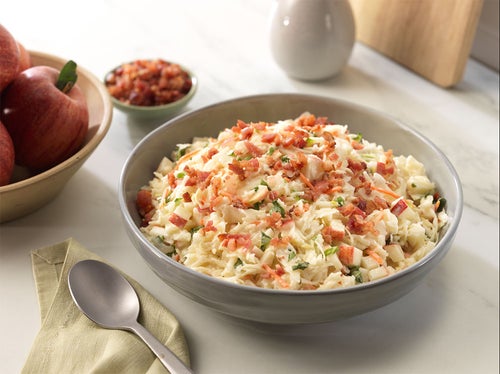 Apple Bacon Slaw
Per Serving: 180 cal. • 11g fat • 2g protein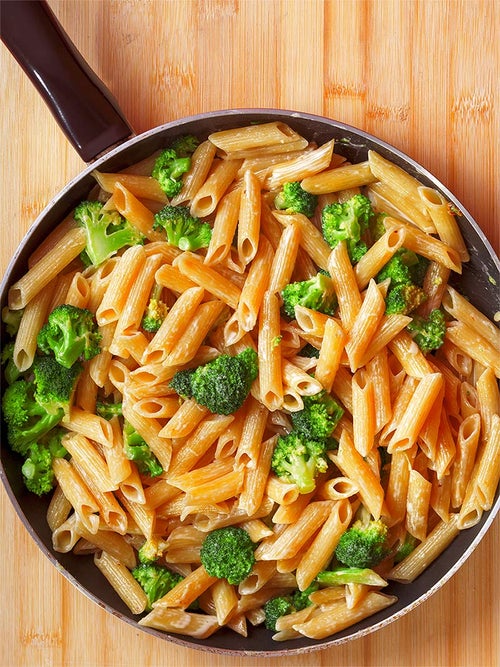 Whole Grain Penne with Broccoli, Garlic & Lemon
Whole Grain Penne with Broccoli, Garlic & Lemon Whole Grain Penne with Broccoli, Garlic & Lemon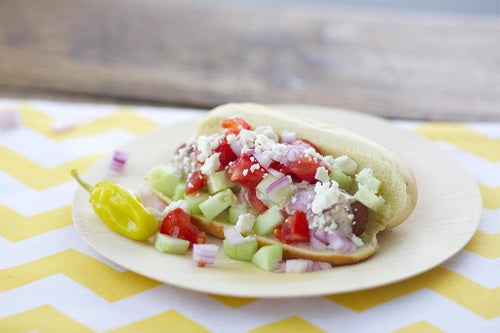 The Greek Dog
The Greek Dog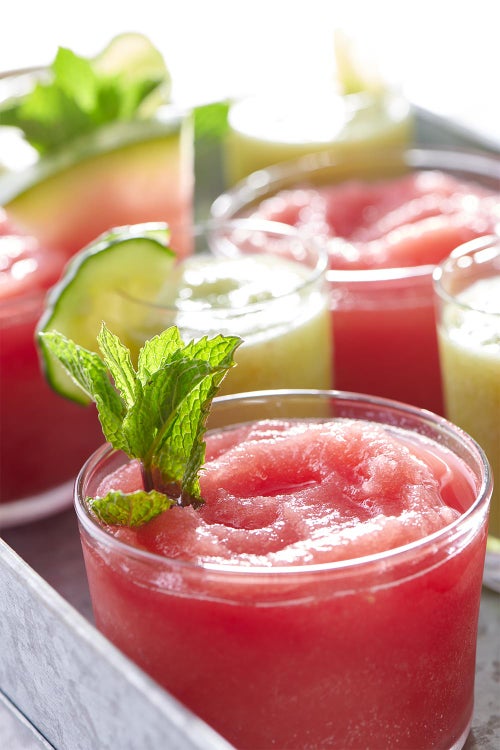 Watermelon Slushies
Watermelon Slushies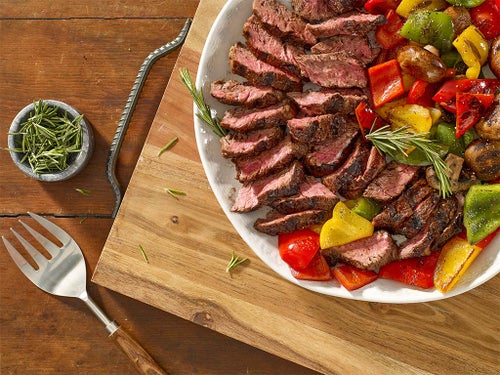 Steak Tips with Beer Marinade
Steak Tips with Beer Marinade

Stuffed Peppers
Stuffed Peppers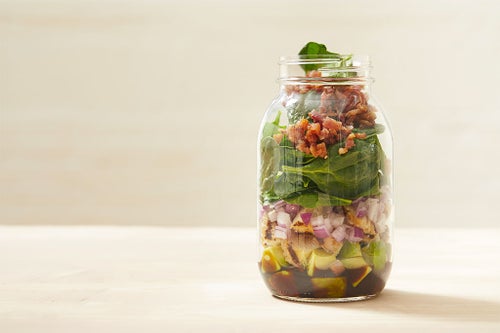 Spinach Salad in a Jar
Spinach Salad in a Jar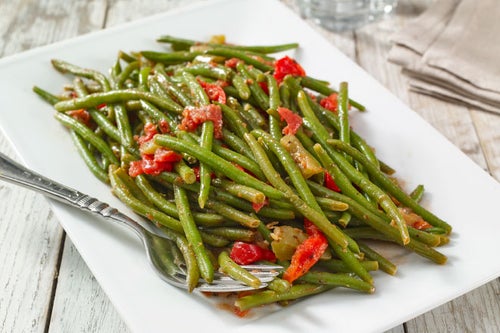 Stewed Green Beans and Tomatoes
Stewed Green Beans and Tomatoes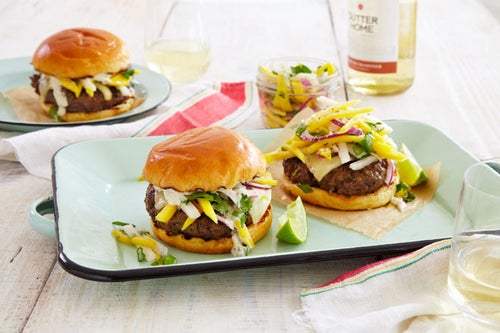 Take-Me-to-the-Islands Jamaican Jerk Burgers
Take-Me-to-the-Islands Jamaican Jerk Burgers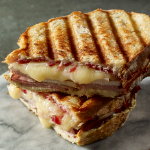 Turkey, Cheddar & Cranberry Panini
Turkey, Cheddar & Cranberry Panini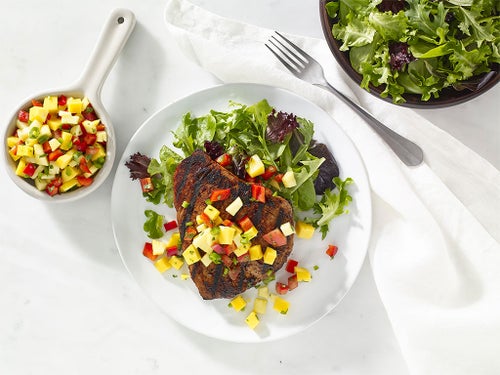 Tuna Steaks with Tropical Salsa
Tuna Steaks with Tropical Salsa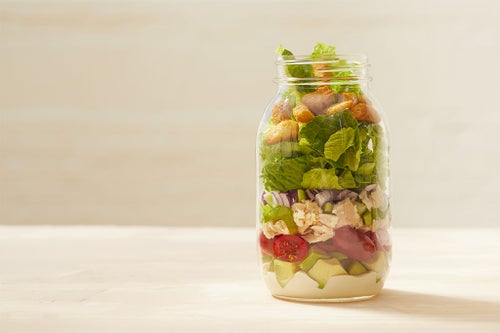 Tuna Salad in a Jar
Tuna Salad in a Jar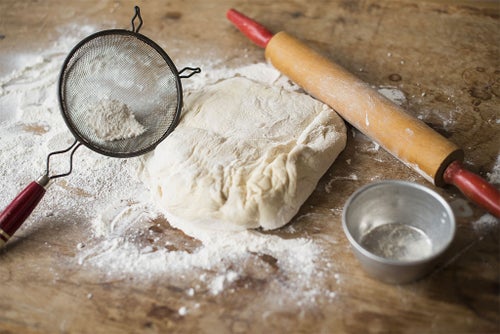 Traditional Pizza Dough
Traditional Pizza Dough

Taco Casserole
This quick and easy dish is sure to satisfy even the pickiest eaters. Plus, you can make it ahead of time and enjoy leftovers for days.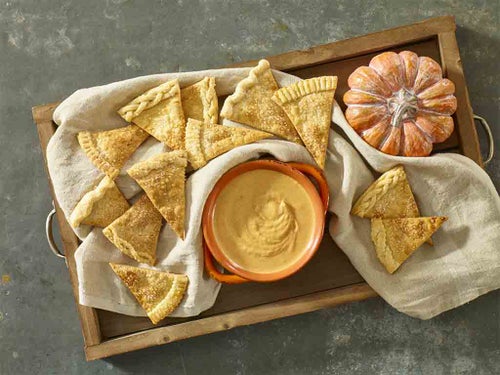 Sweet Pumpkin Dip
Sweet Pumpkin Dip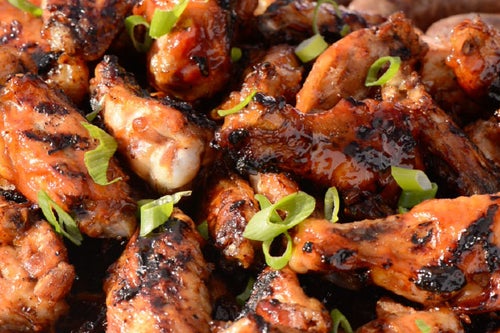 Red-Eye Barbecue Chicken Wings
Chicken wings cooked in red-eye barbecue sauce results in a spicy, smokey dish that gets finished as soon as it comes on the plate.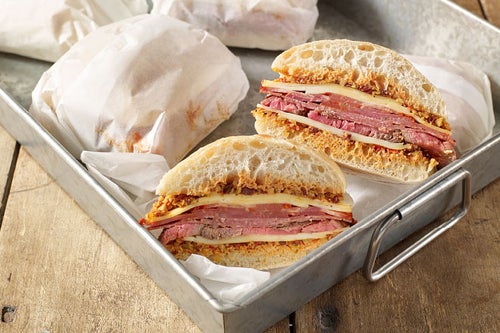 Flank Steak Muffuletta Sandwiches
Crusty sandwich bread stuffed with olive salad, meat, and cheese to bring the flavor Crescent City, New Orleans on your dinner table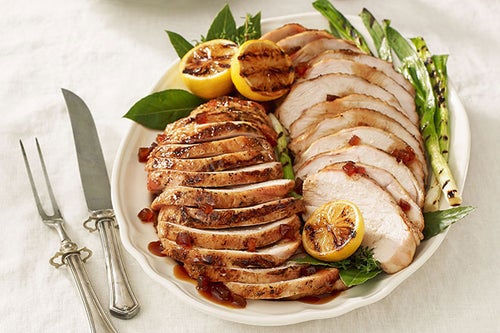 Grill-Roasted Turkey Breast with Apple Cider Glaze
Moist and tender turkey, coated with apple syrup glaze for a sumptuous holiday meal.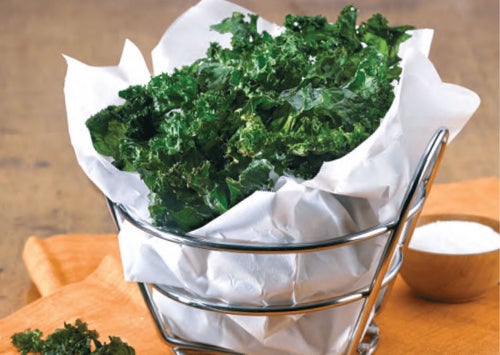 Baked Kale Chips
Delicious but low-calorie chips to give you a guilt-free pleasure while snacking. Check out the recipe to make it at home.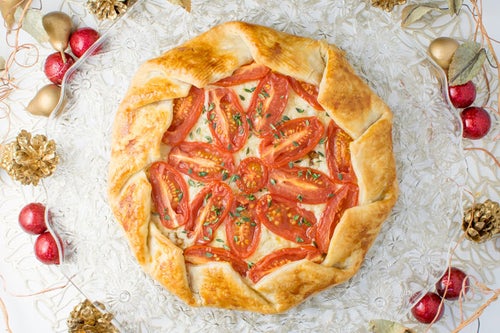 Heavenly Villagio Marzano Tomato Galette
If you want to give your homecooked pizza a makeover, try this recipe. With cheddar cheese, caramelized onions, and juicy Marzano tomato topping, it's simple, nutrition-packed and so delicious.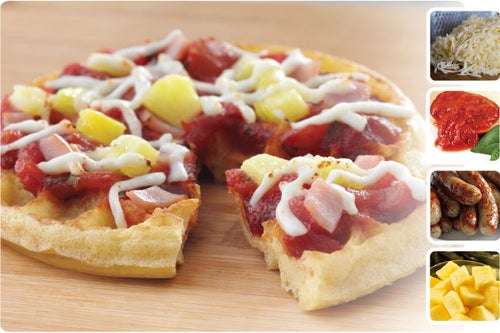 Hawaiian Pizza
The classic Hawaiian pizza is a family-favorite dish with a simple recipe and easily available ingredients. Make it during your next gathering and watch your guests craving for a few extra slices!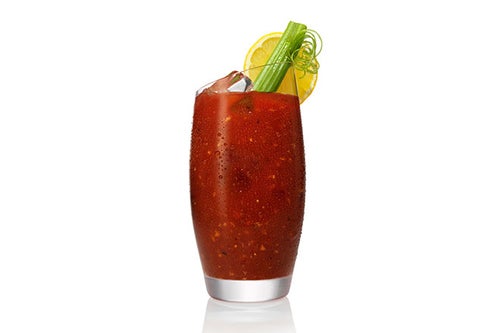 Hail Mary
Give a spicy twist to the classic Bloody Mary to create this party-favorite cocktail. Just a 10-minute preparation time! Garnish with lemon and celery while serving.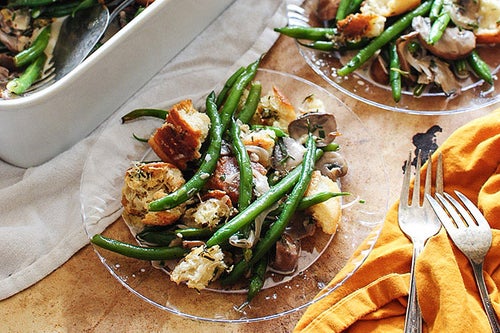 Green Bean Gratin
Baked green beans with mushroom and creamy cheese. A quick and delicious dish for busy weeknights!

Mexican Adobo Beef
Served over Goya Yellow Rice or in warm Mission Tortillas, this flavorful dish gets dinner on the table in under 30 min.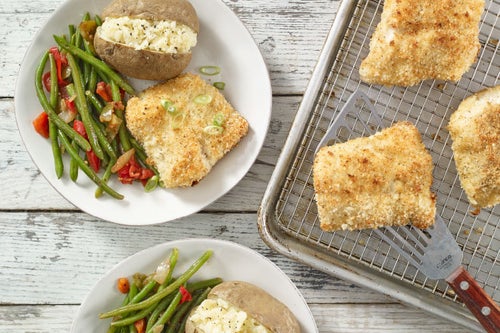 Crunchy Parmesan Cod Fillets
Want to have something special tonight? This restaurant-style dish can be prepared just within 25 minutes!

Assorted Club Sandwiches
Makeup platters of sandwiches on Wellsley Farms® Sandwich Breads and serve Clausen Kosher Dill Deli-Style Halves and Wellsley Farms® Homestyle Potato Salad on the side.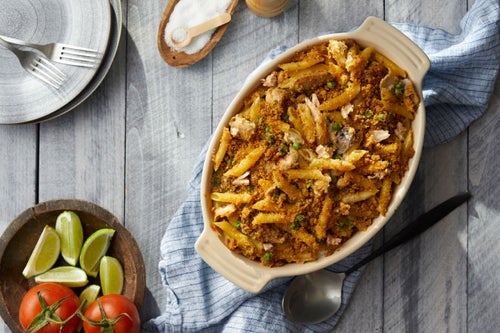 Creamy Salmon Casserole
Salmon, mushroom, pasta, and veggies come together to create this deliciously creamy dish which takes only 45 minutes of preparation time.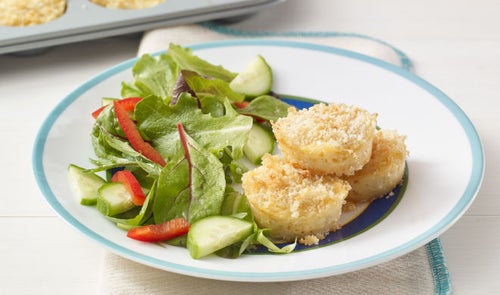 Crispy "Mac" & Cheese Bites
Crispy outside and cheesy inside, these delectable all-time-favorite bites would be a great appetizer for your parties and family gatherings.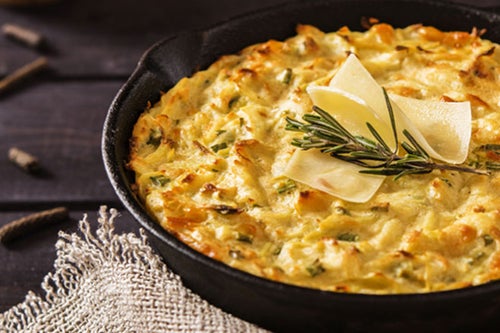 Creamy Stuffed Mushroom Casserole
A super creamy, delicious dinner with the rich protein of mushroom. A meat-free dish that would be loved by all when it comes on the dinner table.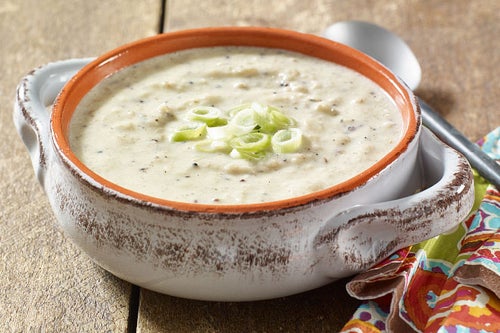 Creamy Roasted Cauliflower and Whole Grains Soup
A creamy dairy-free soup with roasted cauliflower, hazelnut, and organic grains. So warm and so delicious that you'll miss the winter days.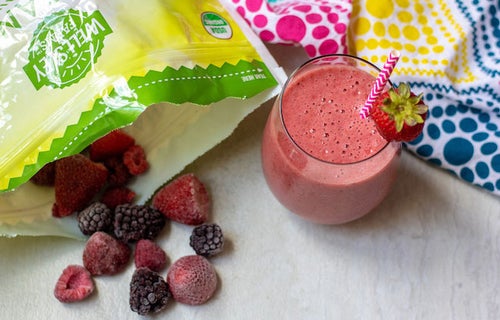 Creamy Berry Avocado Smoothie
Thick and creamy with a natural sweetness of berry and avocado, this is an all-time favorite smoothie that can be prepared only within 5 minutes!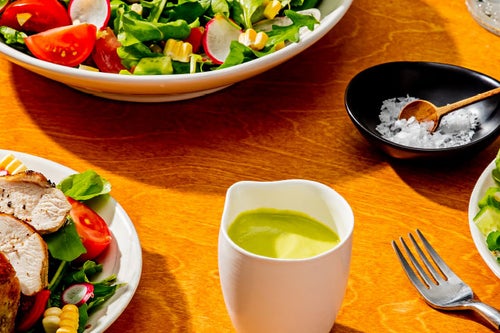 Creamy Avocado Greek Yogurt Dressing
Tangy Greek yogurt is combined with avocado, lime juice, garlic, and vinegar to form a delicious creamy dressing for a classic salad recipe.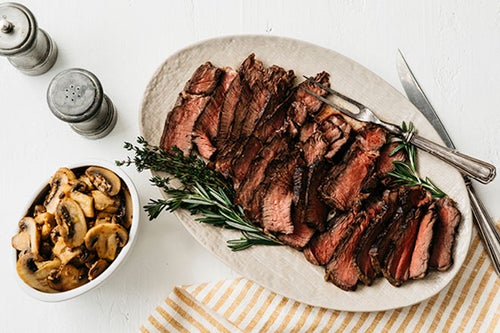 Grilled Top Sirloin Steak with Garlic Butter Mushrooms
Juicy beef steak with flavorful mushroom is cooked in butter with garlic to deliver an unforgettable taste that you want to relish after a long day.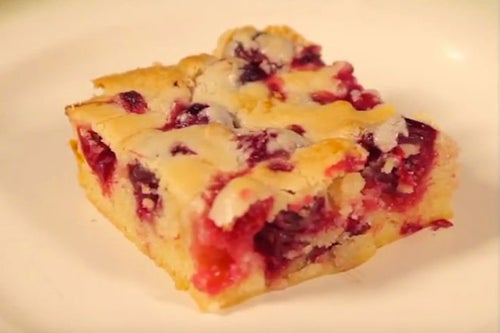 Cranberry Squares
Yummy squares with cranberries and the almond flavoring for a premium dessert hour.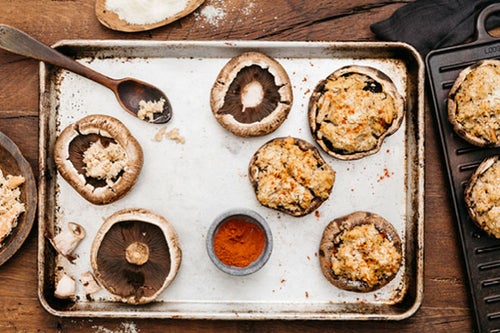 Grilled Stuffed Portabella Mushrooms
Stuffed with crab meat, cheese and mayonnaise, these Portabella mushrooms are an absolute crowd pleaser!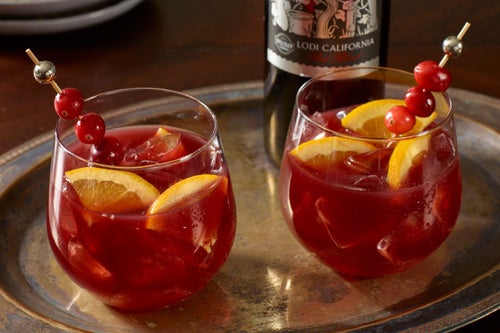 Cranberry Sangria
A full-on-flavor refreshing drink with cranberry juice, orange juice, and red wine. Be it a Summer or Fall evening, the Cranberry Sangria will cheer up your guests anytime.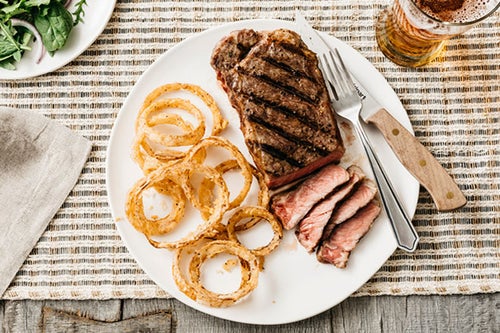 Grilled Spice-Rubbed New York Strip Steak
Easy and flavorful that's what the grilled spice-rubbed New York Strip steak is! With this 25-minute long recipe, you can relish a steak dish even on a weeknight.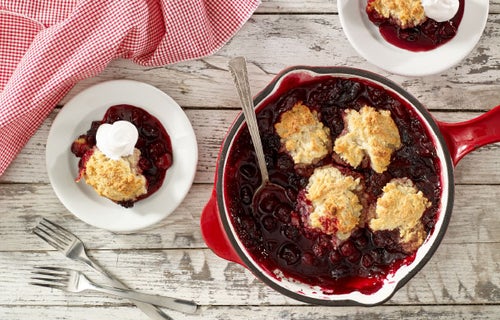 Skillet Cherry Cobbler
A delectable restaurant-style dessert which can be prepared at home just within 40-minutes!

Slow Cooker Barilla® Elbows Macaroni & Cheese
A classic dish with a no-hassle recipe that'll leave your family with a lip-smacking experience!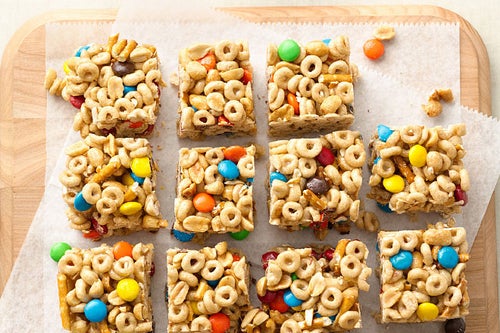 No-Bake Sweet-and-Salty Cereal Bars
Filled with honey nut, chocolate candies and dry-roasted peanuts, these bars are great on-the-go breakfast or me-time snack.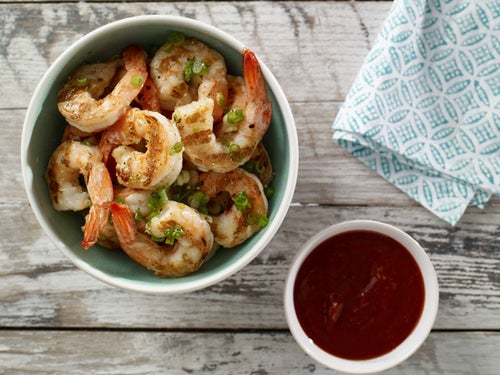 Grilled Shrimp Cocktail
Shrimp grilled with garlic for a spicy cocktail dish, that'll soon win the hearts of your guests in the next gathering.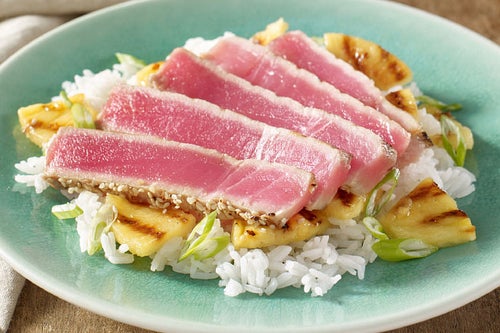 Grilled Sesame Tuna with Pineapple
In an unmatched combination of Tuna and Pineapple, this full-on-tropical flavor dish is perfect for weekend barbecues.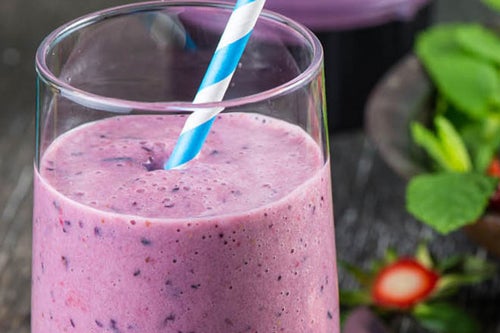 Organic Triple Berry Smoothie
An antioxidant-rich thick and refreshing smoothie which is very easy to prepare. You can make it anytime and enjoy with the whole family.

Kale Comfort Stew
A hearty, family-friendly, nutrition-packed comfort meal with a no-hassle recipe and only one hour of preparation time!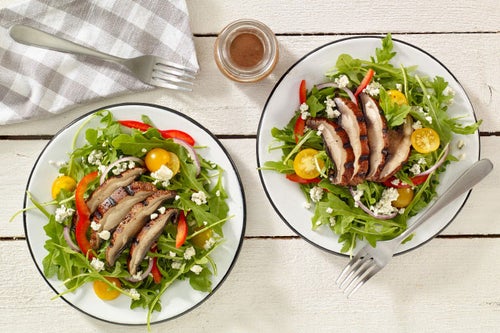 Grilled Portobello Salad
A full-on-flavor roasted portobello mushroom salad made with blue cheese, veggies, and an organic salad dressing.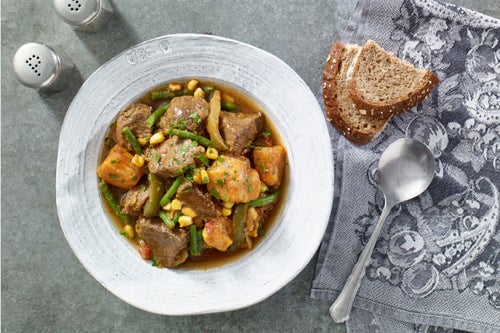 Panama Pork Stew
Made with simple ingredients, the Panama pork stew is light and delicious dinner. You can prepare the stew in advance on your weekend to have it during a busy weeknight.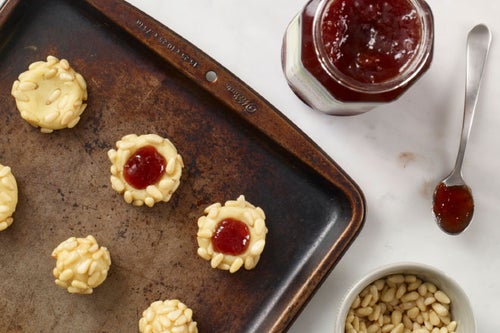 Jam-Filled Pine Nut Cookies
Crunchy pine nut cookies with jam on its top are sure to make your tea-time special.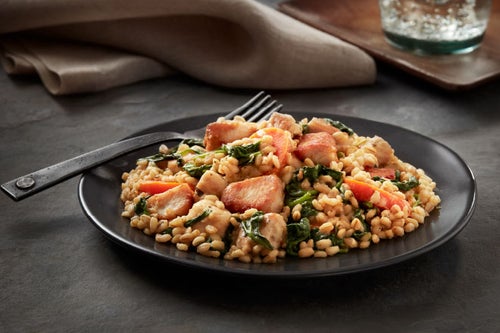 One Skillet Lemon Chicken with Barley Dinner
Get ready to push boundaries in the kitchen with minimal cleanup and lots of delectable flavor. This Knorr® One Skillet Meals Lemon Chicken with Barley is sure to satisfy.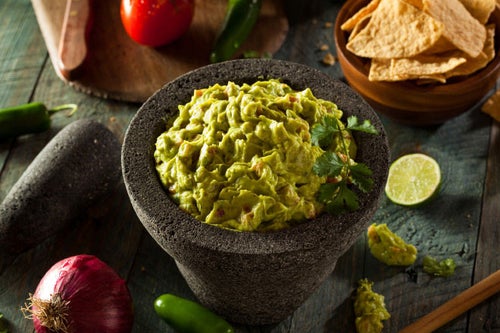 First Down Guacamole
A classic dip made with avocado, tomato, garlic with zesty lemon. This totally no-mess recipe will amp up the snacking fun. Have it with nachos or tortilla chips.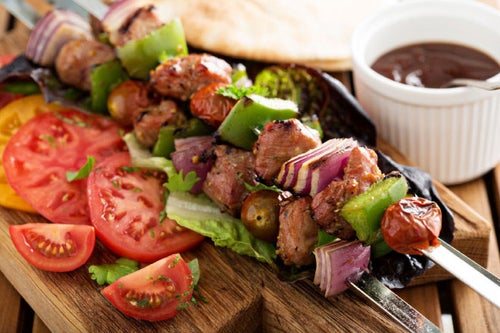 Fiery Chicken Kabobs
Loaded with juicy grilled chicken and veggies, these spicy kabobs are a totally crowd-pleaser appetizer.

Italian-Style Sloppy Joes
Hungry? Want a really fast dinner? Stuff the burger bread with seasoned sauteed beef in a home-cooked Italian sauce layer.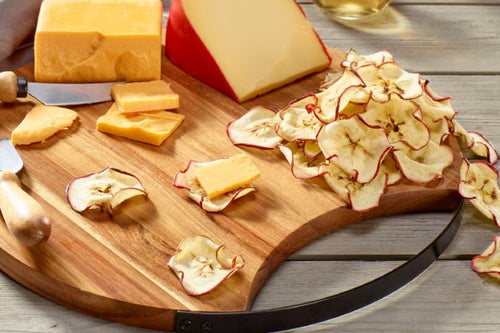 Fast and Easy Apple Chips
Thinly sliced apples are baked till they turn amazingly crispy. A healthy snack for the whole family that will soon get finished right after it comes on the serving plate.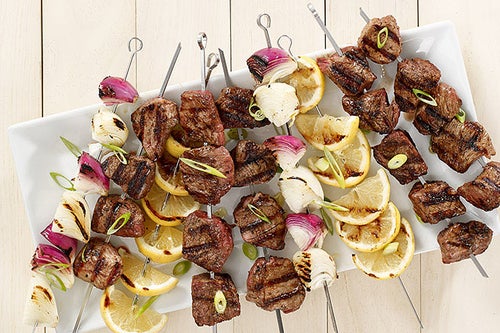 Grilled Lamb Skewers with Lemon & Onion Medley
Perfectly moist and crispy grilled lamb skewers with zesty lemon would be a crowd-pleasing appetizer for the next party!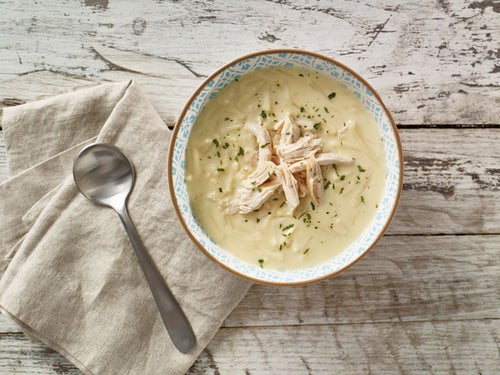 Greek Egg and Lemon Soup
This silky egg soup with chicken broth and lime juice will bring the flavor of Greece on your table.

Grands!™ Easy Taco Melts
Flaky biscuits wrap around the fillings to give your favorite Taco a grand twist.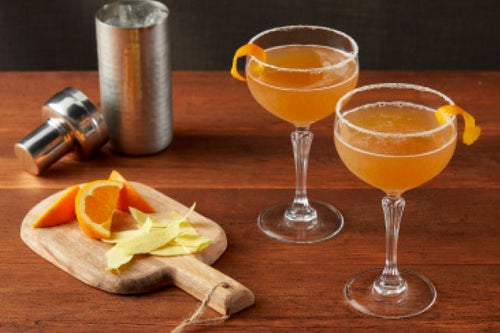 Gingerbread Sidecars
A sparkling cocktail to amp up the spirit of the party. Easy to prepare with this try-at-home recipe.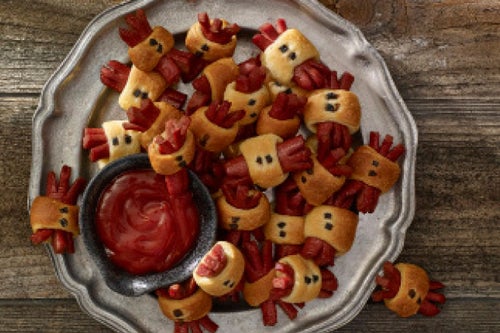 Hot Dog Spiders
Hot dog and beef slices are locked in a spider shape to give you a Halloween vibe. This 27-minute long recipe is going to make your themed party matchless.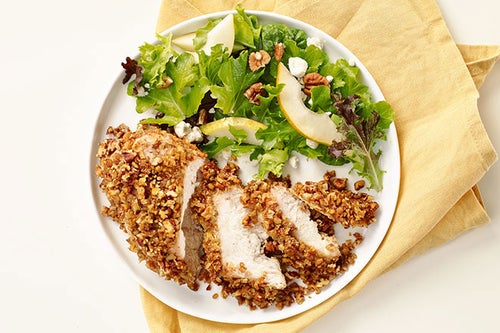 Honey-Mustard Pecan-Crusted Organic Chicken
A perfectly crusted chicken dish that is protein-rich, gluten-free and guess what! It's totally crowd-pleaser! Follow the recipe to prepare it at your next dinner party.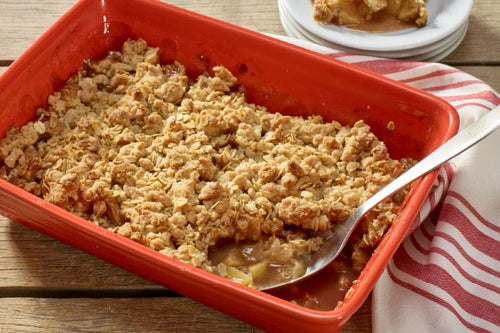 Honeycrisp Apple Crisp
Freshly sliced apples with a buttery cinnamon topping will win the hearts of the whole family during the dessert hour. You can try this no-hassle recipe anytime!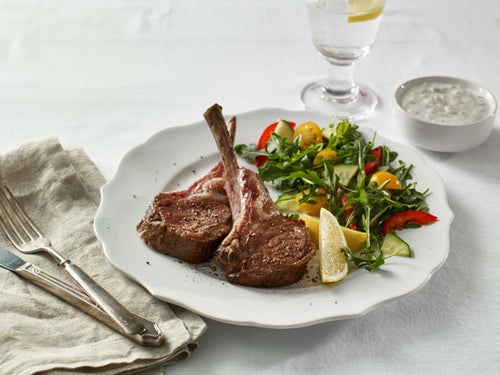 Grilled Lamb Chops with Yogurt Sauce
All-time-favorite lamb chops pair with the tangy yogurt sauce. Serve it with salads at dinner or simply enjoy the snacking.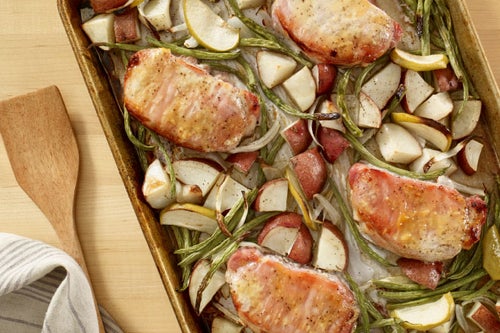 Honey Dijon Pork Chops with Green Beans
Savory pork chops cooked in honey and paired with green beans for a meat lover's delight dinner.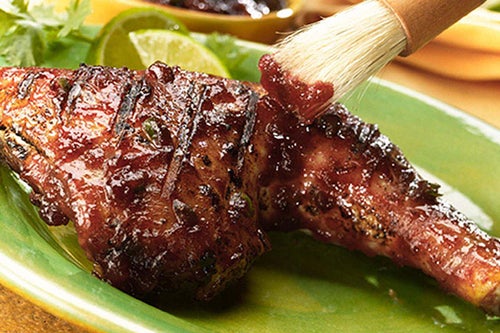 Grilled Chicken Breasts with Tex-Mex Cranberry Glaze
The smokey flavor of grilled chicken is paired with the tangy cranberry. Can be served an appetizer in gatherings or pair with salad or spaghetti for a savory dinner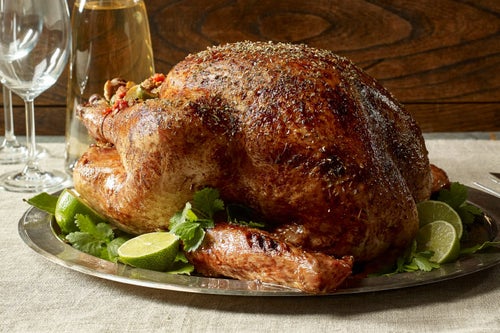 Holiday Turkey with Picadillo Stuffing
A Cuba-inspired dish that is innovative, delicious with a cook-at-home recipe, and gives you a restaurant-style dinner experience at home.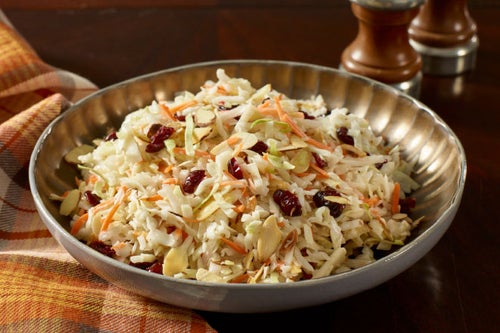 Holiday Slaw
A holiday-special dish direct from gram's recipe book. With the combination of nuts and veggies it's nutrient-rich and so delicious!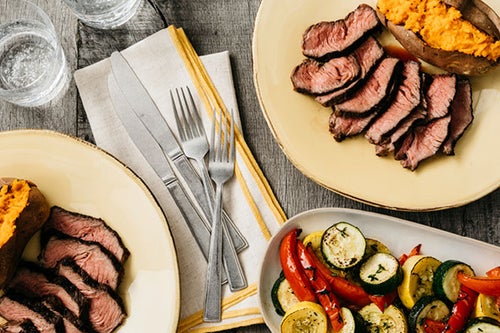 Grilled Boneless Shoulder Steak with Tangy Marinade
Smokey boneless grilled steak with a tangy marinade will be a sumptuous weekend dinner.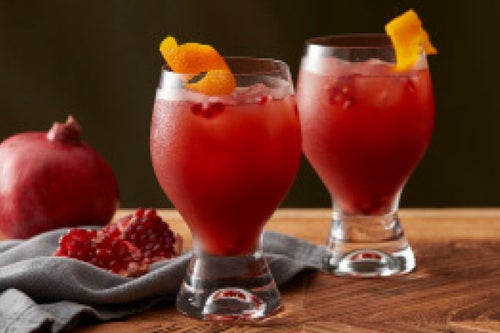 Holiday Hurricanes
With the combination of rum and juice, this cocktail is going to bring the holiday vibe on any casual weekend.
Sheet Pan Pizza
What could be more perfect than a few slices of pizza on your plate? Even if it was a long day, you can still enjoy a mouthwatering restaurant-style dinner at home. Just spare 40 more minutes!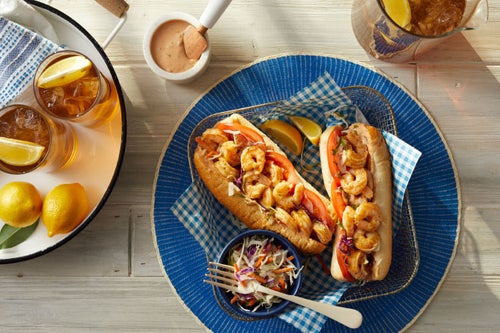 Shrimp Po Boy Sandwiches
Crispy and crunchy shrimp with fresh tomatoes stuffed in between buttered toasted french roll. Have it with your favorite sauce to enjoy every bite. It's an insanely delicious snack with an extremely easy recipe.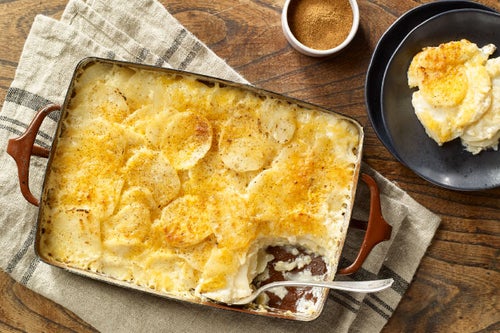 Simple Chile-Spiced Scalloped Potatoes
Scalloped potatoes with melt-in-the-mouth creamy cheese and butter are spiced with chili powder. A delectable side dish, that the whole family will enjoy.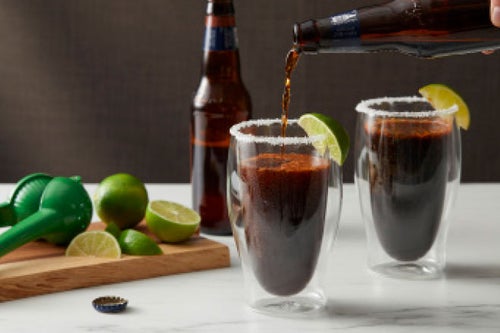 Micheladas
Beer, lime juice, and sauce create this party-favorite Mexican cocktail. Serve chilled with wedges of lime!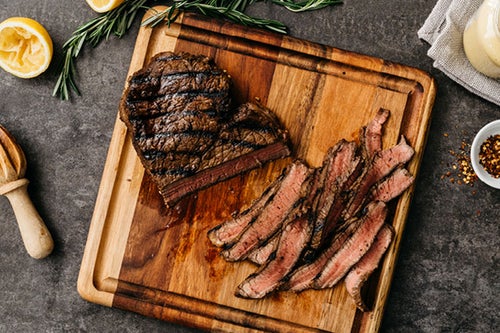 Grilled London Broil with Balsamic Marinade
Tender and juicy grilled steak with the right amount of flavor. Cut into thin slices before serving.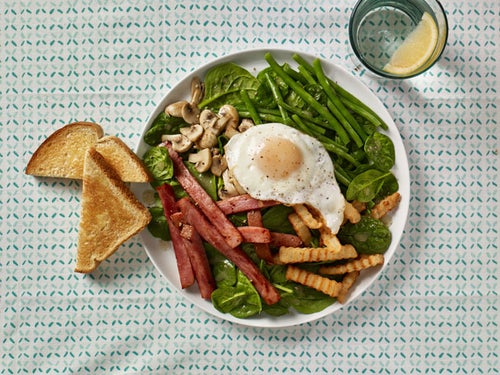 Frizzled Egg Salad
Soft and crispy frizzled egg with lots of veggies brings health and taste on the same plate. Enjoy as a quick breakfast or as a busy weeknight dinner.

Sweet and Sour Pork Stir Fry
Slices of pork tenderloin cooked with veggies and sweet and sour sauce. Comes on your table just within 25 minutes!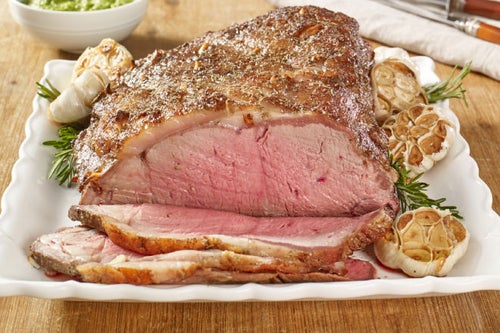 Garlic-Stuffed Beef Strip Loin with Asparagus Pesto
Beef strip loin stuffed with garlic and served with a dollop of Asparagus Pesto. A perfect dish for parties or family dinner!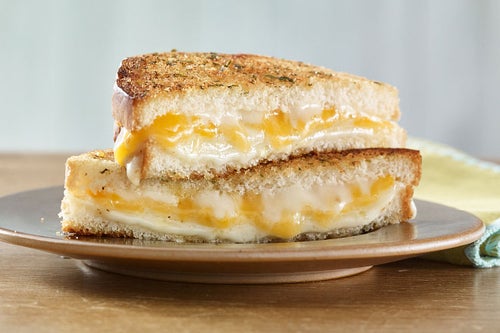 Garlic Bread Grilled Cheese
Crispy slices of bread are stuffed with melt-in-the-mouth cheese for a hearty start of the day.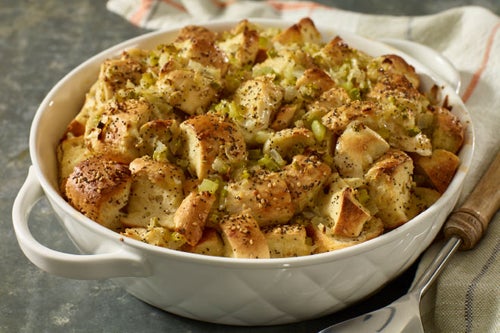 Everything Bagel Stuffing
Want to do something new with the breakfast-staple bagel? Try this recipe to become the talk of the dining table!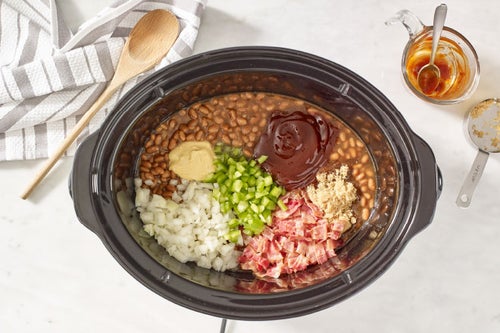 Even Better Baked Beans
Sweet and tangy, this timeless recipe with a minor twist will easily become the side dish that the whole family will love!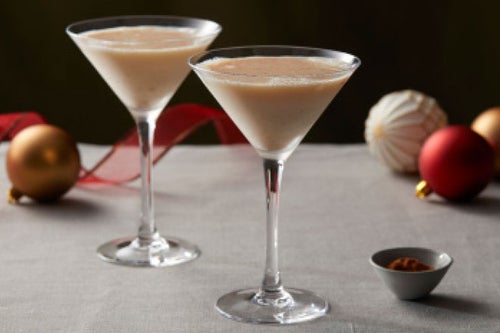 Eggnog Martinis
This creamy drink with a kick of vodka, vanilla extract and nutmeg will bring the holiday spirit within a moment!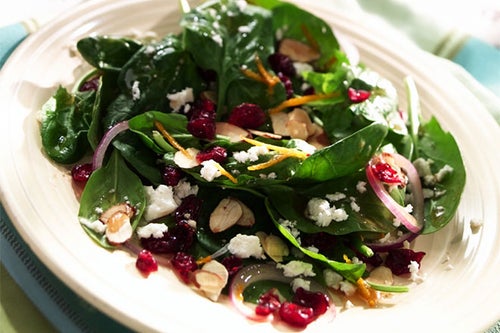 Effortless Spinach Salad
Made with fresh spinach, cranberries, and cheese, this delicious and colorful salad would be an effortless lunch or dinner or a great side dish.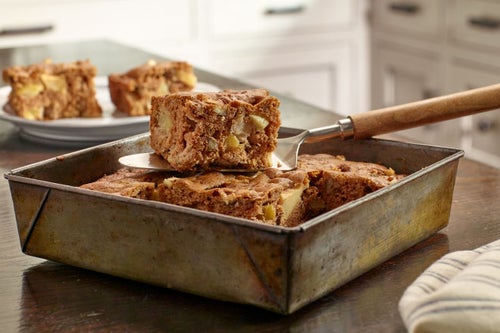 Easy Apple Cake
If you are craving for something sweet after dinner try this no-hassle apple cake recipe.

Cuban Rice and Black Bean Salad
With a nutritious combination of rice, bean, and corn, this salad will bring the flavor of Cuba on your table. It's delicious and protein-packed and your kids will love it sure!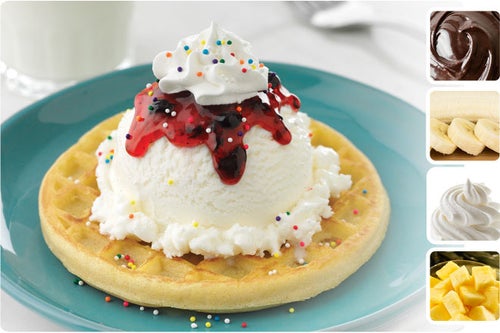 Birthday Waffle Bar
Delicious waffle bar cake, great for birthday parties or family gatherings. Follow the recipe and surprise your guests!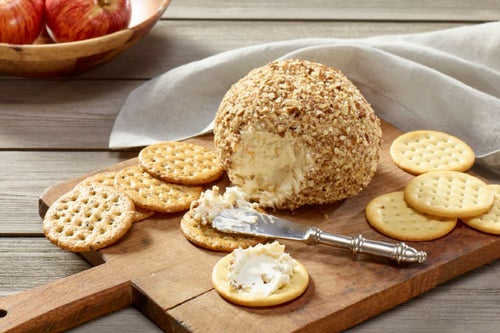 Apple Cheddar Cheese Ball
These everyone's favorite cheese balls go well in any parties or gatherings. You can also enjoy these as an evening snack with tea or coffee.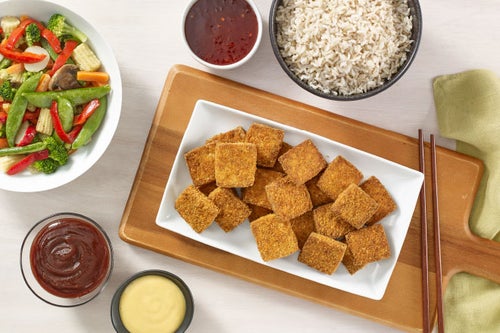 Air-Fried Tofu Nuggets
Love vegan food? Try this air-fried tofu nuggets. Crispy, delicious, completely guilt-free and easy to make.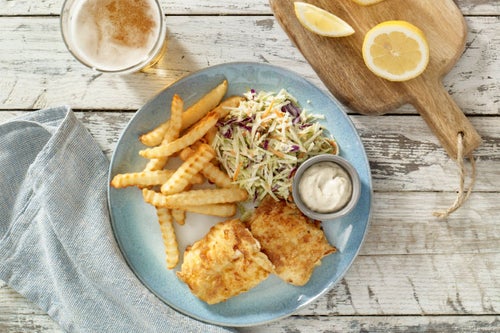 Air-Fried Beer-Battered Fish & Chips
Crispy golden brown beer-battered fish with fried chips are a delicious 30-minutes meal which the whole family will love!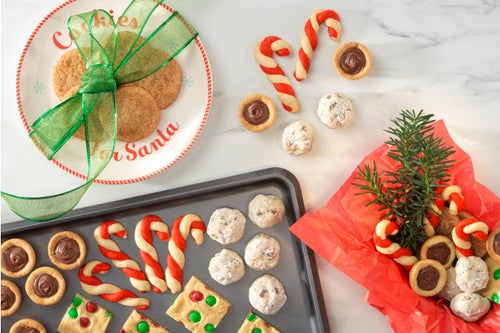 5 Easy Cookie Swap Cookies
Everyone's favorite delectable cookies made easy for holiday cookie swap parties. Check the easy 45-minute recipe.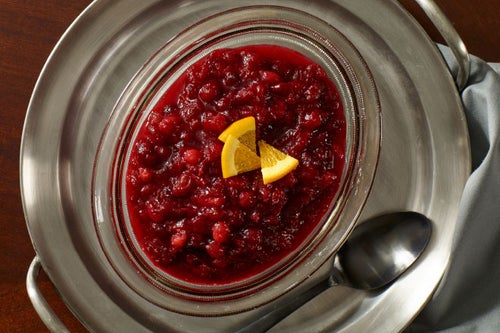 20-Minute Homemade Cranberry Sauce
A classic must-have sauce made with fresh, whole cranberries, comes on the table just within 20 minutes!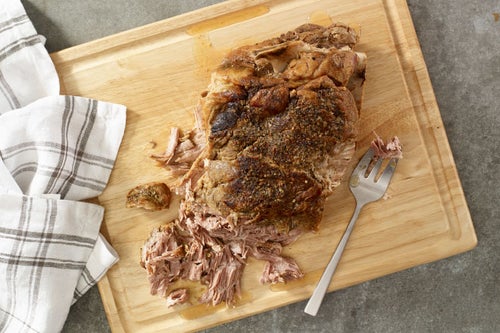 (No) Pit-Roasted Boston Butt
Delicious pork roast recipe for a sumptuous family dinner.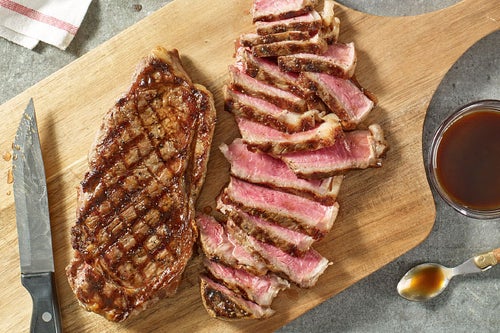 Foolproof Grilled Strip Steak
Want an easy and quick grilled steak recipe? Try this.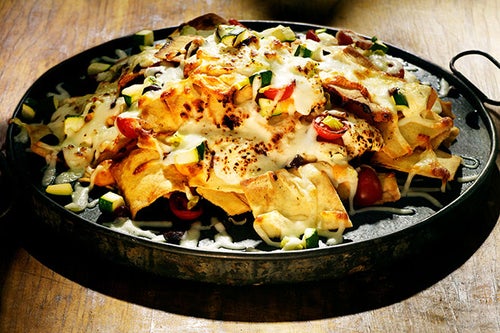 Mediterranean Nachos
Snacking and a healthy diet can go hand in hand with this delicious gluten-free Mediterranean nachos.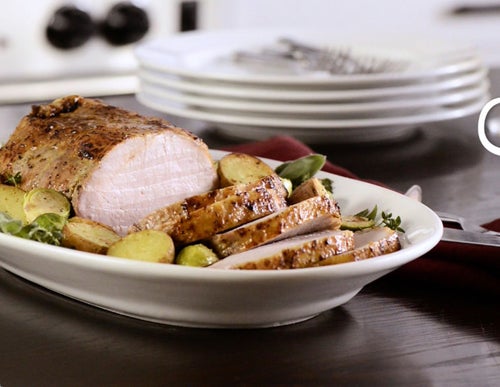 Brown Sugar & Mustard Glazed Pork Roast
Juicy inside and crusty outside, the brown sugar and mustard glazed pork roast is a delicious protein-rich dinner that you can cook for the whole family on a weekend.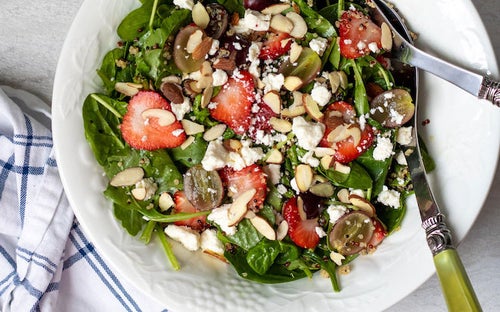 Quinoa Fruit and Mixed Greens Salad
Nutrition-packed and full-in-flavor, this salad will refresh you instantly. It's gluten-free, dairy-free and completely vegan.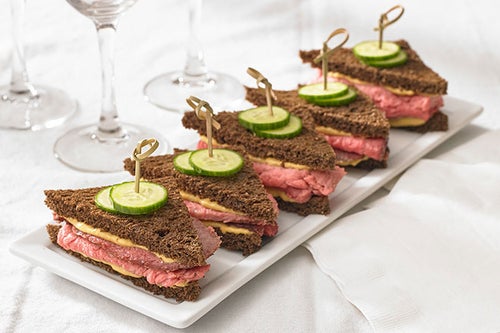 Roast Beef Cocktail Sandwiches
Delectable beef roast sandwiched in between Pumpernickel bread slices to add some fun and flavor to your cocktail hour.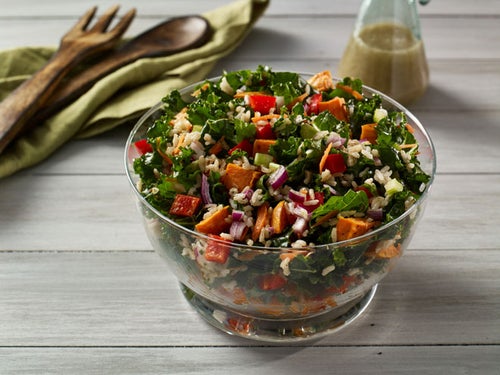 Roasted Sweet Potato and Brown Rice Salad
An easy versatile recipe that can make your weeknight simple or weekend special. With this dish, you can welcome Fall on your table anytime!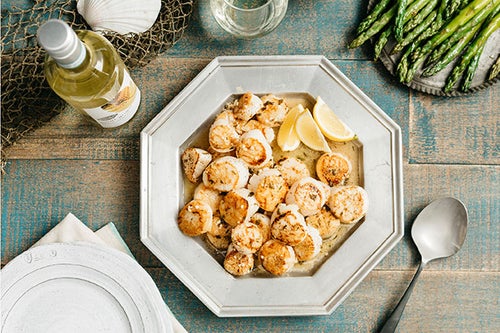 Seared Scallops in White Wine Butter Sauce
Coated in the delicious lemon garlic sauce, these melt-in-the-mouth scallops get ready to serve just within 15 minutes! Now you can cook a restaurant-style meal even on a busy day.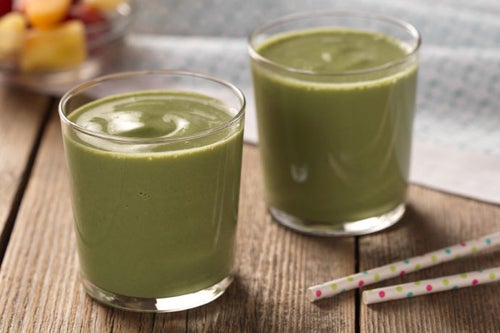 Mixed Fruit Super Smoothie
A refreshing smoothie with fruits and yogurt tastes great and also good for health. Only 5-minutes to prepare, you can enjoy this anytime!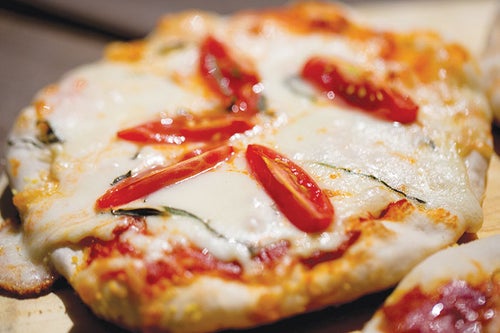 Mini Pizzas
Everyone's favorite pizza in small shape and with only 25 minutes preparation time! Have it at your breakfast, pack it in your lunch box or enjoy it as dinner.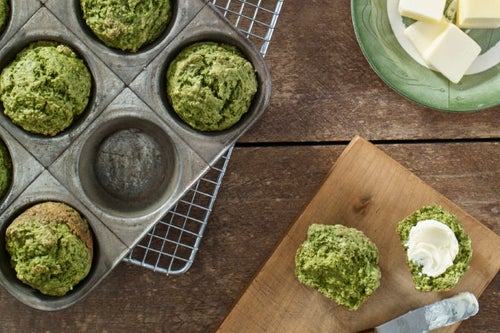 Green Muffins
Packed with healthy nutrients and full-on-flavor, these soft and tender muffins will be your kid's favorite. Follow the no-hassle recipe to prepare it anytime!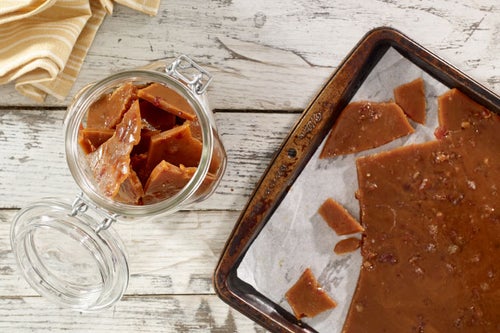 Maple Bacon Brittle
Sweet and crunchy with an intoxicating smokey flavor, so that the holiday vibe can go on. Share with your friends and family, they'll love it for sure!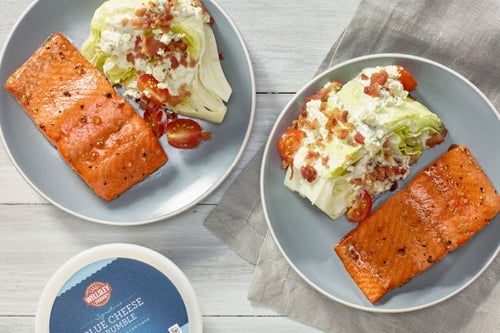 Maple-Glazed Salmon
A perfect balance of sweet and salty taste in a coat of maple syrup and soy sauce. Comes on your table within 20 minutes!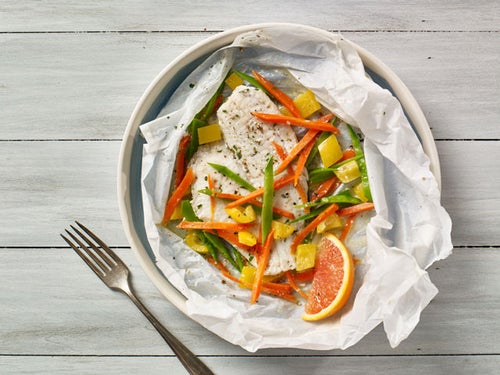 Paper Bag Flounder
Delicious low-calorie dish with the goodness of veggies and fish gets ready just with 35 minutes. Now you won't be running out of option while preparing a quick dinner on a busy weeknight.

Pasta with Sausage and Super Greens
The combination of pasta and sausage already sounds delicious but when you can make it within just 25 minutes you don't need to wait for the weekend to cook a tempting dish for yourself!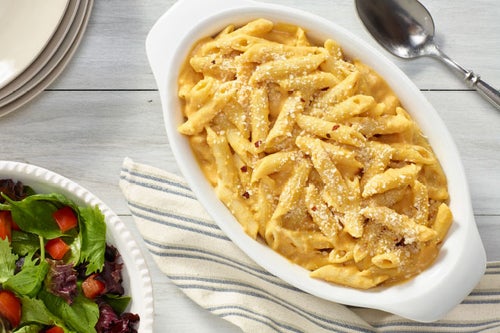 Penne with Pumpkin Pasta Sauce
Penne with pumpkin pasta sauce is an easy vegetarian dinner that can be prepared just within 20 minutes! Now you can welcome Fall on your table anytime!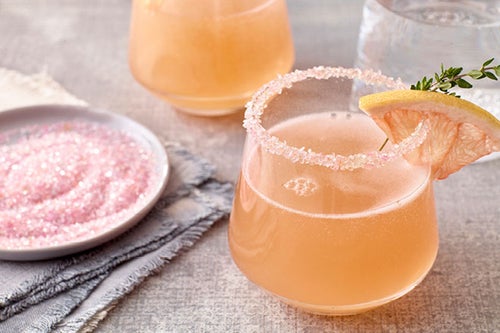 Pink Grapefruit White Wine Spritzers
Whether it's a lazy night or a cocktail party when you want some color and a drink try this pink grapefruit white wine spritzer. The easy recipe will make it ready just within 15 minutes!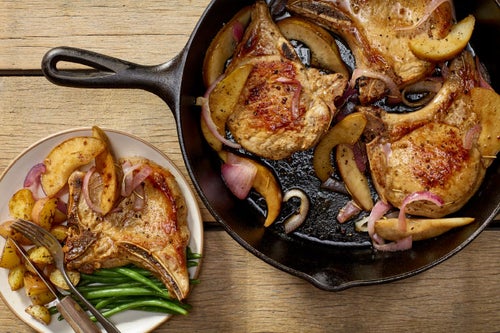 Pork Chops with Pears
Bought some pork chops from the market? It'll take just another 35 minutes to turn into a flavor-packed dish.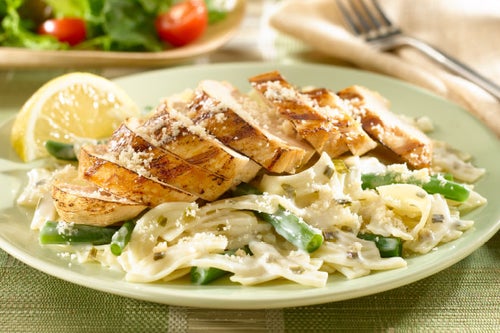 Quick 'n Easy Chicken Caesar 'n Pasta Dinner
If you have a thing for caesar salad then you won't miss the chance to indulge in the creamy chicken caesar 'n pasta. It'll only take 30 minutes to give yourself a lip-smacking experience.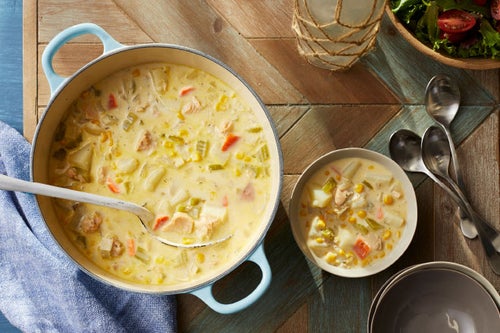 Quick Salmon Chowder
An easy-to-prepare melt-in-the-mouth recipe with the goodness of salmon, veggies and a hint of ginger. It'll warm you up after a long busy day.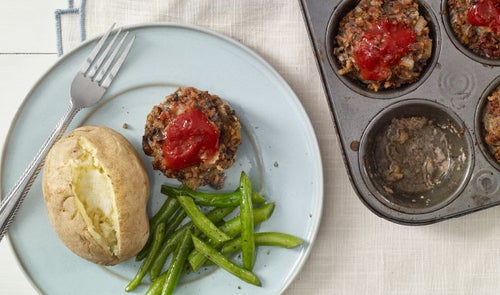 Light and Tasty Mini Meat Loaf
Light and tasty mini meatloaf is a healthy, easy-to-prepare dish that'll warm you from the inside and out.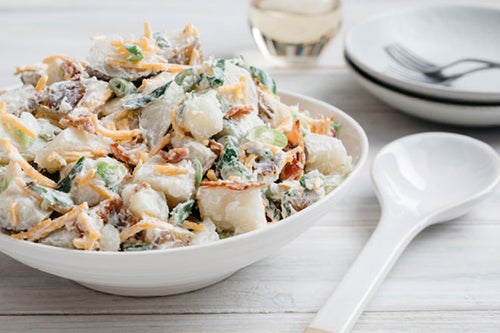 Loaded Baked Potato Salad
Classic baked potato salad with goodness of veggies and taste of creamy cheese! It'll be a hit sidedish in any party. You can also try this as a quick lunch or dinner.

Slow Cooker Beef and Bean Enchiladas
Want to cook something Mexican this weekend? Simply layer beans, beef, tortillas and cheese and then relax until there comes a deliciously cheesy enchilada.

Slow Cooker Braised Beef Short Ribs
Beef ribs cooked in a slow cooker creates a rich and thick gravy that the whole family will enjoy.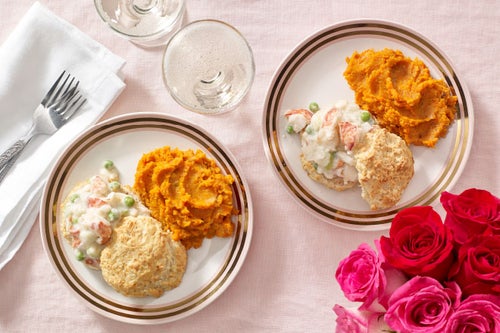 Lobster à la King
An easy-to-prepare meal for every lobster lover. A restaurant-style meal which you can prepare at home anytime.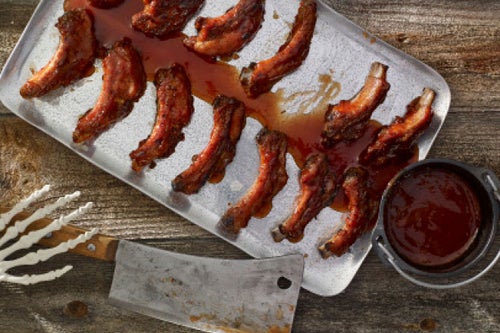 Slow Cooker Skeleton Ribs with "To Die for" BBQ Sauce
A worry-free slow cooker dish that is great for weekend parties. Serve with the BBQ sauce and see guests craving for more!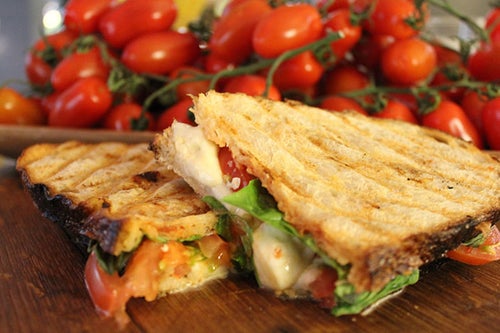 Caprese Sandwich
Filled with fresh veggies, this sandwich is an easy and delicious way to start your day. With just 11-minute preparation time this dish makes sure that you don't miss breakfast even on a busy morning.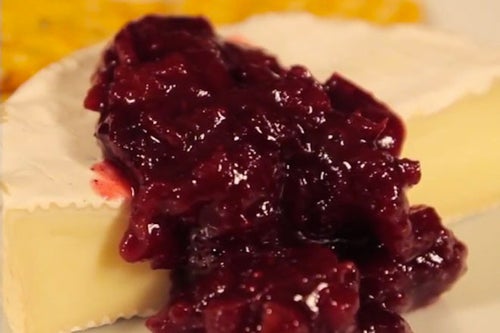 Cape Cod Select Cranberry Chutney
This thick cranberry chutney brings the holiday vibe within no-time.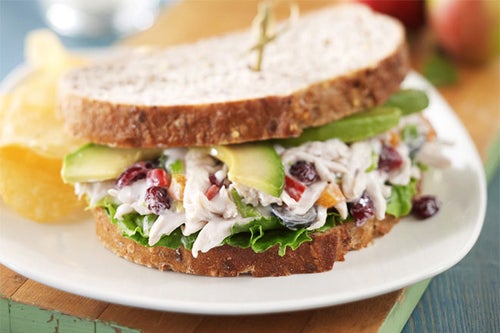 California Chicken Salad with Craisins® Dried Cranberries
Veggies and chicken combine together to offer you a delicious and healthy meal for the day. A no-hassle recipe that you can have it itself or stuff within a sandwich.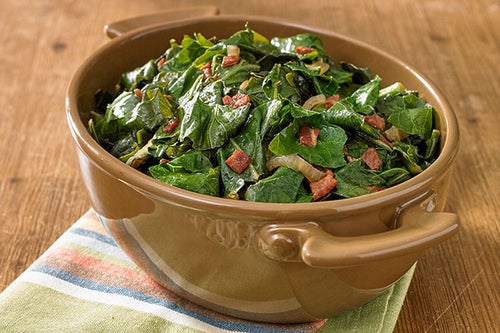 Southern-Style Greens
Bacon and green veggies are slow-cooked in salt, seasoning, and garlic and then stirred in beer, water, cedar, and molasses. Try this recipe for a delicious and healthy weekend meal.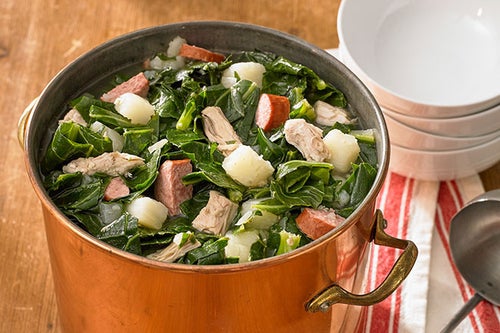 Caldo Verde (Green Soup)
Filled with veggies and cream, this easy-to-make soup will be a healthy and delicious dinner after a long day.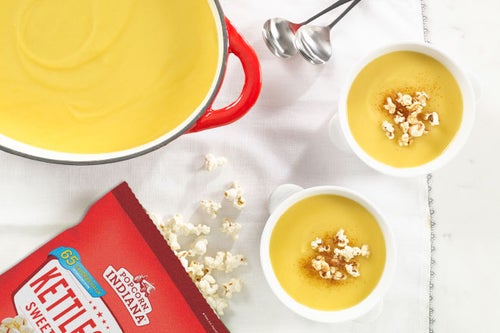 Butternut Squash and Potato Soup
Potato, butternut squash, and chicken broth are combined with a few simple ingredients to create this creamy Autumn soup. A warm and comfortable dish that'll be loved by the whole family.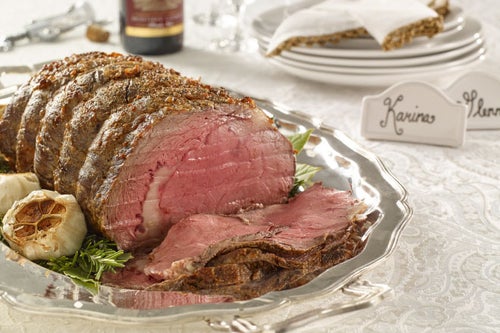 Spice-Crusted Rib Eye Roast
Want to cook something exceptional for the family event tonight? Try the spice-crusted rib eye roast.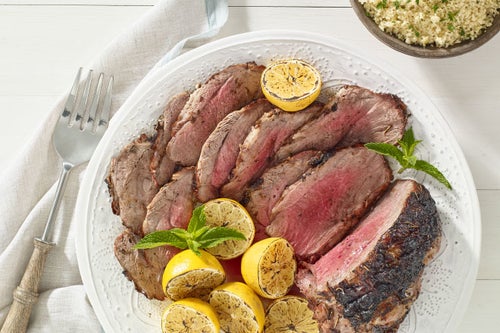 Butterflied Leg of Lamb with Mediterranean Marinade
Garlic-herb marinated grilled lamb with Mediterranean sides and salads!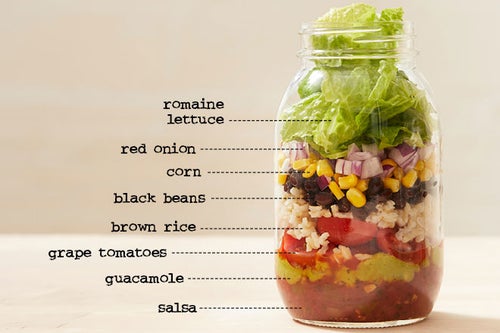 Burrito Bowl Salad in a Jar
Packed in protein, this salad will be a deliciously healthy lunch for your day and it takes only 10 minutes preparation time.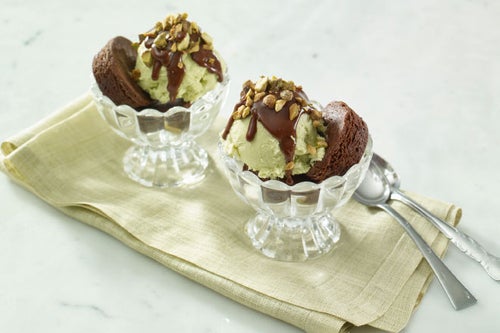 Brownie Sundaes with Avocado Ice Cream
Ice cream Sundaes on top of delicious home-made brownies. A classic dessert that everyone loves!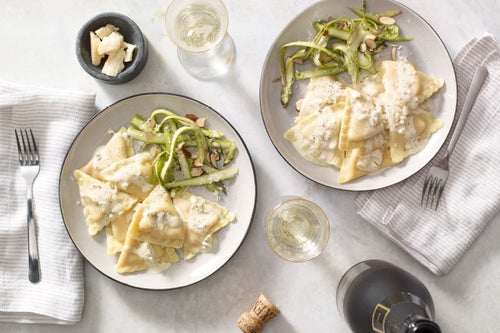 Lobster Ravioli with Cava Cream Sauce
Rich, creamy seafood dish which you can prepare with simple ingredients and enjoy on-the-go.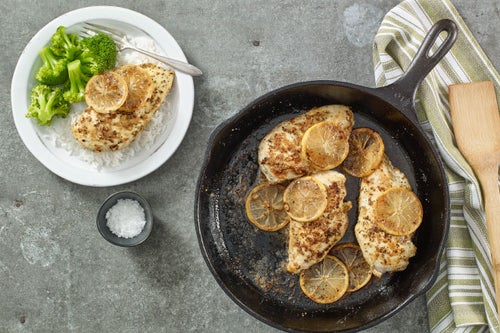 Pan-Roasted Lemon Pepper Chicken
Roasted chicken dish with honey, pepper, and the zest of lemon juice. Sounds delicious! And you'll be happy to know that it's also very easy to make. Follow our recipe to make your tummy happy during a busy weeknight!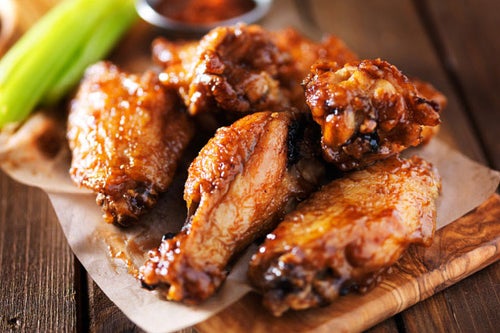 Chimichurri Wings
Crispy grilled chicken wings in red chimichurri sauce will be great starter for your weekend parties. An easy recipe with simple ingredients.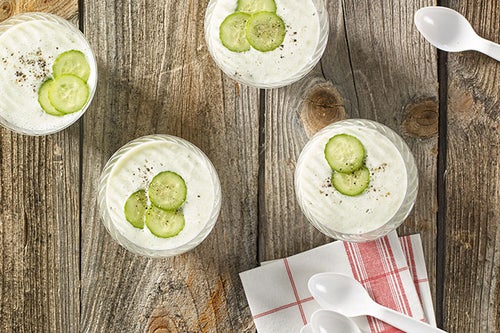 Chilled Cucumber Yogurt Soup
Refreshing chilled soup made with cucumber, tangy yogurt, fresh lime, and garlic. It's simple, tasty and so healthy!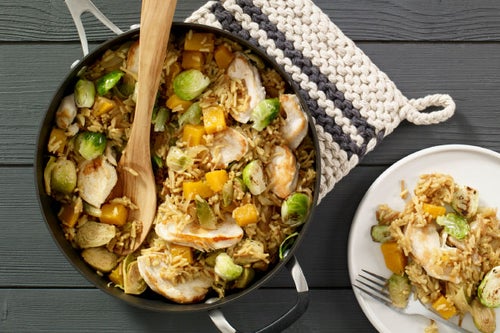 Chicken with Brussels Sprouts & Butternut Squash Skillet Dinner
Sliced chicken breast with tender Brussels sprouts and butternut squash. This easy and delicious dish comes on your table only within 30 minutes.

Grilled Zucchini with Fajita Stuffing
Simple and delicious, the grilled zucchini with fajita stuffing is low on carb, gluten-free, and full with flavor! Serve it with your favorite toppings to enjoy your meal.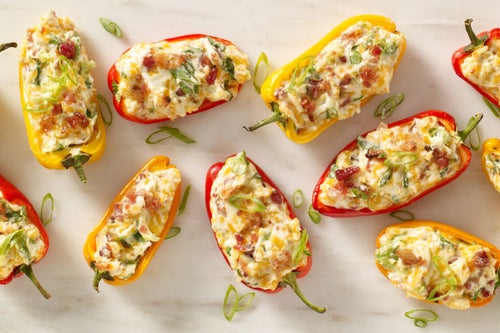 Cheesy Bacon Mini Peppers
Filled with cheese and bacon, this melt-in-the-mouth recipe is flawlessly crowd-pleasing. A perfect party appetizer that comes on the plate just within 25-minutes!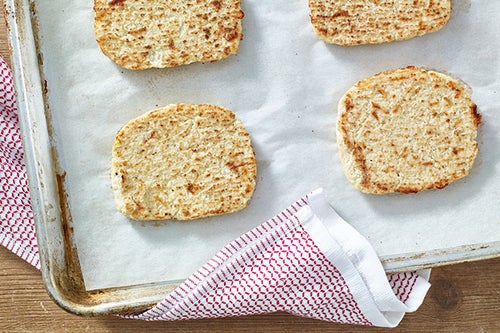 Cauliflower Bread
A good-for-health delicious bread which is quite easy to make. You can have it at your breakfast, pack in your lunch box, or enjoy as a snack.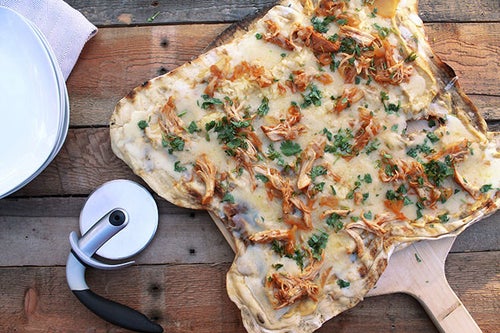 BBQ Pulled Chicken Hummus Pizza
Looking for a recipe this weekend? What could be more fun than pizza on the grill! The smokey taste with soft and juicy chicken and cheese topping will stay with for a long time. It's delicious and very easy to cook!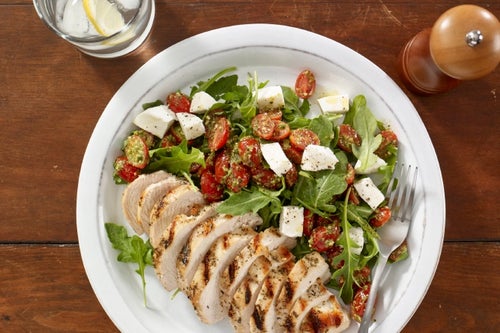 Grilled Chicken Margherita
Family dinner will be sorted with this dish! Grilled chicken with tomato and pesto topping; sprinkle grinds of black pepper to amp up its flavor and serve with slices of mozzarella cheese. Per Serving: 380 cal. • 24g fat • 35g protein.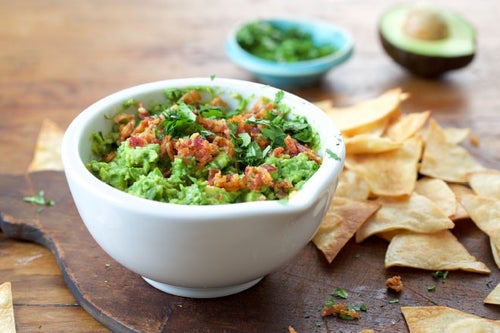 Spicy Bacon Guacamole
Crispy, salty bacon and slightly smoky guacamole will be an easy sumptuous appetizer after a long day.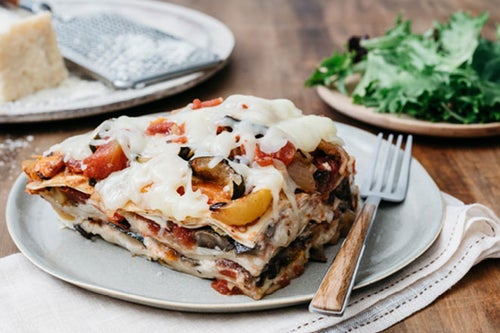 Grilled Veggie Slow Cooker Lasagna
Delectable and easy-to-prepare, this grilled veggie slow cooker lasagna combines the goodness of veggies and deliciousness of Parmesan cheese.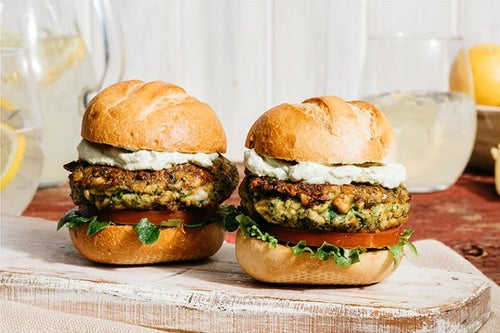 Spinach and Feta Salmon Burgers
Made from wild Alaskan Salmon, this burger would be a juicy flavorful snack that can be prepared just within 30 minutes.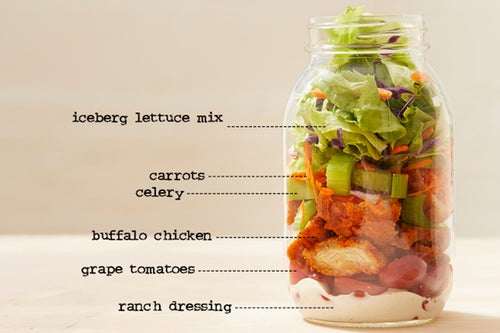 Buffalo Chicken Salad in a Jar
If you're up for something healthy and delicious, then try this buffalo chicken salad! Keep all the ingredients in a jar and shake it before eating. Check our recipe for more info. Per Serving: 480 cal. • 31g fat • 19g protein.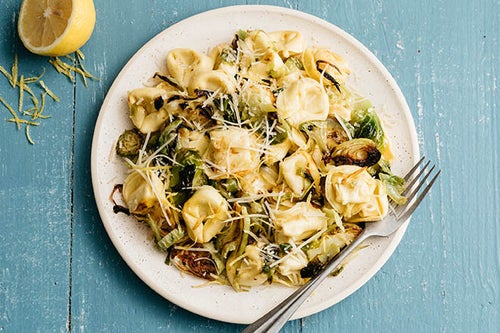 Tortellini with Lemony Brussels Sprouts
Tortellini with baked and fried brussels sprouts with a hint of lemony taste add zest to this dish. Per Serving: 550 cal. • 20g fat • 26g protein.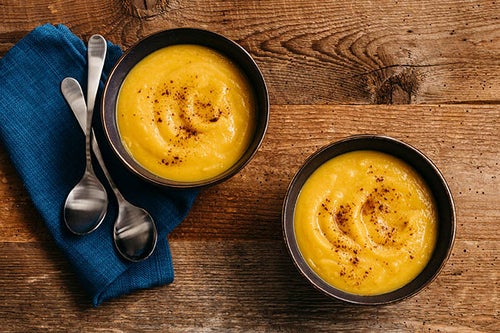 Roasted Maple Butternut Squash Soup
Squash, apples, maple, and spice is cooked in a cozy soup to bring the flavor of autumn on your dining table. Per Serving: 130 cal. • 6g fat • 2g protein.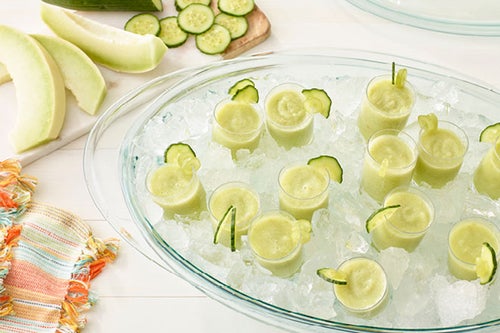 Spiked Honeydew Cucumber Smoothies
The spiked honeydew cucumber smoothies would bring some zeal in your summer evenings!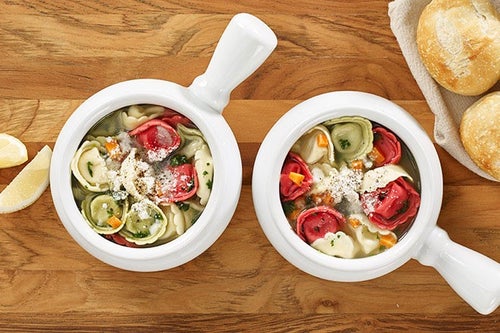 Spinach and Rainbow Tortellini Soup
A soupy broth with spinach, chicken and cheese which is a simple and delicious dinner for a busy weeknight or a relaxed weekend.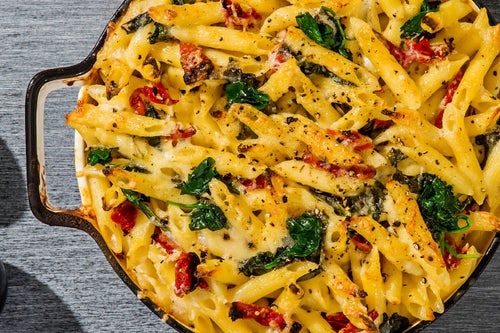 Baked Penne with Spinach and Sun-Dried Tomato
Classic and everyone's favorite baked Penne pasta with a tangy taste of Greek yogurt and the sweetness of the tomato. Gets ready within 20 minutes!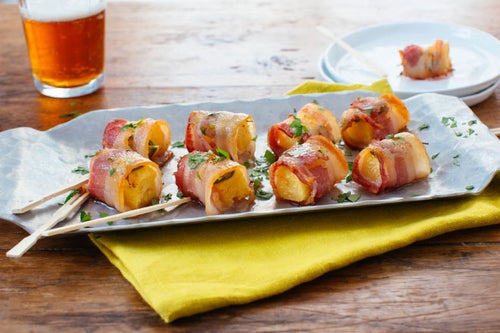 Bacon-Wrapped Pineapple
Easy to make with simple ingredients the bacon-wrapped pineapple will be a great appetizer for any party.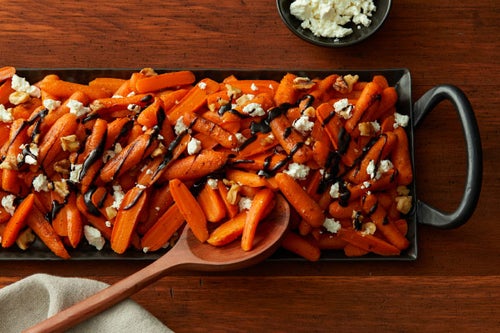 Roasted Baby-Cut Carrots with Coffee-Balsamic Drizzle
Bought a bag of baby carrots? Don't know what to do with them? Try this simple dish. The Roasted Baby-Cut Carrots with Coffee-Balsamic Drizzle will instantly turn you into a carrot lover!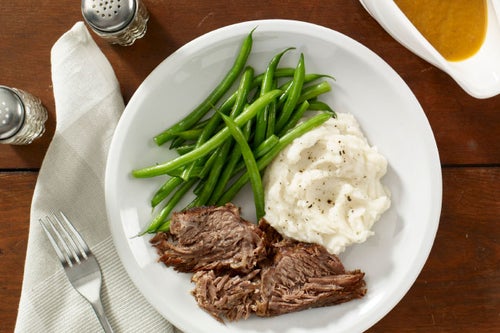 Pressure Cooker Pot Roast with Carrot Gravy
Are you looking for an instant go-to pot roast recipe? You will fall for this combination of juicy beef, cooked veggies, and deliciously rich gravy.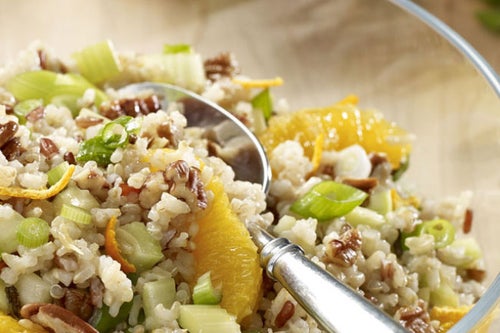 Organic Orange Pecan Rice Salad (Gluten-Free)
Nutritious and delicious rice salad with a juicy orange flavor. A perfect dish of summer, you can try the recipe over a weekend or on a weeknight.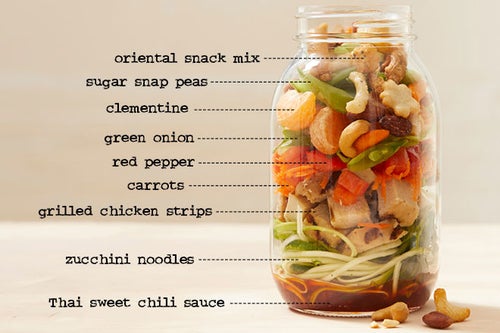 Asian Bowl Salad in a Jar
Packed with nutrients this delicious bowl salad gets ready just within 10 minutes!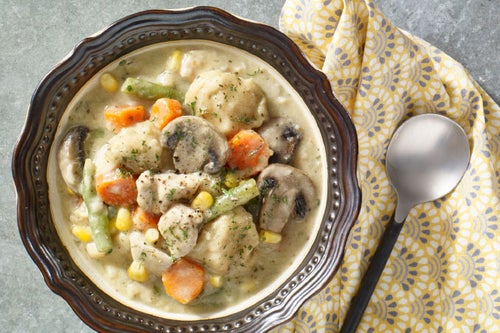 Freezer-to-Slow Cooker Chicken and Dumplings
A tasty comfort meal straight out of grandma's recipe book. Your family will love it!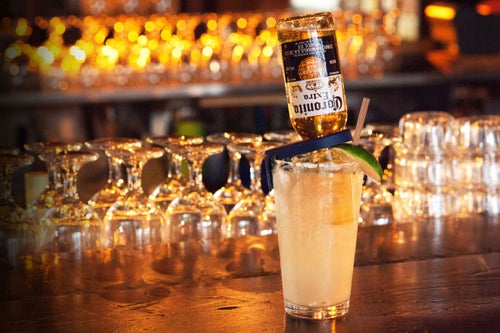 Coronarita Sweet Heat
A refreshing cocktail with some twist on the classic margarita. Great for parties or me-time!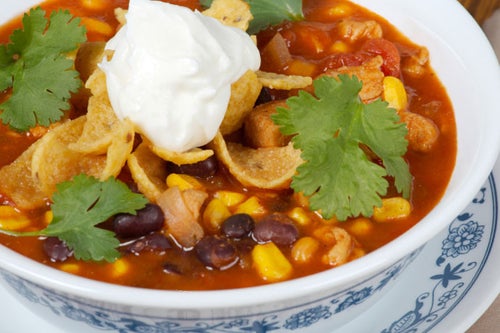 Freezer-to-Slow Cooker Chicken Taco Soup
This easy slow cooker chicken taco soup recipe is going to be your family's favorite! To add a cheesy flavor, serve hot with shredded cheese on top.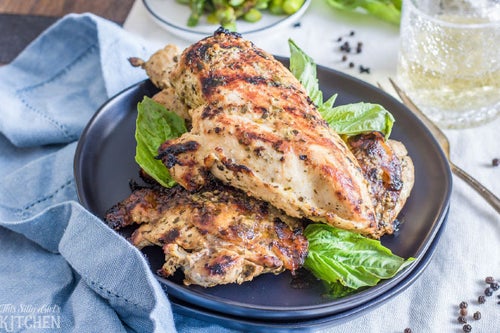 All-Purpose Pesto Chicken
A flavor-packed meal that gets ready just within 30 minutes! This dish will give you the restaurant-style meal vibe and you can enjoy it right at your home!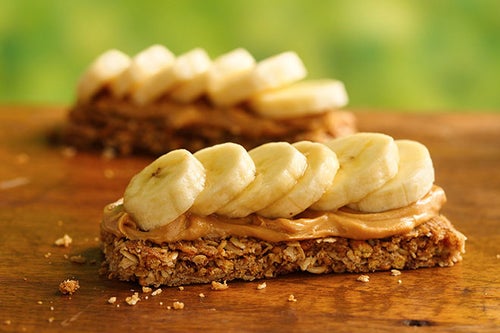 PB and Banana Granola Bars
Soft and chewy peanut butter with nutritious banana and oatmeal. A smart snack or a quick breakfast for a busy day.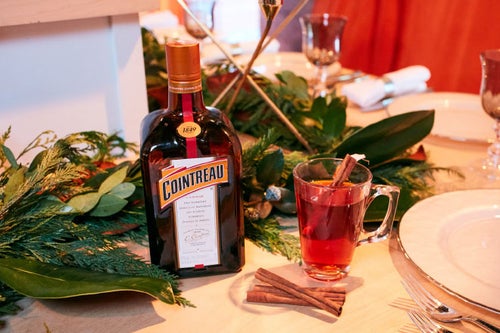 Cointreau Mulled Cider
A warm, spiked Cointreau cider, perfect for winter parties. Follow the recipe and make it just within 10 minutes!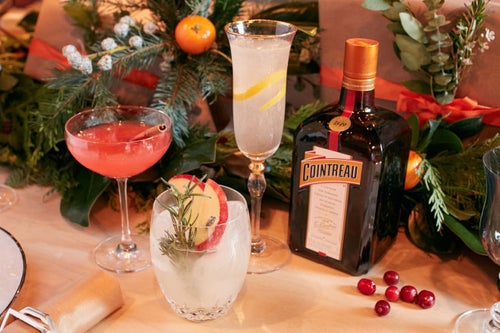 Cointreau Cranberry
A simple cranberry cocktail that'll bring perfection to your parties within moments!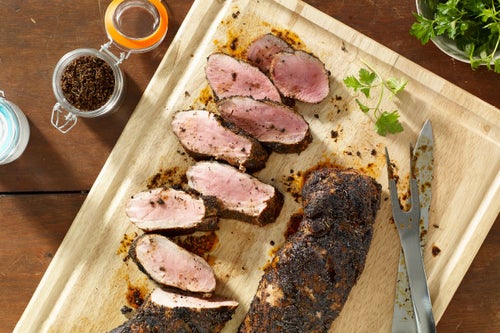 Pork Tenderloin Roast with Coffee Rub
Infused with the earthy notes of ground coffee, this delicious roasted pork dish can be prepared just within 30 minutes! Now you won't run out of option for a busy weeknight meal.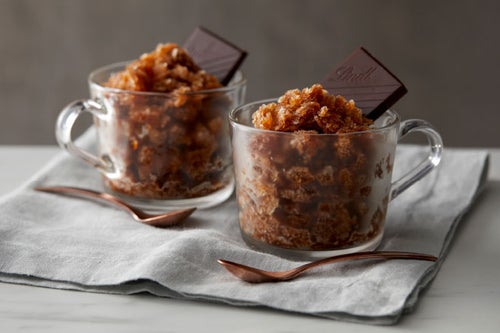 Coffee Granita
Craving for some coffee dessert? Here's the recipe for you. Serve this on a weekend party; your guests will fall for it!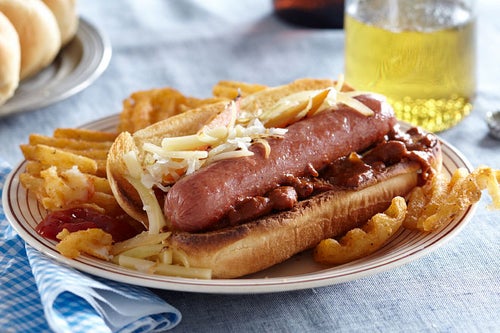 Not Your Average Chili Dogs
Loaded with cheese and veggies, this hotdog would be a quick on-the-go lunch or snack. Top with chili to add more fun!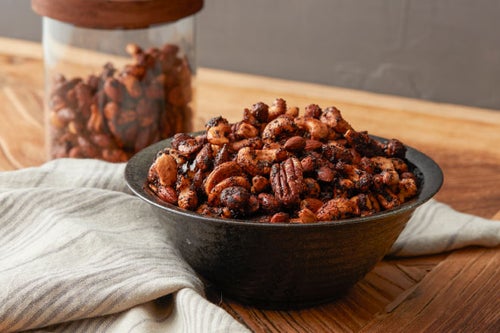 Coffee and Spice Mixed Nuts
Are you in a mood to prepare something out of the box? Try coffee and spice mixed nuts. Easy-to-prepare, this dish will take almost no time to become the talk of the snack table!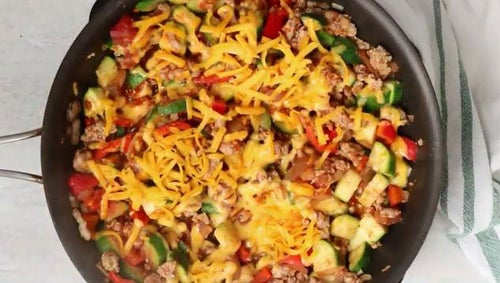 Mexican Turkey Skillet
Lean ground turkey cooked with onion, pepper, and zucchini and seasoned with all-time-favorite taco seasoning. Add shredded cheese give this dish a rich and creamy Mexican flavor! Garnish with cilantro and serve.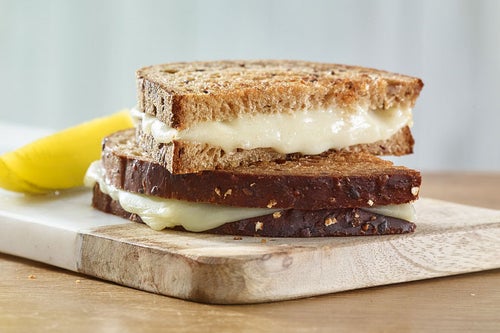 Classic Grilled Cheese
The staple classic grilled cheese sandwich is everyone's favorite and it gets ready within just no time!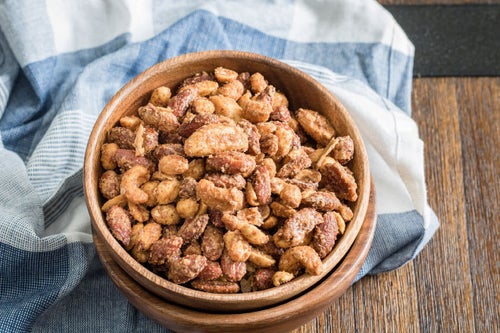 Cinnamon Sugar Mixed Nuts
These cinnamon and sugar-coated mixed nuts are unbelievably easy to make and extremely crowd-pleasing!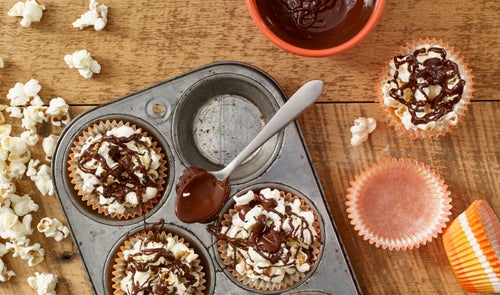 Chocolate Popcorn
All-time favorite popcorn in a chocolaty coat will take no time to win the hearts and gets ready within just 5 minutes!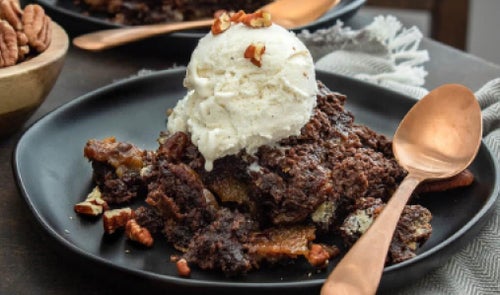 Chocolate Pecan Cobbler
Made with brownie mix, the chocolate Pecan cobbler is an all-time favorite dessert that everyone craves after a meal. Top it with a whip of vanilla cream and cream to enjoy!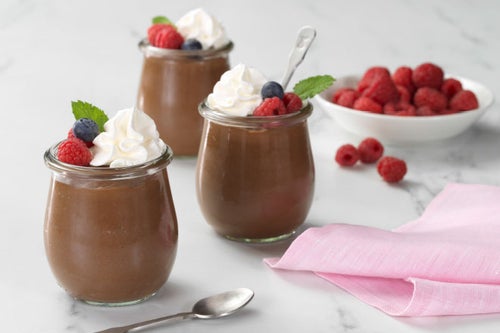 Chocolate Lover's (Avocado) Pudding
Craving for chocolate within a healthy diet? Try the chocolate avocado pudding, it's rich, creamy, delicious and dairy-free.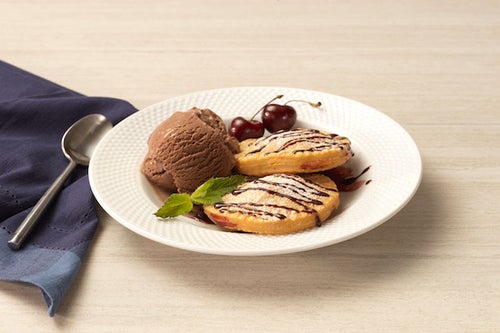 Chocolate Cherry Hand Pies
In a delicious combination of chocolate and cherry, these hand pies will make your snack hour sweet. A completely no-hassle recipe which can be prepared from easy ingredients.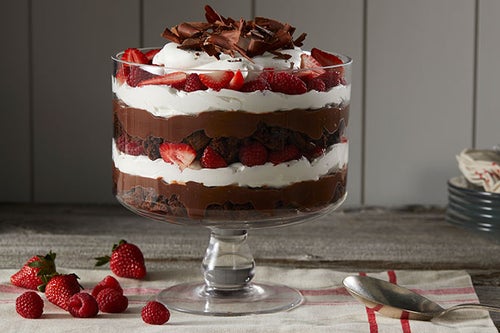 Chocolate Berry Trifle
Creamy layers of chocolate adorned with red raspberry. A looker on the dessert table which is loved by all and very easy to make.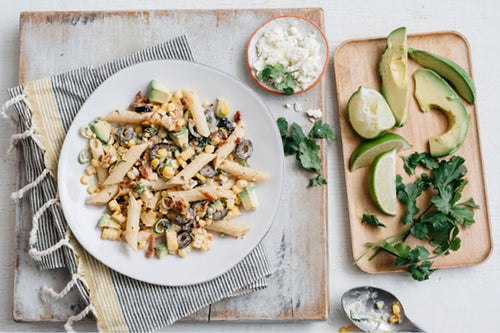 Mexican Street Corn Pasta Salad
Packed with sweet corn, bacon, and tossed in a creamy chili lime dressing, this corn pasta salad brings Mexican-style street flavor to your table anytime.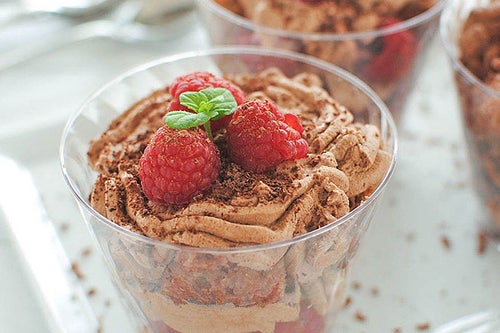 Chocolate Angel Food Cake and Raspberry Parfait
A no-hassle recipe with chocolate and berries that will win the hearts within moments! Try it on a family dinner night or on a party night.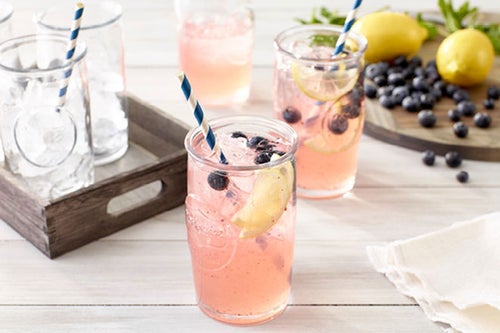 Moscato Blueberry Lemonade
A great summertime cocktail with the sweetness of blueberry. A must-try for the cocktail lovers!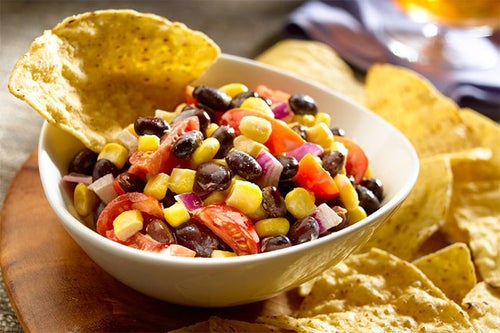 Knorr Creamy Black Bean & Corn Salad
Filled with black beans, corn, and tomatoes, this salad is a simply delicious appetizer that can prepared without any hassle. Serve with tortilla chips or favorite dips. Per Serving: 230 calories, 7g fat, 9g protein.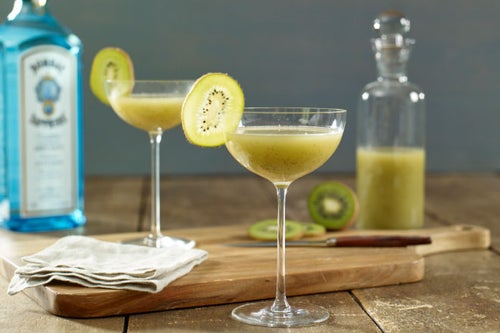 Kiwi Gimlet
The drink of spring can be made anytime at home. Only 15 minutes to prepare, you can make it during a family dinner or at an eat-alone time!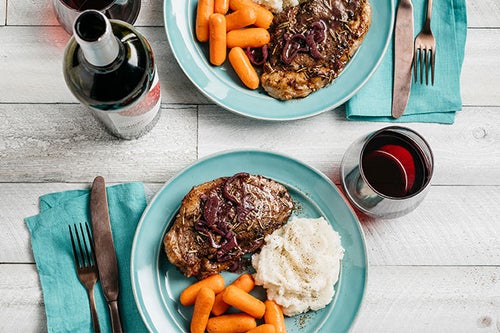 Lamb Medallions with Red Wine Reduction
Are you looking for some quick-to-make delicious dish this night! Try lamb medallions with red wine reduction!

Leftover Turkey Super Sandwiches
Stuffed with turkey, apple slices, cranberry sauce, and real mayonnaise, this sandwich will never let go of the holiday vibe from you.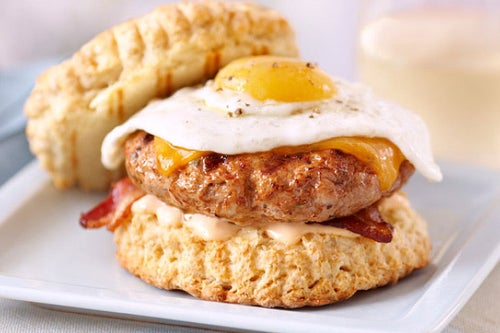 Better-than-Breakfast-in-Bed Burgers
A delectable make-at-home burger for breakfast stuffed with egg, mayonnaise, and bacon!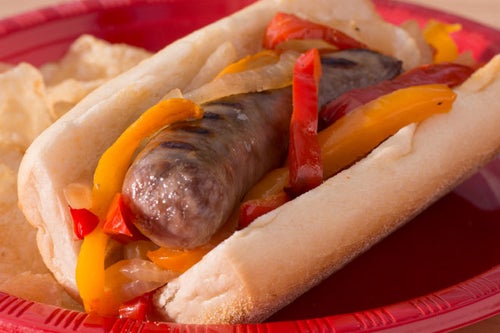 Beer Brats
Had a rough day? Want to make yourself a delicious dinner without much effort? Check this easy-to-prepare beer brat recipe.

Beef & Vegetable Stir-Fry
This beef and vegetable stir fry is an incredibly flavorful and easy-to-cook dish! Serve with authentic Ramen noodles, over rice or in a lettuce cup.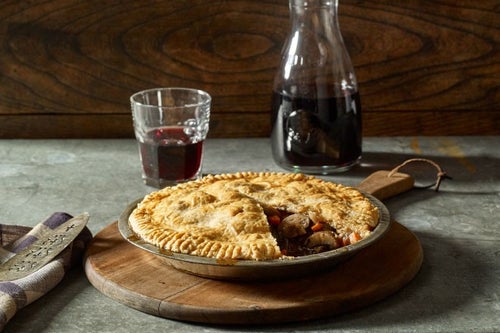 Mushroom Pie with Parmesan Garlic Crust
If you have a thing for garlic and mushroom you are in luck! This pie with Parmesan garlic crust is loaded with mouth-watering flavors. The surprisingly easy preparation will give you the vibe of the weekend on a weeknight!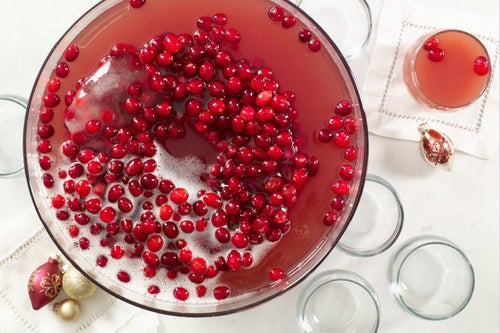 Cranberry Christmas Punch
Be it a party-at-home night or a cozy me-time, this no-mess, light and refreshing cranberry punch will instantly bring the festive vibe!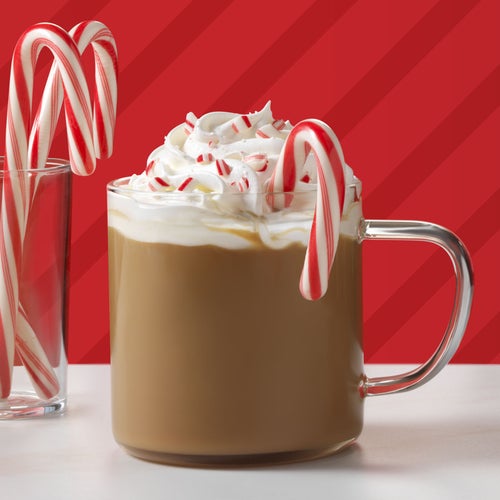 Starbucks ® Candy Cane Coffee
Candy Cane Coffee with Starbucks® Holiday Blend