Recipes - Lunch
Pressure Cooker Short Rib Chipotle Chili
Craving a chili recipe that will leave you speechless? This easy recipe combines tender short ribs and the smoky allure of chipotle for an explosion of flavors.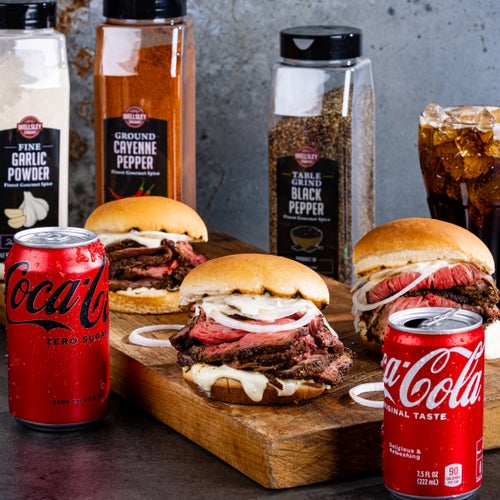 Baltimore-Style Pit Beef Sammies
Sink your teeth into tender, juicy beef infused with robust seasonings and a tangy kick. This recipe is a game-changer for any occasion.
Grilled Lamb Mini Open-Faced Naanwiches
Succulent grilled lamb, nestled on a bed of fluffy naan bread, topped with a symphony of vibrant spices and fresh toppings.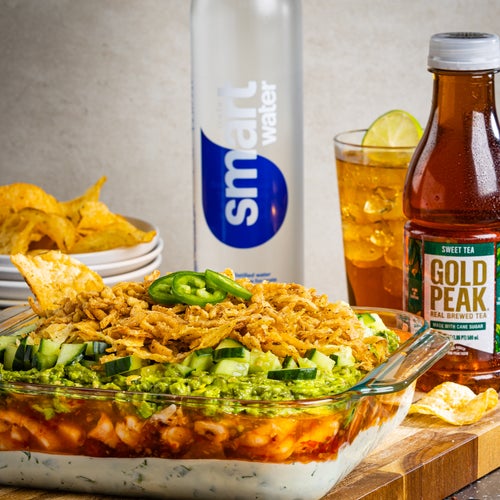 Thai Shrimp Seven Layer Dip
Combines the succulent goodness of shrimp with an irresistible blend of Thai-inspired ingredients that transport your taste buds to a world of global flavors.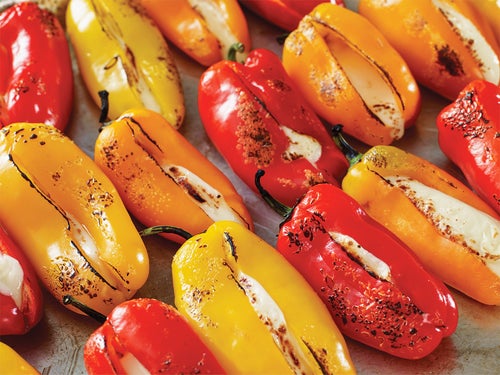 Mini Stuffed Peppers
These Stuffed Mini Peppers are a delightful appetizer bursting with flavor. Halved mini sweet peppers are filled with creamy cream cheese and sprinkled with a savory blend of Wellsley Farms Everything Bagel Seasoning, creating a perfect bite-sized treat in just 10 minutes of prep time.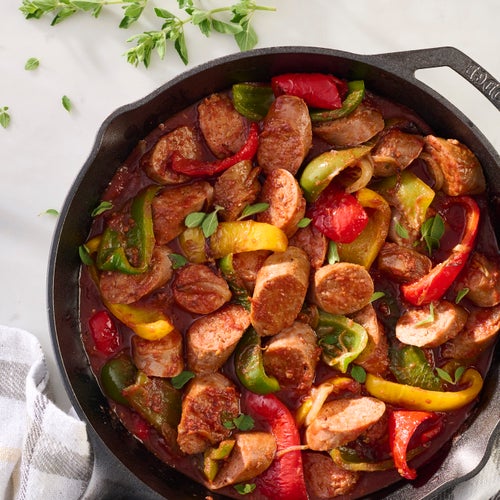 Sausage, Peppers, and Onions
A recipe that's as versatile as it is satisfying. Italian sausage cooked with bell peppers, then served over pasta, polenta, or on a hoagie roll.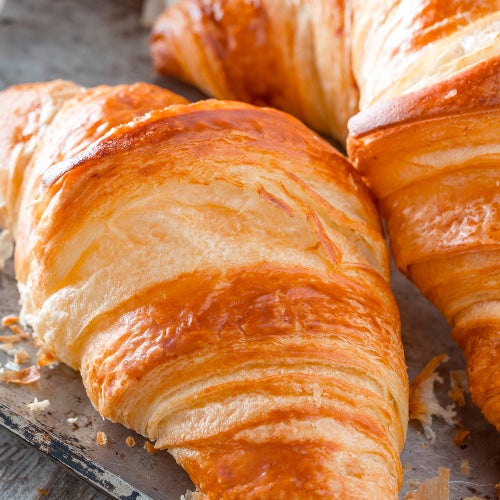 Caramelized Croissants with Mandarins
These sweet and citrus coated croissants will have everyone waking up early for breakfast.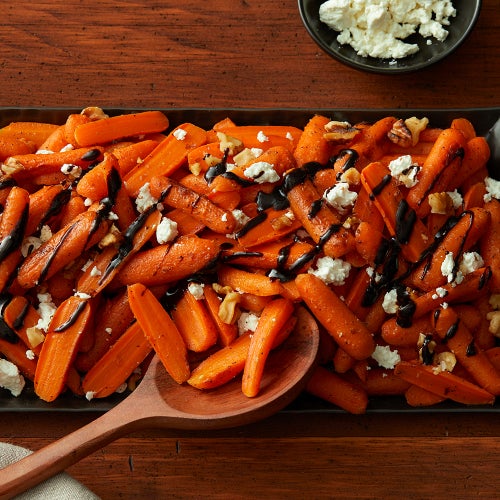 Roasted Baby Carrots with Hot Maple Lemon Glaze
These sweet & tangy carrots will ensure you'll never have another issue getting your little ones to eat their veggies.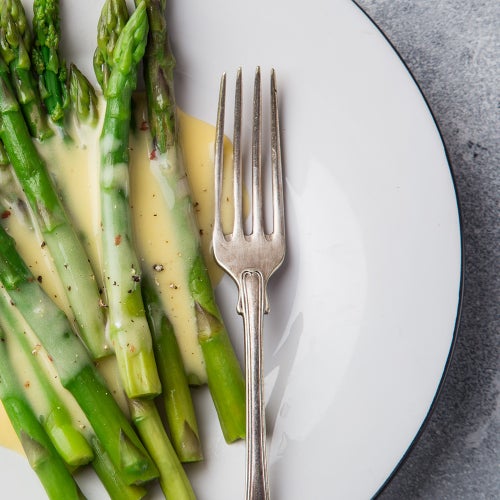 Roasted Spring Asparagus with Cheese Cream
Create this creamy, cheese veggie masterpiece for you family and watch them devour.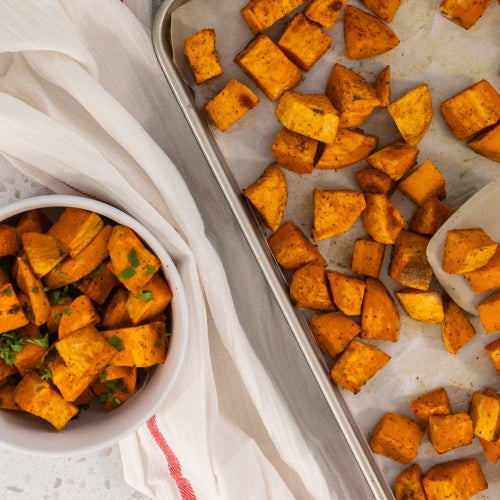 Roasted Sweet Potato and Pepper Salad
Bright, colorful sweet potatoes are paired with savory peppers and onions in this nutritious side dish that's perfect for any BBQ or potluck.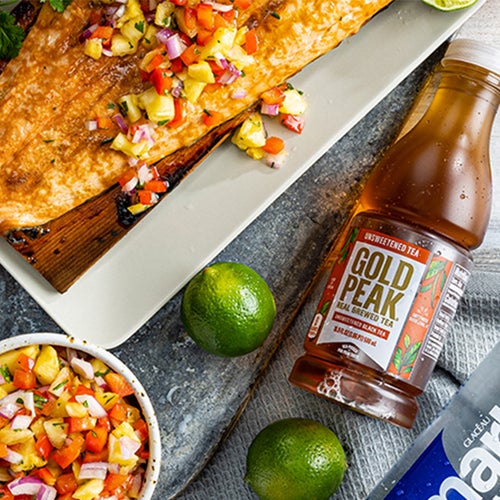 Cedar Plank Salmon with Pineapple Salsa
A quick and healthy meal that's perfect for grilling outdoors. The flavorful salmon fillet is topped with a zesty pineapple salsa, making it a delicious and satisfying dish that serves six.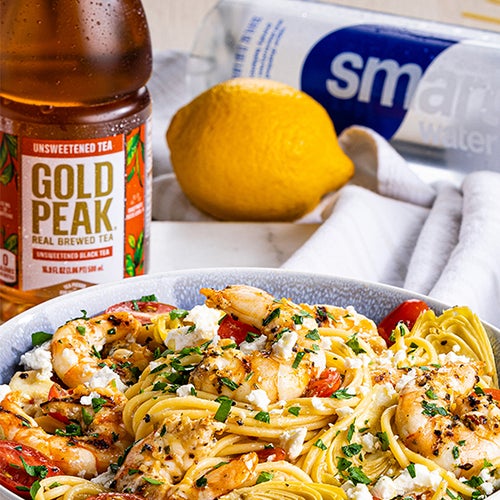 Grilled Mediterranean Shrimp Pasta
Marinated in italian seasoning, each shrimp is grilled and mixed with spaghetti, artichoke hearts, grape tomatoes, and feta cheese. Enjoy with a Smartwater or Gold Peak Tea.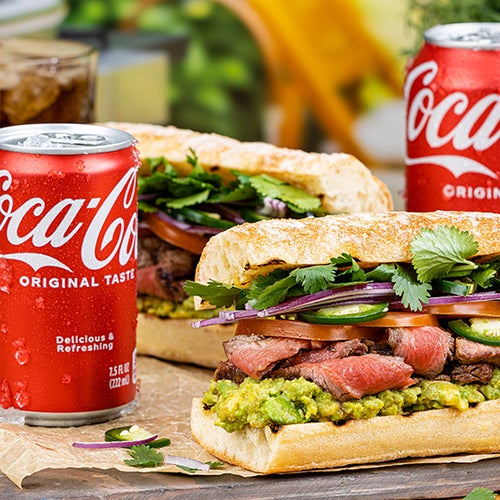 Grilled Steak Torta
Marinated in fajita seasoning and served on toasted baguette halves with fresh avocado, Roma tomatoes, and jalapeño peppers. Pair with a Coca-Cola for the ultimate meal.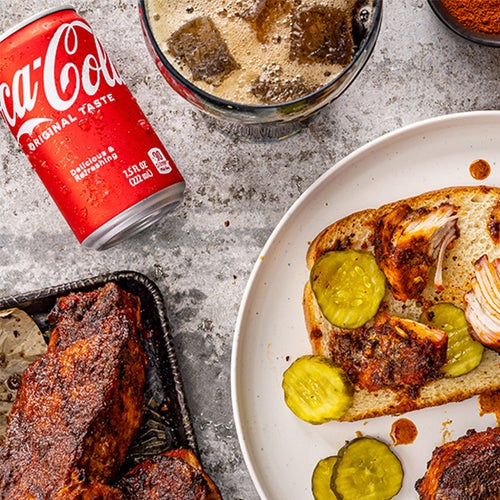 Grilled Kansas City BBQ Country Ribs
Seasoned with hot seasoning and grilled to perfection. These tender ribs pair perfectly with refreshing Coca-Cola drinks and are best served with bread and pickle chips.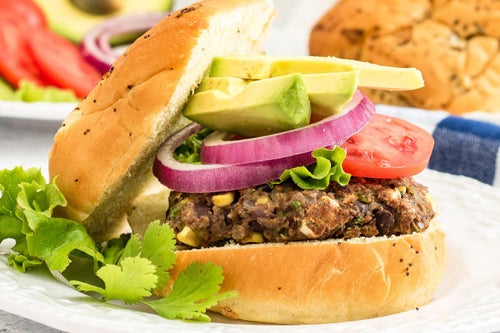 Black Bean Burgers
A no-hassle guilt-free vegetable burger; a great snacking companion or a delectable side dish.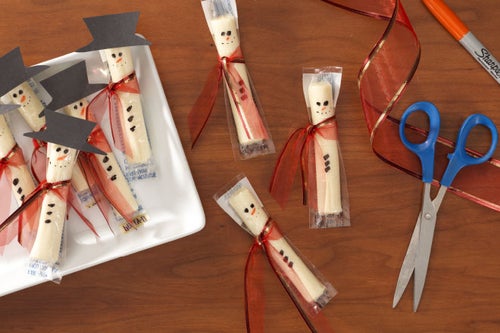 Mozzarella Stick Snowmen
Bring the festive mood at home today with these Mozzarella stick snowmen. It's totally easy to prepare and your kids will love it!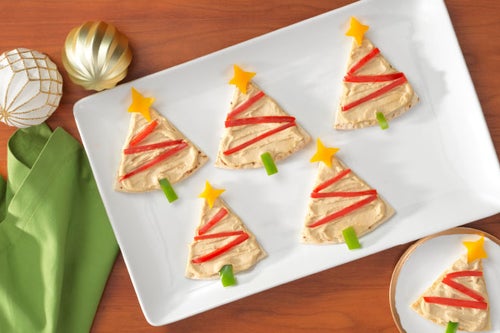 Hummus Holiday Trees
Sliced Pita bread with green, red, and yellow pepper results into a forest-like dish that instantly brings out the holiday vibe. Loved by kids and adults alike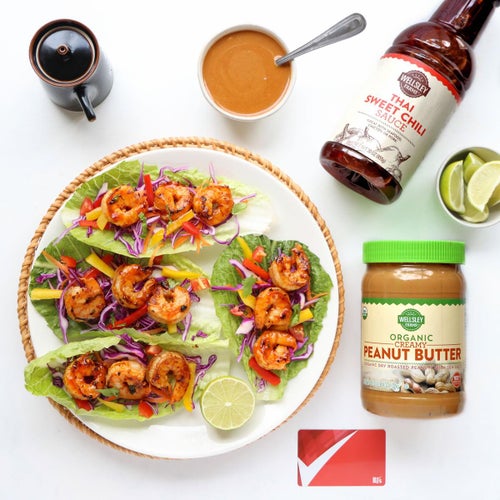 Spicy Thai Chili Shrimp Lettuce Wraps
Skip on the carbs, but not on the flavor with this tangy Thai-inspired lettuce wrap. Recipe by Heather LaCorte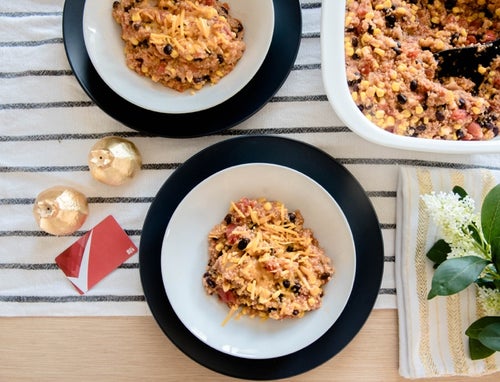 Quinoa Enchilada
Skip the tortilla and go straight for the good stuff with this nutritious enchilada-inspired dish. Recipe by Kelly Towart.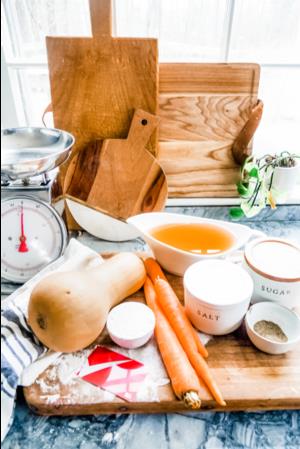 Vegan Butternut Squash Soup
Take an already vegetarian soup and go the extra mile. Taste just like the classic, only better. Recipe by Korilyn Martin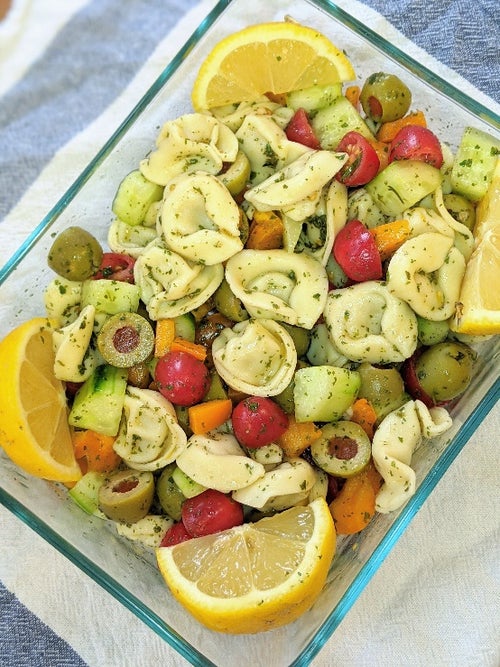 Tortellini Salad
Fresh and tasty, this stuffed tortellini pasta salad is the perfect picnic basket treat. Recipe by Liana Kolodenker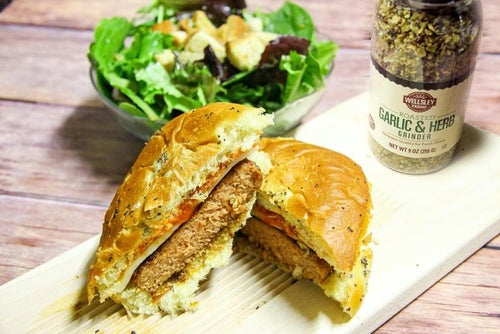 Meatless Meat Burger with Salad
Try meatless! Meat alternatives can be a healthy and delicious option your whole family will appreciate. Recipe by Shazia Atif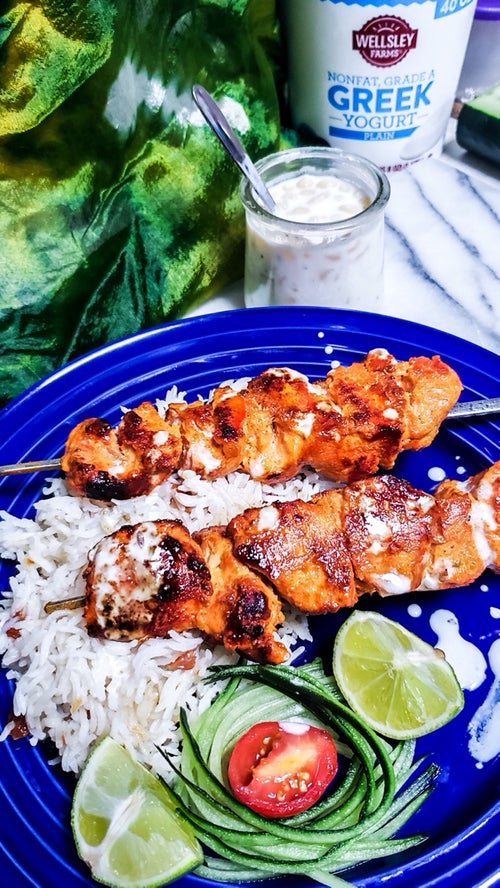 Tandoori Chicken Skewers
Bursting with flavor, this tasty Indian dish is great for making on the grill. Introduce your family to something new, delicious and fun! Recipe by Shoma Arora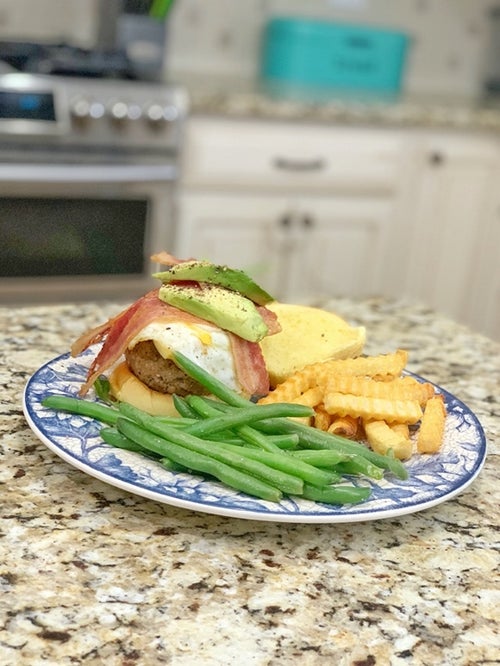 Italian Meatball Super Spring Burger
A fusion of fresh and Italian flavors takes this classic cheeseburger to the next level. Recipe by William Sweeney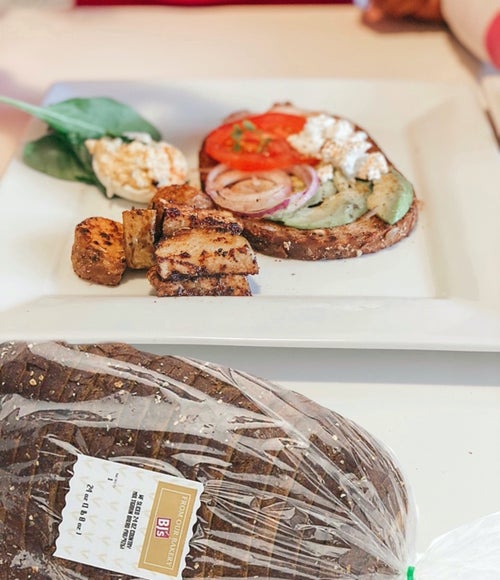 Avocado Toast with Turkey & Deviled Eggs
Assemble these tasty little snacks for your next pot luck or charcuterie picnic. Recipe by Amber Hurley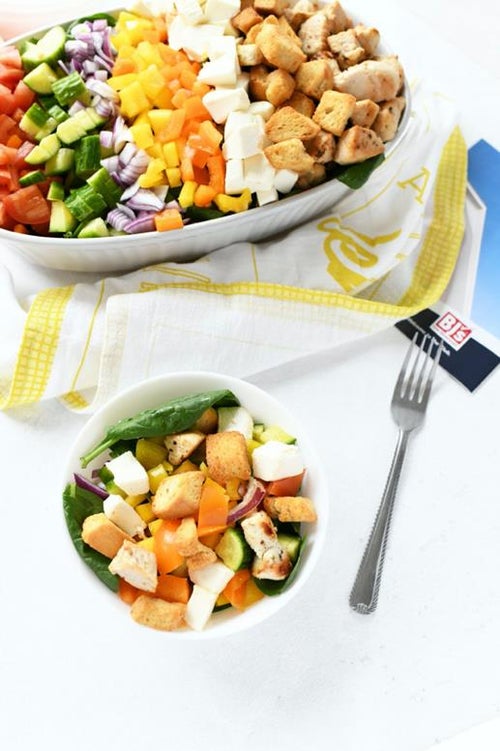 Rainbow Veggie Chicken Salad
Get your daily dose of color and nutrition with this chicken salad recipe that is as good to look at as it is to eat. Recipe by Amy Derosiers.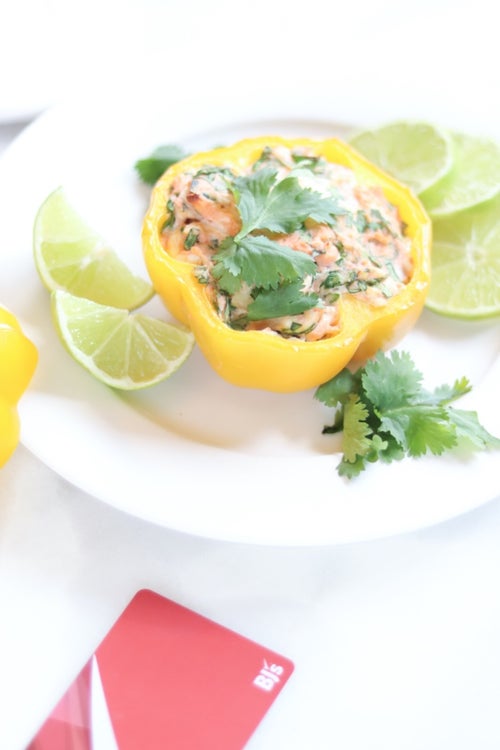 Salmon Stuffed Peppers
The perfect all-in-one twist on a classic stuffed pepper that will impress your pescatarian guests. Recipe by Christy Cusato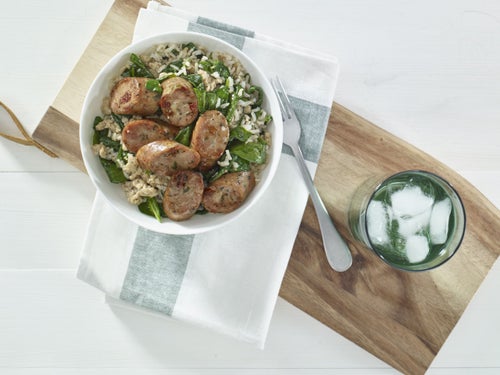 Spinach and Sausage Rice Bowl
Spinach and Sausage Rice Bowl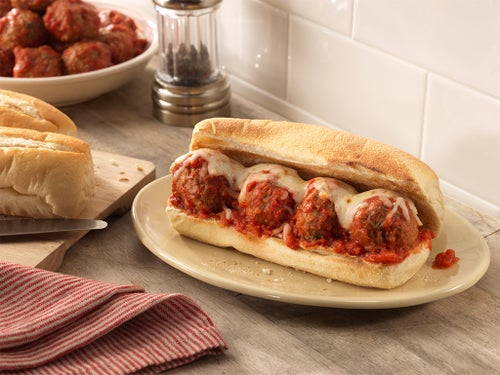 Wellsley Farms Italian Meatball Subs
Made with quality meats and spices for an authentic Italian flavor, our meatballs are sure to be a hit at your party. Perfect in subs or just for nibbling.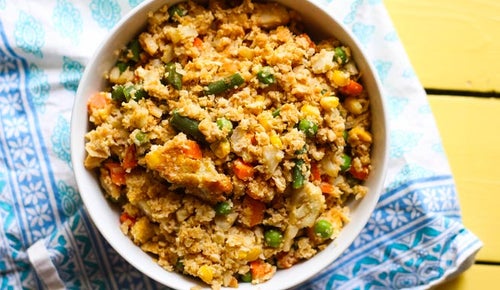 Fried Cauliflower Rice
Fried Cauliflower Rice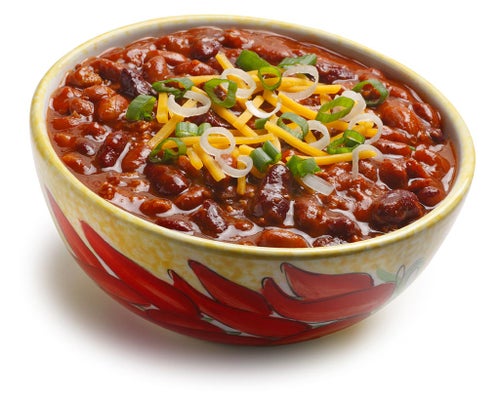 Meatless Taco Chili
Cook this chili filled with pinto beans, black beans, bell peppers and corn in your slow cookers for a savory meatless meal everyone will love.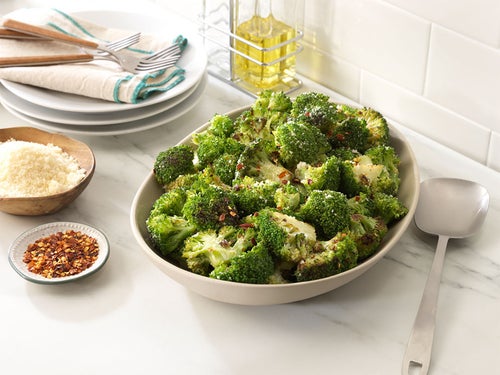 Sauteed Broccoli with Garlic
Per Serving: 120 cal. • 10g fat • 4g protein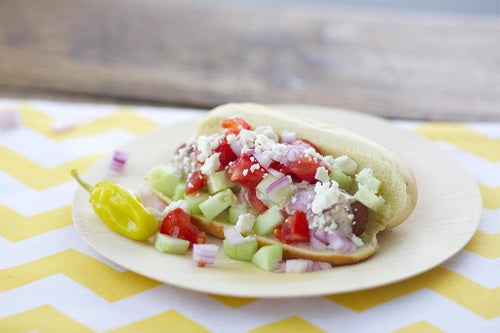 The Greek Dog
The Greek Dog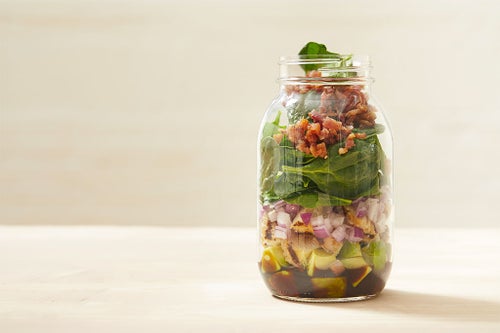 Spinach Salad in a Jar
Spinach Salad in a Jar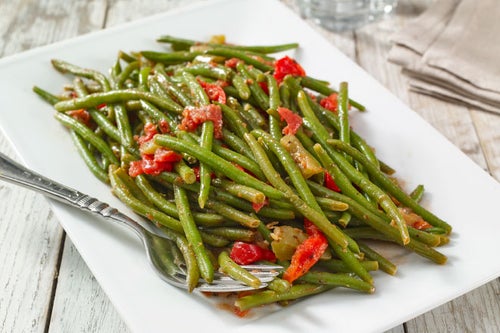 Stewed Green Beans and Tomatoes
Stewed Green Beans and Tomatoes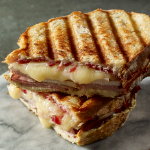 Turkey, Cheddar & Cranberry Panini
Turkey, Cheddar & Cranberry Panini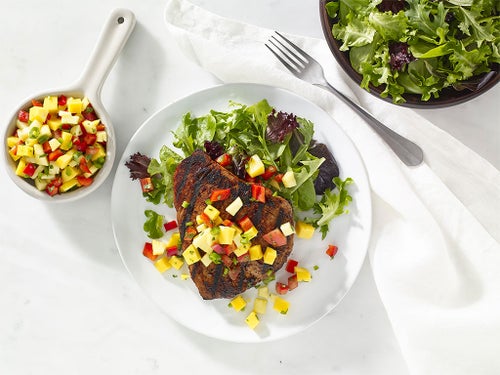 Tuna Steaks with Tropical Salsa
Tuna Steaks with Tropical Salsa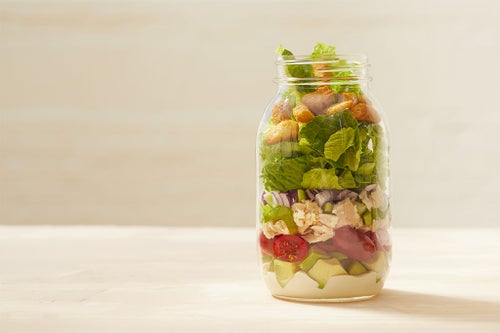 Tuna Salad in a Jar
Tuna Salad in a Jar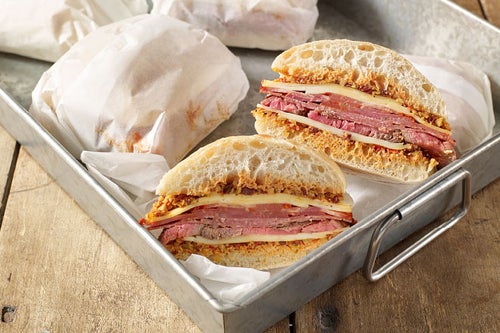 Flank Steak Muffuletta Sandwiches
Crusty sandwich bread stuffed with olive salad, meat, and cheese to bring the flavor Crescent City, New Orleans on your dinner table

Assorted Club Sandwiches
Makeup platters of sandwiches on Wellsley Farms® Sandwich Breads and serve Clausen Kosher Dill Deli-Style Halves and Wellsley Farms® Homestyle Potato Salad on the side.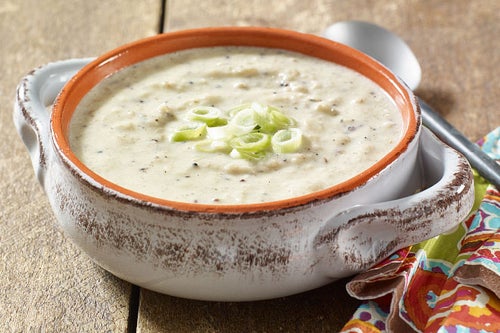 Creamy Roasted Cauliflower and Whole Grains Soup
A creamy dairy-free soup with roasted cauliflower, hazelnut, and organic grains. So warm and so delicious that you'll miss the winter days.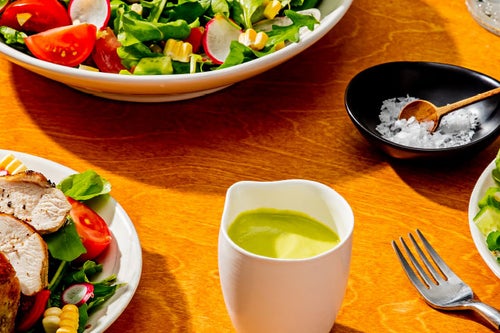 Creamy Avocado Greek Yogurt Dressing
Tangy Greek yogurt is combined with avocado, lime juice, garlic, and vinegar to form a delicious creamy dressing for a classic salad recipe.

Slow Cooker Barilla® Elbows Macaroni & Cheese
A classic dish with a no-hassle recipe that'll leave your family with a lip-smacking experience!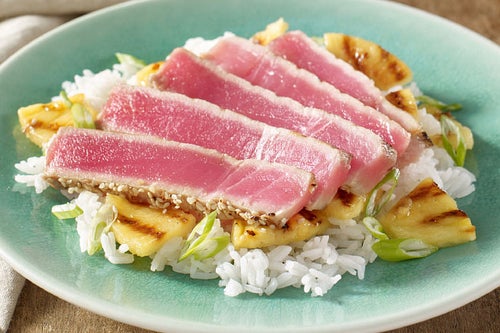 Grilled Sesame Tuna with Pineapple
In an unmatched combination of Tuna and Pineapple, this full-on-tropical flavor dish is perfect for weekend barbecues.

Kale Comfort Stew
A hearty, family-friendly, nutrition-packed comfort meal with a no-hassle recipe and only one hour of preparation time!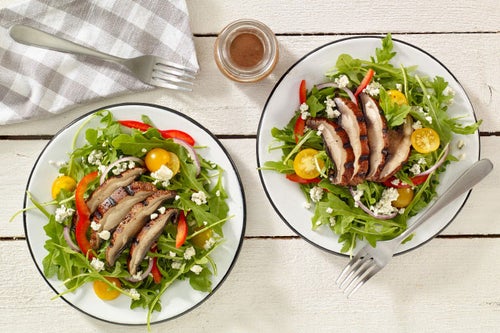 Grilled Portobello Salad
A full-on-flavor roasted portobello mushroom salad made with blue cheese, veggies, and an organic salad dressing.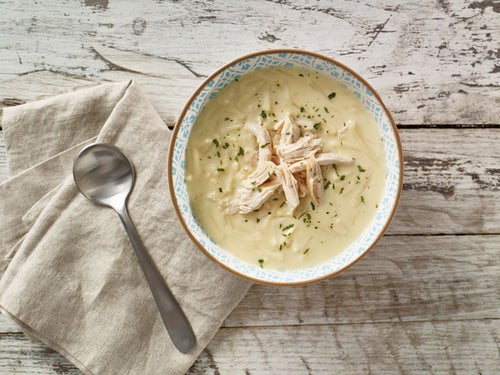 Greek Egg and Lemon Soup
This silky egg soup with chicken broth and lime juice will bring the flavor of Greece on your table.

Grands!™ Easy Taco Melts
Flaky biscuits wrap around the fillings to give your favorite Taco a grand twist.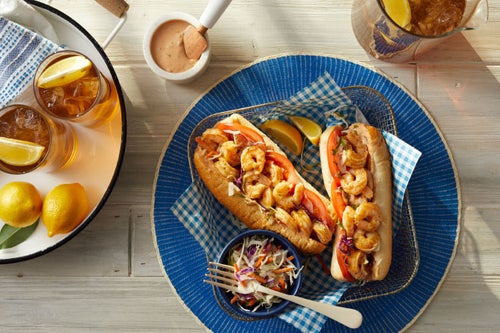 Shrimp Po Boy Sandwiches
Crispy and crunchy shrimp with fresh tomatoes stuffed in between buttered toasted french roll. Have it with your favorite sauce to enjoy every bite. It's an insanely delicious snack with an extremely easy recipe.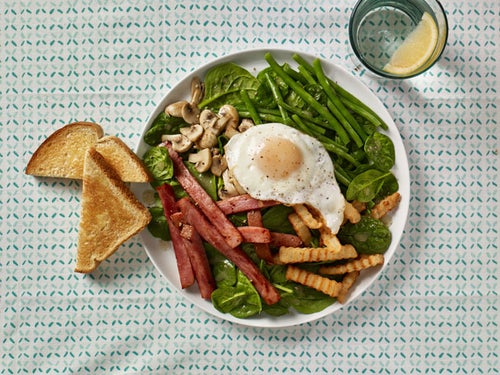 Frizzled Egg Salad
Soft and crispy frizzled egg with lots of veggies brings health and taste on the same plate. Enjoy as a quick breakfast or as a busy weeknight dinner.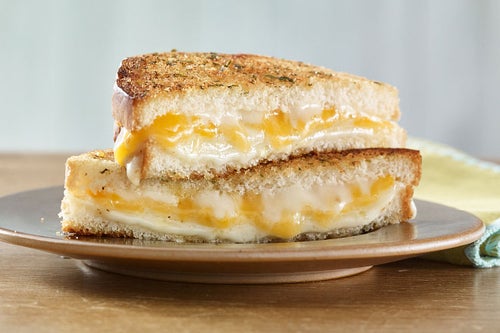 Garlic Bread Grilled Cheese
Crispy slices of bread are stuffed with melt-in-the-mouth cheese for a hearty start of the day.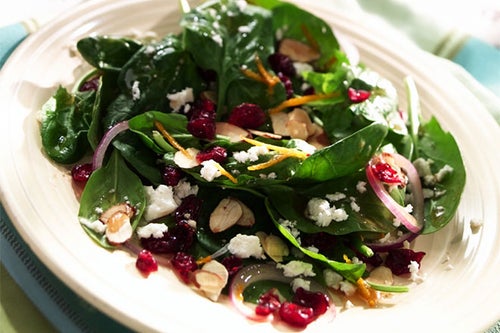 Effortless Spinach Salad
Made with fresh spinach, cranberries, and cheese, this delicious and colorful salad would be an effortless lunch or dinner or a great side dish.

Cuban Rice and Black Bean Salad
With a nutritious combination of rice, bean, and corn, this salad will bring the flavor of Cuba on your table. It's delicious and protein-packed and your kids will love it sure!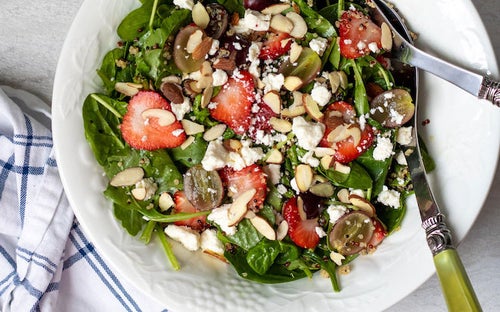 Quinoa Fruit and Mixed Greens Salad
Nutrition-packed and full-in-flavor, this salad will refresh you instantly. It's gluten-free, dairy-free and completely vegan.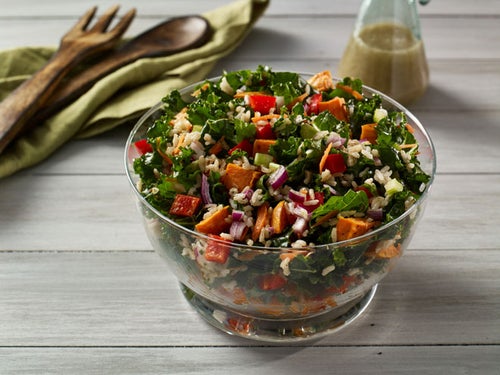 Roasted Sweet Potato and Brown Rice Salad
An easy versatile recipe that can make your weeknight simple or weekend special. With this dish, you can welcome Fall on your table anytime!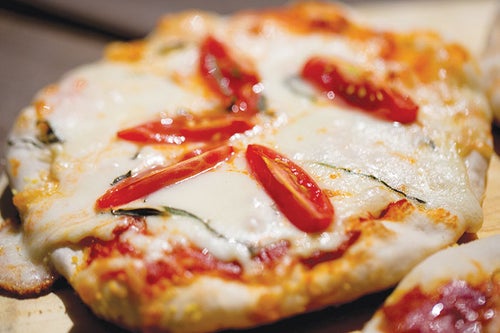 Mini Pizzas
Everyone's favorite pizza in small shape and with only 25 minutes preparation time! Have it at your breakfast, pack it in your lunch box or enjoy it as dinner.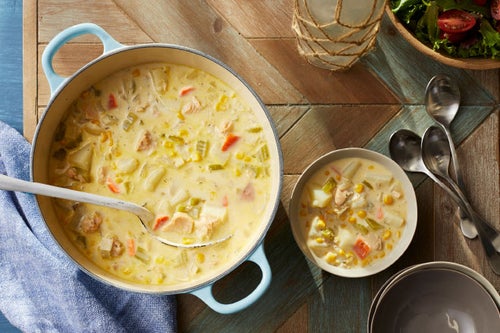 Quick Salmon Chowder
An easy-to-prepare melt-in-the-mouth recipe with the goodness of salmon, veggies and a hint of ginger. It'll warm you up after a long busy day.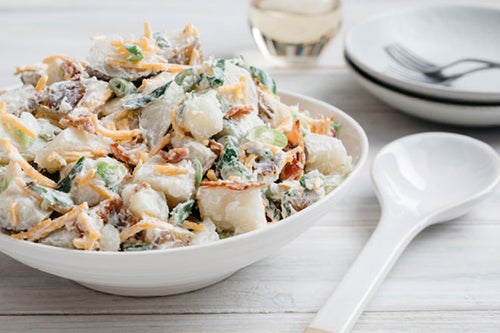 Loaded Baked Potato Salad
Classic baked potato salad with goodness of veggies and taste of creamy cheese! It'll be a hit sidedish in any party. You can also try this as a quick lunch or dinner.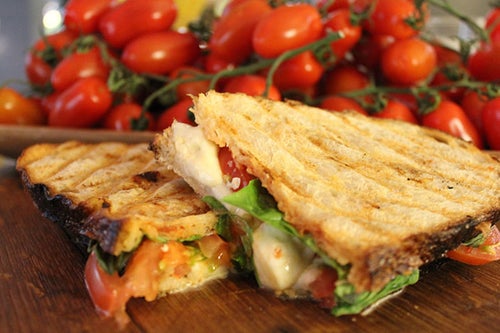 Caprese Sandwich
Filled with fresh veggies, this sandwich is an easy and delicious way to start your day. With just 11-minute preparation time this dish makes sure that you don't miss breakfast even on a busy morning.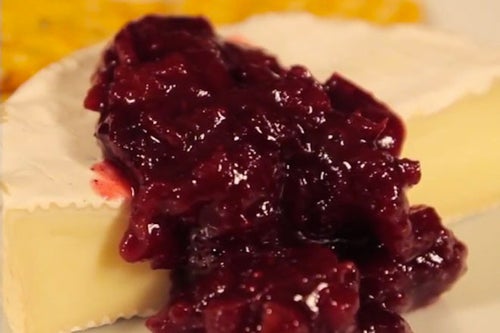 Cape Cod Select Cranberry Chutney
This thick cranberry chutney brings the holiday vibe within no-time.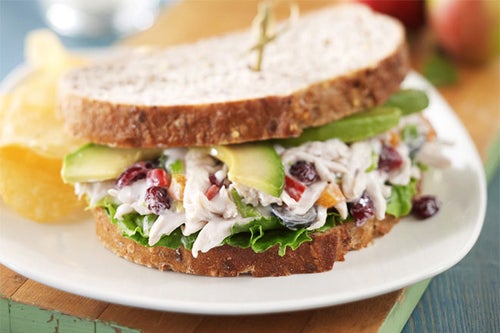 California Chicken Salad with Craisins® Dried Cranberries
Veggies and chicken combine together to offer you a delicious and healthy meal for the day. A no-hassle recipe that you can have it itself or stuff within a sandwich.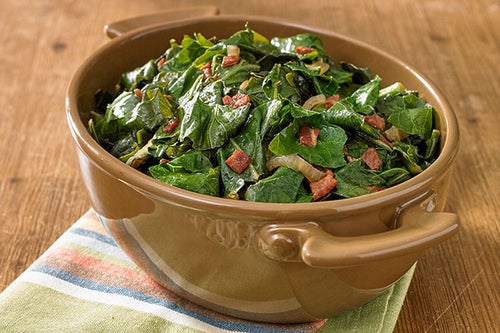 Southern-Style Greens
Bacon and green veggies are slow-cooked in salt, seasoning, and garlic and then stirred in beer, water, cedar, and molasses. Try this recipe for a delicious and healthy weekend meal.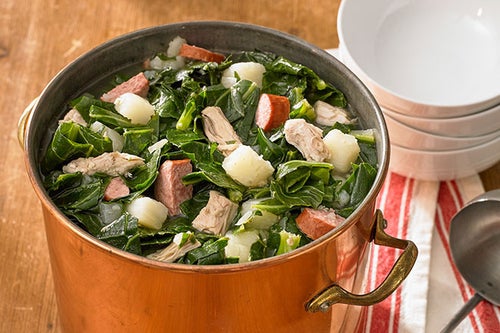 Caldo Verde (Green Soup)
Filled with veggies and cream, this easy-to-make soup will be a healthy and delicious dinner after a long day.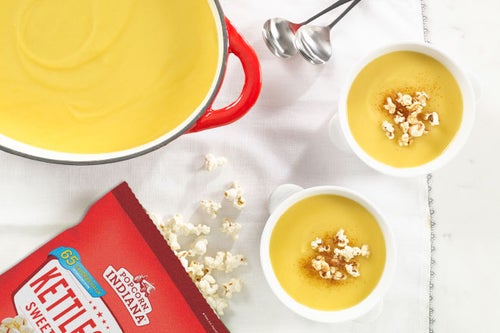 Butternut Squash and Potato Soup
Potato, butternut squash, and chicken broth are combined with a few simple ingredients to create this creamy Autumn soup. A warm and comfortable dish that'll be loved by the whole family.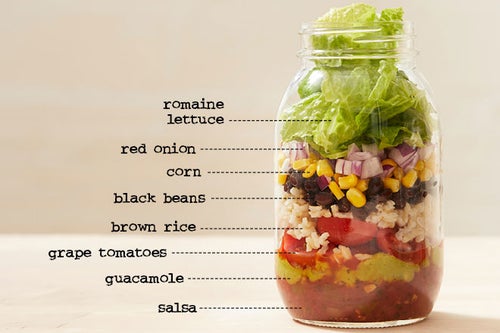 Burrito Bowl Salad in a Jar
Packed in protein, this salad will be a deliciously healthy lunch for your day and it takes only 10 minutes preparation time.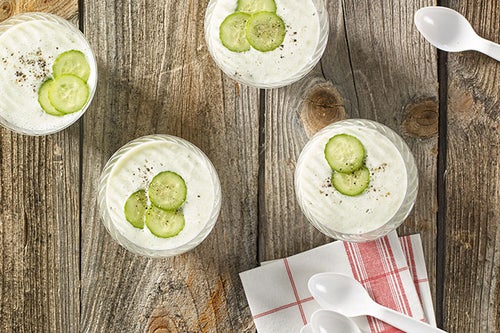 Chilled Cucumber Yogurt Soup
Refreshing chilled soup made with cucumber, tangy yogurt, fresh lime, and garlic. It's simple, tasty and so healthy!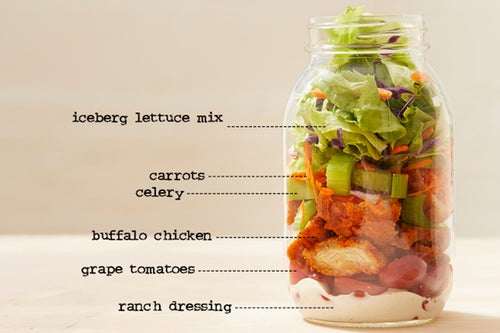 Buffalo Chicken Salad in a Jar
If you're up for something healthy and delicious, then try this buffalo chicken salad! Keep all the ingredients in a jar and shake it before eating. Check our recipe for more info. Per Serving: 480 cal. • 31g fat • 19g protein.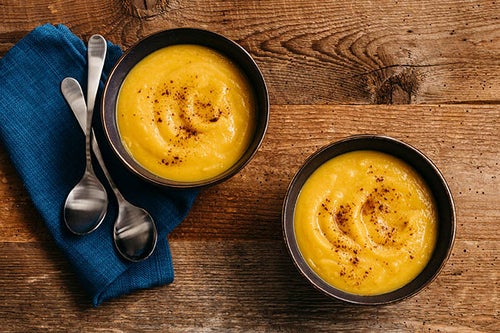 Roasted Maple Butternut Squash Soup
Squash, apples, maple, and spice is cooked in a cozy soup to bring the flavor of autumn on your dining table. Per Serving: 130 cal. • 6g fat • 2g protein.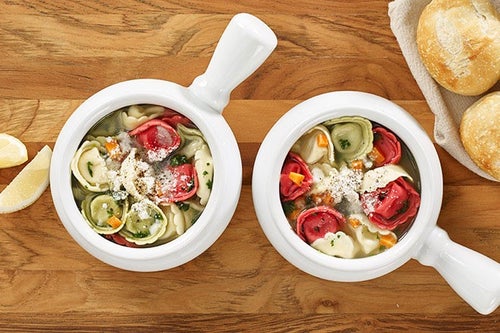 Spinach and Rainbow Tortellini Soup
A soupy broth with spinach, chicken and cheese which is a simple and delicious dinner for a busy weeknight or a relaxed weekend.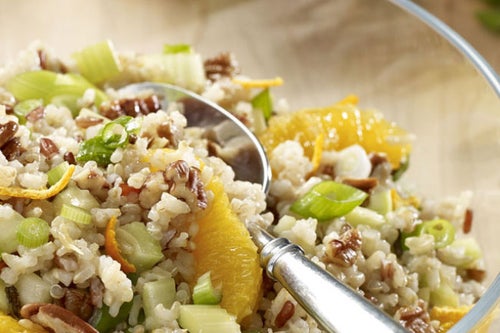 Organic Orange Pecan Rice Salad (Gluten-Free)
Nutritious and delicious rice salad with a juicy orange flavor. A perfect dish of summer, you can try the recipe over a weekend or on a weeknight.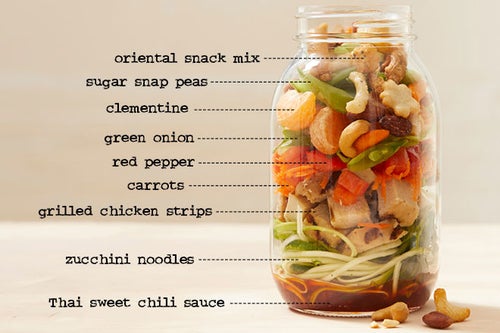 Asian Bowl Salad in a Jar
Packed with nutrients this delicious bowl salad gets ready just within 10 minutes!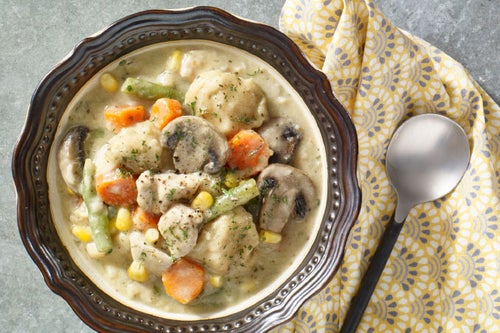 Freezer-to-Slow Cooker Chicken and Dumplings
A tasty comfort meal straight out of grandma's recipe book. Your family will love it!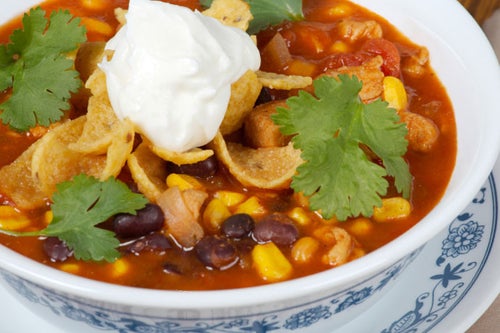 Freezer-to-Slow Cooker Chicken Taco Soup
This easy slow cooker chicken taco soup recipe is going to be your family's favorite! To add a cheesy flavor, serve hot with shredded cheese on top.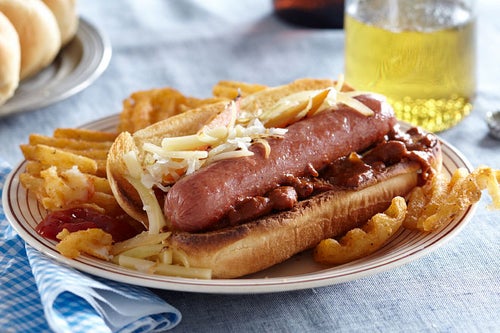 Not Your Average Chili Dogs
Loaded with cheese and veggies, this hotdog would be a quick on-the-go lunch or snack. Top with chili to add more fun!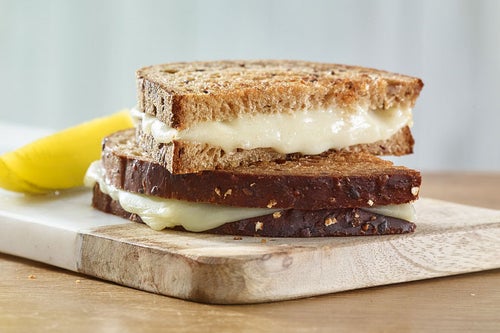 Classic Grilled Cheese
The staple classic grilled cheese sandwich is everyone's favorite and it gets ready within just no time!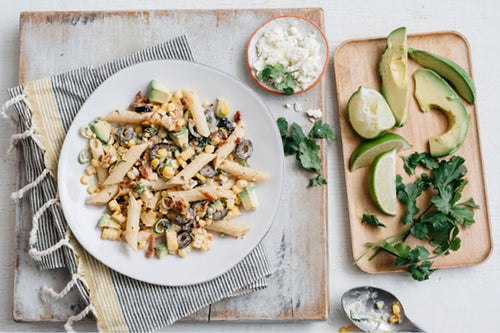 Mexican Street Corn Pasta Salad
Packed with sweet corn, bacon, and tossed in a creamy chili lime dressing, this corn pasta salad brings Mexican-style street flavor to your table anytime.

Leftover Turkey Super Sandwiches
Stuffed with turkey, apple slices, cranberry sauce, and real mayonnaise, this sandwich will never let go of the holiday vibe from you.