Recipes - Appetizers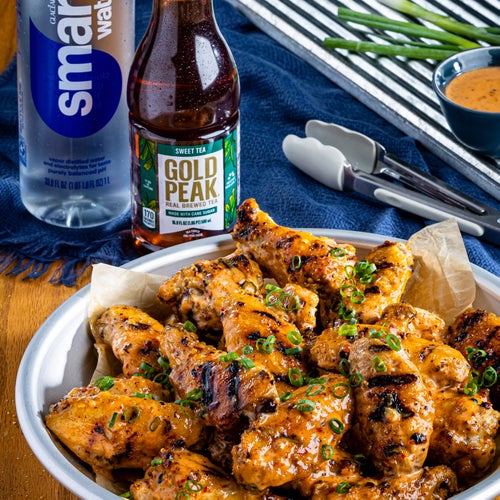 Bang Bang Grilled Chicken Wings
Whether hosting a BBQ or treating yourself to a flavorful feast, these wings are guaranteed to win over any crowd.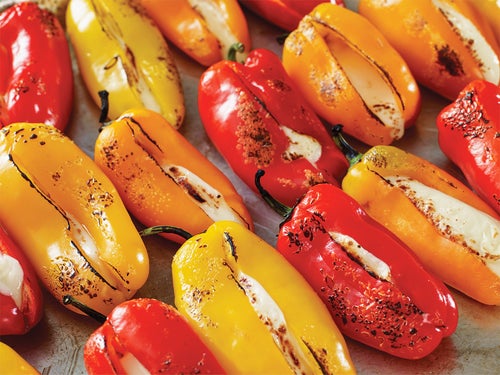 Mini Stuffed Peppers
These Stuffed Mini Peppers are a delightful appetizer bursting with flavor. Halved mini sweet peppers are filled with creamy cream cheese and sprinkled with a savory blend of Wellsley Farms Everything Bagel Seasoning, creating a perfect bite-sized treat in just 10 minutes of prep time.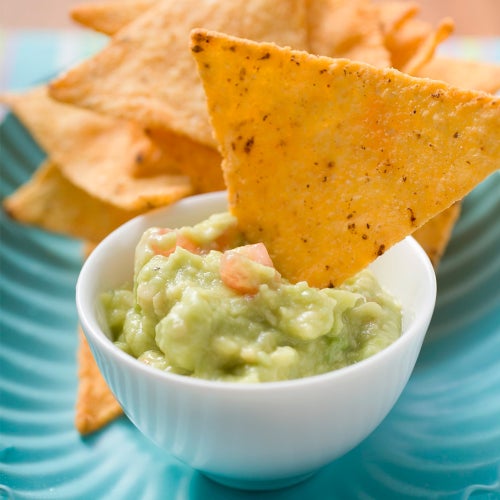 Guacamole
This classic guacamole recipe is quick and easy to make as an appetizer or snack.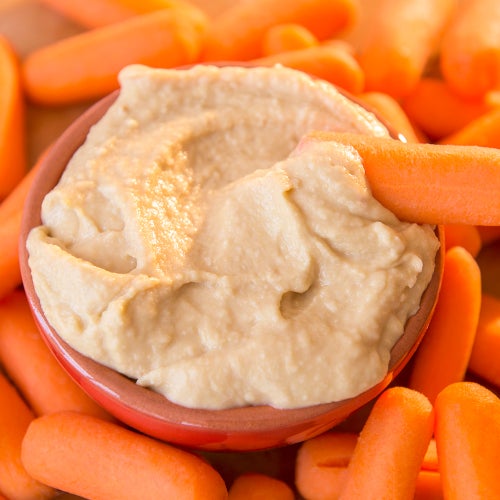 Protein Packed Hummus
The perfect protein packed snack is also quick and easy to make. Makes a great appetizer or snack.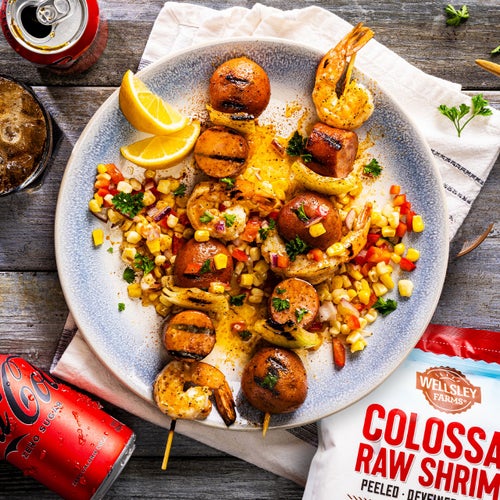 Grilled Shrimp Boil Skewers with Corn Salsa
A delicious and fun shrimp skewer dish with a twist! Easy to make in advance.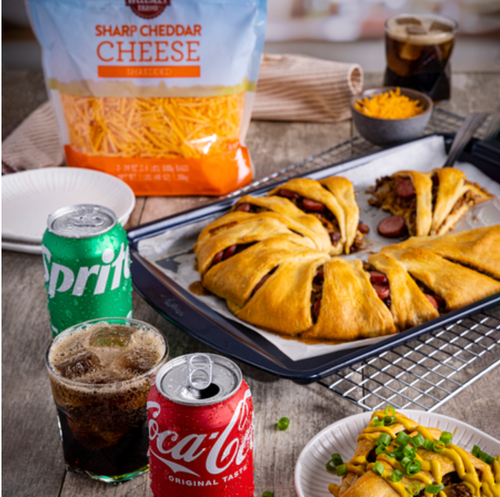 Chili Dog Ring
Chili Dog Ring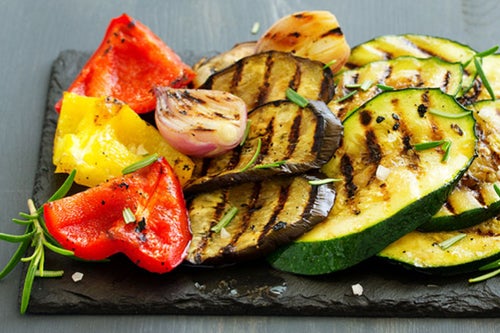 Grilled Veggie Platter
A crowd-pleasing and flavorful dish that is nutritious with the goodness of fresh veggies.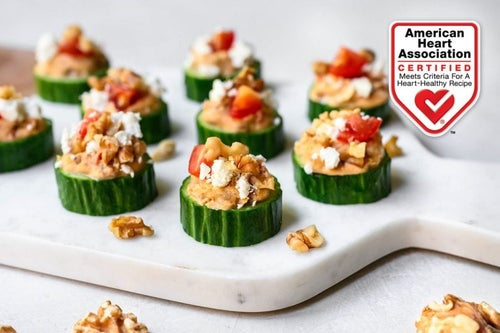 Greek Cucumber Walnut Bites
Great as an afternoon snack or appetizer, these crisp cucumber cups are filled with roasted red pepper hummus and topped with tomatoes and more. Recipe by Beth Stark, RDN, LDN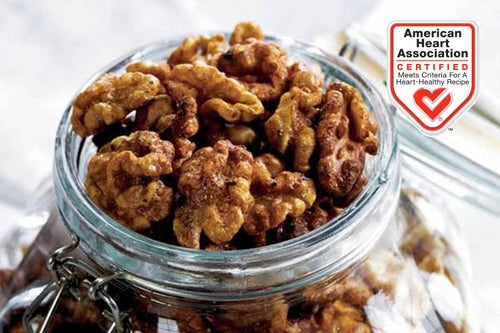 Sweet & Spicy Walnuts
Don't make your taste buds have to choose between sweet or spicy! With this Sweet and Spicy Walnuts recipe, you can have the best of both worlds for a delicious treat. Recipe by Rob Stevens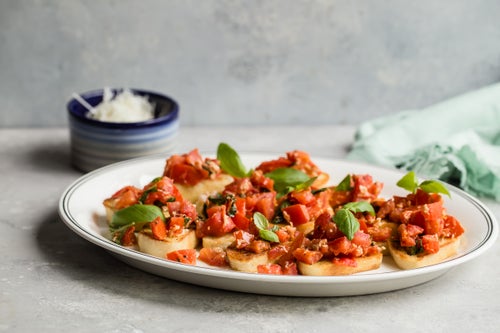 Rustic Bruschetta
Looking for the perfect appetizer any time of year? Look no further than this Rustic Bruschetta made with Pompeian Gourmet Selection Extra Virgin Olive Oil. This simple, healthy snack is made flavorful by the addition of first cold-pressed extra virgin olive oil, expertly crafted by Pompeian's family of farmers.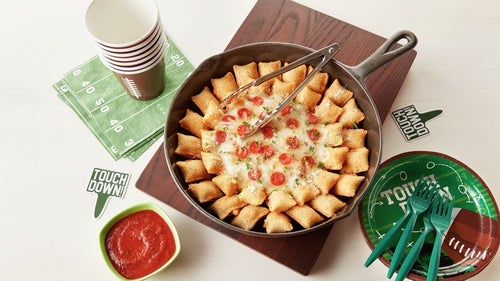 Game Day Pizza Roll Skillet Dip
Nothing says game day like pizza, and this recipe has got you covered! With pizza snacks, melty cheese and pepperoni, this dip will get everyone ready for the big game!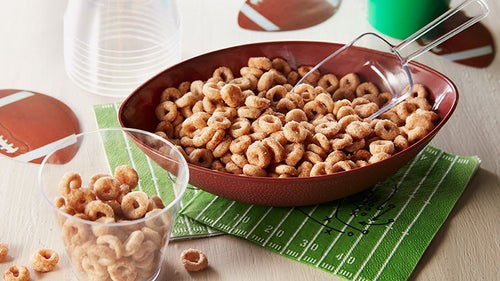 Mini Doughnut Hot Buttered Cheerios™ Game Mix
These five-ingredient buttery cereal bites are made for game day! Toss your favorite Cheerios™ with butter, vanilla and cinnamon-sugar and serve at your tailgate (or homegate!) for an easy win.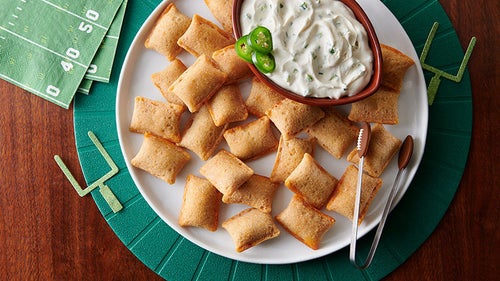 Jalapeno Popper Party Dip & Pizza Rolls
You only need four ingredients to make this jalapeño popper-inspired dip to serve with Totino's® Pizza Rolls™! Cream cheese, fresh jalapeño chiles and a dash of cumin bring this irresistibly creamy, zesty dip to life as the go-to appetizer for your next tailgate.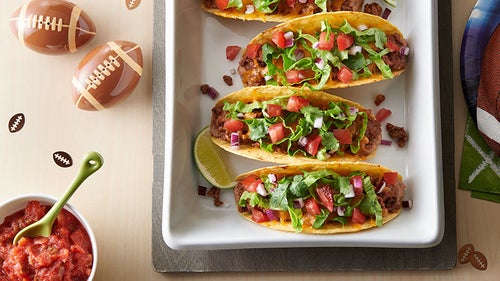 Oven-Baked Beef Touchdown Tacos
These oven-baked tacos don't mess around. Seasoned ground beef, refried beans, melty cheese and fresh toppings are packed inside crunchy taco shells to make what we consider the ultimate choice in game day snackage.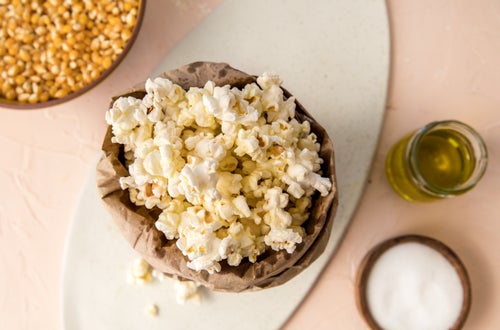 Easy EVOO Popcorn
Popcorn is a snack everyone enjoys! Now enjoy a healthy and flavorful new version with Pompeian Gourmet Selection Extra Virgin Olive Oil. High in monounsaturated fats and expertly crafted by our family of farmers, Pompeian Gourmet Selection Extra Virgin Olive Oil is first cold-pressed with a fresh and fruity taste, the perfect addition to your snack.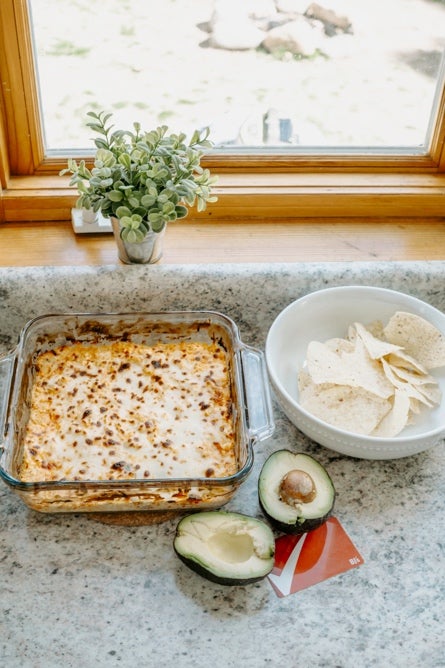 Buffalo Chicken Dip
Fill your chip with spicy, tang buffalo sauce flavor when you try this belly-filling snack recipe.

Stuffed Peppers
Stuffed Peppers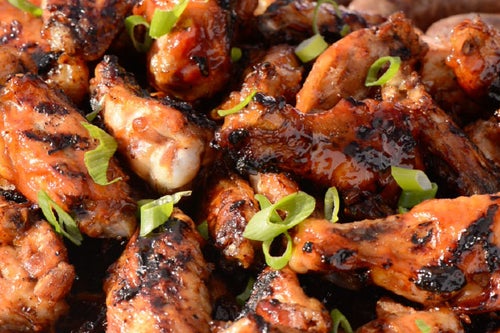 Red-Eye Barbecue Chicken Wings
Chicken wings cooked in red-eye barbecue sauce results in a spicy, smokey dish that gets finished as soon as it comes on the plate.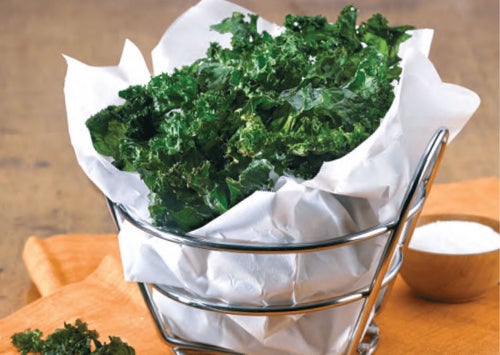 Baked Kale Chips
Delicious but low-calorie chips to give you a guilt-free pleasure while snacking. Check out the recipe to make it at home.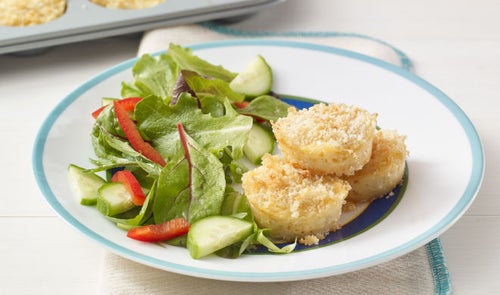 Crispy "Mac" & Cheese Bites
Crispy outside and cheesy inside, these delectable all-time-favorite bites would be a great appetizer for your parties and family gatherings.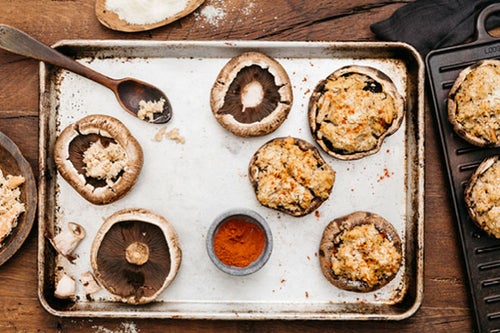 Grilled Stuffed Portabella Mushrooms
Stuffed with crab meat, cheese and mayonnaise, these Portabella mushrooms are an absolute crowd pleaser!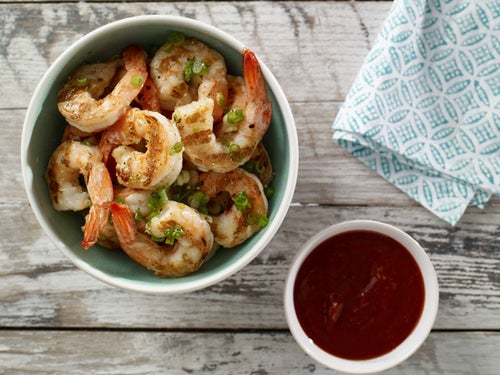 Grilled Shrimp Cocktail
Shrimp grilled with garlic for a spicy cocktail dish, that'll soon win the hearts of your guests in the next gathering.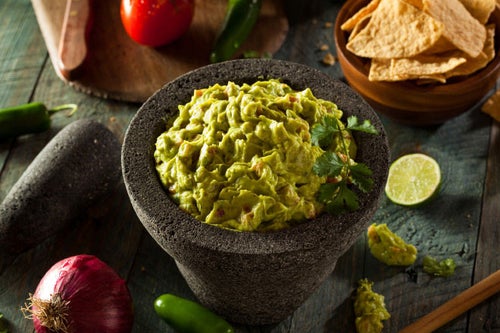 First Down Guacamole
A classic dip made with avocado, tomato, garlic with zesty lemon. This totally no-mess recipe will amp up the snacking fun. Have it with nachos or tortilla chips.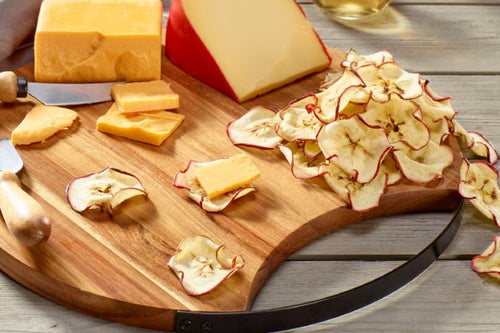 Fast and Easy Apple Chips
Thinly sliced apples are baked till they turn amazingly crispy. A healthy snack for the whole family that will soon get finished right after it comes on the serving plate.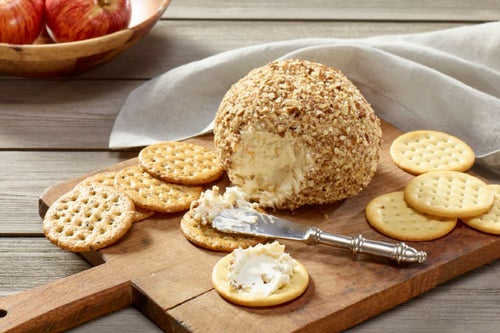 Apple Cheddar Cheese Ball
These everyone's favorite cheese balls go well in any parties or gatherings. You can also enjoy these as an evening snack with tea or coffee.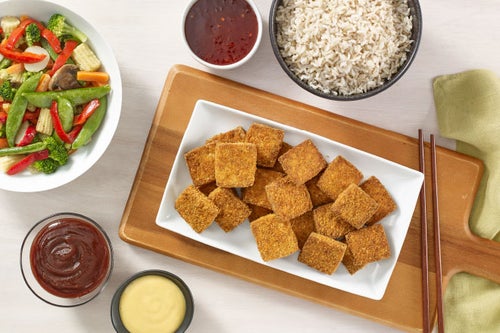 Air-Fried Tofu Nuggets
Love vegan food? Try this air-fried tofu nuggets. Crispy, delicious, completely guilt-free and easy to make.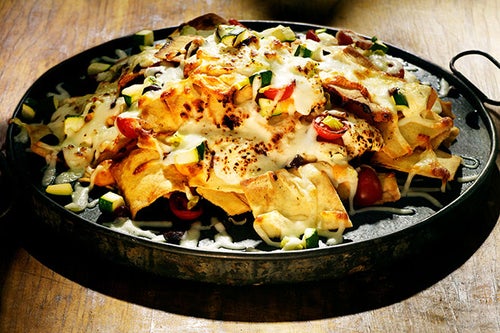 Mediterranean Nachos
Snacking and a healthy diet can go hand in hand with this delicious gluten-free Mediterranean nachos.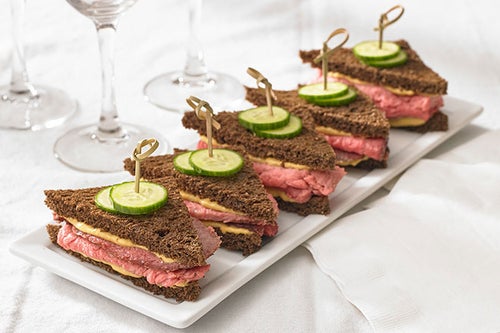 Roast Beef Cocktail Sandwiches
Delectable beef roast sandwiched in between Pumpernickel bread slices to add some fun and flavor to your cocktail hour.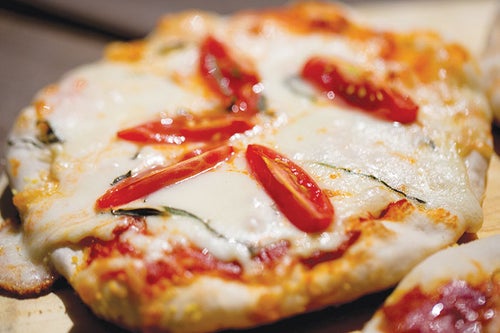 Mini Pizzas
Everyone's favorite pizza in small shape and with only 25 minutes preparation time! Have it at your breakfast, pack it in your lunch box or enjoy it as dinner.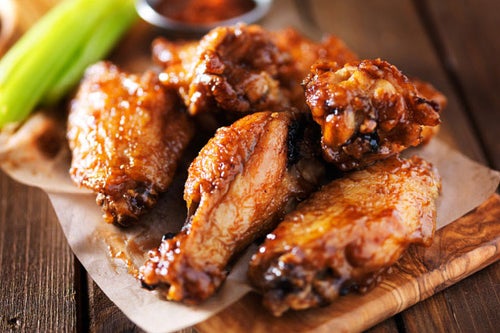 Chimichurri Wings
Crispy grilled chicken wings in red chimichurri sauce will be great starter for your weekend parties. An easy recipe with simple ingredients.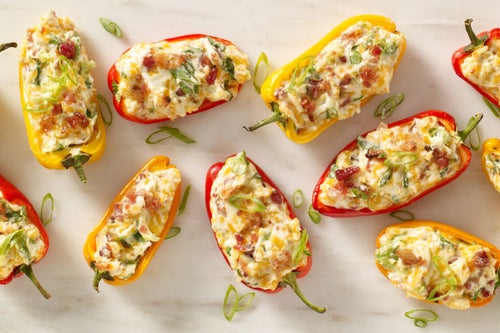 Cheesy Bacon Mini Peppers
Filled with cheese and bacon, this melt-in-the-mouth recipe is flawlessly crowd-pleasing. A perfect party appetizer that comes on the plate just within 25-minutes!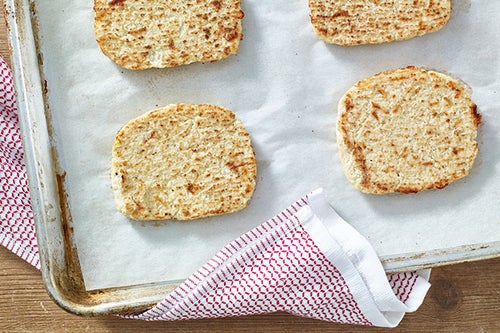 Cauliflower Bread
A good-for-health delicious bread which is quite easy to make. You can have it at your breakfast, pack in your lunch box, or enjoy as a snack.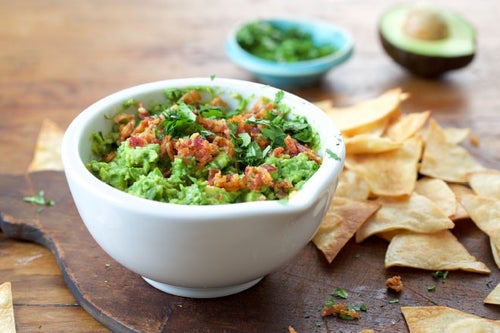 Spicy Bacon Guacamole
Crispy, salty bacon and slightly smoky guacamole will be an easy sumptuous appetizer after a long day.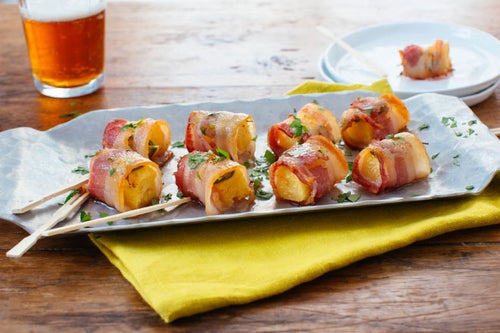 Bacon-Wrapped Pineapple
Easy to make with simple ingredients the bacon-wrapped pineapple will be a great appetizer for any party.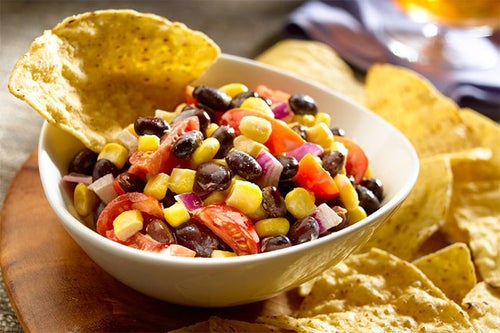 Knorr Creamy Black Bean & Corn Salad
Filled with black beans, corn, and tomatoes, this salad is a simply delicious appetizer that can prepared without any hassle. Serve with tortilla chips or favorite dips. Per Serving: 230 calories, 7g fat, 9g protein.