The warm weather months can be the best time to gather alongside family and friends to celebrate just about any occasion outside. From weddings, graduations, birthdays, or even just a friendly weekend hangout, you can easily turn your outdoor space into the place to be with a backyard gazebo.
With a backyard gazebo, you'll have a beautiful outdoor structure that provides year-round protection such as shade from the sun or coverage from the rain, and a long-lasting foundation for your family to build memories in each coming year.
At BJs.com, we sell backyard gazebos at a great value and convenience in various sizes, rooftop designs, and colors so that you can make the perfect space for your home outside your home!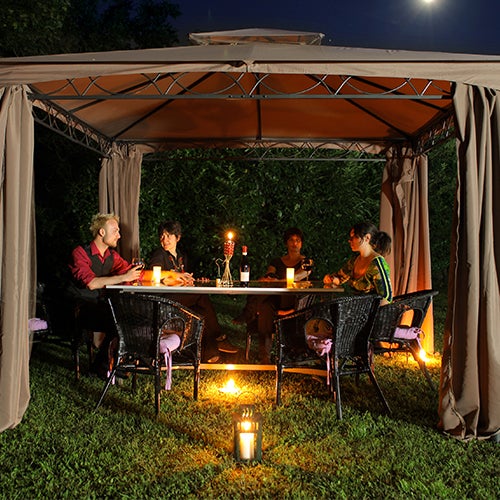 What is a gazebo?
A gazebo is a freestanding outdoor structure that can be square, hexagonal or octagonal in shape that looks very similar to a pergola but with a covered roof. Backyard gazebos also include a roof and may be constructed of hardwood or metal often treated for all-weather protection. Outdoor seating may be added to create a welcome outdoor entertainment escape.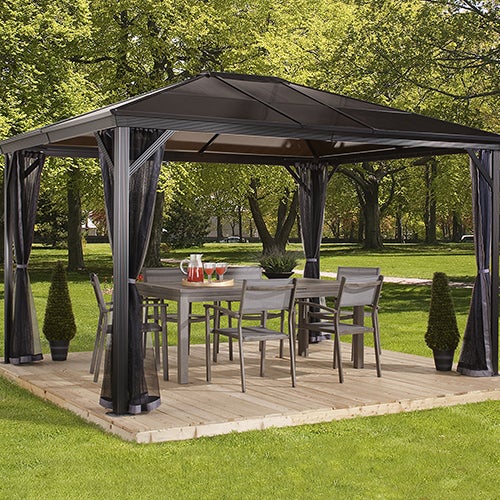 How do you install a gazebo?
Gazebos can be built right in your backyard on the grass or your patio. Some backyard gazebos require them to be surface mounted on a platform for stability, others use stakes and bolts to anchor them to your patio's concrete slab, while other gazebos can go on grass simply by stabilizing their corner posts onto the ground.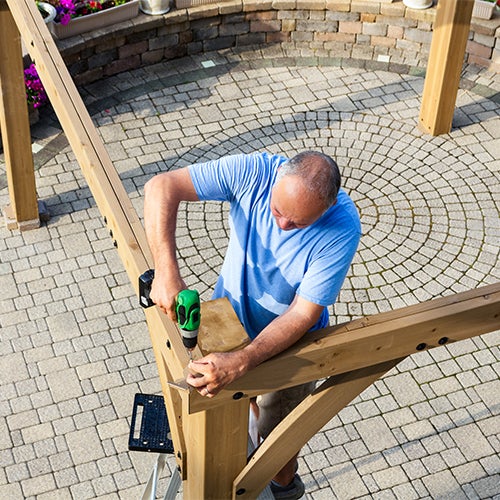 Where can I buy a gazebo on BJs.com?
Head on over to BJs.com's seasonal furniture section to find all of the backyard gazebos we sell. You can find this by clicking on "Patio & Outdoor Living" from the main navigation menu, and then selecting "Gazebos" under "Arbors, Pergolas & Gazebos". There, you will find gazebos in a variety of sizes and designs for any outdoor space from brands like our very own Berkley Jensen.
Although all gazebos will require assembly and a handy knowledge, the amount of time you spend enjoying this unique and ornate outdoor structure once it's installed will be well worth it for the memories alone. Or invest in the gazebo assembly package offered on BJs.com.
You will also find that most backyard gazebos on BJs.com conveniently include free shipping and threshold delivery so that your outdoor gazebo purchase arrives safely to your doorstep!