Do you want a gaming device with higher performance and more gaming options than other systems? Gaming computers are one of the most popular choices for the serious gamer. You can choose a ready-made gaming laptop and start having fun immediately, or you can build your own PC for a truly customized experience.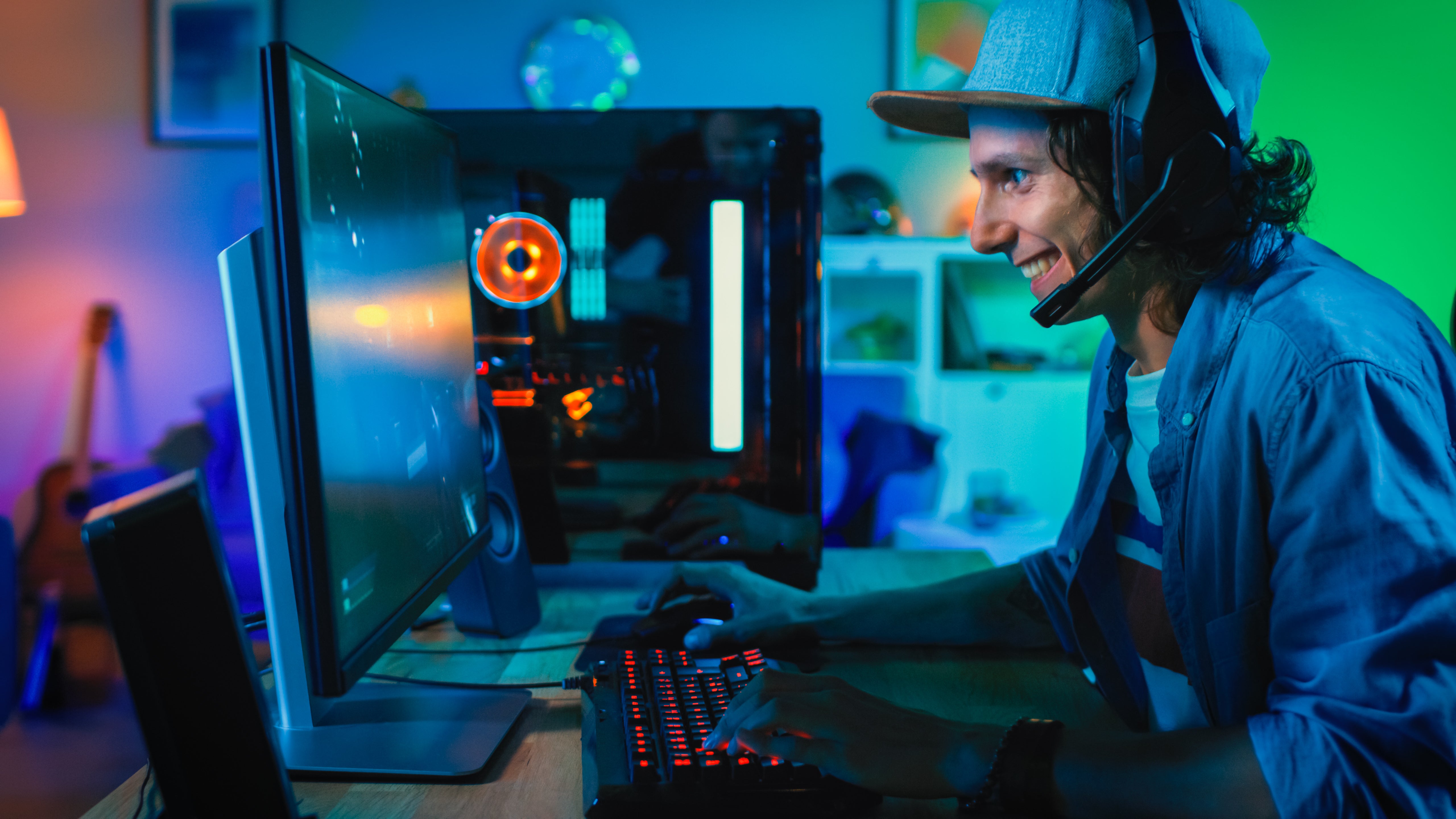 What is a gaming laptop vs. gaming PC?
Technically, all gaming computers are PCs. PC simply stands for personal computer, which includes both desktops and laptops. However, in casual conversation, most people use gaming PC to mean a standalone desktop. These are larger models that typically need a dedicated office space. PC desktop computers for gaming tend to have more options for customization and the ability to later add upgrades. Furthermore, you can often get better deals on desktop computers for gaming.
The big benefit of gaming laptops is that they are lightweight and portable. You can take the laptop over to your friend's home for a party or use it to get in a little gaming between classes at school. This makes it a lot easier to game on the go. Another benefit is that all the parts you need to game are included in the laptop purchase. You never have to stop and think about things like buying a monitor mount or finding enough outlets for all your speakers, monitors, and other parts.
What do you need to build a gaming PC?
Of course, there are options like CLX sets which help you get ready-made PCs with all the latest components. However, many gamers also like to build their own systems with individually selected parts. If you want to build a gaming PC yourself, you need to get some essential PC gaming gear. You will need a powerful processing tower, a keyboard, a mouse and monitor screen. For each part, check its specifications carefully. Make sure that it is powerful enough to run your preferred games, and check that it is compatible with all the other parts you are purchasing. This will ensure that you build the right gaming PC for your needs. By taking the time to research before buying, you can avoid hassles like gaming computer monitors without the right monitor mount.
Where can I buy a gaming laptop/PC?
When you are looking for gaming laptops and PCs, BJ's Wholesale Club is a great place to start. We offer a variety of desktop PCs and laptops. You can use the BJ's Mobile app to stay in the loop on special offers and get notifications for gaming laptop deals. If you are new to shopping for PC gaming gear, you can visit a store and chat with one of our knowledgeable Team Members about the best options. When looking for the best deals on gaming computers, shop BJs.com. There are often big sales after new models come out, so you can pick up plenty of savings on high-end equipment.
When you're ready to get crisp resolutions, fast frame rates, and advanced textures, shop for gaming computers at BJ's Wholesale Club. Pick out your computer with BJ's Mobile App or online website, and use Free Pickup or Ship It to get your system as quickly as possible.
References
[1] https://www.businessinsider.com/reasons-why-gaming-on-pc-still-better-than-game-consoles-2017-7
[2] https://www.pcworld.idg.com.au/article/360605/buying_guide_desktop_pc_vs_laptop/