Everyone wants a cleaner house, and a pressure washer is the exact tool that will make the exterior of your home brighter and more attractive. Power washers are a great tool to have around when you want to get dirt off the concrete or spruce up your deck for the summer. When you want your home to sparkle, an electric pressure washer or gas pressure washer from BJ's Wholesale Club is exactly what you need.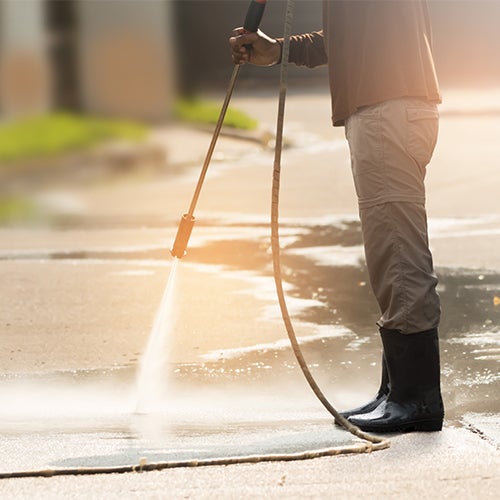 How does a pressure washer work?
A pressure washer uses water that shoots out of a nozzle at high speeds to manually clean surfaces. There are battery pressure washers, pressure washers that run on electricity, and gas pressure washers, but all three rely on a pump to speed up the rate at which the water is pushed out of the nozzle.

To use a power washer cleaner, you hook it up to a garden hose, which supplies the water. There's a wand with a trigger, similar to the kind that you would find at a self-service car wash, that you hold to direct the water while you squeeze the trigger. Pulling on this trigger causes the water to mix with air and shoot out of the nozzle.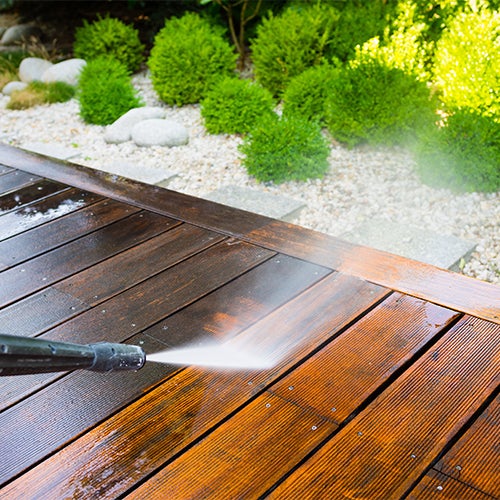 What pressure washer is right for me?
The pressure washer that you should choose will be based on where you use it, how you'll use it, and the available outlets around you. If you plan on using your pressure washer close to a building that has an available electrical outlet, you can choose a power washer that relies on electricity for power. On the other hand, if you want to use your pressure washer in an area that isn't close to an electrical outlet, you'll need to choose a cordless pressure washer, which will rely on either gas or a battery as a source of power.

When choosing a pressure washer, you should also think about the size of the model and how you would like to use it. For instance, if you prefer to be able to pick the entire power washer up so that you can easily walk on uneven terrain, you'll need a smaller model that's cordless. However, if you want a model that will last longer before you need to charge the battery or refill on gas, you might need a bigger washer, which might also come on wheels. A model that rolls is also a convenient option if you plan on using it on a large, flat area, such as a large area of concrete, because you can put it down without knocking it over, which is less strenuous on your wrist and arm than carrying it.

You should also be aware of the psi that the model that you're thinking about buying puts out. The psi refers to the amount of pound-force per square inch that the model puts out. So, if you have a power washer model that has a 3,100 psi, that means that the water can come out of the nozzle at up to 3,100 pounds per square inch. Most models will let you change the amount of force, but some pressure washers offer a significantly lower psi. This is an important factor to consider because you'll need a higher psi to clean stains on concrete than if you merely need to spray dirt off vinyl siding.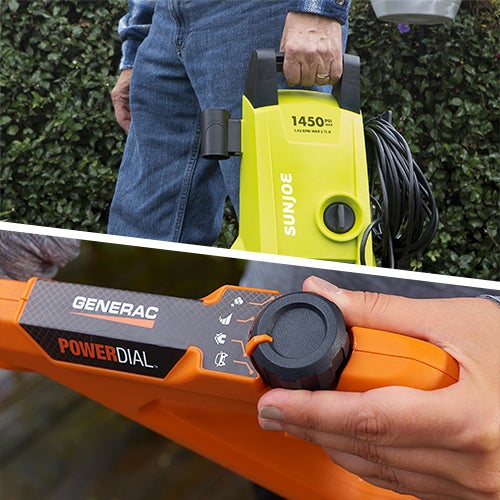 What kind of pressure washers does BJ's Wholesale sell?
BJ's Wholesale Club sells a wide range of pressure washers, including gas-powered pressure washers, electric-powered washers, and battery-powered pressure washers. There are two brands that BJ's Wholesale carries: Sun Joe and Generac. Several models roll on wheels, but there are also a couple of models that are designed for you to carry. Each available model has a different psi, ranging from 350 to 3,100, so you have a lot of options to choose from.

When you want a beautiful home exterior that is clean and will make you proud, rely on BJ's for a pressure washer. BJ's Wholesale Club offers Free Curbside Pickup for your convenience, so order your power washer cleaner today.

References:
1. https://www.briggsandstratton.com/na/en_us/buying-guides/pressure-washers/why-buy.html
2. https://www.hunker.com/12304139/what-is-the-meaning-of-psi