There's a chill in the air and the sun goes down in the early evening. It's the perfect recipe for a night at home in your softest pajamas complete with a warm, comforting slow cooker meal – the kind of meal that makes the whole house smell amazing and only adds to the cozy, comfortable atmosphere the winter months bring with them when they arrive.
BJ's Wholesale Club makes getting a warm and delicious meal on the table easier than ever with so many good-for-you staples, fresh produce options and affordable meats, all available in a flash thanks to convenient shopping options like Same-Day Delivery, Ship To Home, Curbside Pickup and more.
We are a family of five and with three boys ages six and under in our home, the thought of piling everyone into the car – clicking multiple children into car seats, loading and unloading the car multiple times – just to go to the grocery store is simply exhausting. BJ's Same-Day Delivery shopping option has quickly become our new best friend. The ability to have our favorite snacks, pantry staples, recipe ingredients, fruits, vegetables, bread, milk, meat and beverages delivered to our front door within two hours is hard to beat. (Mom hack: Shop on BJs.com or use the BJ's App to place your Curbside Pickup order or take advantage of Same-Day Delivery so your groceries arrive right at your front door. It's also SO nice not to have to worry about a trip to the grocery store when you're arriving home from a trip.) BJ's Same-Day Delivery has saved us over and over again and helped this busy mama get dinner on the table without worrying about swinging by the grocery store with three kids in tow.
Even if getting the ingredients we need to make dinner for our whole family is easier than ever, planning dinners our whole family will enjoy is a whole different ballgame. With five people to feed and five different palates and preferences, it can be a serious challenge to prepare a dinner that gets a thumbs up from everyone.
One way to alleviate some of the stress around mealtime is preparing deconstructed versions of our main meals for our kids. If my husband and I will be eating ginger chicken and broccoli prepared in the Instant Pot with a side of brown rice, I know full-well our two oldest kids won't touch the cooked broccoli, so I will set some raw broccoli aside for them to dip into ranch dressing with their dinner. It's the same dinner but a little different and this method works well for our family. (Note: When I was pregnant I fully anticipated being the kind of mom that would never prepare different meals for my kids but our first child was very slim and uninterested in food altogether and getting him to eat something took priority over my desire for him to eat exactly what we were eating.)
Another mealtime trick that works for our family? NACHOS. I'm pretty sure our two older boys think Mom and Dad are the coolest on the evenings they get to dig into a big plate of cheesy nachos for dinner and I love the way nachos naturally lend themselves to being customizable for various palate preferences.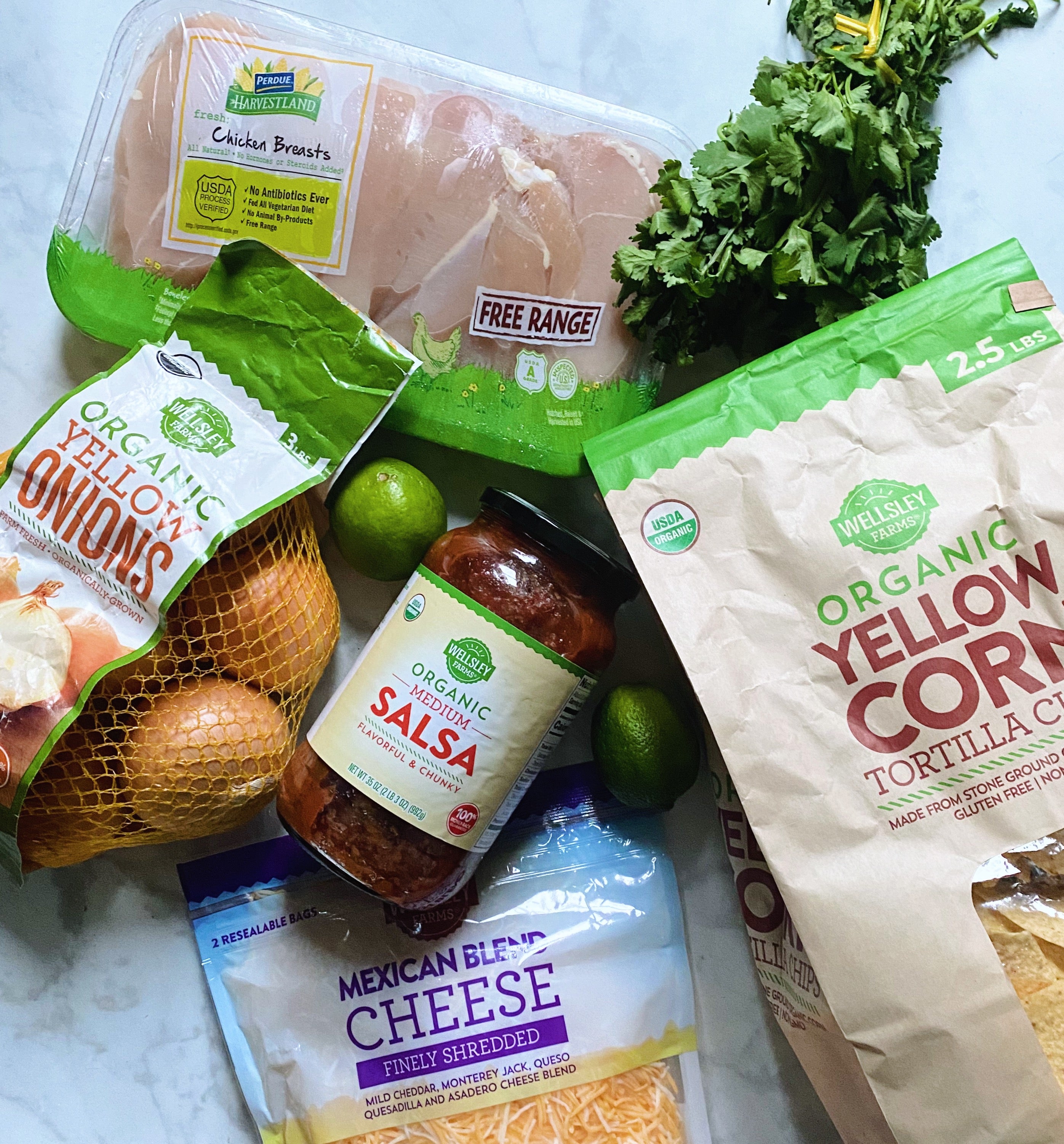 My favorite way to make nachos for our family is to order everything I need to make them using BJ's Same-Day Delivery shopping option. I then break out my slow cooker and prepare deliciously flavorful pull-apart salsa chicken. Once the chicken has essentially cooked itself, I shred it and then place it back in the slow cooker while I quickly prepare and array of toppings. This is the boys' favorite part because they get to customize their nachos and make them exactly the way they want them!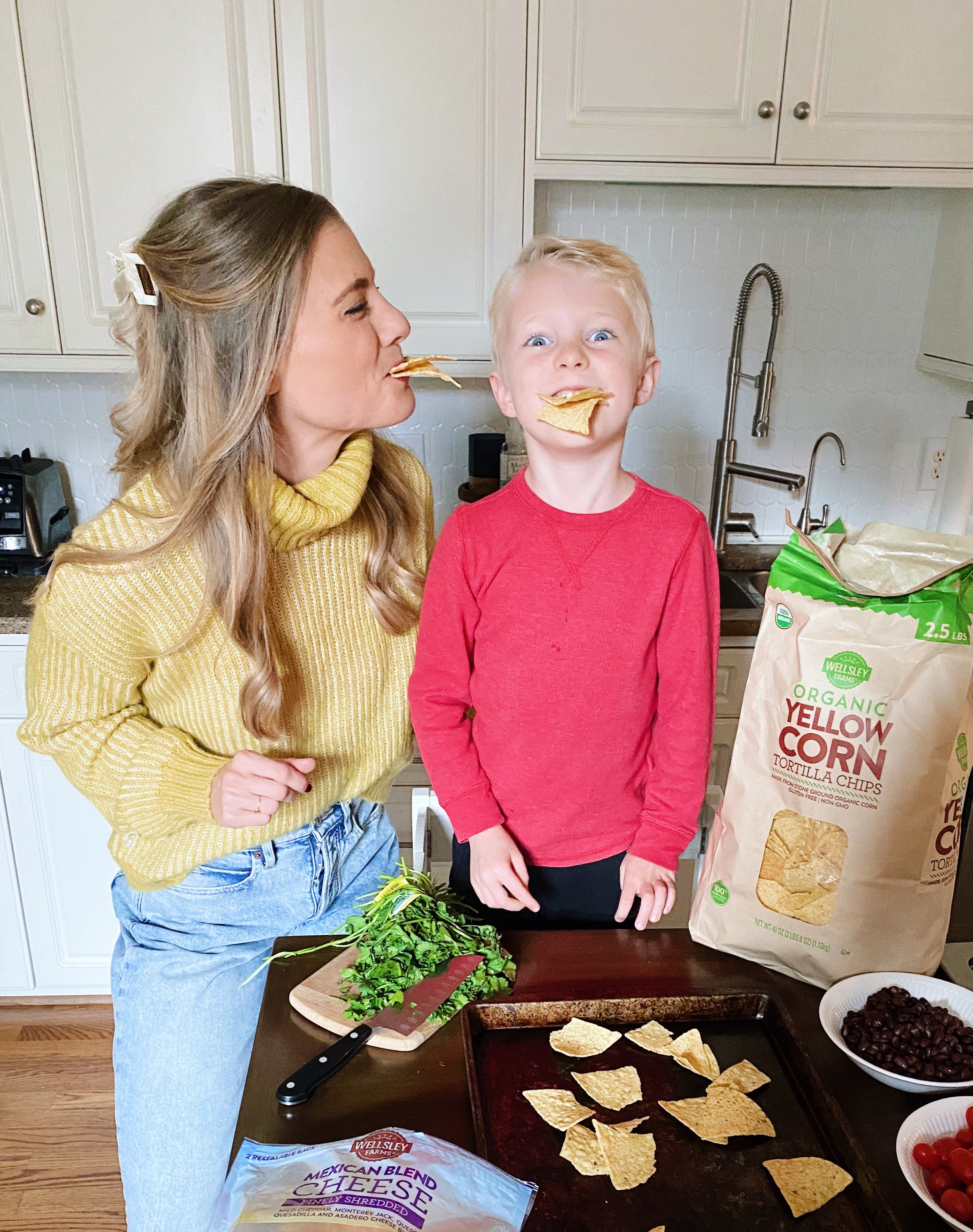 Don't love cilantro? Leave it out! Not feeling tomatoes? Leave more for me! Loving black beans? Load them up!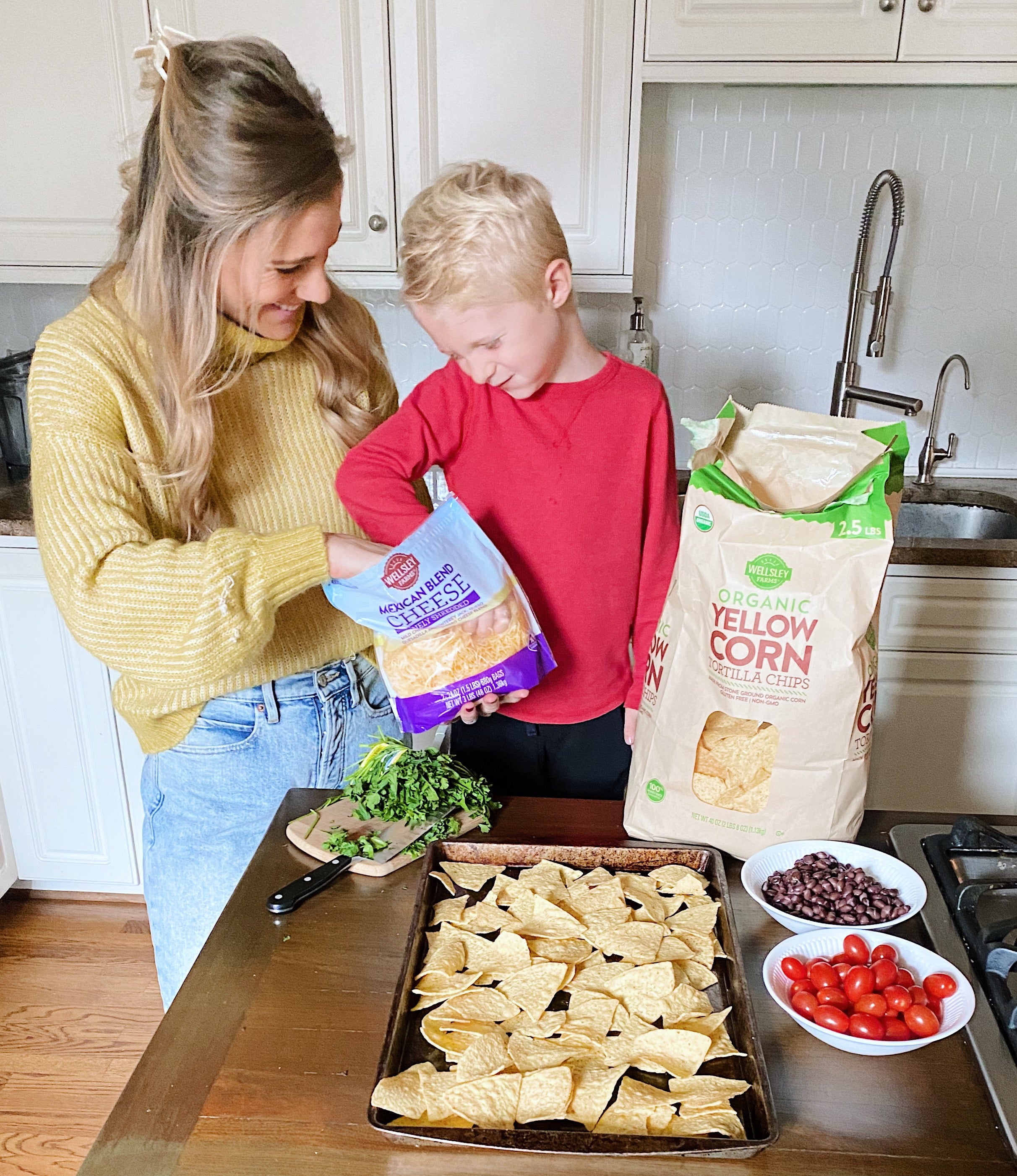 It's a family meal we all enjoy and I hope it's one that your family will love, too!
Slow Cooker Salsa Chicken + Create-Your-Own Nachos
INGREDIENTS
For the chicken:
For the nachos:
INSTRUCTIONS
1.Combine all ingredients for the salsa chicken with the exception of the juice of one of the limes in a slow cooker.
2. Cook chicken on low for 6 hours or high for 4 hours.
3. Remove chicken from slow cooker and shred with two forks. Using a spoon, scoop some of the juice from the slow cooker onto the shredded chicken. (You may use as much or as little of the juice as you wish, depending on your preference.) Squeeze the juice of the remaining lime on top of the shredded chicken and stir.
4. Preheat oven to 350 degrees.
5. Place several handfuls of the tortilla chips onto a large baking sheet, spacing them out to prevent too much overlapping.
6. Top with several handfuls of cheese. Our family firmly believes the more cheese the better!
7. Place the nachos into the oven until the cheese melts (about 5 minutes but keep an eye on it)!
8. Remove the nachos from the oven and top with the warm shredded chicken and additional toppings, as desired. Dig in and enjoy!