Everyone deserves the best rest possible. Sometimes, though, our mattresses have different plans for us. Over the years, our mattress' coil systems get worn out. Perhaps your bed is just too small for you and your partner. Though a standard queen or king size bed mattress can help get you through the night, why settle for less when you can upgrade space and comfort at a value with a California King size mattress from BJs.com?
What Is a California King Size Mattress?
The biggest difference between a California King mattress and your standard King size mattress are their lengths and widths. Essentially, a California King size mattress is longer and narrower than a standard King size mattress. Whereas a standard King size mattress measures in at 80" long by 76" wide, a California King size mattress is 84" long and 72" wide. That's an additional 4" to stretch your legs!
Why Should You Choose a California King Size Mattress?
Numbers by themselves can only tell you so much. How should they affect your decision when choosing the right mattress? Well, the easiest consideration is length. The length of your mattress should be at least a few inches longer than the tallest person sleeping on the mattress.
A taller person would typically need a longer length bed, but a California King size mattress also works great for two people sharing a bed and may benefit from the added space. Ideally, you and anyone else sharing the bed should be able to stretch out your elbows and legs without going over the edge or hitting another person. With a California King size mattress, there's ample room for everyone to get a great night's sleep.
How Can I Buy a California King Mattress on BJs.com?
You can shop BJs.com for a great selection of California King size mattresses at prices you'll be sure to rest easy on. Just click on "Furniture" from the home page, then "Mattresses", and refine by "California King Size Mattresses."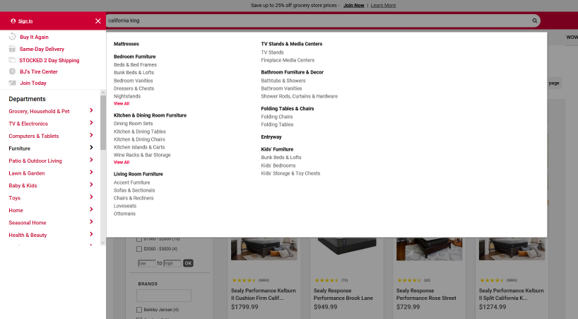 Once there, you can shop the quality and added value of our very own Berkley Jensen California king size mattresses or those from trusted brands like Sealy and Tempur-Pedic as well as filter by firmness or mattress top.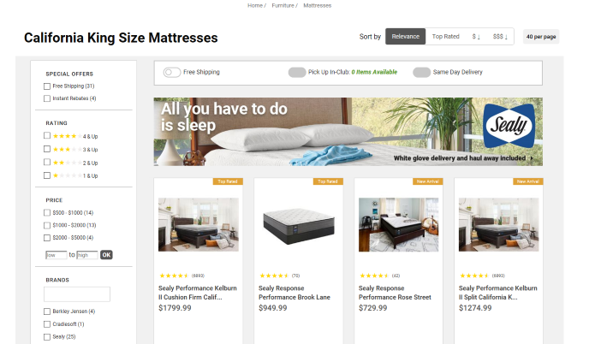 Shipping and delivering each mattress into your home is convenient as well. All California King size mattresses sold on BJs.com include White Glove Delivery, ensuring that all the heavy lifting is in our hands!