You've eaten it at least once a year for as long as you can remember, but now it's your turn to cook Thanksgiving dinner. Chances are, you have lots of questions, from what pan to cook a turkey in, to how big a bird you should buy. If you're short on time this holiday season or prefer to shop contactlessly, order all your holiday needs online and select BJ's Curbside Pickup or Same-Day Delivery. Find our top 5 favorite turkey recipes when you click here and you're ready to get started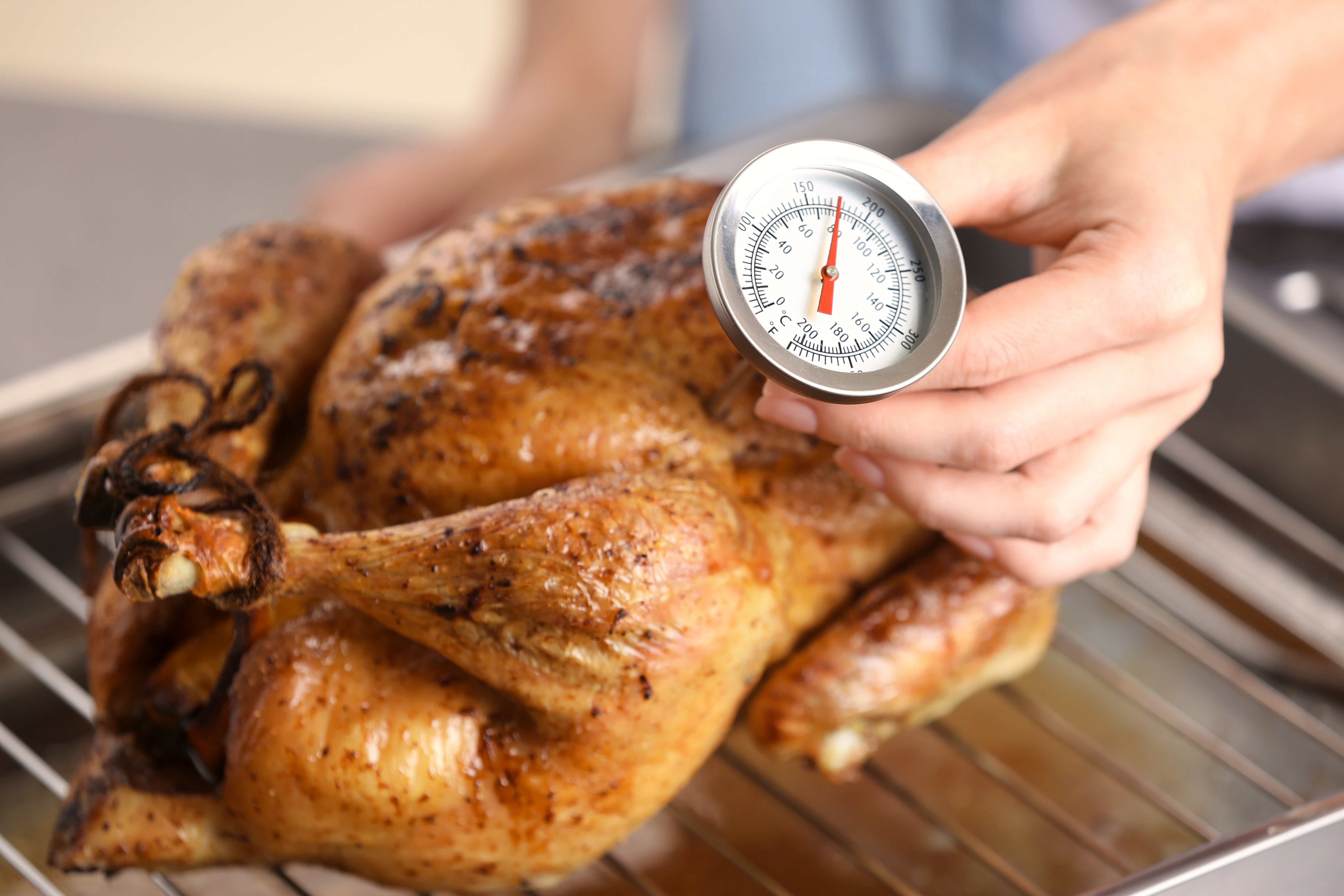 What Can You Cook a Turkey In?
Even a small bird requires a big pan and a roomy oven. Many cooks prefer a disposable, heavy-duty foil pan because it is inexpensive and makes cleanup easier. Some foil pans come with roasting bags that enclose the bird. A roasting bag seals in juices so you don't have to baste.
You can also cook your bird in a standalone roaster. The roaster plugs in and has its own temperature controls, leaving your oven free for baking other Thanksgiving treats like pumpkin pie. Some roasters have a self-basting lid, so you don't have to keep stopping what you're doing to baste.
Your third option for baking your holiday bird is a roaster that goes into the oven. Unlike a foil pan, it is strong and reusable. A Thanksgiving roasting pan comes with a lift-out rack that holds the baked turkey up out of the drippings and fat that collect as it cooks. When it's time to transfer your baked turkey to a serving platter, you simply lift it out using the rack handles.
You should not plan to use a baking sheet for a couple of reasons. First, baking sheets only have very low sides, so eventually, the meat juices will overflow into your oven. Secondly, the average baking sheet cannot handle the weight of the bird. You don't want to risk dropping you carefully prepared main dish.
What Supplies Do You Need?
A meat thermometer helps you cook either your whole bird or turkey breast to the right degree of doneness. That helps you avoid drying out the meat. When you think it's just about done, stick the probe in the meaty thigh. If the temperature reaches a steady 160 degrees, it's ready to remove from the oven.
You will also need some aluminum foil to tent the bird to prevent over-browning. Unless you are using a basting bag or self-basting lid, you should have a bulb baster nearby, too, so you can keep the bird moist and tasty as it roasts.
When the bird is done and has rested for 20 minutes out of the oven, you'll need a large carving knife to cut it evenly. Check our selection of knife sets at BJ's Wholesale Club.
What are some alternative turkey cooking options?
Deep frying requires an extra-large fryer. You will also need between three and six gallons of cooking oil to produce an evenly browned, fried turkey.
Pros of deep-frying:
Locks in moisture for a juicier result
Much faster than roasting
Cons of deep-frying:
More calories than a roasted turkey
Messy and risk of burns
Air frying is a safer, healthier alternative to deep frying your holiday bird. Air fryers are available that can handle a whole bird like our Kalorik 26-Qt. Digital Maxx Air Fry Oven.
Pros of air frying:
A four-pound air-fried turkey breast takes only about an hour
Produces juicier meat
Cons of air frying:
Does not have the same flavor as deep-fried turkey
Requires a large-capacity air fryer
If you have an outdoor grill like one of the pellet grills we sell at BJ's Wholesale Club, you can cook your bird outdoors, freeing up your oven for other dishes.
Pros of grilling:
Juicy results
Wood smoke flavor
Cons of grilling:
Weather restrictions
No cooking aroma in the kitchen
How Big a Fresh or Thawed Turkey Should You Buy?
The size of the bird you should buy depends on:
How much room you have to cook it
How much time you have to cook it
How many people are going to eat it
How many leftovers you can use
The size is especially important if you are planning to air fry or deep fry. Extra-large air fryers can handle a 16-pounder handily, but a 24-pounder would be stretching the limits. The same is true of deep fryers. They do have size limitations.
If you are oven-roasting your fresh turkey at 325 degrees F., it takes about 20 minutes per pound if stuffed and about 15 per pound unstuffed. Be sure to rely on your meat thermometer to know when it's done just right. If you use a convection oven, you can cut down the cooking time by about 30 minutes or so overall.
If you are deep-frying at 350 degrees F., you only need about 3.5 minutes per pound. Grilling an unstuffed fresh bird takes between 10-13 minutes per pound. Bear in mind that cooking times vary, and keep an eye on your thermometer as the bird nears doneness.
When you are sizing your bird according to the number of people around your holiday table, keep the following guidelines in mind:
A 10-pounder will feed up to eight
A 15-pound bird will feed up to 12
A 20-pounder feeds up to 15
A 25-pounder feeds up to 20
To make sure there's leftover meat, you should buy a larger bird than you will actually need for Thanksgiving dinner. Lots of people like having extra meat on hand for leftover sandwiches, casseroles and soup once the holiday is over. It freezes well too.
Frozen, Fresh or Thawed?
Technically, you can cook a fully frozen bird, but it takes at least 50 percent longer and may not cook completely evenly. If you have just the turkey breast, you can pop it frozen into your pressure cooker or instant cooker.
For a whole bird, it's better to plan ahead and thaw it safely in your refrigerator. The USDA recommends you allow a day of thawing per four to five pounds. By the time the big day arrives, you'll have a fully thawed turkey.
If you decide to go fresh, buy it within a day or two of cooking. You won't have to worry about thawing time, leaving yourself free to focus on meal preparation instead. Be sure to put off stuffing your fresh bird until just before you cook it to avoid health risks.
Trust BJ's Wholesale Club for the foods and cooking supplies you need to make your Thanksgiving a success. It's easy to become a member. Join now to starting saving even more on your grocery shopping trips.
Learn how you can get your FREE Thanksgiving turkey and $10 BJ's Award when you buy $100 of qualifying items before 11/24/21.